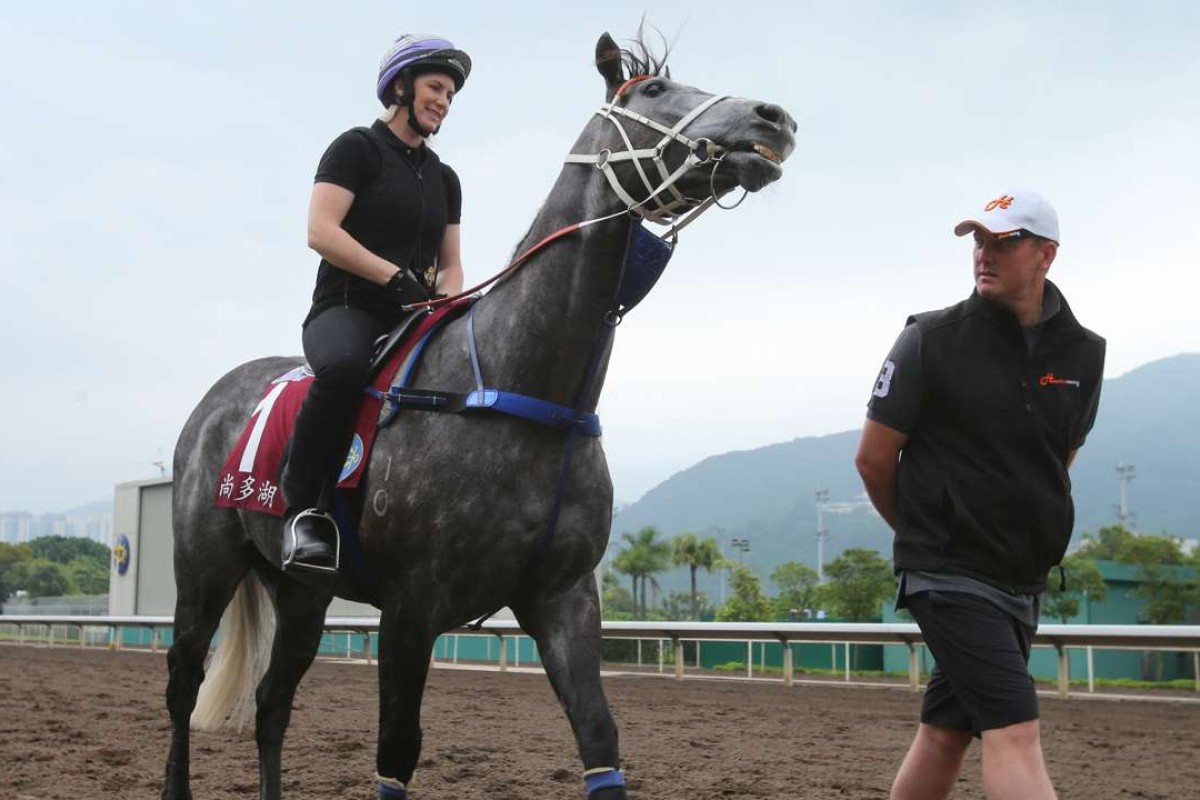 Think Thrilla In Manila, think Rumble In The Jungle, think Showdown at Sha Tin because it's on. This might have started out life as Champions Mile day but, in the eyes of one island continent a tick over 5,000km south southeast of here, this afternoon is Chairman's Sprint Prize day in Hong Kong when the hashtags for world's best sprinter stop being handed around.
In this part of the world, we haven't seen an Australia victory, of any kind, since Falvelon won back to back Hong Kong Sprints in 2000-2001
Japan's Horse of the Year, Maurice? Who the hell is he and why does he have a person's name? This is all about the Chairman's Sprint.
Cue Donald Trump's walk-on music. Y'all ready for this?
Read Michael Cox's Chairman's Sprint Prize preview: Chautauqua to prove he is the world's best sprinter against strong local team
The major claimant to the title of the "world's best", Chautauqua, takes on an ageing Queensland warhorse, Buffering, who has at least won a race overseas but hasn't beaten the younger grey in their meetings down under.
Whatever else is running, that's window dressing because you can't have a two-horse race for HK$10 million.
At least, that's how the race is seen in Australia, where the presumption of sprinting superiority is ingrained in the culture despite the infrequency with which that presumption is tested.
In this part of the world, we haven't seen an Australia victory, of any kind, since Falvelon won back to back Hong Kong Sprints in 2000-2001.
But we have seen this confidence before, when the three horses who were arguably Australia's best sprinters at that time, All Silent, Apache Cat and Scenic Blast, moseyed on into town to pick up the silverware for the 2009 Hong Kong Sprint and left empty-handed, unplaced and bowed.
Buffering v Chautauqua: Hyped Australian rivalry dominates run-up to Chairman's Sprint Prize
Scenic Blast bled, All Silent ran eighth and Apache Cat finished seventh, to go with his third as odds-on favourite the previous year.
The superiority of the Australian sprinter may have legs, but less so in recent seasons on the world stage, and the argument has always been supported at least as much by the exploits of Silent Witness, Sacred Kingdom, Absolute Champion or Rocket Man as by Black Caviar or Takeover Target or others who trek to Royal Ascot.
In other words, Australian-bred horses based in Asia. Throw in New Zealand-bred ones and you can include Aerovelocity and Little Bridge.
So, to turn up to Sha Tin and think it's a walkover is too much presumption even if the local line-up isn't a vintage crop and Aerovelocity is under a cloud, and it is no surprise that experienced horsemen like the trainers of Chautauqua and Buffering aren't falling for the hype.
Both are extremely worthy winners, if that's how it plays out, but from Hong Kong's perspective, it's just great to see such a tremendous first international Chairman's Sprint, which has wandered around the spring domestic calendar like Banquo's ghost for 15 years after holding an early May date for almost a quarter of a century before that.
Read Alan Aitken's Champions Mile preview: Maurice to complete Hong Kong's premier mile double
Australian wins at Sha Tin might have been as easy to spot as Tasmanian Tigers since Falvelon, but Japanese winners happen often and with feeling, as we were reminded in December and if the Champions Mile has been overshadowed, Maurice has the star power to turn the lights back on if he does a better job than his compatriots last week at actually turning up.
The smudgy, unfulfilled rumour post-race was that Able Friend wasn't the only runner in the Hong Kong Mile with a problem and that Maurice had a back issue of some sort.
Ryan Moore was coy about whether that was Maurice at his best when asked if he could have beaten a fit and well Able Friend. Of course, Moore is coy on a nine-to-five, 24/7 basis, so it could have just been that, a rumour.
Maurice has looked great in work, a hulk of a stallion who would be a power lifter or star in The Green Mile if he was human and looks fully capable of exacting his revenge by eating any rival who defeats him if he doesn't follow Variety Club as the only foreign winners of the 1,600m feature.