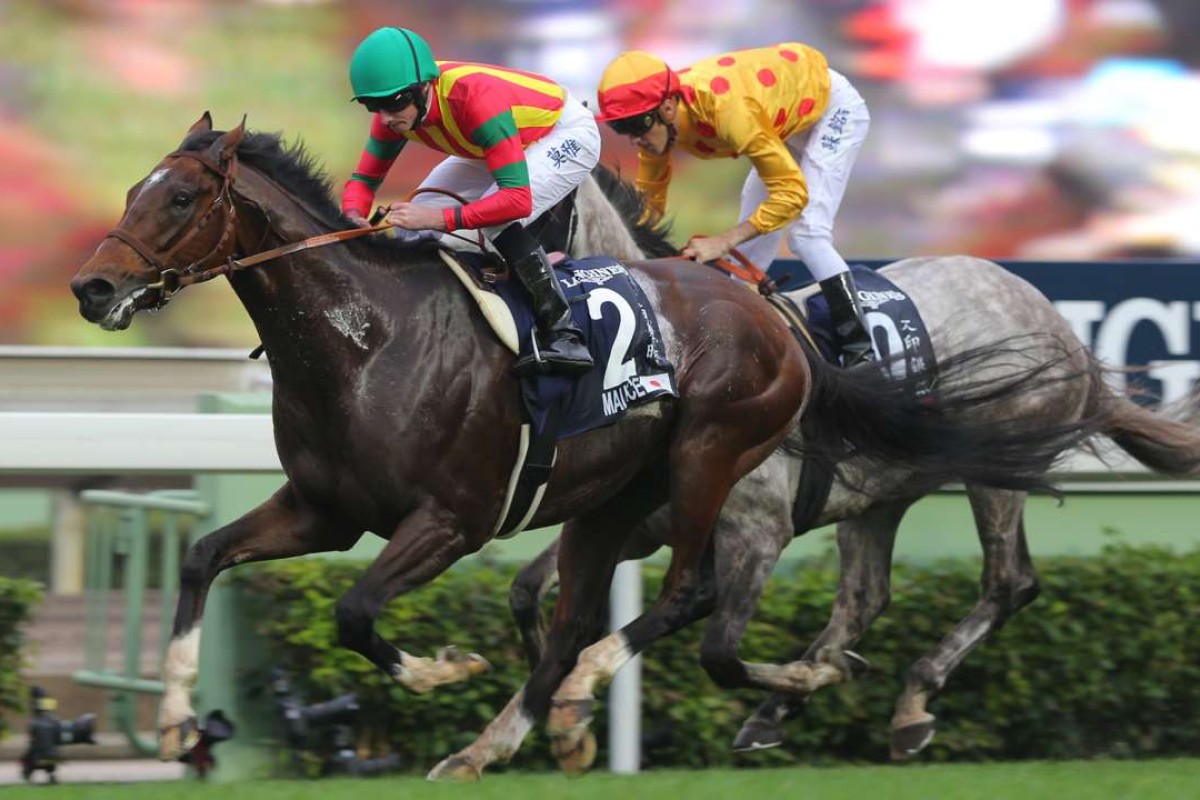 The HK$14 million Champions Mile today at Sha Tin swings around a couple of propositions – whether Maurice is fully fit and whether Maurice can cope with a muddling tempo, but it is mostly about Japan's reigning Horse of the Year, Maurice.
New perspective: Joao Moreira likes current view atop Maurice compared to last year's Hong Kong Mile
Maurice (Joao Moreira) meets most of the locals he put behind him in December, without Able Friend of course, but with Godolphin's Bow Creek and Safety Check thrown in but both looking overmatched or unsuited.
Maurice comes to this with a different set-up as he arrived in December three weeks after impressively winning the Kyoto Mile Championship in Japan, but it's worth remembering that win itself had come off a five-month break since his Yasuda Kinen victory.
He has another five-month break behind him again now and, seemingly, with there having been some confusion in the camp about what and when his targets in the first half of 2016 actually would be. That suggests that, at least at some point, his fitness or well-being was somehow under question but if you were looking for chinks in his armour, there weren't any showing at trackwork this week.
Moreira and Maurice: a match made in heaven
But when we are talking fully fit, that includes any niggles. In December, Maurice overcame Giant Treasure by three-quarters of a length and, while the grey is very solid, he's no champion. There were murmurs in the days after the race that the Japanese star had won despite some trouble with his back, something never confirmed and nobody worried too much because he won.
If that's the best Maurice is then he doesn't have a huge margin on the locals but he does have an edge. If he did it with a bad back, there's no telling what his edge might be if he turns up perfectly healthy.
The manner of today's race probably won't allow for much of a margin anyway because it looks devoid of pace, a trot and canter to the turn then a dash home.
The Hong Kong Mile was fairly similar and Maurice still ran out the winner, but he is "better" drawn today and Moreira will be careful not to let that work against him. Stuck inside other horses is no place to be in a slow pace, as the field won't break open the way it will when the speed is on, preventing Maurice from using his turn of foot.
'Beast From The East' dethroned, as Japan's Maurice takes title with defeat of Hong Kong's Able Friend in Mile
His danger looks the admirable Contentment (Brett Prebble). He is well suited by a muddling pace, has the draw and tactical speed to make the best of it and looks favourite to beat his fellow Hongkongers.
Giant Treasure (Olivier Peslier) may have beaten him in the Hong Kong Mile and Stewards' Cup but with all favours from good draws and his barrier looks more problematic today. Likewise Beauty Only (Neil Callan) from gate 10, as he can go back or be wide, or both, but he remains hostage to the pace.