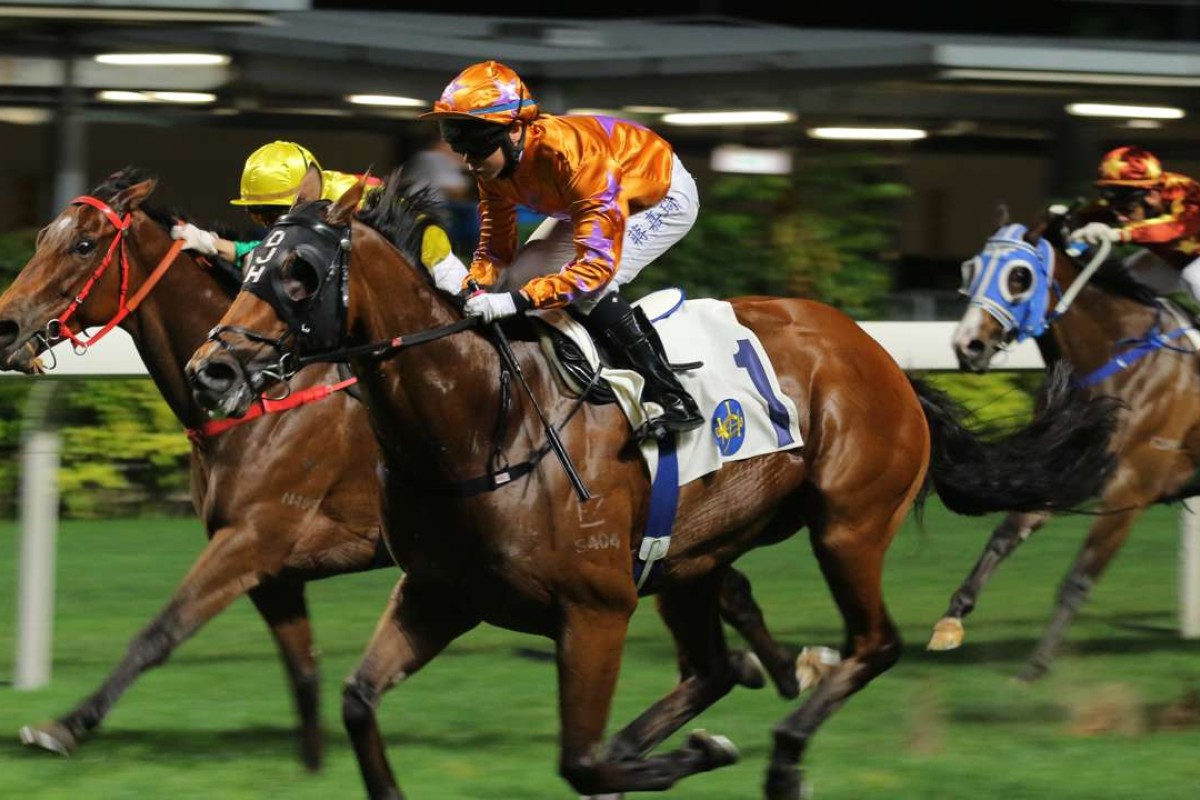 They might only have won two races between them at Happy Valley last night, but champion jockey Joao Moreira and apprentice Kei Chiong Ka-kei had something in common – trainers were bemoaning how tough it is to book either of them.
It was slim pickings for any single rider at the city track, with Moreira and Chiong sharing the Jockey Challenge result despite only scoring singles, before countback rules were applied and Moreira declared the winner.
Not lucky to win the race – lucky to get Moreira. It's very difficult to get him any time
"Very lucky, pure luck," said trainer Ricky Yiu Poon-fai after Diamond Master sat outside the lead then cleared out to win the St George's Challenge Cup (1,000m) for Moreira.
That's a line many a Hong Kong trainer wheels out after victory, in part to put the handicapper off raising the horse's rating too much and in part because most wins at Happy Valley involve an element of luck anyway, but neither was Yiu's angle.
"Not lucky to win the race – lucky to get Moreira," he said. "It's very difficult to get him any time, but you really need him when you draw a wide gate on the C+3 track here. Not easy.
"This horse gets keen over 1,200m and I had the plan for a while to come back to 1,000m here, but it has been hard to find the right race and, of course, hard to get Moreira when you find the race."
But then there are those saying lately that boom apprentice Chiong has been just as difficult to secure for a mount even now that her allowance has dropped from 10 pounds to seven.
David Hall finally managed to put her on a winner at the fourth attempt when honest sprinter No Money No Talk dropped into Class Four.
"I wouldn't compare her overall with trying to book Joao, but Kei is very popular at the moment and definitely in the lower classes she's probably as hard to book," said Hall, who had more reason than most to find Chiong a winner.
"Kei actually started with me in the very early part of her apprenticeship before she headed off to New Zealand for training. It's nice to have her back again."
No Money No Talk had been consistent at Sha Tin over 1,000m, but was finding it hard to break through again, and a low draw and Chiong's claim in the lower grade proved the difference.
"I was a bit worried at one stage when he nearly got on heels but, apart from that, the win was pretty straightforward – the main thing was get him out of the gates and put him in the race and Kei did all that," Hall said. "The horse deserved a win, he's been very genuine."
The main feature saw Douglas Whyte continue a growing partnership with Francis Lui Kin-wai-trained Jun Huo in the Victoria Racing Club Trophy as the lightly raced six-year-old took his local record to five wins from 11 runs.
"I'm not surprised he's made it successfully to Class One and I don't think he's done yet. I always thought he felt like a 100-rater and when he has been beaten it has mostly been because the race hasn't worked out for him, not because of a lack of talent," he said of the bay who is listed officially as a rig – having one testicle, so not a gelding – but Whyte said the operation doesn't look necessary.
"He's so professional and does everything right, I don't think there's any need to touch him."
On a night when a good draw and the right trip somewhere near the pace was gold – a typical C+3 night – Olivier Doleuze was back in the winner's circle on Caspar Fownes-trained Great Toplight, who had missed quite a bit of the season with a stress fracture to his left front leg in October.
"I thought his last two runs suggested he is on the way back and it didn't come as any surprise tonight," said Fownes, who later made it a double when Gonna Run (Vincent Ho Chak-yiu) put up back to back wins.
"Great Toplight has had no racing this season as a result of the injury, he will get even fitter for that run and I think now we are coming into the wet season, the softer tracks will help him and he should be able to win another one."