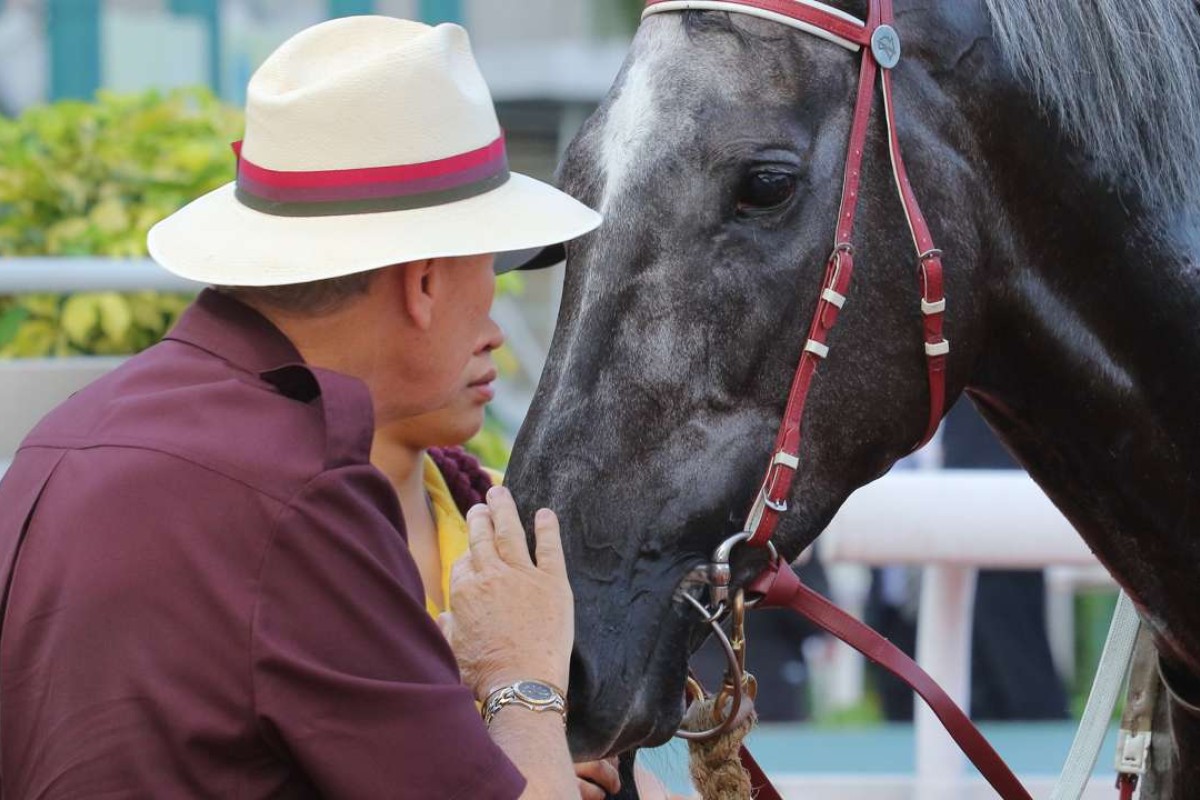 Reigning champion trainer John Moore has assuaged any early-season suspicions that he was disappearing down the plughole of history, but he was still happy to concede the title race to John Size despite a winning double yesterday.
After a slow start which saw the yard in the bottom half of the table doldrums for much of the first half of the season, Moore has improved through February and March and has now led in 14 winners since the start of April, more than any other trainer.
The finishing burst has some echoes of his championship win in 2011, when Moore wore down the front runner Tony Cruz over the final month, finally overhauling a deficit of seven wins with three meetings to go and passing his rival in the third-last race of the term.
"Everyone thought we were in big trouble early this season! We're finishing it off the right way now but there's no way I can win from 17 behind – John Size will be the champion trainer," said Moore after Joyful Trinity and Basic Trilogy scored under Joao Moreira. "This has been a restructuring year for my stable after we'd got everything we had to out of our runners last year to win the championship. But I think the process is going the right way and I'm going to have a really good team next season."
Moore's two winners yesterday will be part of that – both horses four-year-olds with some scope to their ratings, with Joyful Trinity probably the horse with the most blue sky after injury set him back from a Derby preparation this season.
"When he arrived at the end of last year, he wasn't a gelding at that stage and he was misbehaving in his box and reared and fractured his pelvis," Moore explained. "That meant a month and a half, two months' box rest and set us right back as far as the Derby went. But I have a question mark on whether he would have stayed anyway so it might not be the worst thing that he missed it and he is now on the rise going towards the end of the season. It isn't easy to get a horse off Andre Fabre and think there is upside in him but I think this guy has."
Moreira said the four-year-old was far more comfortable yesterday on the firmer ground than when beaten as favourite at his previous run.
"I thought he was disappointing that day when he ran third and was well beaten but it was not the ground that he likes and today he travelled much better," he said. "I agree with John, he feels like a miler to me, not a stayer, and I really think he is a nice prospect going into next season."
Basic Trilogy had looked well exposed in Australia under Peter Moody and Moore still believes he might a touch too one-paced to make the high grades but he was assisted by a very strong speed yesterday before clearing out.
"He's won two now and he's doing the job but they made him look better than he is," Moore said. "The leaders went silly, Joao got a nice trail and all the favours. I thought he had a good chance to win today but to win by a margin like that? I didn't expect that."
Confirmation from John Moore: new safari suit is "burgundy" - not purple - @neilcallan78 pic.twitter.com/GagN5y1CPe

— scmpRacingPost (@SCMPRacingPost) May 14, 2016
Also putting a smile on Moore's face was the performance in Brisbane yesterday of Eagle Way, the three-year-old he owns himself, who did his Group One Queensland Derby prospects no harm with an excellent and unlucky fourth in one of the key lead-up races.