Apps
Get more with myNEWS
A personalised news feed of stories that matter to you
Learn more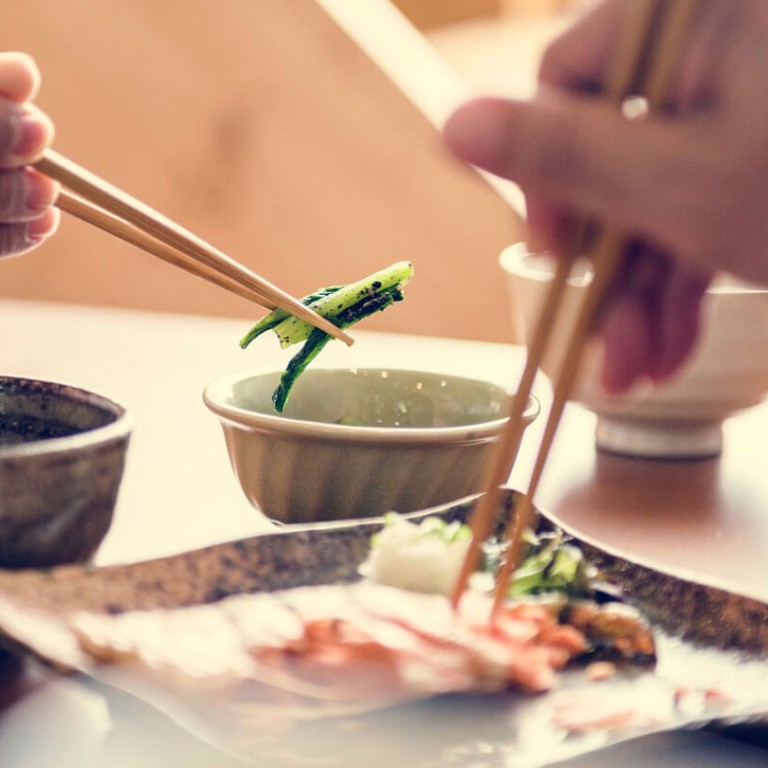 How to find the perfect restaurant in China with Meituan
When you want to dine like a local
This article originally appeared on
ABACUS
Maybe you just sealed a business deal and it's time to celebrate. Or maybe you're visiting but don't feel like going to a tourist trap. Whatever the reason, there are times when you're traveling in China that you might want to find a restaurant that's not straight out of a guidebook.
In this instalment of the China Tech Survival Guide, we show you how to find and reserve the perfect restaurant, no matter which Chinese city you are in, using Meituan -- one of the country's most popular multi-purpose apps.
BEFORE WE START
First of all, the app is only available in Chinese. It doesn't matter if you're trying to get McDonald's or Peking duck -- everything is written in Chinese. So unless you want to judge your prospective restaurant solely on photos, be sure to have a translation app ready on your phone, like Google Translate or Microsoft Translator. 
You'll also notice that Meituan offers food delivery service. Unfortunately, that service is not available to people without a Chinese bank account. You can, however, still make restaurant reservations. 
Still hungry? Let's get started!
STEP 1
DOWNLOAD THE APP AND REGISTER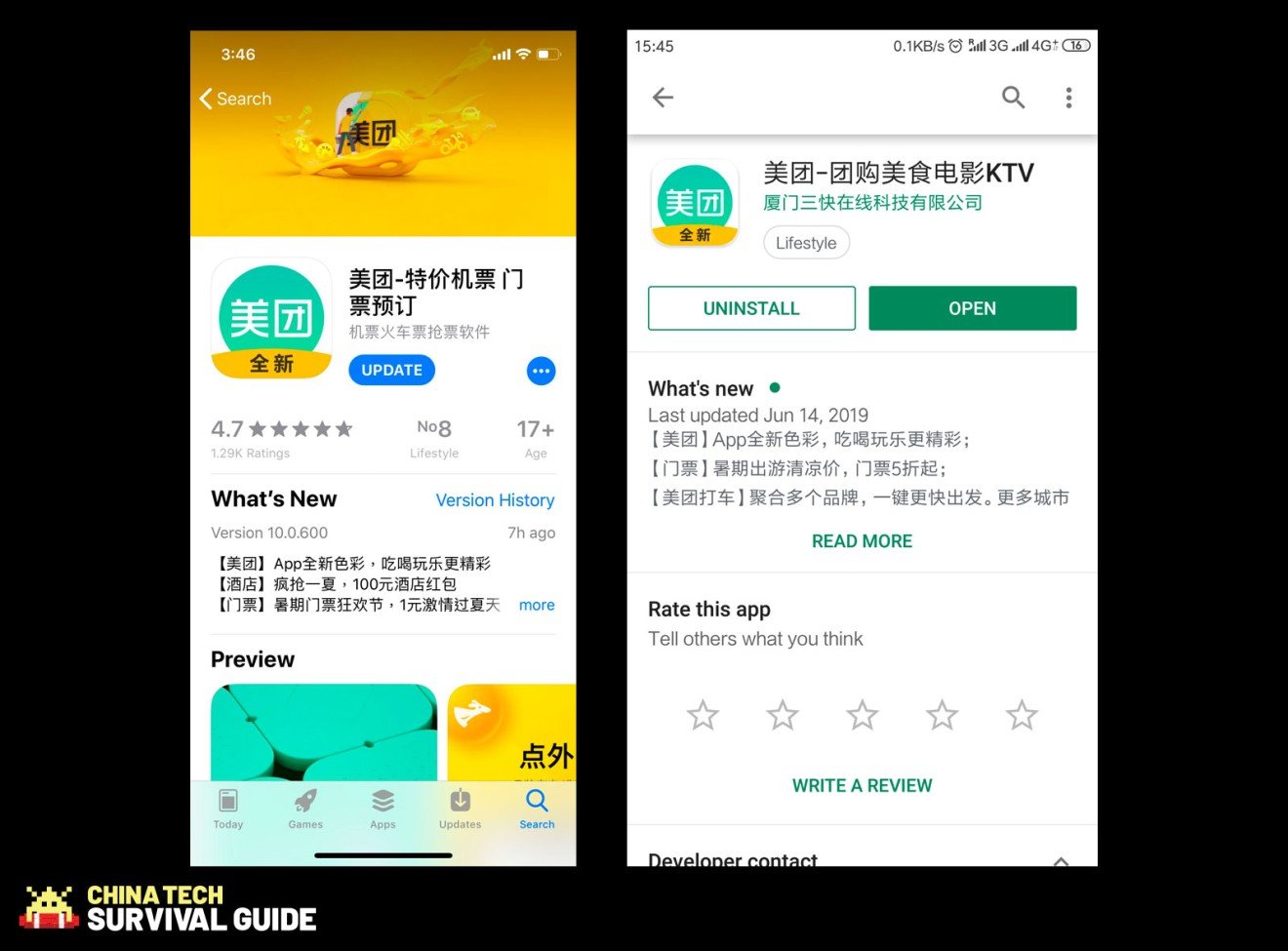 If you're an Android user, you can also download the APK installer file onto your phone directly from
Meituan's website
. Since Google is blocked in China, many Chinese apps are often slow in updating their apps on Google Play. If you want to make sure you have the latest version of the app, this could be a better option. 
Once you open the app, you'll be asked to pick a city. Be sure to enable location access for the app. Here's how, if you haven't: 
For iOS users, go to Settings and select Meituan or 美团. Tap "Location" and choose "While Using the App" or "Always."
For Android users, your settings may differ according to your phone model. Try going to Settings and tap "Security & location." Choose "Location" and turn "Use location" on. 
Now go back to the Meituan app. It should be able to automatically detect your GPS location and show your current city on top. Tap on that.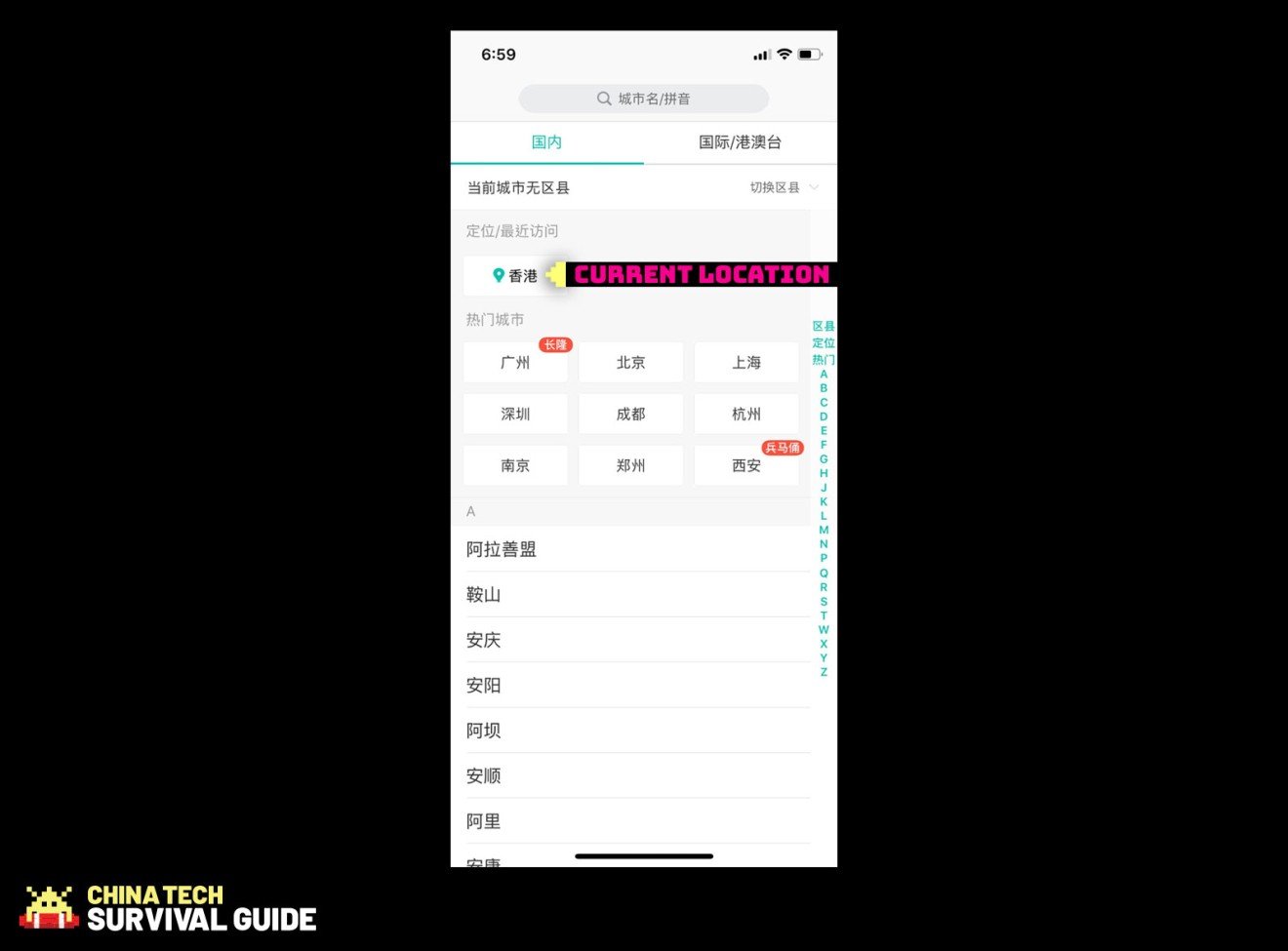 Now you're on the front page of the city you selected. To sign up, tap 我的 (Mine) at the bottom. On the next page, tap 登录 (Sign in) and then 同意 (Agree) to accept the user agreement.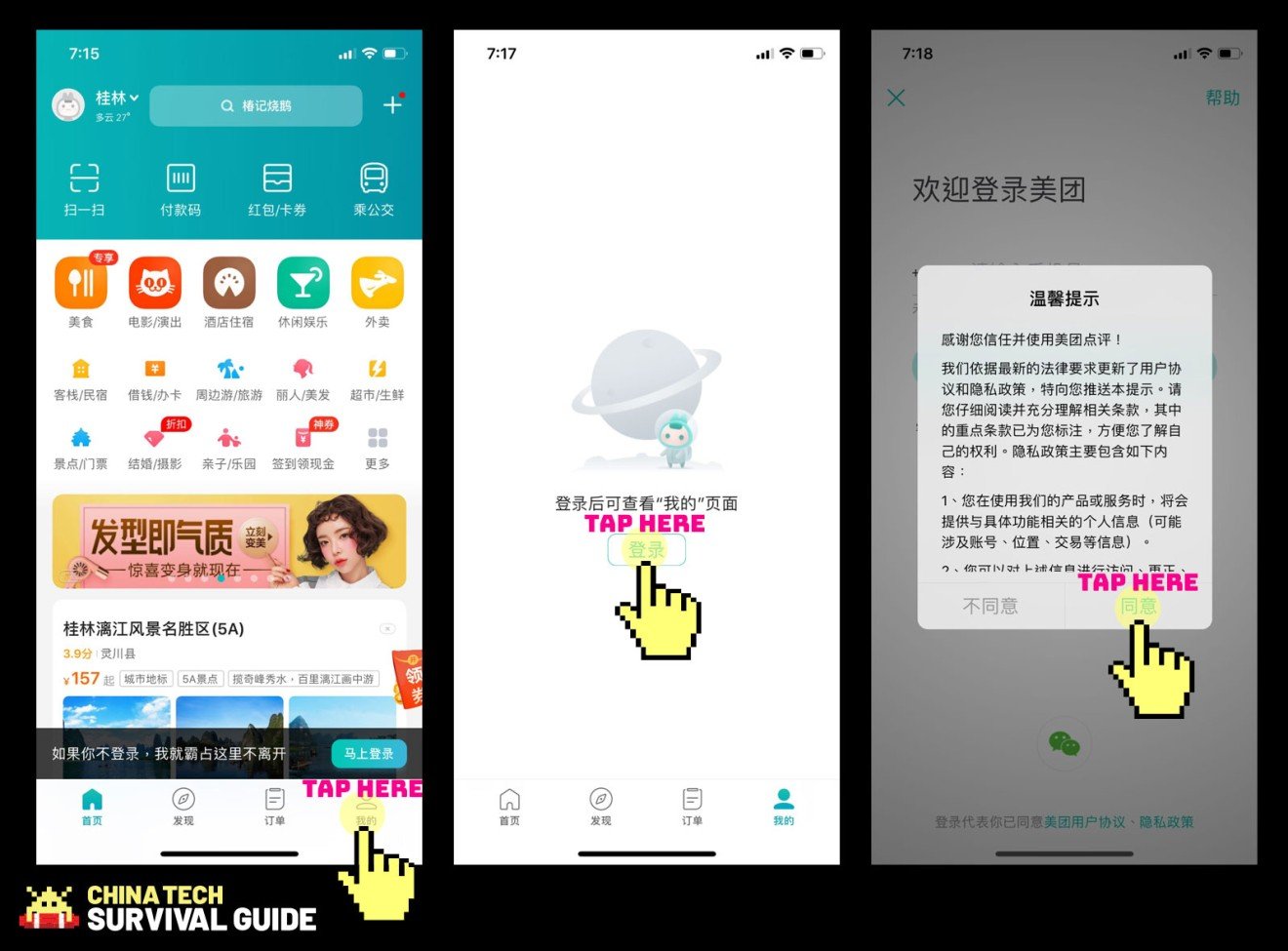 Fill in a phone number that can receive SMS. To select the US country code, click on +86, then tap "M" on the right. Select the row with +1. Then enter your cell phone number and tap the green button. You should receive a verification code by SMS that you can use to complete the registration.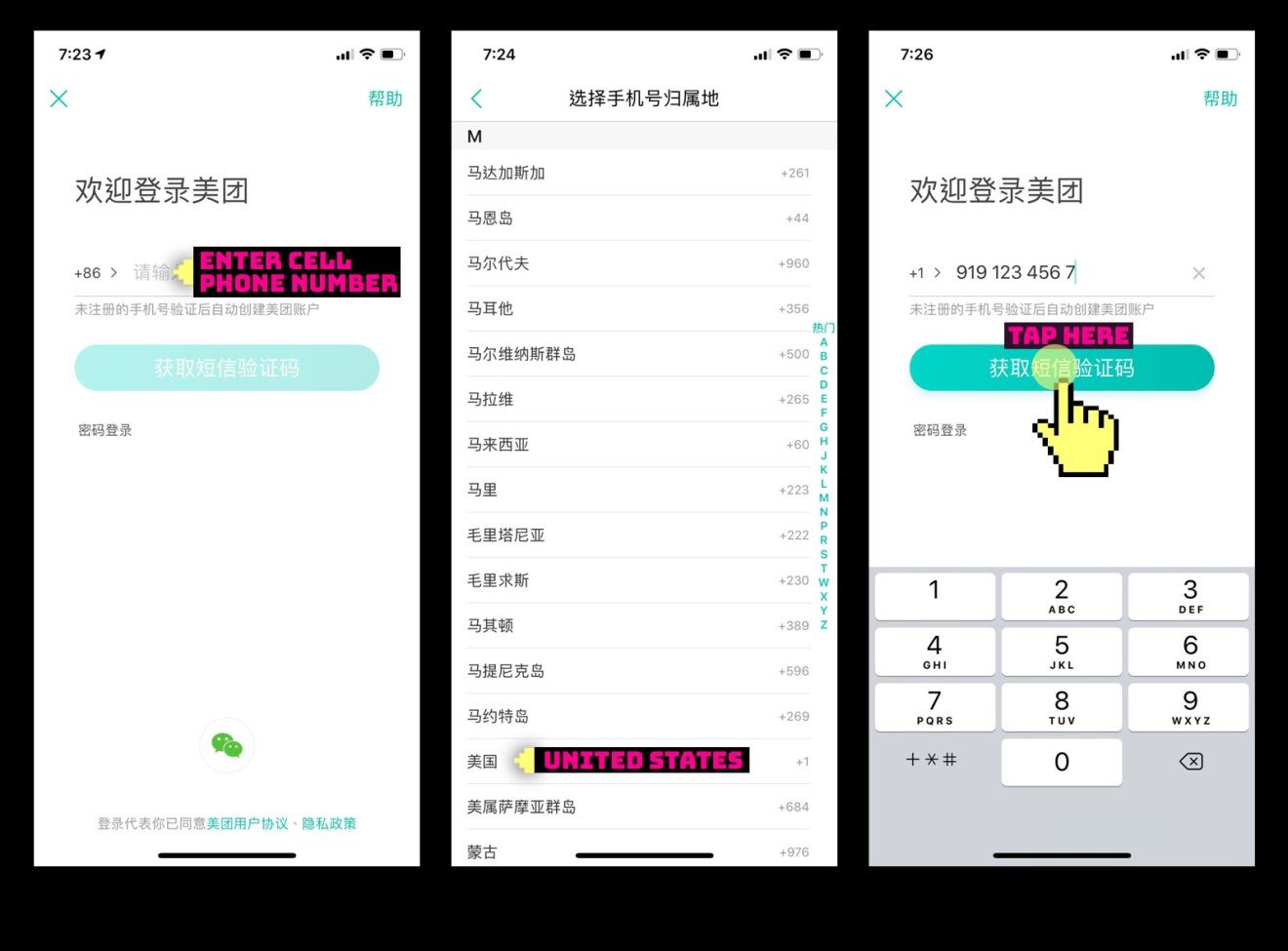 STEP 2
FIND A RESTAURANT
Go back to the front page by tapping 首页 below. Then select the orange icon with a spoon and chopsticks called 美食 (Delicacies).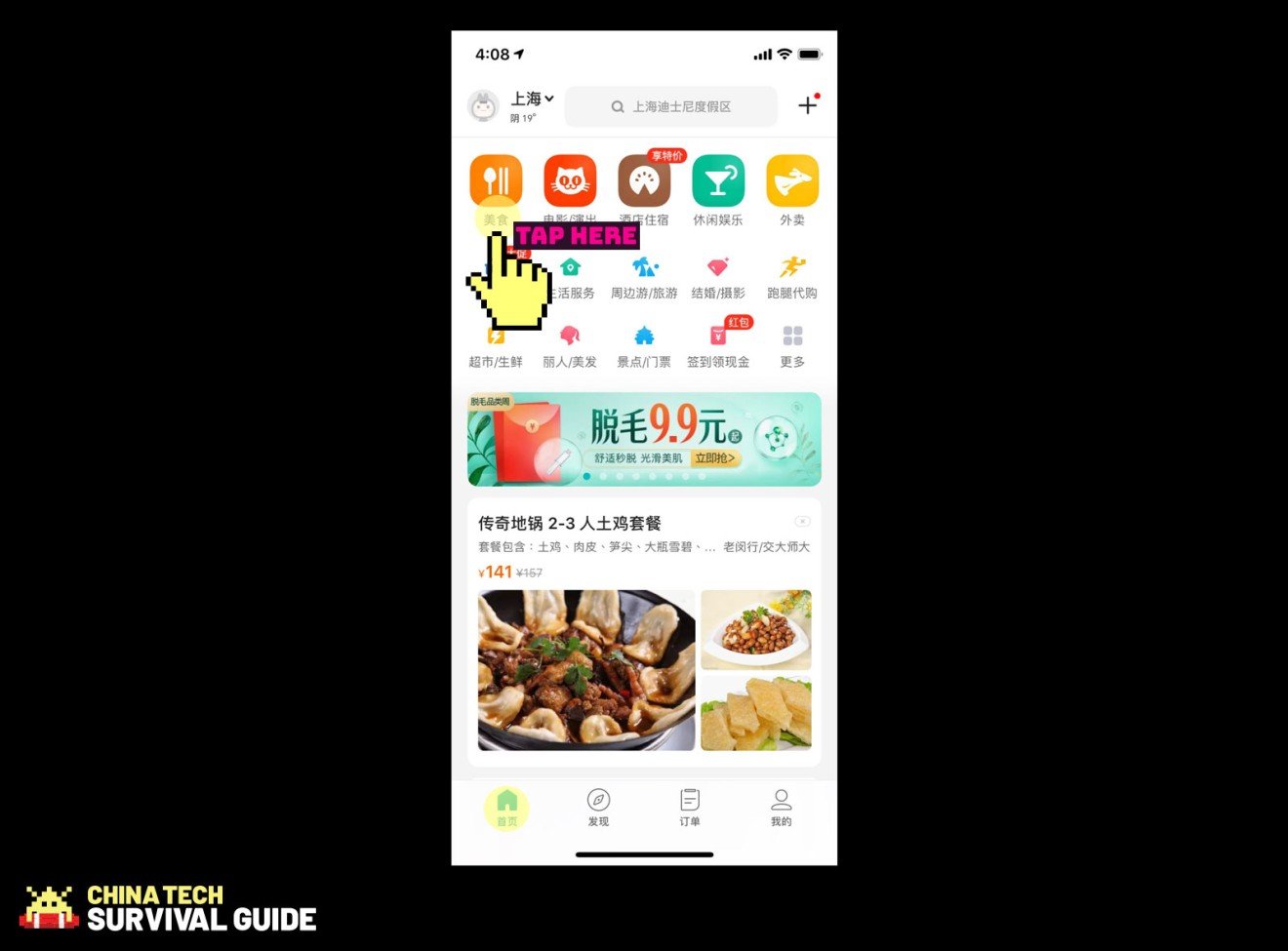 You've officially entered food paradise. These are all the restaurants you can pick from in your vicinity. To narrow down by food categories, tap on 全部美食 (All delicacies). To narrow down by neighborhoods, tap on 全城 (All city). Here, I was looking for a restaurant for a group gathering in Shanghai's Huangpu district.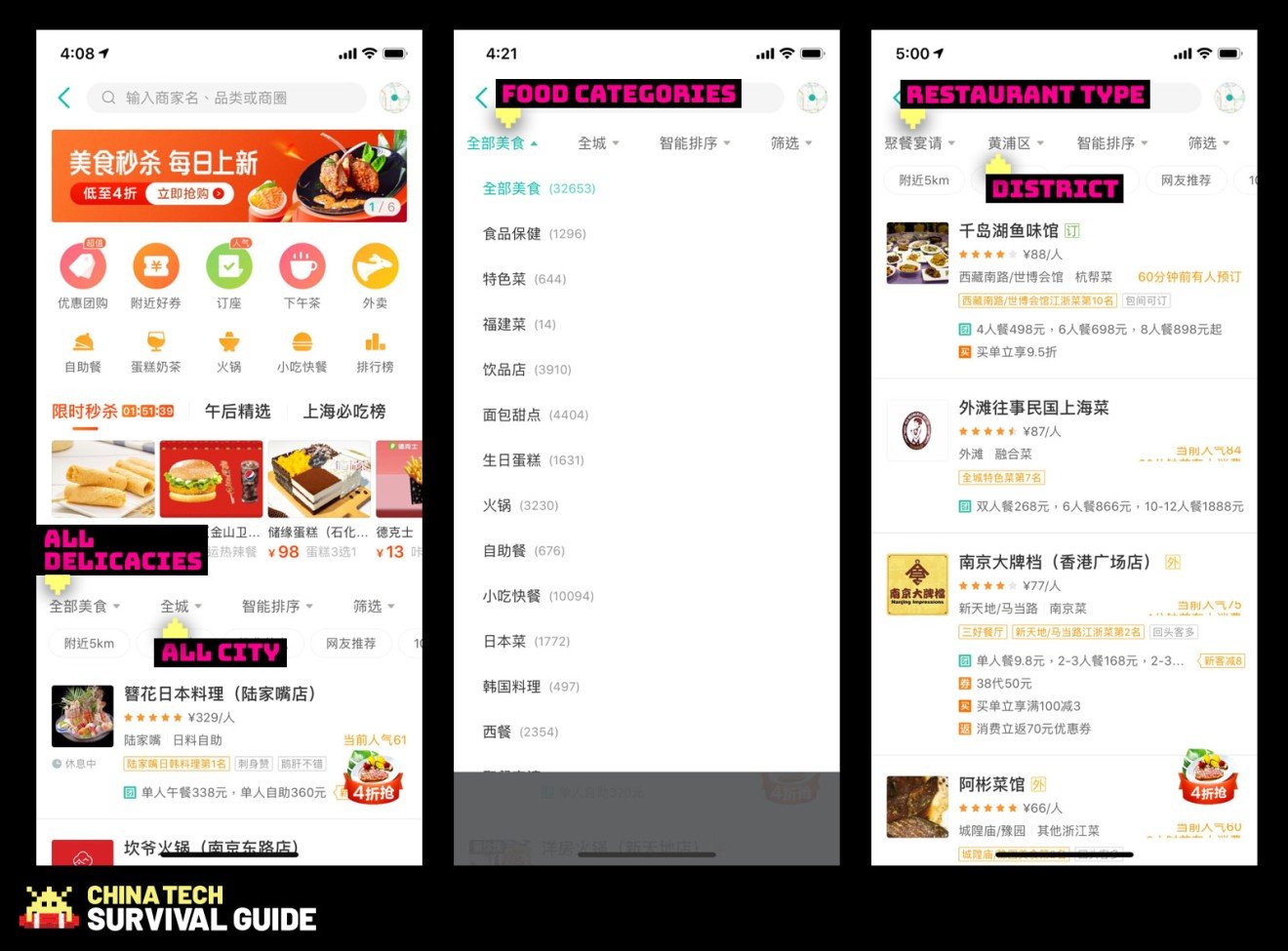 STEP 3
MAKE A BOOKING
Keep scrolling down to see if any of the places whets your appetite. See that some of the restaurants have a tiny green logo called 订 next to their names? That means you can reserve a table online. Say, these fancy-looking Shanghainese dishes are just what you want. Tap on the button with the green tick called 订座 (Reserve).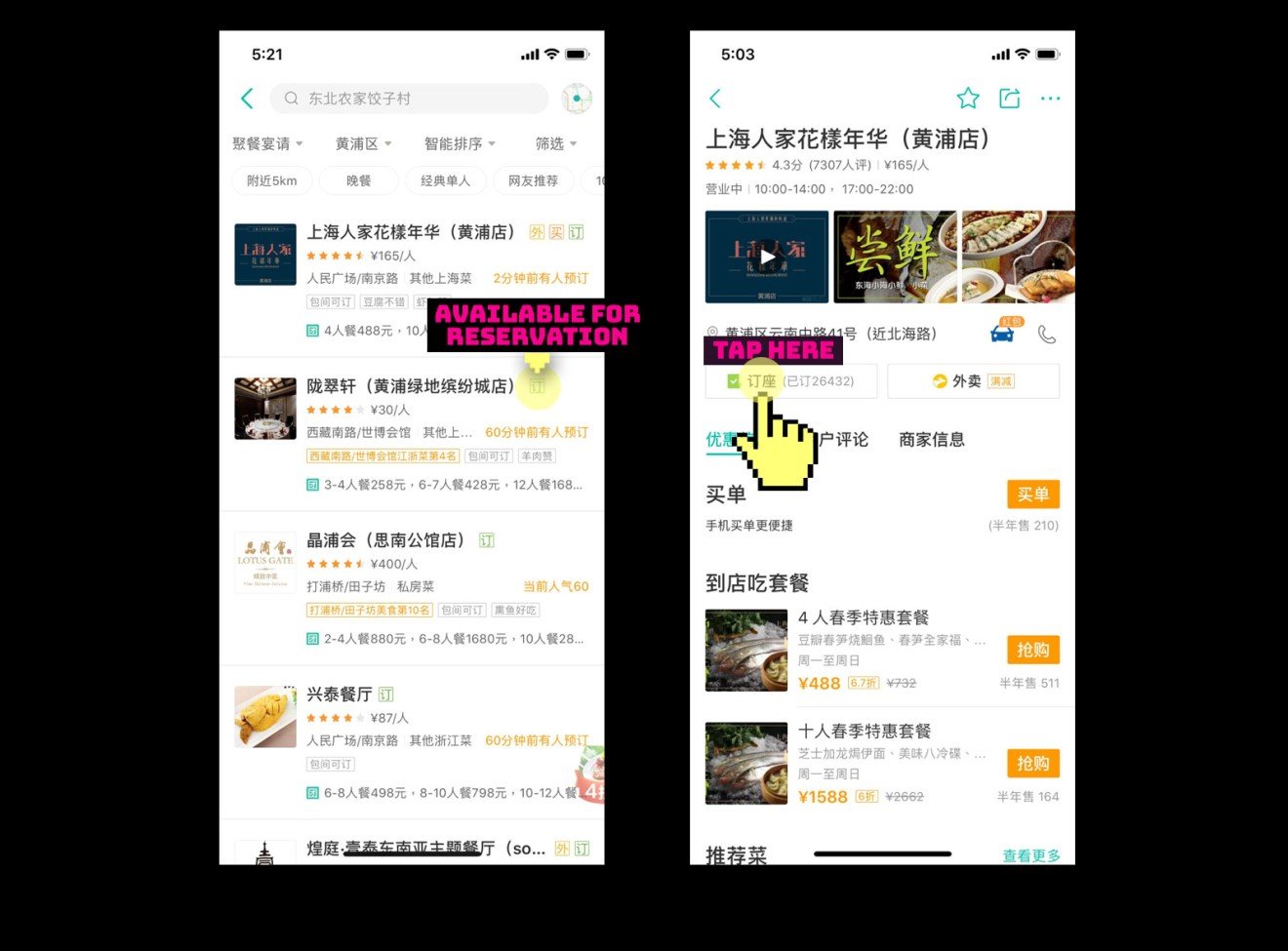 On the next page, select how many seats you need, the date and time, and whether you need a private room (包间). Tap the orange button 确认 to confirm. Then fill in your name, salutation (Ms. or Mr.), cell phone number, and any special requests. Tap the orange button 立即订座 to reserve your table.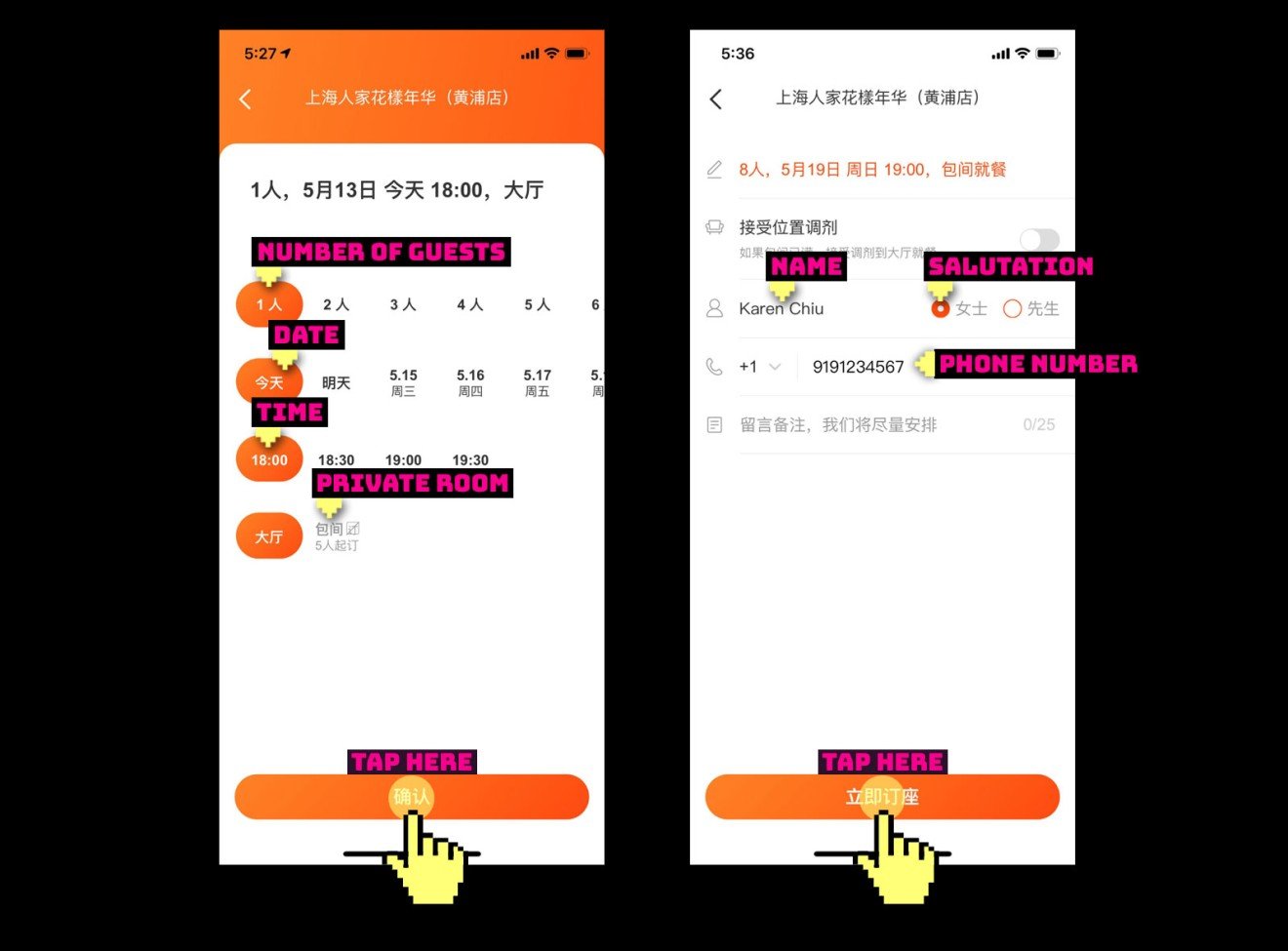 Keep the page open while your booking is being confirmed. During business hours, you should get a pop-up confirming your reservation within five minutes. Tap 确定 to confirm. Then tap 添加 to add the event to your calendar or 暂不 if you don't want to.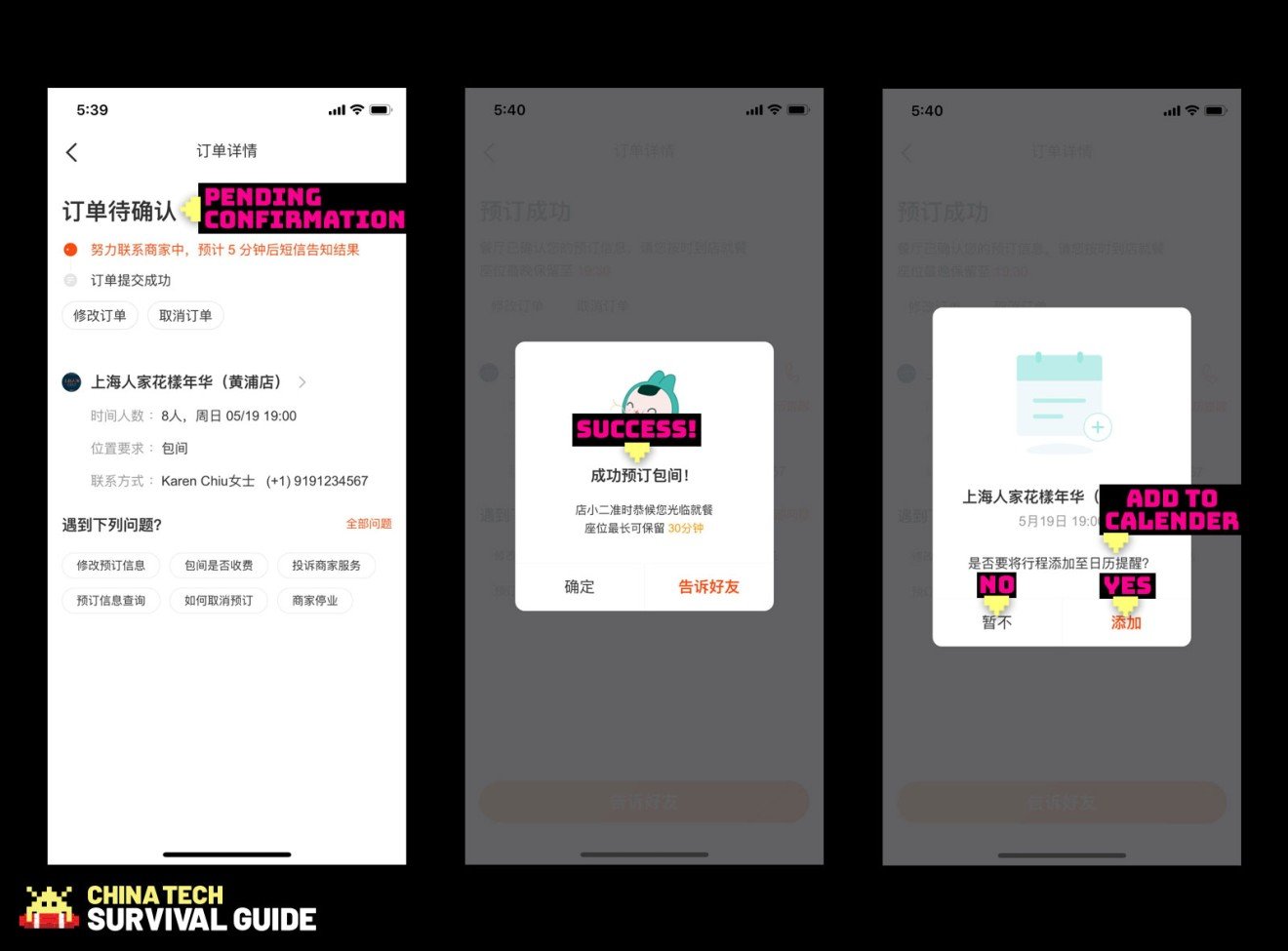 STEP 4
CHANGE YOUR BOOKING
If you need to make amendments or cancel your reservation, go back to the front page and tap 订单 at the bottom. There you'll find a list of all your bookings. Select the one you need to change.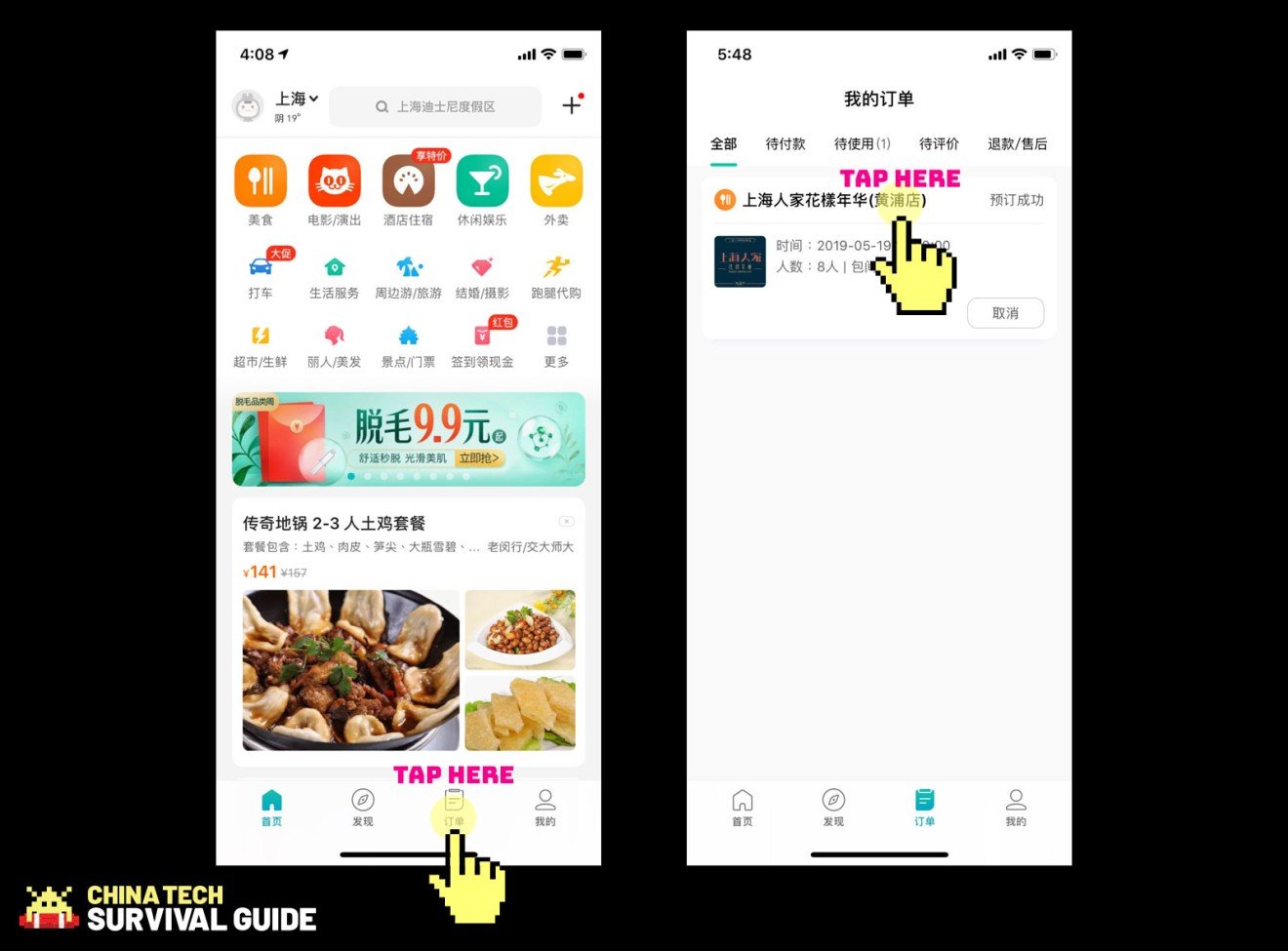 To make changes, tap 修改订单. Next, tap 立即修改 and amend your reservation. Tap the orange button 立即订座 to reserve your table again.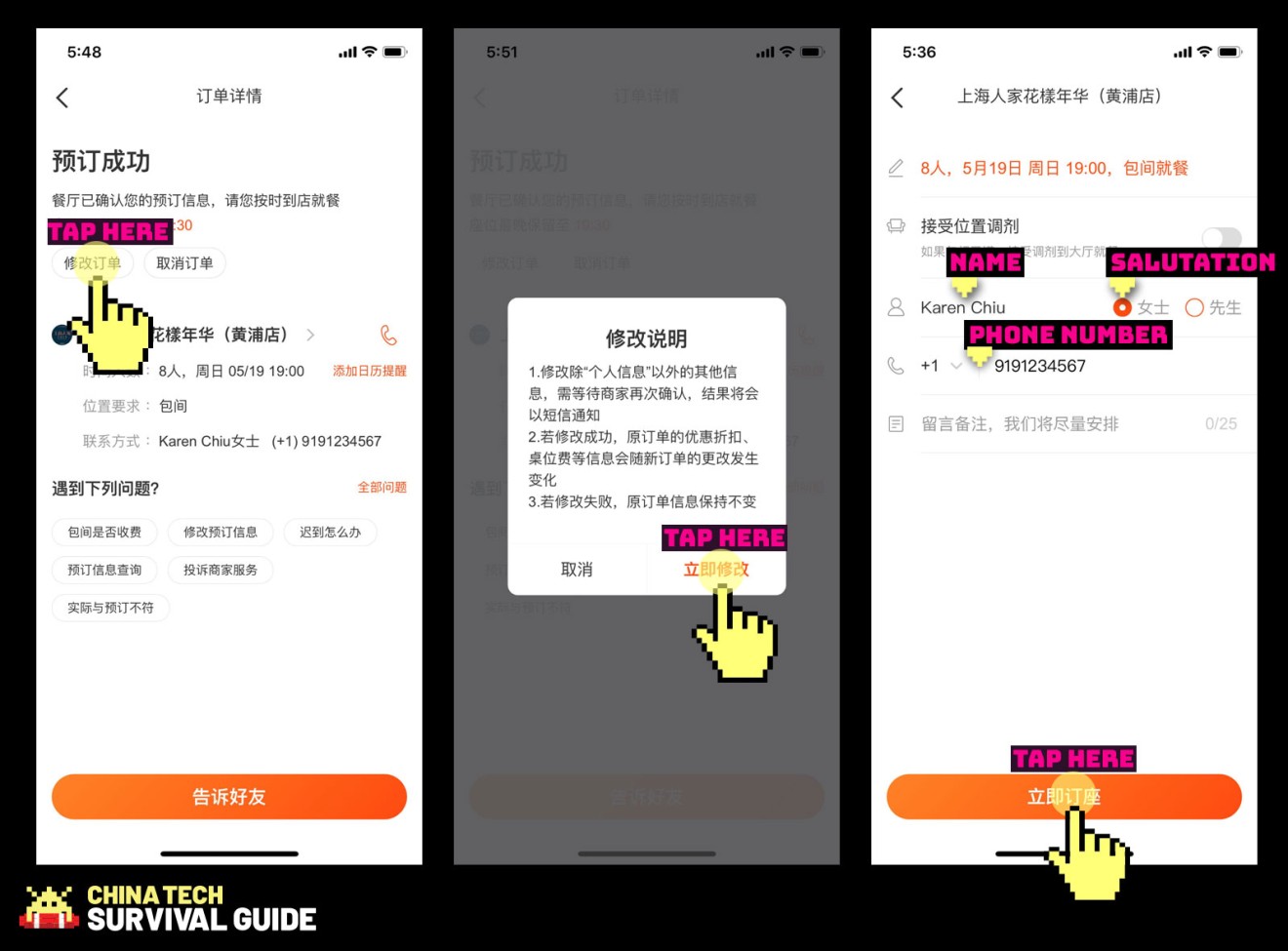 Alternatively, to cancel the reservation, click 取消订单. Select a reason for the cancellation:
不想去了 (Don't want to go anymore)
订单讯息有误,需重新下单 (Made an error in the booking)
行程有变,需重新下单 (My itinerary has changed)
餐厅无法满族需求 (The restaurant can't fulfill my needs)
其他 (Other) 
Tap the orange button 提交 to submit. On the next page, tap 确定取消 to confirm cancellation.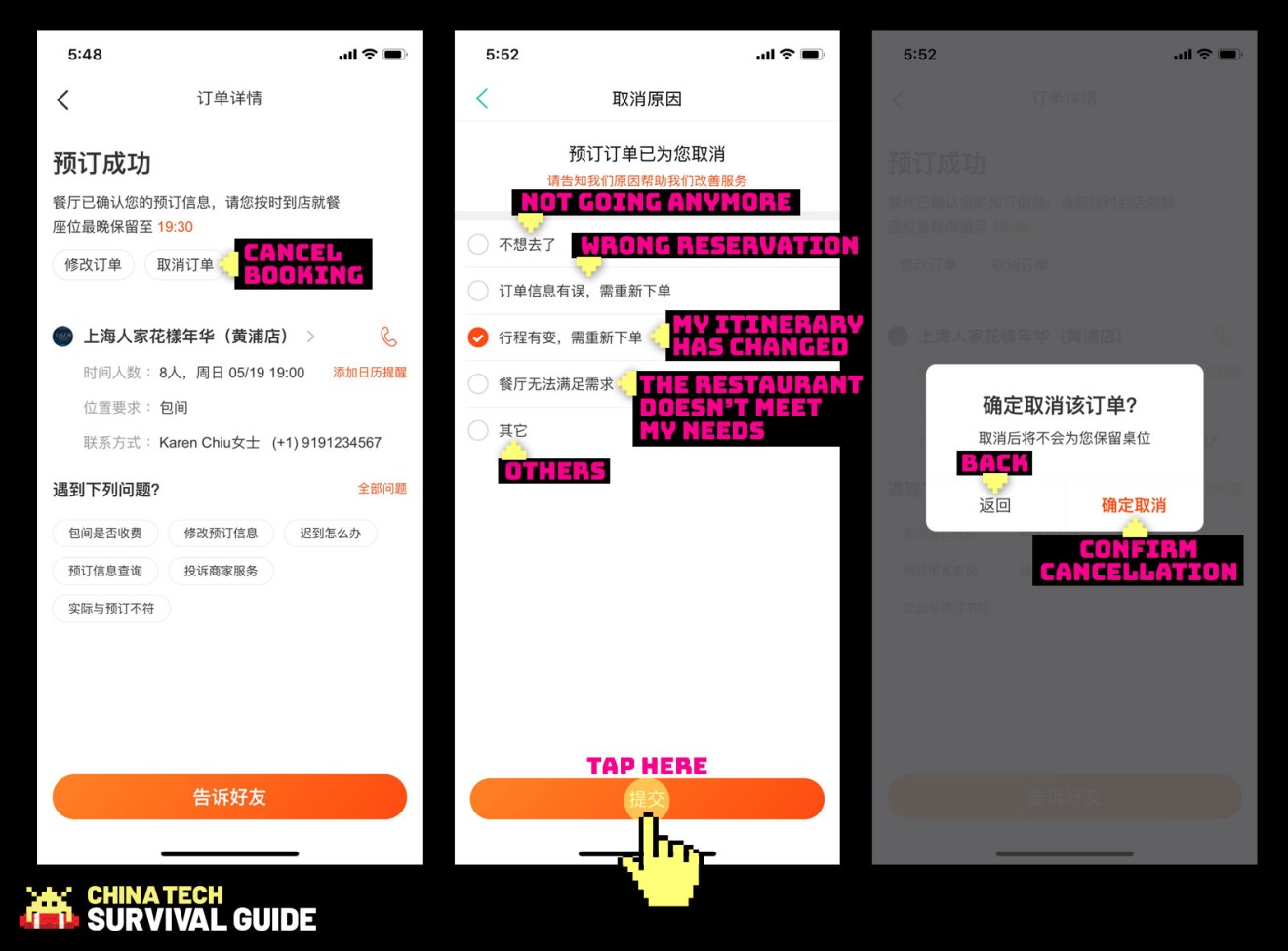 STEP 5
YOUR TABLE AWAITS!
To find the address of the restaurant you book, go back to your reservation page and click the name of the restaurant. Tap the address next to the location icon to see the map.