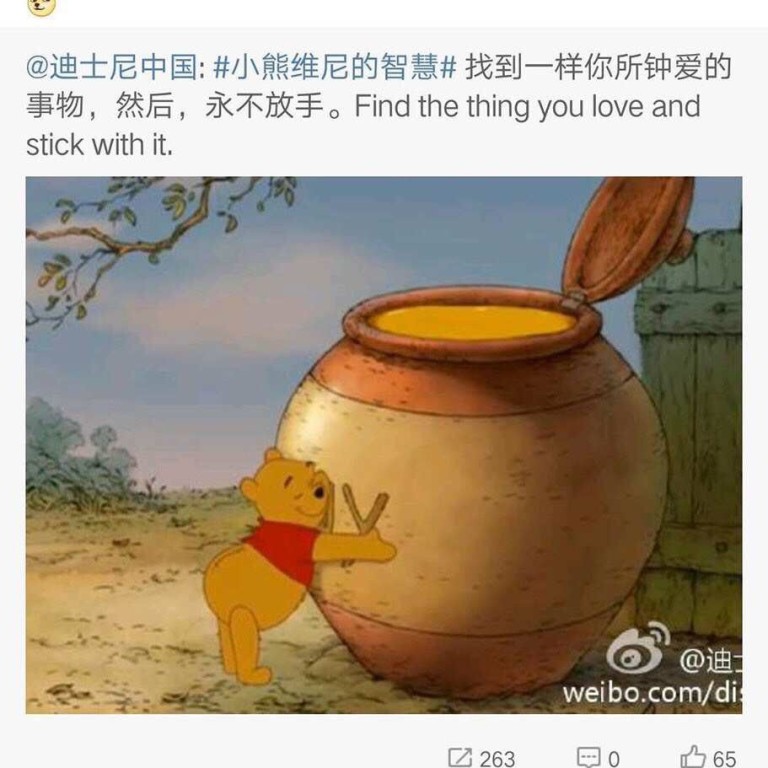 China censors Winnie the Pooh on social media again following plan to scrap Xi's two-term limit
Cartoon bear often compared to China's leader
This article originally appeared on
ABACUS
The chubby, friendly-looking Winnie the Pooh has been banned on Chinese social media again -- because netizens are using the cartoon character to discuss President Xi Jinping.
One popular post that circulated on Weibo is from 2013, showing Winnie the Pooh hugging a pot of honey with the caption "Find the thing you love and stick with it."
Censors quickly took action. If you try to send the picture on WeChat, it won't reach recipients on either private chats or group chats. And if you try to search for Winnie the Pooh on Weibo, there are no results -- just the message "According to the relevant laws, regulations and policies, the search results have not been displayed." The original post cannot be found on Disney China's Weibo page anymore, and it disabled comments for its recent posts.
Chinese social media users are used to working around censored terms, using related words and phrases to discuss stories. But censors are just as adept at spotting and blocking them. Among the terms blocked in the most recent crackdown:
登基 (Ascend the throne)
个人崇拜 (Personality cult)
动物庄园 (Animal Farm -- a reference to the George Orwell book)
复辟 (Restoring power)
庆丰元年 (Year One of Dynasty Qingfeng --

Qingfeng

is a bun shop made famous by Xi's visit)
Some words that were earlier 
reportedly banned
, like "disagree" and "shameless," are now searchable again at the time of writing.