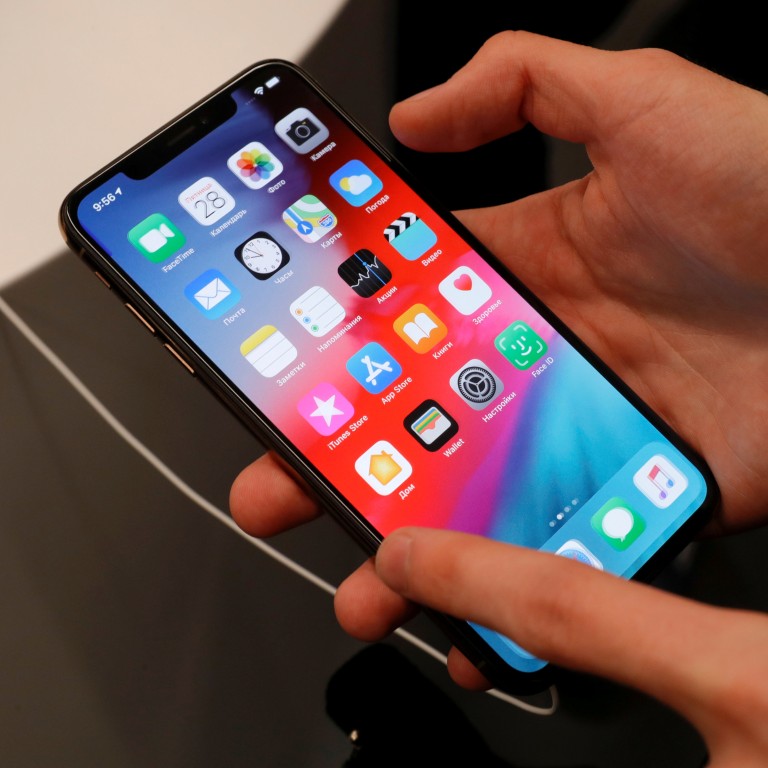 I wasted a week staring at 19 short video apps from China
From TikTok to Kuaishou to WeeSee, short video apps are an entertaining, weird, sleazy and maddening world
This article originally appeared on
ABACUS
If there was a trend that stood out in 2018 in China, it was the short video app frenzy. And it's not calming down any time soon. Much like the live streaming boom, which saw a whopping two hundred apps competing, there are now dozens of short video apps in China. 14 of them come from Tencent alone!
That's why my editor said I should go through all the short video apps to let you know what they were like. And I said yes, because he's my boss and I don't have a choice.
1. Douyin: Teen's choice
First up is Douyin, the Chinese version of global sensation TikTok. Immediately, I'm welcomed by an alien-faced woman singing in a 5-year-old's voice dressed in a traditional Chinese dress.
So far, so weird.
Content is unsurprisingly geared towards younger people. There's lip-syncing to Mandopop hits. There are teenagers showing off their dance moves on the street while obstructing traffic. There are the pop star stalkers. There's memes, skits, and more alien-faced women. All in all, everything you would expect from a viral app.
But then it gets weirder. I stumble across a video of soldiers throwing themselves in the snow naked. This leads me to the realization that the People's Daily, the official mouthpiece of the Communist Party of China, also has a Douyin account. And it's mostly military propaganda, including a
speech
defending the contested South China Sea.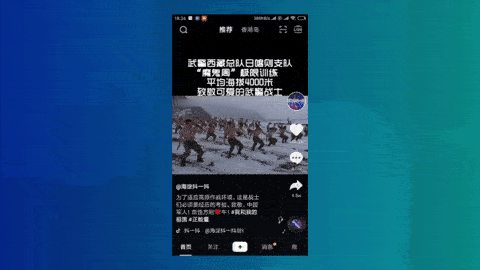 Since I spent so long watching that video, entranced, the algorithms are now convinced that I'm a true Chinese patriot. My feed is full of flag-waving, patriotic songs, military marches, and drills.
2. Kuaishou: The side of China you didn't know existed
Time to relax with something different.
Where Douyin is all about that flashy city life, Kuaishou is the place to go for women eating lightbulbs and grown men putting firecrackers into their underwear. And then there the teenage moms, which were censored over their "
negative impact on society
." The app definitely makes you feel like it's encouraging a kind of morbid curiosity.
But there's still some gems on here, like Chinese farmers doing the robot dance. I'm not sure why, but Chinese farmers seem to be the best darn robot dancers in the world.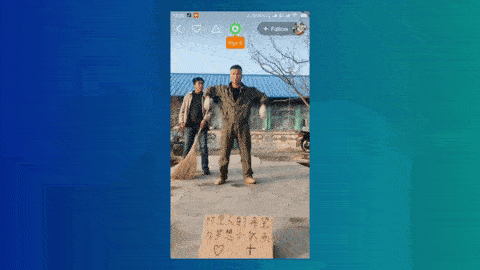 Beyond the humor, there's a serious side: Many of the videos depict children living in abject poverty. And some of those use Kuaishou to make money, since the app allows people to send virtual gifts that can be converted into real money.
3. Huoshan: Busty women and unknown countries
Kuaishou is fascinating, but I spent too long on it. Time to check out another offering from Bytedance, the same company behind Douyin: Huoshan, or Volcano Video.
It's immediately apparent that this has a very different tone, because there's lots of scantily-clad women here. There are even video of random women on the beach that have a Peeping Tom quality to them. (Video makers: This is not a compliment!)
The app seems less interesting, but maybe it's because I'm watching someone eat their sad-looking takeaway lunch.
It's clear that I don't belong here, but I get sucked in anyway. Half an hour later, I'm still glued to the screen. After seeing a video of a woman dressed in lettuce I start to wonder whether I'm wasting my life.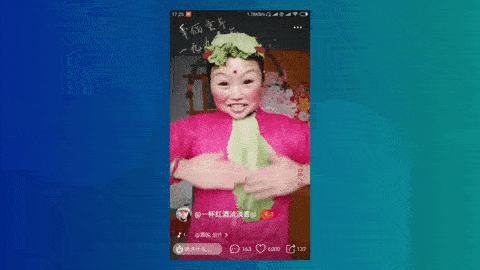 4. Xigua: Is this even short video?
To drown out this malaise I pop on to another ByteDance short video app -- Xigua, or Watermelon Video. After watching Chinese square dancing grandmas for what seems like a really long time, I realize that I was actually watching for a really long time: All the videos are over four minutes long. Four minutes? C'mon, my attention span is barely longer than 10 seconds.
In fact, an
article
I read a couple of years ago claimed that our attention span has shrunk to 8 seconds -- less than a goldfish. The culprit? A flood of digital content… like shorter and shorter video. Maybe longer video like this is good for me?
Nah. Time for another short video app.
5. Now: Or never?
I jump over to a Tencent app called Now. The app is serving me women karaoke-ing Mandopop and... almost nothing else. Why did I agree to do this? I could be doing so much with all this time. Like watch more videos on Kuaishou.
Oh, hang on. I was stuck in the live streaming section by mistake. But the short video offering brings me no joy. I have already seen all the dance moves, the jokes, the memes, the skits, the funny faces... let's just please move on to the next one.
6. YY: Why, indeed
I open YY, a live streaming app that also offers short videos. There are even more women karaoke-ing Mandopop. (And yes, dear reader, I'm in the correct section this time.)
I go back and I stare at my phone for a long time. My brain is already having trouble focusing. The stillness of the screen feels unnatural after hours and hours of moving pictures. My eyes are dry and sore and my neck is making weird noises.
(Kids, if you're wondering what career to choose, physical therapy is going to be a gold mine in 10 years, trust me.)
7. YOO: Being normal is boring
But this warrior of video needs to press on. My next app is yet another from Tencent. Some say this is the tech giant's bet against the almighty TikTok. YOO decided to get more quality videos and I'm excited again to try out a new app.
It automatically switches from one video to the next in an instant, leaving decision-making out of your hands. But that also means you can get stuck with one type of content for an eternity – which is exactly what I do, because I like to torture myself.
My choice is the fashion channel (look, it was the first on the list). You can see that some poor boyfriend or girlfriend had to spend an entire afternoon of their life filming the star of the video showing off their outfit at some artsy-looking place. Now I realize why all the museums and galleries in Mainland China are flooded with carefully outfitted young women wielding selfie sticks. Spoiler alert: It's not for art appreciation.
The rest of the content seems better produced than your average TikTok skit. But it's also quite normal. And normal is boring.
8. WeeSee: Are you spying on me?
We move on to Tencent's oldest video app, WeeSee, which launched all the way back in 2013. Tencent had a lot of hopes for the app back then, but the 8-second format seems to have been too radical for the time. That's why it's staging a comeback now.
But as soon as I start using it, I fall into another strange algorithmic vortex, only this time with the police. It seems like every small town police department in China has an official WeeSee account. I'm especially amused after seeing a short video of wanted criminals.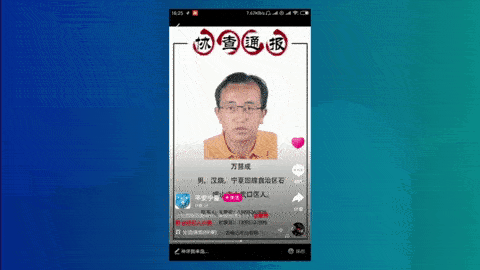 WeeSee holds more surprises – I realize I can follow my WeChat contacts through the app (WeChat is Tencent's most popular social media platform). I'm thrilled to find a video blogger I met last year.
However, when I go back to my short video watching mission, the first thing that pops up is CCTV's show on foreigners in China. Does… does WeSee know who I am? I guess it does: Tencent knows everything about me thanks to WeChat, right?
9. Meipai: An alien world
The short video fatigue is getting real, but I move on because I have another favorite of mine on the list. Meipai is known for its image editing, but not many realize that the editing can sometimes reach grotesque proportions, including chins that look like they can stab people in the heart. (Don't look down!)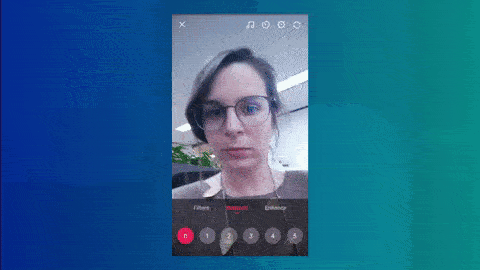 Unfortunately, instead of being bombarded with alien faces I find something very similar to Douyin... only heavily edited. Everyone seems to be talking in an artificially high pitched voice. But I do appreciate the channel dedicated to all the weird stuff people buy online (and there's
a lot of weird stuff
out there).
But even the weirdness fails to amuse me. I consider buying a dumbphone to free myself from this short video purgatory.
10. Meipai Video: Why are there peacocks?
Meipai Video has almost the same offering as Meipai, but it's much more streamlined and only does short videos. But there's also an inexplicable amount of videos featuring peacocks. Why? No idea.
Looking at my app list, I feel despair, with the deadline looming. There are so many short video apps I haven't even got to. I try to do a quick run through them.
11. Quanmin K Ge: Desperation (to the tune of Mandopop)
Quanmin K Ge dedicated to making karaoke videos. It makes me sing in the office! Is it through madness or joy? That's a mystery up there with Meipai's peacocks.
I get weird looks, but I'm so deep in the realms of madness right now that I would probably break out in a full-on viral dance if a short video required me to do it.
12. HaoKan Video: Sleazebags and carps
In HaoKan Video I'm immediately captured in a net of a video maker that streams himself catching carp. I keep staring at those fish for a good 15 minutes. I start reconsidering my career choice. I envy him. Maybe catching carp is what I was meant to do. Watching short videos sure isn't.
There's a guy whose entire video feed is filming unsuspecting people on the beach, and let's be real, by people I mostly mean women. The videos are obnoxiously sleazy. I would love to throw his phone into the sea.
Next up is feed filled only with virtual characters. I find it amusing that one of the videos is called Little Auntie Got Mad… but the virtual face remains completely expressionless.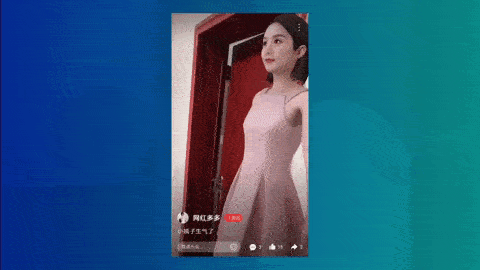 I see another guy that films unsuspecting women on the beach. It's like a genre already. Time to move on.
13. Pear Video, 14. Miaopai, 15. Hui Video… I can't take it anymore
I am running out of time. I quickly tap into Pear Video which has a short video section. More alien faced women. We can't stop here, this is bat country.
I run to the second app. All of them want to know my location. By now, all the video apps I downloaded are constantly bombarding me with several notifications a day. I'm getting paranoid about what else they know about me. (Other than my apparent love of patriotic videos, of course.)
I open another one. I don't know what this one is even called but it's tempting me to register my number with the app for 5000 yuan. As soon as I scroll down there's another advertisement saying that if I want to earn a second salary I should add this lady on WeChat. Looks just a little tiny bit scammy. Next up is a loan ad promising me 200,000 yuan (US$25,500) just for registering my phone number. My brain is so slow right now that it sounds like a good deal.
16. Bobo Video, 17. Xiao Yinxiang, 18. Zhongzi Video, 19. iQiyi… send help
I move to something called Bobo Video, and then to an app called Xiao Yinxiang. I'm frantically trying to absorb as many short videos as possible in the shortest amount of time… and then I realize with horror that I need to add another app to the list, because iQiyi, the Netflix of China, has also started doing short videos.
Which, to be honest, is one of the weird and slightly misleading things here. In all, I've gone through 19 short video apps, which isn't even close to all of them. But not all have been short video apps; like iQiyi, they're apps with short video in them. In the West, we're used to apps serving one function. In China, the land of super-app WeChat, adding more functions to your existing app -- more reasons to keep people hooked -- is just the way things work.
On the other hand, somehow, everything ends up looking the same. Am I on Zhongzi Video or HaoKan? Have I seen this app before? I can't tell if this group of Mandopop karaoke singers is the same one that I saw in YY or WeSee. They all melt into one giant short video scroll that flickers before my eyes with no hope of ever ending.
When I finally give up, I'm jumping into a different app. But it's not a video app.
I'm going to a shopping app to buy a dumbphone.