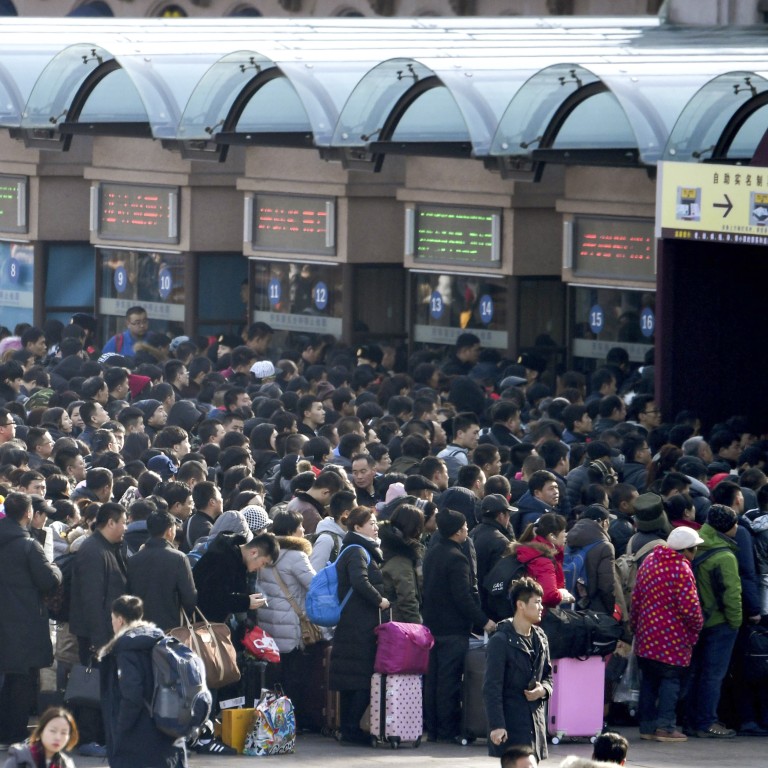 Desperate travelers turn to shady tech to get Lunar New Year train tickets
From software plug-ins to a mechanical finger, why Chinese travelers turn to hacks to book tickets
This article originally appeared on
ABACUS
If you think the Christmas travel rush is annoying, well, traveling during the Lunar New Year in China is basically the apocalypse. People rush into trains in a mess of limbs and suitcases. Scalpers jump on the opportunity to rip off passengers. Train ticket lines extend to epic proportions, both offline and online.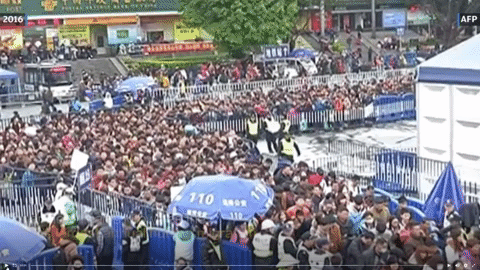 Last year, the world's largest annual migration saw an astonishing
3 billion trips
. But as insane as the mass of people looks, the most painful part for most travelers is just getting a ticket in the first place. It's not surprising then that many travelers are resorting to technological tricks to get ahead of the system.
One popular method is ticket-grabbing software. The third-party software, in the form of apps and plug-ins, allow users to constantly refresh the official website of China Railways, shortening the painful process of buying tickets – for a fee of course.
But China Railway is now clamping down on the practice. The state railway operator announced on Sunday that their system is implementing restrictions for the software – just in time for the Lunar New Year rush. Unsurprisingly, Chinese online commentators greeted the news with expletives.
"I don't have time to refresh tickets all day without this software,"
said
one Weibo commentator.
 "Tickets start selling at 4:30 AM. I set my alarm clock at 4:28 AM and keep refreshing but all the tickets for all the trains go directly to zero," said another. "Spring Festival is really desperate."
For users, the unanimous view seems to be that the official ticketing platform is inefficient (which isn't exactly untrue) and the third party apps fix these inefficiencies. So why would anyone ban ticket-grabbing software in the first place?
The answer is ticket scalpers. The hordes of shifty men selling train tickets in times of demand used to be a regular sight. These days scalpers are nowhere to be seen, but they are operating online – and they are using ticket grabbing plug-ins too.
Last year, police in southern China
arrested
eight people for illegally acquiring over 100 million pieces of personal information, including ID numbers, mobile phone numbers, and email addresses. These details were then used to buy train tickets in bulk. Scalpers would change the name on the ticket and sell it back to the paying customer.
But travelers need not give up their tech tricks yet – they just might need to go down a notch in the technological level. Last year, Chinese police confiscated a machine in a scalper's home used to refresh China Railways website. It's harder to detect because it's not a piece of software…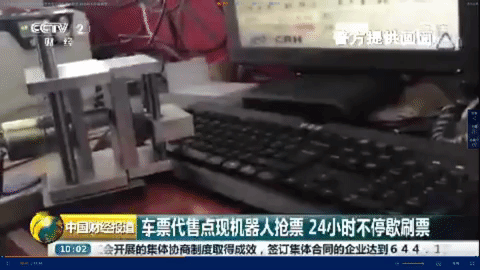 ...yup, it's a mechanical finger.