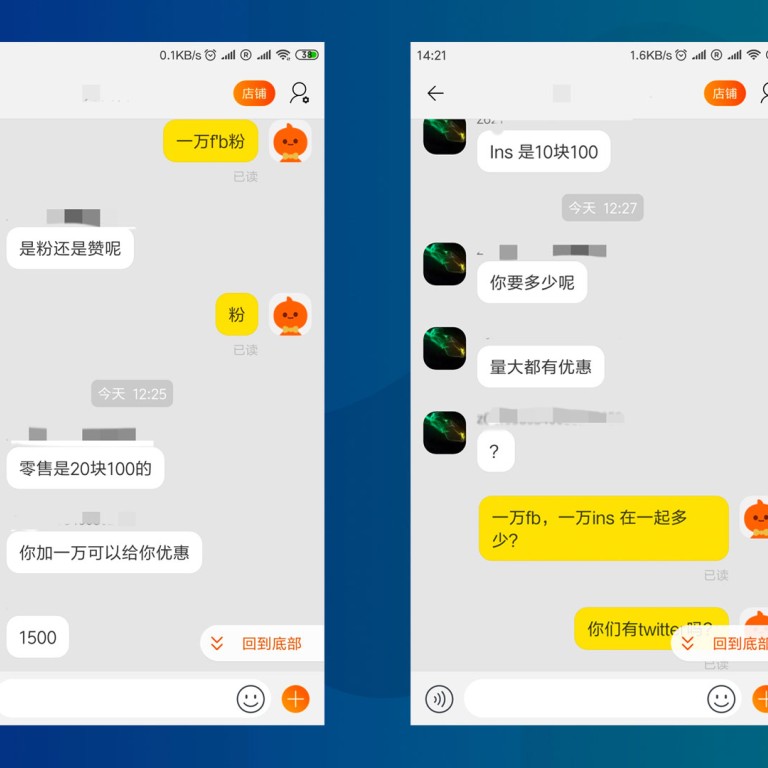 I bought myself fake Twitter followers from Taobao
Facebook sues four Chinese companies for selling fake accounts but Taobao shows there are plenty more sellers
This article originally appeared on
ABACUS
Facebook has sued four Chinese companies for selling fake Facebook and Instagram accounts. It represents a major effort by a large Western platform to strike back at alleged click farms in China. But as we found out, purchasing likes and followers on social media might be easier than you think. 
It took only a brief search on China's most popular ecommerce platform Taobao. I typed "Facebook like" in Chinese and voilà – the doors to online popularity were open for me.
(Abacus is a unit of the South China Morning Post, which is owned by Alibaba, the owner of Taobao.)
"It's been ten days and it's relatively stable, the number of fans did not drop. Buyers' after sales service is excellent,"
wrote
one satisfied customer (could those good reviews be fake too? I wonder).
Our seller told us that the current prices on the market for Facebook and Instagram were between US$1.50 and US$3 for 100 followers. Around US$223 could buy you 10,000 followers on Facebook. And if you wanted to add another 10k for your Instagram, that would be less than US$300.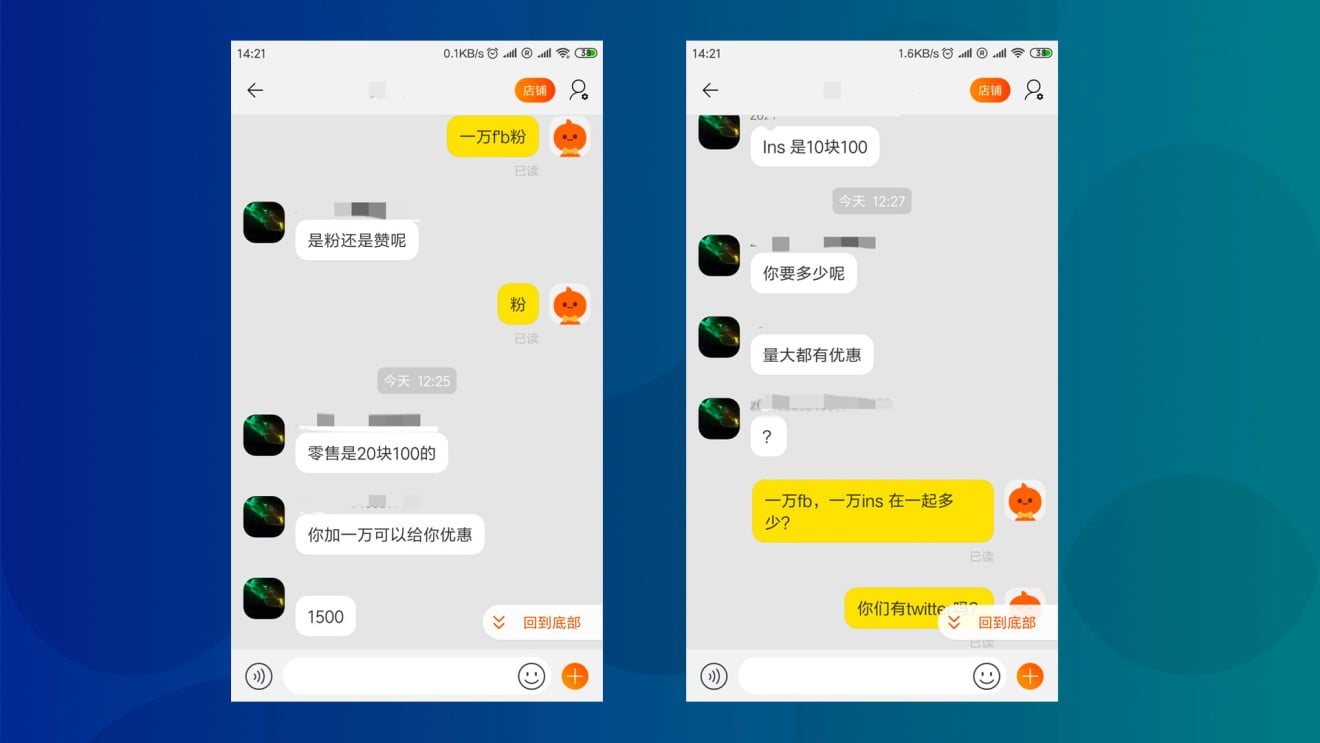 Twitter, however, was a bit trickier and more expensive, my seller warned us. Still, the temptation was too high: My following on Twitter had always been kind of pathetic so I bought myself 100 followers for US$5.30 just to test if the service actually works.
According to the seller, opting for "fake" followers -- meaning bots -- would have been cheaper but also riskier. The platform declared a war against bots last year, reportedly banning millions of them in a few months.
We've reached out to several platforms. A Facebook representative provided
this statement
, which reads, in part: "We hope to reinforce that this kind of fraudulent activity is not tolerated – and that we'll act forcefully to protect the integrity of our platform."
We'll update this story when comments from Twitter and Alibaba become available. 
So where do all these invisible followers that Chinese vendors are selling actually spawn from? Videos of click farms in China have gone viral in the past showing how large these operations can get. They use powerful computers to string together hundreds of thousands of phone cards to create fake engagement. Click farms are also known to hack into other smartphones through malicious apps to hijack traffic.
Fake web traffic isn't just for boosting follower numbers. You can also buy 
five-star reviews
 for your store on Google Maps.
Video views are an even bigger part of the industry. In 2017, for instance, two Chinese TV shows got more than 
a billion views
 in just one day. The weird part is China only had about 750 million internet users at the time. This has led iQiyi, the Netflix of China, to
give up on counting views
to gauge popularity entirely. The problem persists despite amendments to Chinese law last year, making frauds punishable by up to 2 million yuan (around US$298,000) in fines. 
But China is just one of the countries known to host click farms for foreign platforms, with much of the action also happening in Indonesia, the Philippines, Bangladesh, and India – many aimed at Western buyers. 
In the meantime, my Taobao seller seems to have kept his promise: I got 56 new followers by the end of the day. Now, I only have to hope that Twitter doesn't ban me.