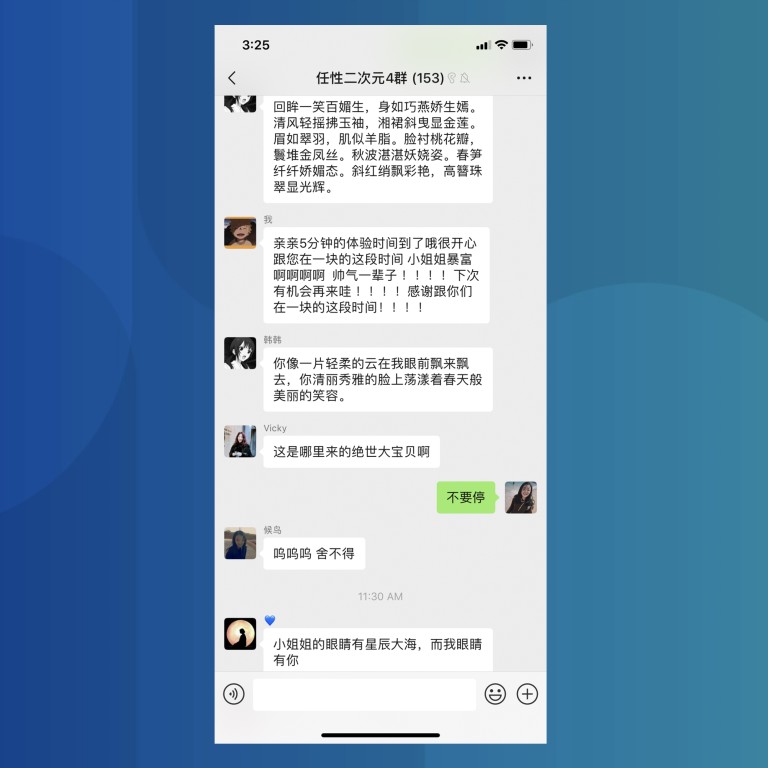 Having a bad day? You can pay people to shower you with praise on WeChat
WeChat and QQ are full of groups that will turn any situation into a compliment
This article originally appeared on
ABACUS
The internet isn't always a happy place. But there are groups dedicated to changing that.
Chat groups where people shower you with over-the-top compliments and cheesy but positive messages (for a price, of course) are gaining popularity in China. Kuakuaqun, meaning praising groups, are on WeChat and QQ.
But these aren't just generic compliments. These groups are full of people who find extremely creative ways to find a silver lining in any dark cloud.
Here's
one of the most popular
praises circulating on social media. A person fishing for compliments said: "I can't focus on reading." The gold-star response? "This means your knowledge level is higher than the book." 
Another
popular one starts with: "My roommate is a girl." How can you possibly turn a plain statement like that into praise? Watch the professionals in action: "You can tell that your roommate is a girl? You have eyes for discovering treasures." And "You now have what I dream about having."
I wanted to hear some creative ways to compliment people -- no, seriously, I didn't need a mid-work compliment, honest -- so I searched for "praising group" on Taobao. There were at least a dozen vendors, so I picked the most popular one and bought myself a praising session for five minutes, costing 50 yuan (US$7.45). 
Maybe picking the most popular one was a bad idea: I waited for over an hour, which the seller claimed was because of a long queue of customers before me. Finally, I was invited into a WeChat group with more than 130 members. Within seconds, I was buried in messages of praise.
"Where does this fairy come from? I feel the air in this group just got sweet," said one of the first messages.
Some of them were old school ("you're a fallen angel"), while some of the others sound like the worst pickup lines ever. 
"You must be a carbonated drink in your last life. Otherwise why do I bubble up with happiness when I see you?" (I mean, that doesn't even make sense. If I'm the carbonated drink, surely I'm the one bubbling? I've thought about this way too long.)
I was hoping for some personal attention, but with so many people firing praise my way, my own messages were ignored. I squeezed in a message saying I'd appreciate it more if someone could just give me some funny stickers, but nobody seemed to notice. "Did you grow up eating cuteness?" 
"My fish died today!" I shouted in the group, trying to get some attention. But my personal tragedy was ignored -- I kept getting praise about me being a little fairy (and one saying that I look handsome).
Soon, a moderator reminded people that my session is over, and they moved on to another customer who wanted the group to help impress a guy she's trying to date. My dead fish went without praise, my little bit of sadness not lifted by the compliments I paid for. 
Still, despite the generic praise... I wanted more.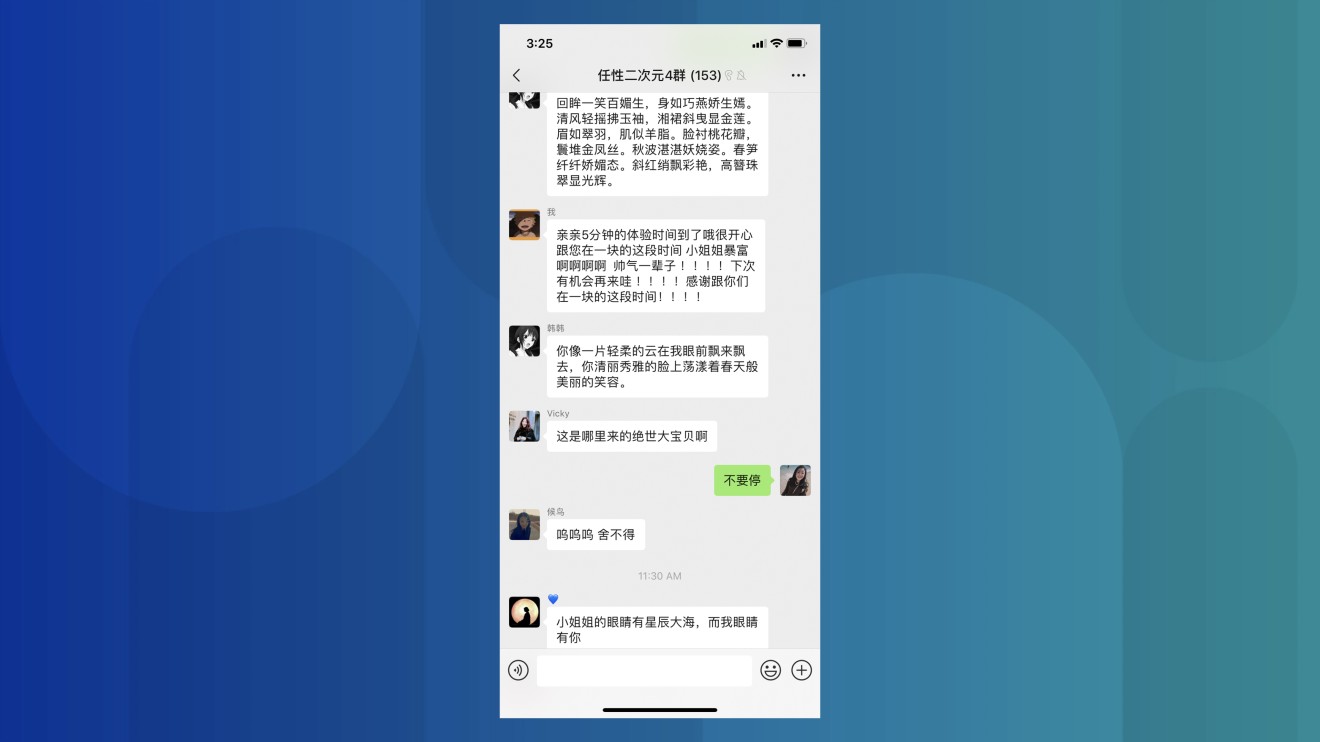 Weirdly, I found more personal attention in a praising group I didn't pay for. I got into a QQ chat group by scanning a QR code I found on Weibo, and pulled the dead-fish stunt again. It worked.
"Your fish is gone, but I'm here now," one person responded. Another tried to cheer me up with a strange sense of humor: "The fish is so cute you can fry it. Kids next door want it so much they're crying!"
Chinese media reports say that online praising groups originated in 2014 on Douban, an interest-based social site. The community, named "praise each other group", is for people to cheer each other up when they're in bad situations. Last week, it reportedly suddenly gained more than 10,000 members. Nobody knows why it happened, but everyone is jumping on the mysterious bandwagon: Universities across China followed suit by created their own praising groups, followed quickly by people trying to turn it into a business.
I asked some of the people in the praising group how the vendor split the money with them, and was told there wasn't any standard percentage or breakdown. For my order, which cost me US$7.45, people earned 7 cents.
I asked one of my praisers, who told me she's a college student in a northeastern city, why she's doing this if it earns so little money. "It's kind of fun," she says, "I don't have much to do anyway." 
"People like to be praised," another said to me, "it puts everybody in a good mood."
The praising groups are also a sudden inversion on another recent trend. Last year, another form of large group chats with strangers exploded with popularity: 
Curse groups
. Like with praise groups, they turned the most mundane situations into intense verbal abuse.
Some of them got so intense that WeChat had to
crack down
on the groups last year. They're no longer popular now, but I did find some curse groups still active on QQ and on sale on Taobao.
I don't think I'm going to try that. I can just go on Twitter.