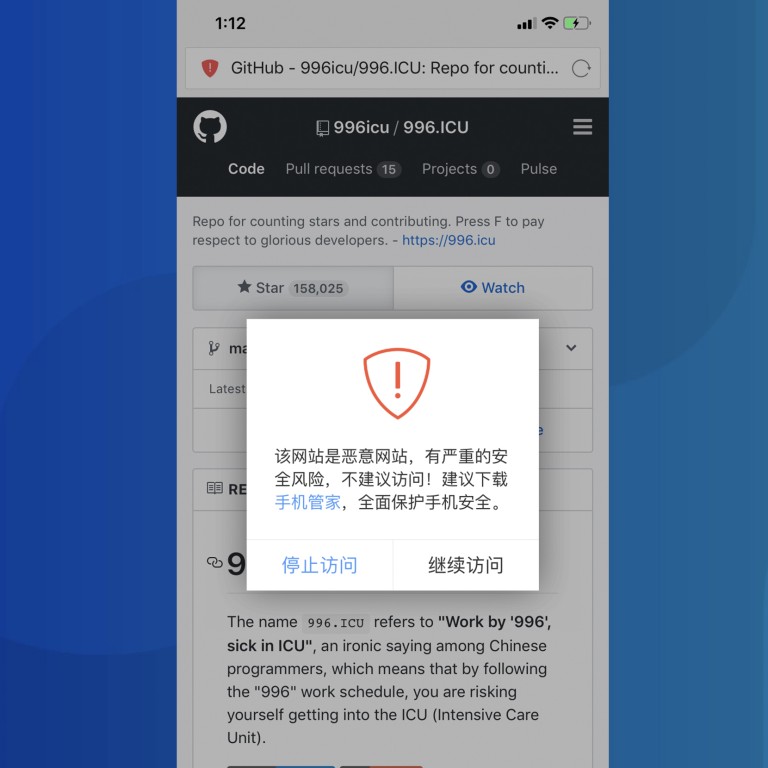 Chinese browsers block protest against China's 996 overtime work culture
Tencent, Xiaomi and others are censoring the GitHub page over "illegal information"
This article originally appeared on
ABACUS
Chinese developers are using GitHub to
protest
China's punishing "996" overtime work culture -- 9am to 9pm, 6 days a week. But back home, Chinese companies are trying to kill the discussion.
A number of Chinese browsers, including Tencent's QQ Browser, Qihoo's 360 Browser and the native browser on Xiaomi smartphones, have restricted user access to the 996.icu
repository
on GitHub. 
The project was started by an anonymous Chinese developer who says workers are risking their health when they follow the "996" schedule. The repository became the subject of wide discussion across Chinese social media by those sharing similar experiences, quickly turning the repository into the top trending project on GitHub.
Now with some of China's biggest tech firms censoring the project, netizens have noted the ironic turn of events. "So these 996 companies' 996 developers had to work 996 to block a website about 996," one user
said
 on Weibo in a comment liked nearly 800 times.
"Homegrown browsers have built higher walls than the country's Great Firewall, they're effectively all accomplices," another user
said
.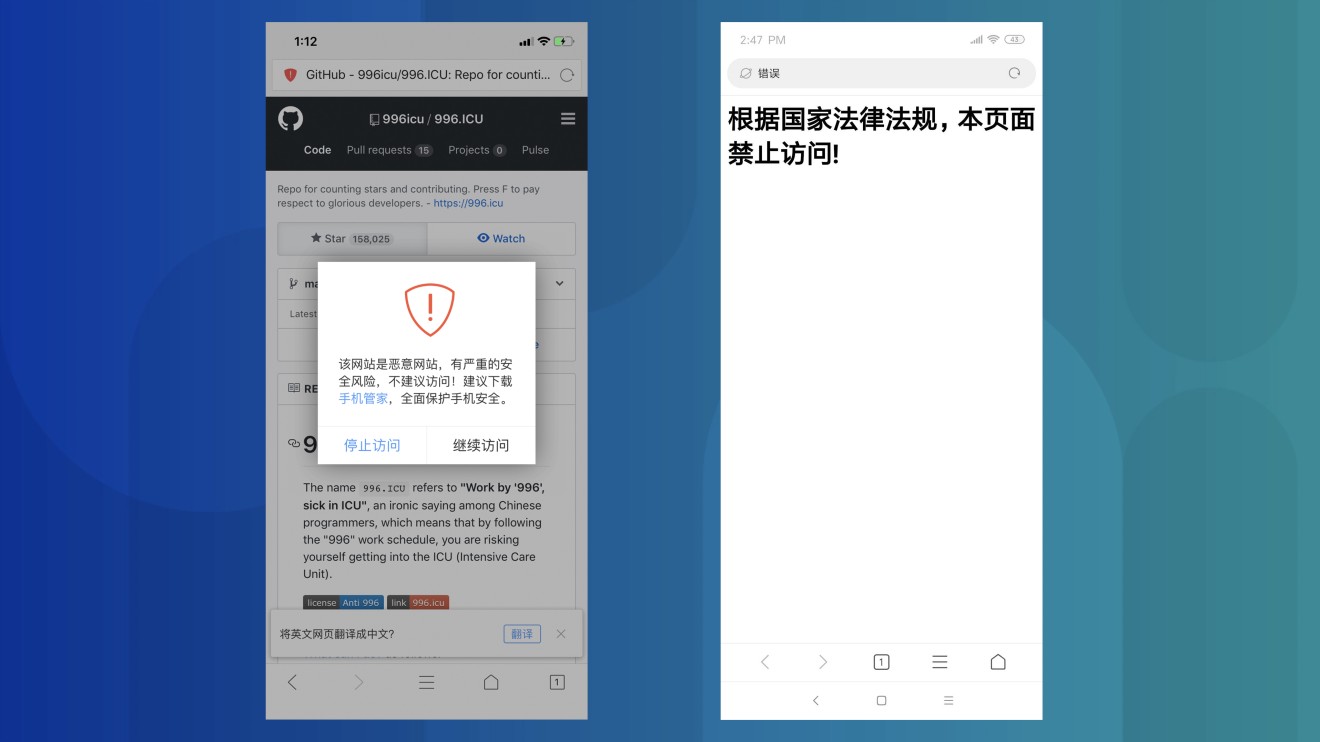 QQ Browser presents a pop-up message telling users that they're trying to visit a "malicious site" that contains "security risks," but it will still let users access it if they click "continue visiting." 360 Browser, on the other hand, completely blocks the site,
saying
it "contains illegal information." Xiaomi's browser and the lesser known 2345 Browser from a company in Shanghai show a message saying users are prohibited from visiting the site "according to national laws and regulations."
International browsers appear to have no problems accessing the site in China, with users verifying they can access the repository through Google Chrome and Mozilla Firefox. 
In 2013, GitHub was briefly blocked in China for unspecified reasons, although the developer hub has long hosted code for tools allowing people to circumvent the country's firewall. Github was unblocked after it
triggered
strong protest from China's developer community. Venture capitalist and former head of Google China Kai-Fu Lee criticized the censorship as potentially damaging to Chinese developers' competitiveness. 
Since the latest censorship is coming from individual browsers targeting a specific repository, some people
think
it won't have a big impact.
"Haha, who uses domestic browsers?" One Weibo commenter
said
, summing up Chinese developers' preference for foreign web browsers.
So far, work on the project continues unabated. Developers have compiled a
blacklist
of companies with heavy hours and a
list
of those with healthier work hours, the latter comprising mostly of foreign companies in China.