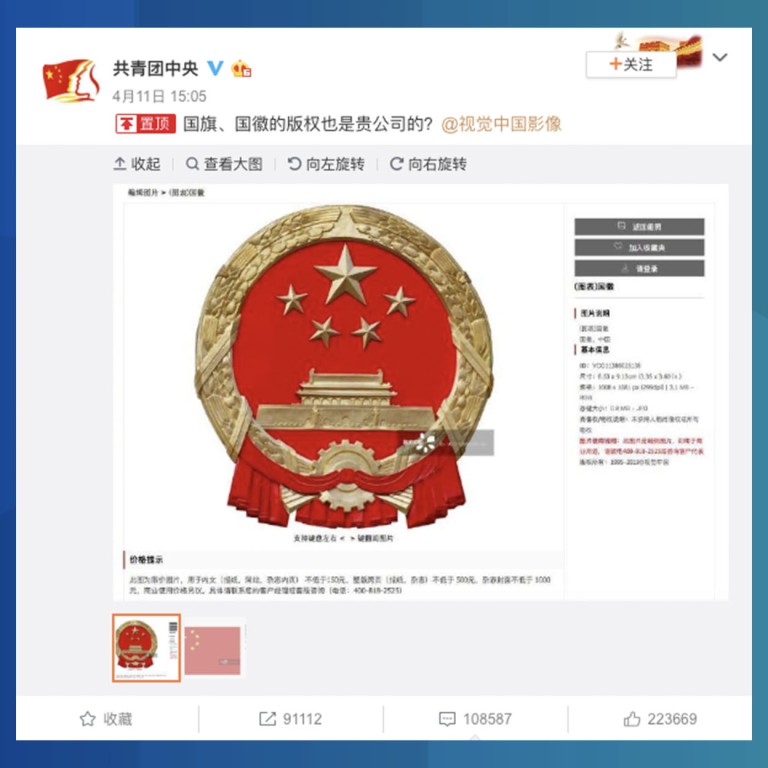 Digital photo provider draws backlash after claiming rights to first black hole photo
Visual China angers content creators for shady copyright practices
This article originally appeared on
ABACUS
China's biggest stock picture provider has vanished, and it's all because of the first photograph taken of a black hole.
The country erupted in collective outrage after people discovered that Visual China, a website similar to Shutterstock or Getty Images, claimed to have the copyright for the
black hole photo
in China and asked people to pay to use it. That picture was originally released by the European Southern Observatory (ESO) for
free distribution
as long as users credit Event Horizon Telescope Collaboration (EHT).
The swift reaction in China happened in part because of the changing landscape of media creation in the country. While established companies are some of the biggest customers for stock photo sites in other parts of the world, individuals within China are increasingly relying on sites like Visual China.
More than
3 million
people in China are now working as "self media," a term for amateur media organizations and individual writers who publish primarily on social networks like WeChat, Weibo and Bytedance's content aggregator Toutiao.
Many content creators
complain
that Visual China often aggressively demands compensation for pictures found in the public domain. It was reported last year that the site, which makes up
50%
of China's market for commercial stock photos, has a habit of demanding high prices for any images it claims as its own.
"If you haven't received a lawyer's letter from Visual China, it means you're not big enough," a popular blogger on WeChat
wrote
sarcastically.
Since China lacks an effective platform for determining whether a picture is copyrighted, there is no easy means of recourse for content creators.
As it turns out, there are other images on Visual China that the company clearly doesn't own but contain copyright notices. The company claims copyrights for pictures of the Chinese national flag and the national emblem, as the Communist Youth League of China snarkily
pointed out
on Weibo. According to the screenshots, Visual China charges up to 1,000 yuan (nearly US$150) for media outlets to use a picture of the national emblem, which is technically illegal.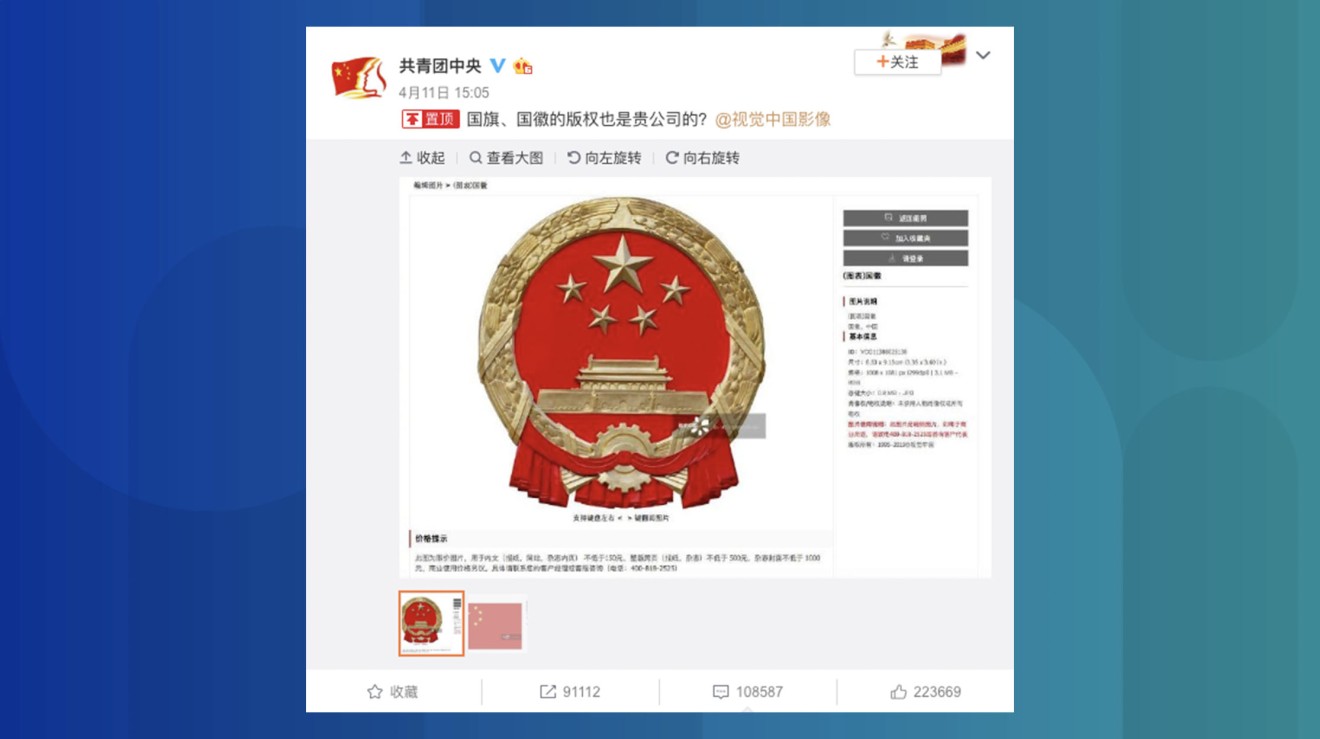 Visual China has even made software named "Hawk Eye" to track "how an image is used on the internet" to "lower the cost of copyright protection," according to
the company's 2017 annual report
.
This led a
venture capitalist to say
on Weibo, "The world belongs to you and me, but in the end, it belongs to Visual China." The post was shared more than 2,000 times.
Visual China has now shut down its website and apologized in an open letter, saying the company failed to do due diligence in assessing images provided by contributors. Two other digital photo providers have also
shut down their websites
.
In a statement issued to its shareholders, Shenzhen-listed Visual China also said it was summoned by China's cybersecurity agency on Thursday for selling images containing "sensitive and harmful information."
It's possible that authorities wanted to rein in the company amid an intense public outcry. CCTV published an
article
on WeChat asking people not to "kick up a fuss" and damage the "social consensus" around copyright protection despite Visual China's business practices.