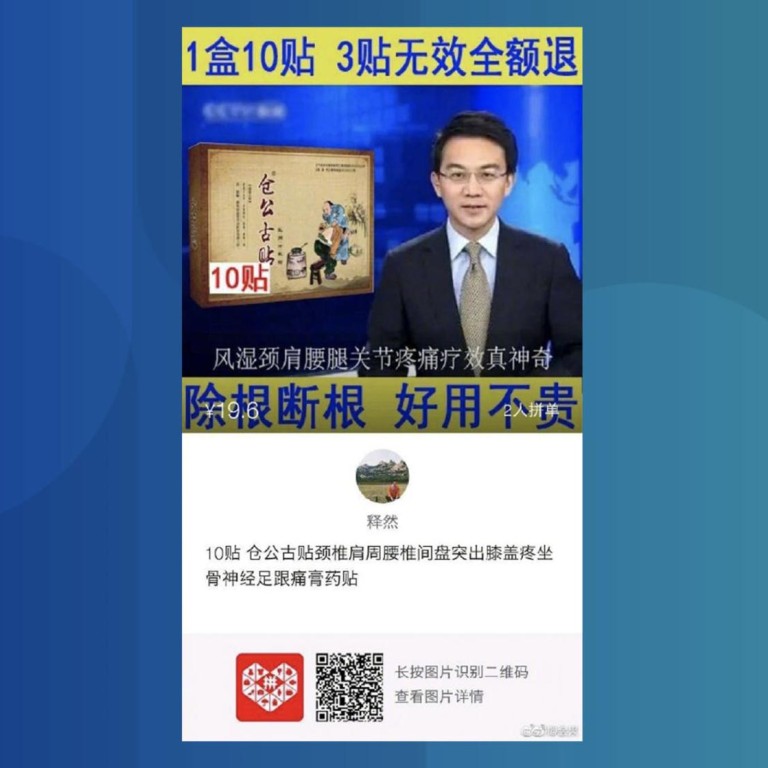 Former CCTV anchor calls out Pinduoduo after vendor uses his picture
A seller used the the image to hawk Chinese medicine as ecommerce platforms are facing tighter oversight from authorities
This article originally appeared on
ABACUS
Imagine browsing goods on Amazon and seeing yourself as the spokesperson for a product you've never heard of. It seems bizarre, but it actually happened to one of China's most well-known news anchors.
Lang Yongchun, a former news anchor at China's state-owned broadcaster CCTV, called out Pinduoduo on Weibo after discovering a shop on the ecommerce site used his likeness to sell Chinese medicine patches. The picture of the anchor sitting at a news desk next to the product seems to imply he was endorsing it.
"There is more than one shop with similar infringements!" Lang said in his Weibo post. "Do I contact Pinduoduo, or do I contact the vendor?"
He later deleted the post, but screenshots circulating on Weibo show he commented below it explaining that Pinduoduo apologized to him and removed the product involved. Pinduoduo also said that the platform will improve their image recognition capabilities to combat similar behavior, according to Lang. He confirmed to Abacus that the screenshots are accurate.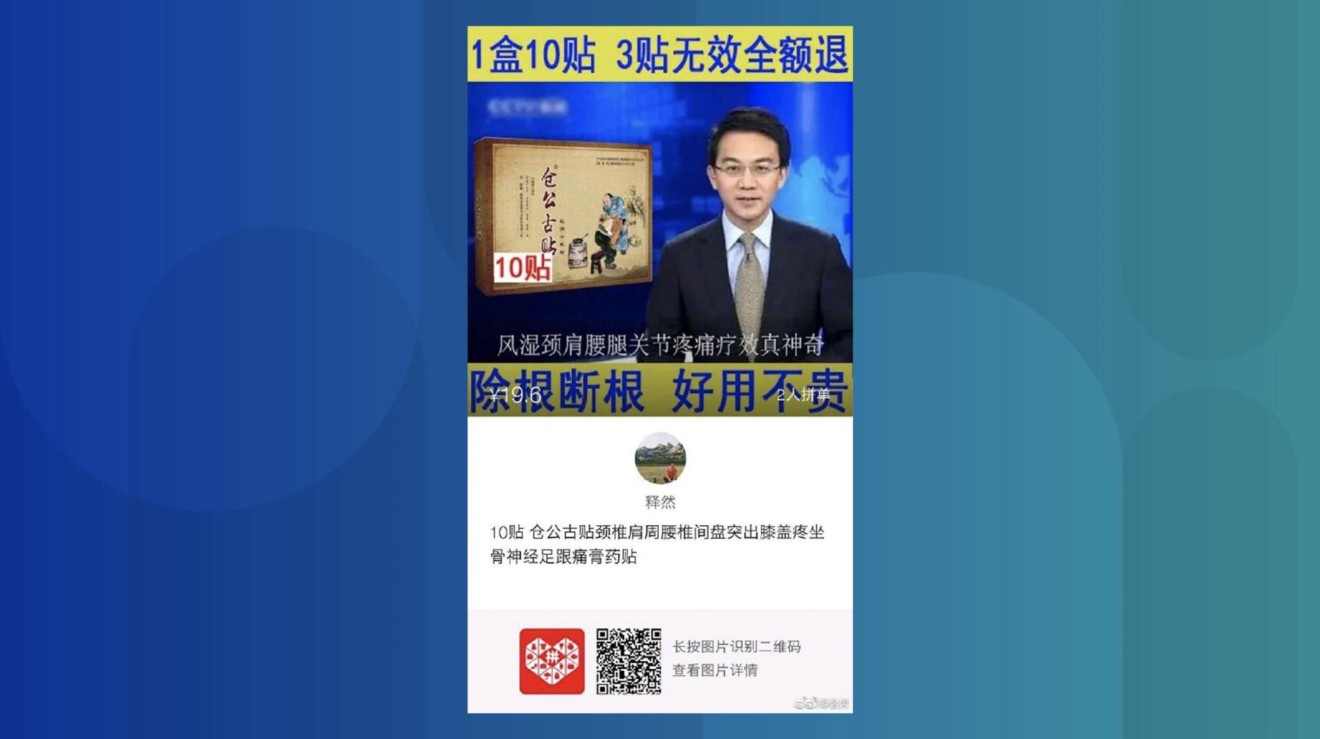 Pinduoduo, now China's third biggest ecommerce site, is known for cheap products and a unique style of shopping. The platform, whose name literally means "shop more together" in Chinese, lets you join, or invite your friends to join, a group purchase, providing everyone a discount on the product. It's attracted hundreds of millions of users who are mostly from lower-tier cities, but it's also notorious for hosting counterfeit products.
Chinese media blasted Pinduoduo last year because of rampant counterfeit goods. SHAASUNG TVs and Vivi smartphones, with logos mimicking those of Samsung and Vivo, were
listed
at the top of their sections (they can no longer be found).
Pinduoduo said it's working on the problem. According to the company, it removed more than
four million
counterfeit items within one week last August and shut down 1,128 vendors.
But Pinduoduo still has a long way to go to gain people's trust. Last week, the US
placed it on its blacklist
of marketplaces that fail to stop the sale of counterfeit goods. The platform joins competitor Taobao, which was also kept on the list.
(Abacus is a unit of the South China Morning Post, which is owned by Alibaba, which operates Taobao.)
The company also faces other challenges in China beyond vendors stealing celebrity photos. Last week, Chinese media
reported
that it's surprisingly easy for Pinduoduo vendors to "brush orders." The term refers to the practice of beefing up sales numbers by hiring people to place fake orders, which is a common practice among online stores in China.
Pinduoduo responded by saying that they have zero tolerance for "brushing orders" and that it's against the platform's values. Then the company turned the tables on media outlets,
calling the practice
a society-wide problem also used by Chinese media. The company claims that accusatory articles about Pinduoduo had many "irregular" shares on Weibo.
Some of the problems plaguing Pinduoduo and other shopping platforms may have to be addressed soon as authorities strengthen ecommerce regulations. A new law that went into effect this year makes both platforms and individual vendors liable for counterfeits, and it forbids vendors from deleting customer reviews.