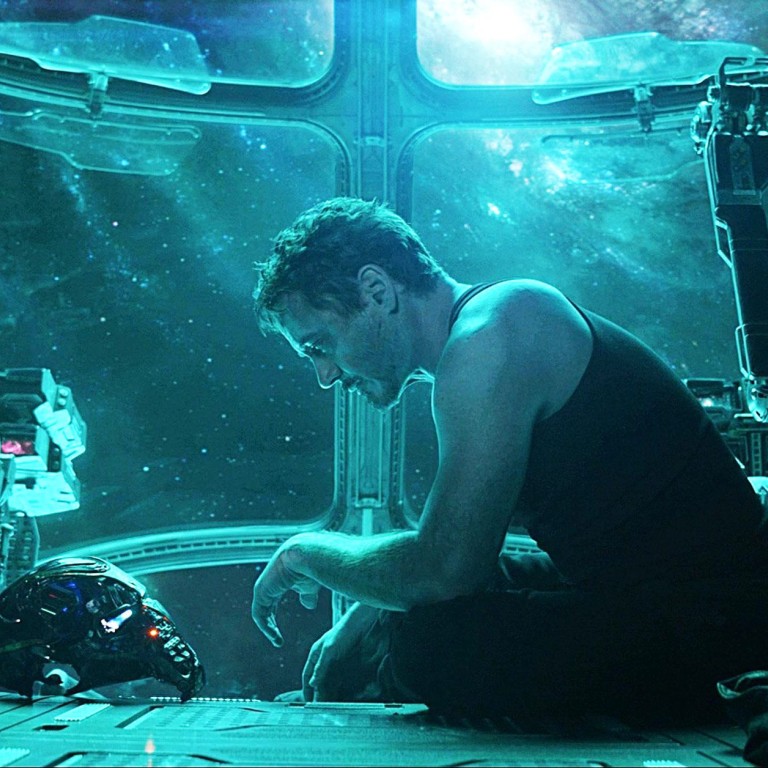 China helped the Avengers sink the Titanic
Avengers: Endgame pulled in US$575 million from China in just twelve days
This article originally appeared on
ABACUS
In just 12 days, Avengers: Endgame has become the second-biggest movie of all time. And one of the reasons for its record-breaking pace? China.
Endgame has already become China's highest-grossing foreign film, dwarfing the previous record holder
The Fate of the Furious
, which grossed US$392 million. (What can I say? The Fast and the Furious is really big in China.)
China is now the second largest movie market in the world, and the numbers for Endgame show the market's importance to Hollywood.
The top three markets for Endgame
so far are the United States with US$620 million, China with US$575 million and the UK a very distant third with US$89.9 million. In other words, China's market is almost as big as that of the US... and no other country comes close.
Check out Avengers: Endgame accessories on Amazon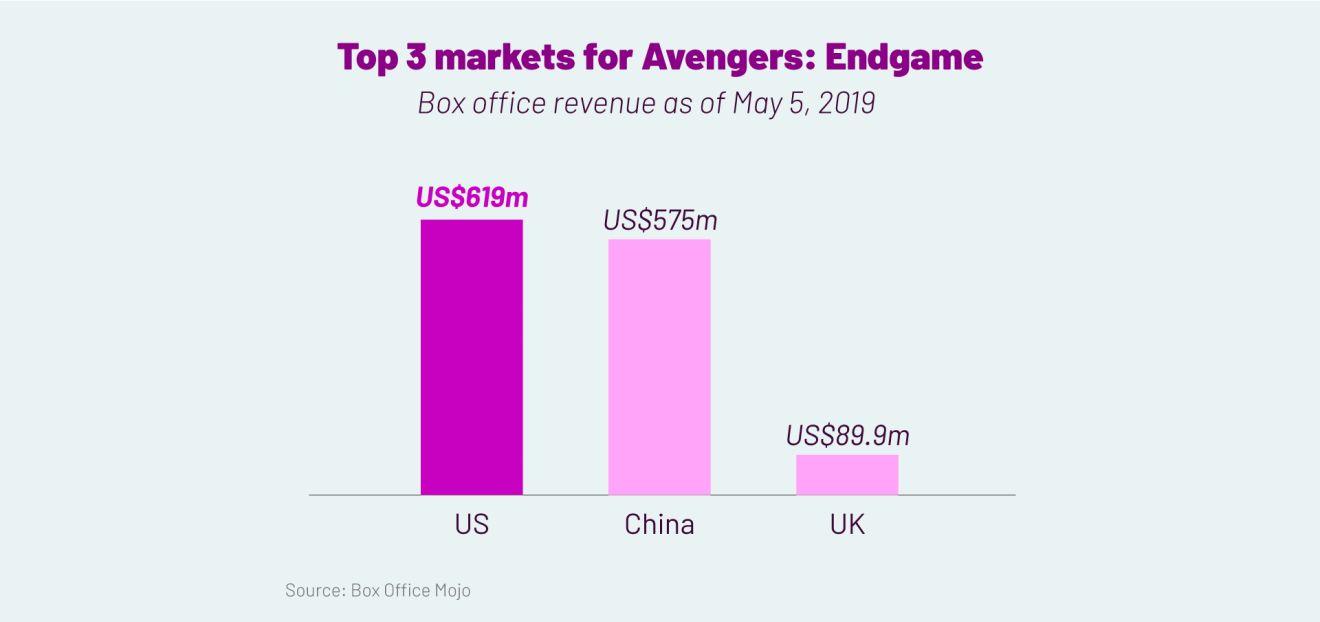 Avengers' success stands in stark contrast to the struggle in China faced by Star Wars, Disney's other marquee franchise. While 
the first Avengers
 film only made US$86 million in China back in 2012, love for Earth's Mightiest Heroes grew exponentially over the years. The trajectory of Star Wars' popularity, however, is almost the exact opposite.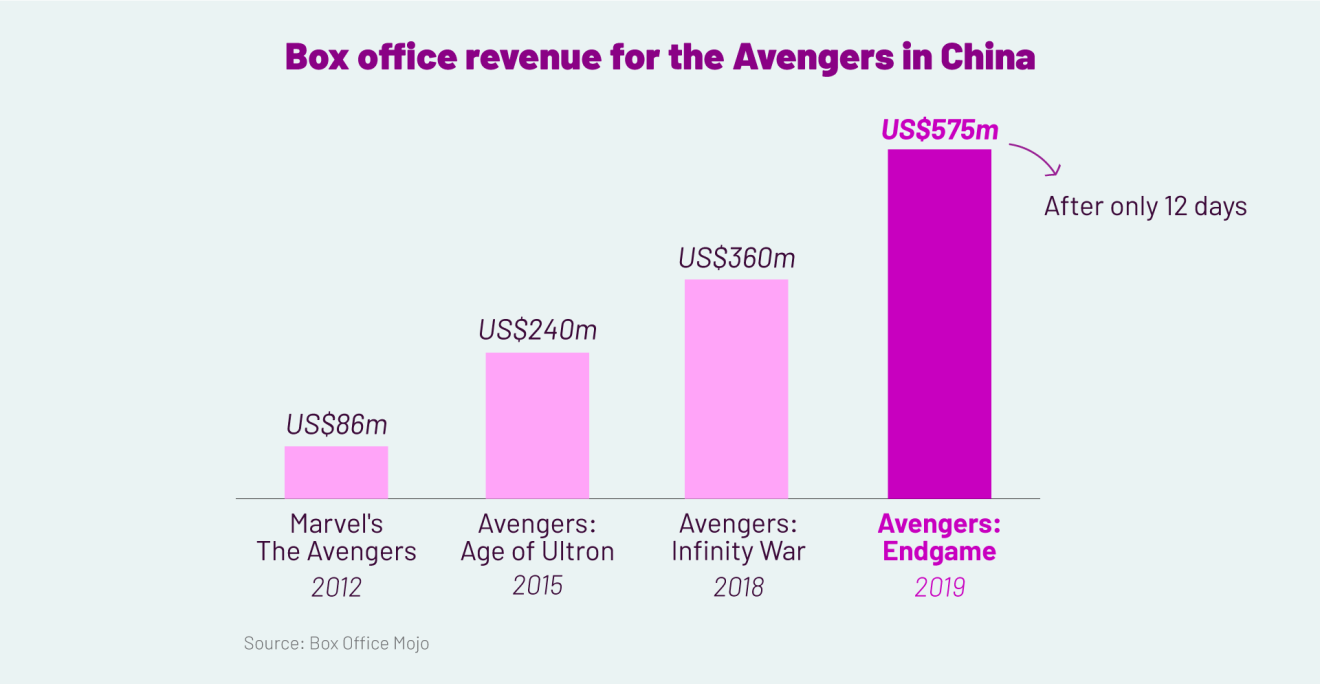 In the wake of Endgame pulling ahead of Titanic and facing a fight with Avatar, Marvel fans in China were gushing with excitement on social media.
"Ten years in the making, it all comes down to this final fight. This is worth it!"
one Weibo user said
.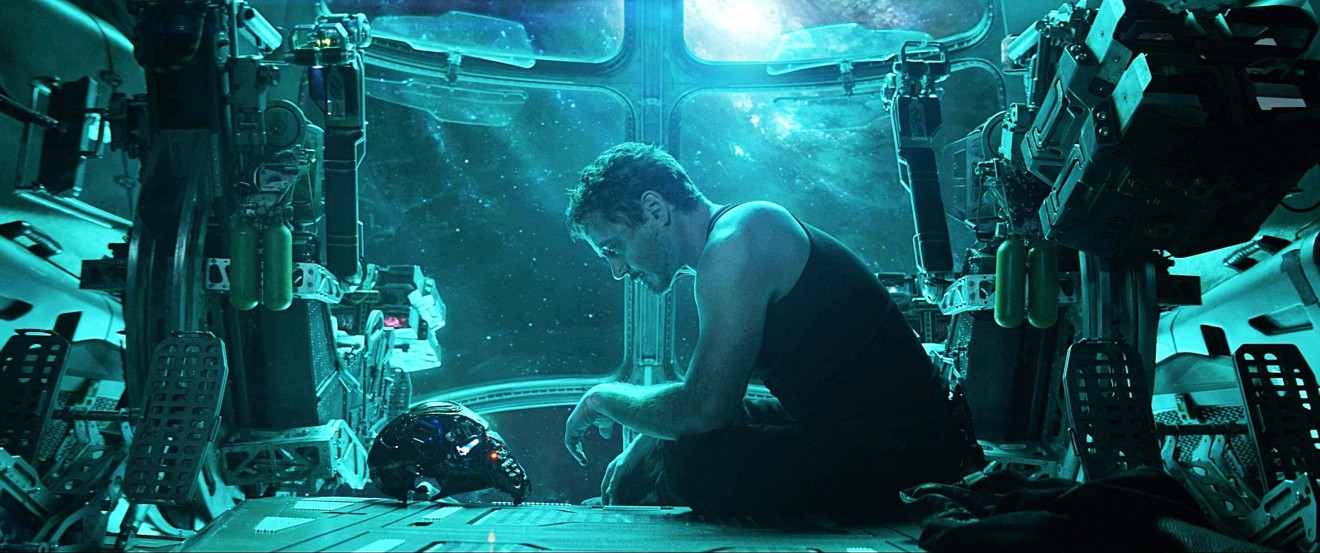 Other fans still believe that Titanic remains the better film.
"Although I am a Marvel fan, Endgame still pales in comparison to Titanic,"
a Weibo user commented
. "The world lost its mind when Titanic came out. After 20 years, it's still my favorite movie."
The explosive growth of cinemas in China over the past decade has also aided the Avengers films over time. When Avatar was released in 2009, China had fewer than 5,000 cinema screens, as the
Washington Post points out
. Today it has more than 60,000.
That said, with its current momentum, Avengers: Endgame might have a chance to take Avatar's throne. It remains to be seen how much revenue Endgame can generate from China. The movie currently ranks as the third highest-grossing film in the country's history.
First place belongs to
Wolf Warrior 2
, a film known as China's Rambo,  which pulled in US$874 million in 2017.
(This film, funnily enough, does have a Marvel connection: Frank Grillo, who plays the villain Crossbones in MCU films, including Endgame, is also in Wolf Warrior 2.)
The other major Chinese hit?
The Wandering Earth
, released earlier this year, is second with US$691 million in ticket sales.
If nothing else, at least China's top two films prove the country has an appetite for fight scenes and science fiction. That can't hurt Endgame's prospects.