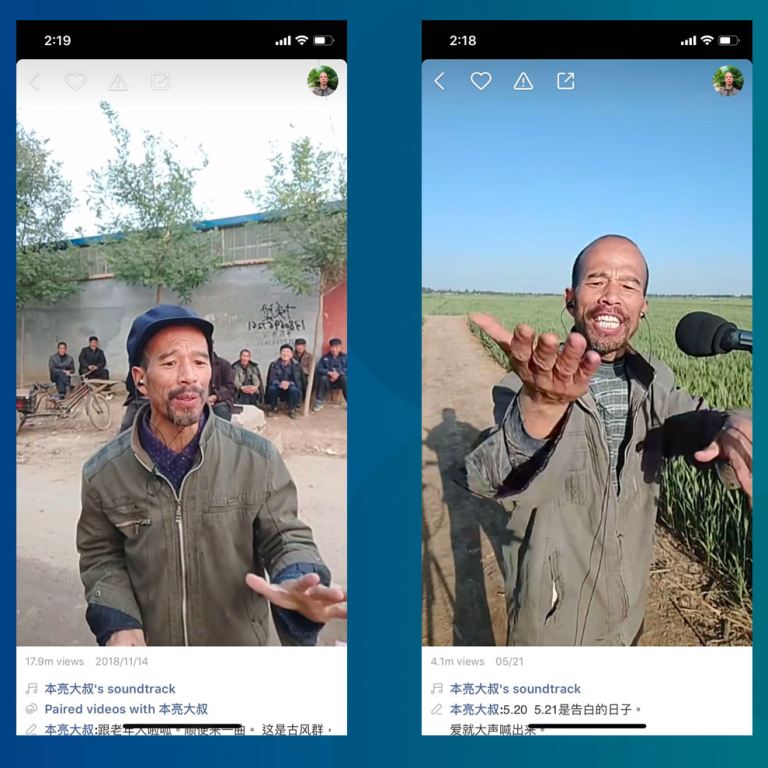 Forget millennials: China's newest internet stars are senior citizens
Elderly online celebs earn millions of fans on short video apps like TikTok and Kuaishou
This article originally appeared on
ABACUS
In the race for eyeballs on China's hottest video apps, a new breed of internet stars have emerged.
One woman grins widely at the camera and breaks into an impromptu dance, swaying her hips from side to side. A farmer, with a wheat field as his backdrop, flings his arms wildly as he belts out a rock and roll ballad. Another man, looking dapper in a three-piece suit and immaculately styled hair, grills a steak in his kitchen.
Dubbed by Chinese media as the next wave of internet stars, Taoqi Chennainai, Benliang Dashu and Beihai Yeye count millions of fans on platforms like Kuaishou and Douyin, the Chinese version of the global viral video app TikTok.
The New "Wang Hong"
To many Chinese people, the word "wang hong," or online celebrities, still conjures up images of attractive women in their 20s with
pointy chins, big round eyes
and
impossibly slim limbs
. This new crop of influencers is decidedly different: Most have unmissable gray hair and wrinkles; some are half bald. And none are afraid to show off their distinct personalities.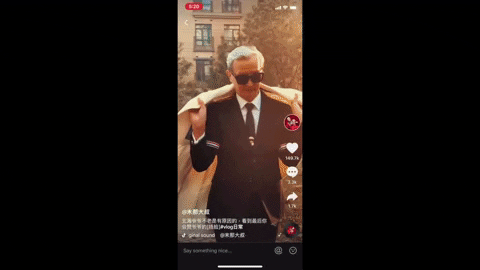 Beihai Yeye, whose videos are mostly posted on his
son's account
, has been called China's handsomest senior. Aged 74, the impeccably dressed Beihai appears in short visual diaries that showcase his carefully curated lifestyle: Think
Gwyneth Paltrow's Goop
meets old-age
Tom Wolfe
.
One of Beihai's favorite hashtags is "rituals of a happy life." In his videos, the simplest daily routine turns into a practice of mindfulness. Instant ramen is carefully cooked to al dente with the help of ice water. A morning skincare routine consists of ten steps involving just as many products.
If Beihai is defined by his debonaire approach to life, Taoqi Chennainai is more like the jolly old lady next door who thinks age is just a number. Her name means "mischievous Grandma Chen" -- and it's not hard to see why.
Always appearing with a full head of perfectly coiffed silver hair, Chennainai skips her way down public streets and plays with a water gun at home. She responds to aging with a self-deprecating sense of humor.
In one video, she asks her husband to help find her "missing" smartphone -- the one that she's using to call him. In another, she admonishes a stranger for calling her a grandmother, insisting she's only 20.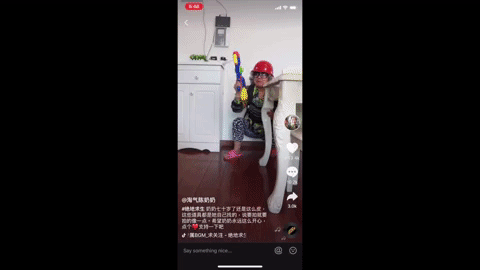 Then there's
Cai Yunen
, who posts videos of her 98-year-old grandmother. Nicknamed "foodie grandma," the elderly lady maintains a voracious appetite despite her ripe age. She digs through a bowl of spicy noodles until her eyes turn red from tears. After replacing her old dentures, she talks about hotpot and other local delicacies she wants to eat.
That carefree approach to diet has earned her fans far and wide. At one point, she became a trending topic on Weibo, China's most popular microblogging site.
Aging in the Digital Age
Around the world, experts are voicing concerns about the so-called digital divide that threatens to marginalize older people. The worry is that, without the necessary skills to access the web, senior citizens will miss out on the chance to connect with others as modern communication increasingly moves online.
But China offers encouraging signs.
Elderly people enjoy short videos because these apps are easy to navigate, explained Hillary Han, director at Chinese market research firm iResearch. Swipe up to see the next video or tap a button to create your own. The barrier to entry is low: Anyone with a phone camera can post a video of themselves, and content from unconventional amateurs and traditional celebrities are equally celebrated, opening the door for people like Benliang.
At 55, Benliang Dashu, or Uncle Benliang, looks just like any ordinary farmer you would find in rural China. But the combination of his folksy demeanor and exuberant singing has made him a surprising success on Kuaishou.
His song range is extensive, encompassing foreign classics like Scarborough Fair and more recent pop hits from China. Based on comments under his videos, Benliang has two types of fans: Those who genuinely appreciate his voice and those who find his dramatic renditions hilarious.
"Oh uncle!" wrote one fan. "It's such a romantic love song. How did you make it sound so funny?"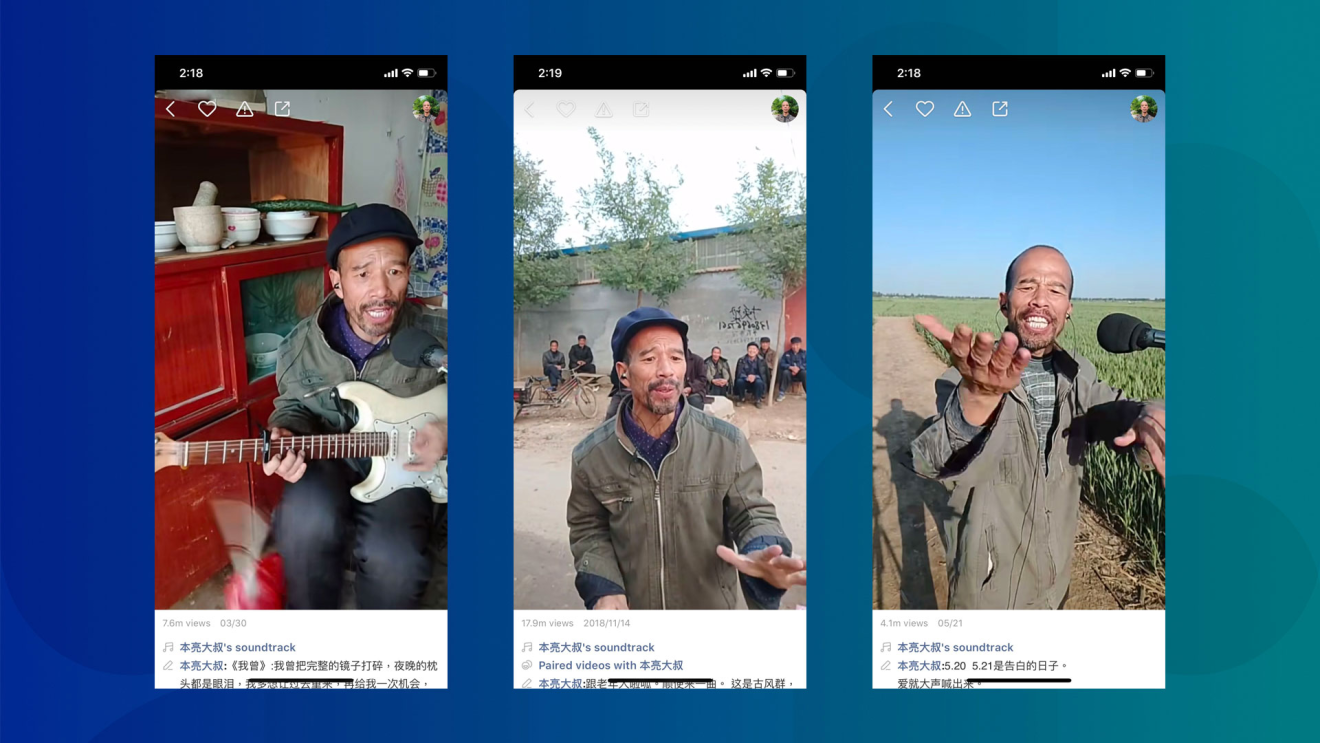 Bridging the Generation Gap
Most elderly stars on Kuaishou and Douyin regularly get tens of thousands of views per video, including Benliang, who has more than 16 million Kuaishou followers. They attract fans of all ages, even those from a far younger generation who sometimes see these elderly stars as role models.
"I really hope I'm like this when I get old," commented one user on a silly clip of Douyin's Chennainai flapping her arms and kicking her feet, with her husband watching and smiling in the background.
"Old man, I'm taking the national college entrance exam in 11 days," wrote a young user on Beihai's account. "Wish me good luck."
Others seem to come for life wisdom.
Luo Gupo, who has more than 3 million fans on Douyin, dispenses punchy relationship advice for audience members she calls "my good grandchildren."
"The worst thing that can happen to a long-distance relationship is when one person is planning for the future but the other person is plotting how to break up," she said in one video. "The best way is to be at the same place together because long-distance relationships are bitter."
In another video, standing in front of a cornfield, Luo advised: "There's a type of person who seems to like you… But if you want to proceed further, the person would say 'We're just friends.' Let me tell you, only a broken car needs a spare tire. Just break up. No one needs to be a slave to love!"
Below that video were thousands of comments from adoring fans. One left a particularly heartfelt message:
"Gupo, you have really taught me a lot. Thank you for being with me all along. I feel more optimistic after [watching] your videos."
Like many social media stars who've found overnight fame on the internet, many of these older stars have seen their lives changed, for better or worse.
Benliang
told Beijing News
last year that tips from his live-streaming fans have helped him pay for his child's college education. But he also said he now has to fend off nosy reporters and strangers looking for donations.
"The villagers don't understand," he said. "They thought millions of fans equals millions of yuan."