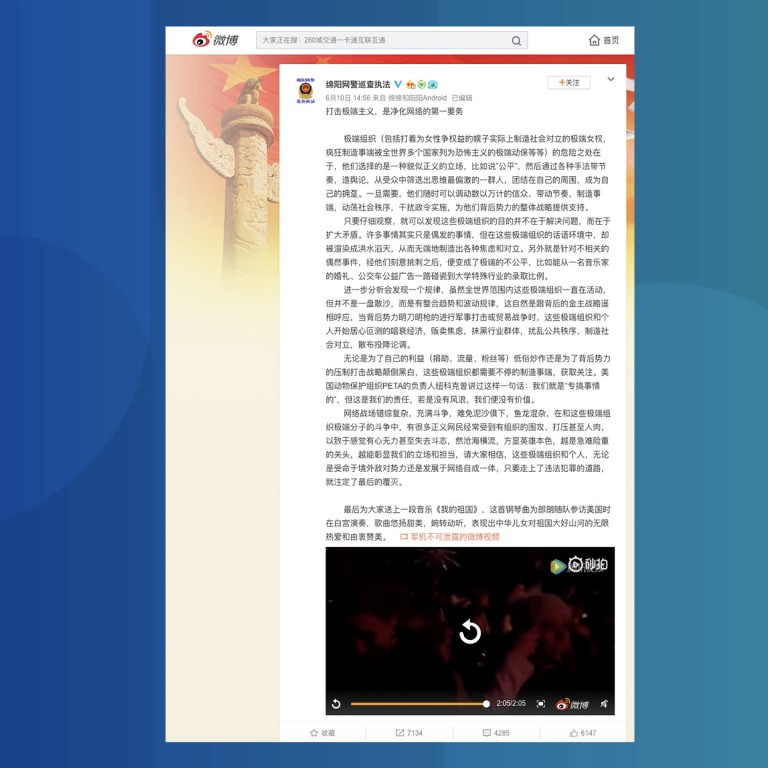 Chinese police are cracking down on "extreme feminism" online
Local authorities justify crackdown with claim that feminists and animal rights activists want to disrupt social order
This article originally appeared on
ABACUS
There are many kinds of online content that Chinese authorities deem inappropriate: Sensitive political comments, violence in games and all pornographic content. Now one more thing has been added to a local police watchlist: "Extreme feminism."
The internet police in Mianyang, a town in Sichuan province, said in a
Weibo post
yesterday that the primary task in "cleaning up the internet" is to crack down on extremism. This includes "extreme feminism," which the post specifies as using the fight for women's rights as a cover for creating social conflict.
Feminists aren't alone, though. Extreme animal rights activists were also mentioned.
The police argue that "extreme organizations" take a "seemingly just" stance to gain large numbers of supporters who can later be mobilized to stir up trouble and disrupt social order.
"Many righteous netizens often suffer from organized attacks," the Mianyang internet police said.
China now has hundreds of local internet police accounts on Weibo, WeChat and Baidu Tieba. They're
tasked
with monitoring the internet 24 hours a day, and their activities are varied. They
crack down on
"illegal and harmful information," stop "bad online behavior" and online crimes, and even share educational posts and debunk rumors about cybersecurity.
They all use the same name in their social media profiles: "Internet police patrol and law enforcement."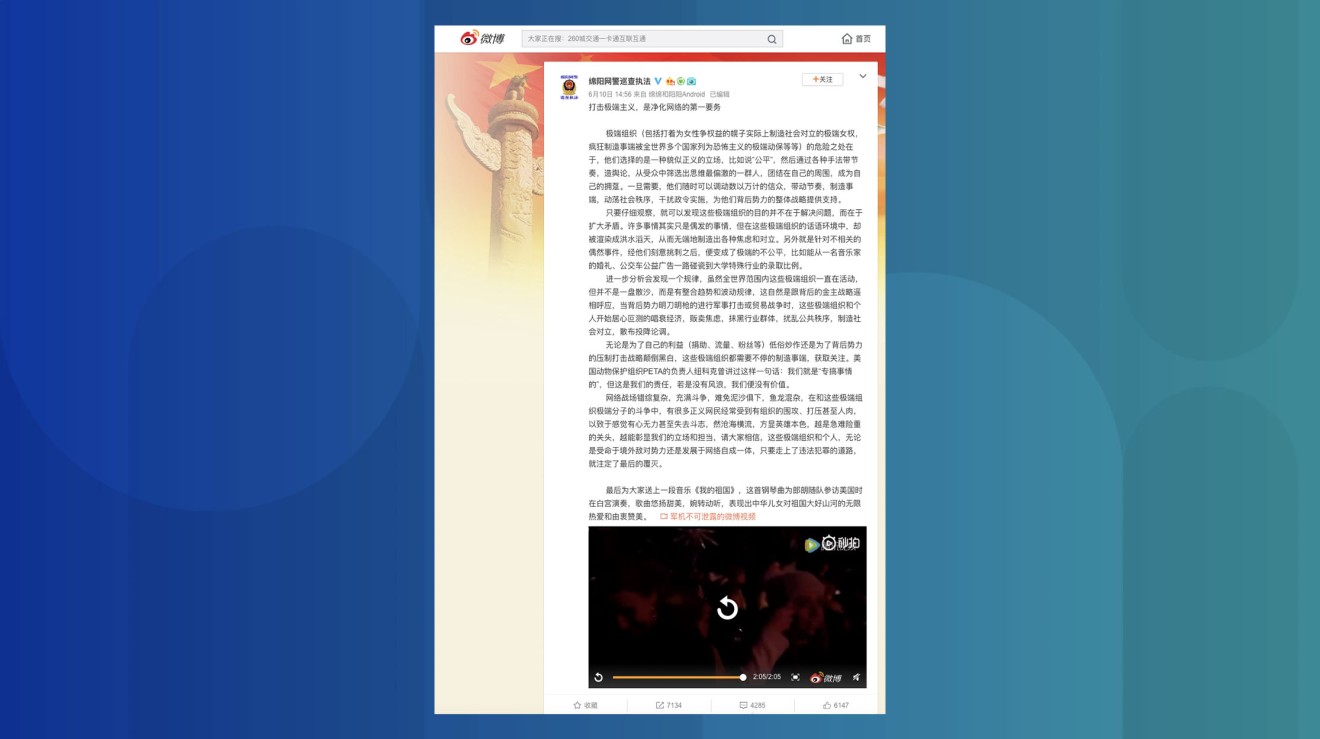 The Weibo post drew strong
reactions
, both for and against it. While many users commented that there are more serious social problems authorities should address, others applauded the effort to stop "extreme feminists" who are purportedly provoking conflicts.
"The harm of extreme feminists is no smaller than terrorists,"
said
one comment with more than 900 likes -- and that was one of the milder ones. Other anti-feminist comments were far more abusive.
The strong attack against "extreme feminism" came after a series of controversial events concerning questions of gender equality.
One company at the center of the debate is German mechanical keyboard maker Cherry. One of its lucky draw campaigns said that it was aimed at male users only, leading some female users to ask if the company thinks women don't deserve to play games. After several exchanges, the company, or whoever was running its Weibo account,
fired back with graphic language
.
The intense online exchange prompted calls for a boycott of the company's products, but it also drew a number of
comments
saying that radical feminists were maliciously picking fights.
The attitude of certain government agencies further fueled the debate.
After China's official firefighting school
announced
its recruitment plans for 2019, some people pointed out that it largely favors men over women. One
commenter
started aggressively attacking deceased male firefighters. The Communist Youth League of China chimed in with an
article
criticizing the aggressive comments, and Shenzhen internet police
said that they arrested a user
called out by the firefighting department.
This has led some people to worry that the police are using "extremism" as an excuse to target more people.
"Some of them are truly annoying," one Weibo user
said
, referring to radical feminists. "But when an official internet police account wants to arrest you at will in the name of extremism, I think that's the most terrifying thing."