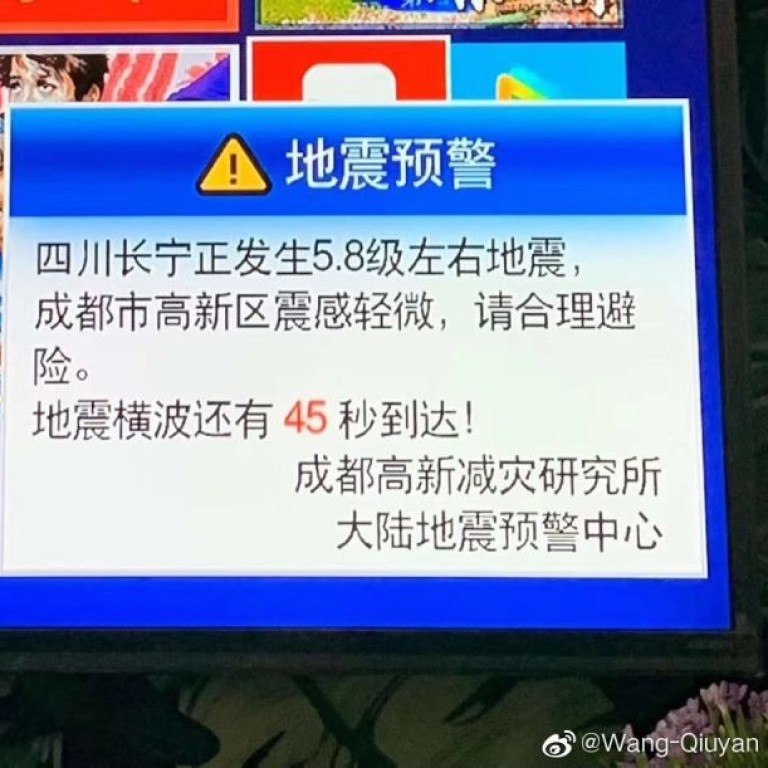 Earthquake warning alerts Chengdu residents a minute before shaking starts
China claims to be the third country with an earthquake early warning system, after Japan and Mexico
This article originally appeared on
ABACUS
Some also saw messages that popped up on TV screens, which included the magnitude of the quake and the time left before it arrives.
These are all part of an earthquake early warning system developed by the Institute of Care-Life, a research lab founded in Chengdu in the wake of the 2008 Sichuan earthquake that killed more than 87,000 people. The system, named ICL, has been in use
since 2013
, and it has successfully warned of several major quakes in Sichuan and Yunnan provinces.
The system is similar to those already commonly used in seismically active countries like
Japan and Mexico
. When an earthquake occurs, two types of waves shoot out from the epicenter: The faster but mild P-waves, and the slower but stronger and more damaging S-waves.
P-waves are the first to reach the sensors deployed across the landscape, and the data is almost instantaneously sent to alert centers before appearing on people's devices. This gives people some time to react before the S-waves arrive.
The system is still not well known in China. On social media, many people said they were impressed by the system, but many others said they were initially confused by the sound of the countdown.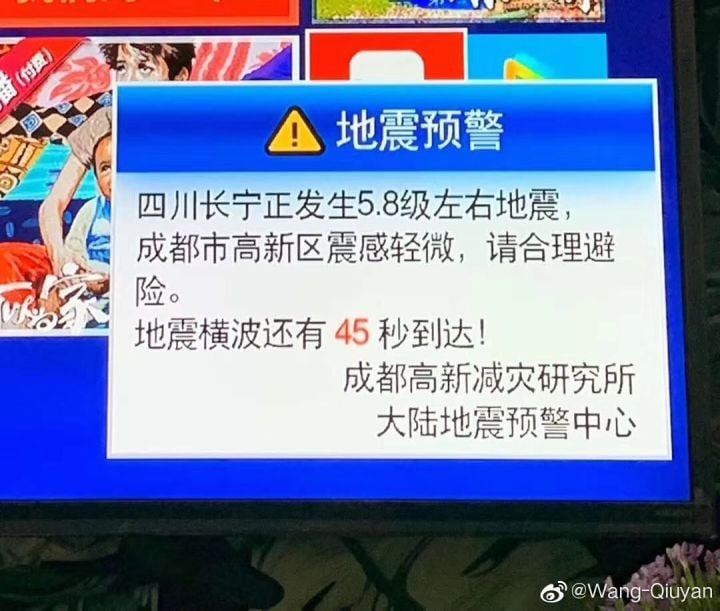 "I thought this was like a war-time siren, and I was so scared, really," said one Weibo
comment
with more than 10,300 likes.
"I didn't know it's an earthquake warning either," another user
commented
. "And then when the siren rang after the countdown, the building started to shake…"
But some other users were even more confused, having other things on their minds. Apparently some people thought it was a countdown for the 618 Shopping Festival, held annually by China's ecommerce giant JD.com, according to a
Weibo comment
.
While not all residents are familiar with the system, China says it's
the third country
with the ability to offer earthquake early warnings to the public. The first earthquake warning app in the US, ShakeAlertLA, just came out
in January this year
, and it only covers Los Angeles.
The China Earthquake Administration is also building a nation-wide earthquake early warning system, but the administration estimates that it
won't be completed until 2020
, with a test run in 2021.
The capabilities of these systems are also still limited. It's
difficult
to ensure that messages reach a huge number of people instantaneously.
These systems can't predict an earthquake before it happens, either. They only offer warnings of upcoming tremors by a few seconds to tens of seconds in advance,
according to
Wang Tun, the head of the Institute of Care-Life.
So people further away from a quake are more likely to get warnings further in advance. For people near the earthquake epicenter, though, the warnings may not come in advance at all.