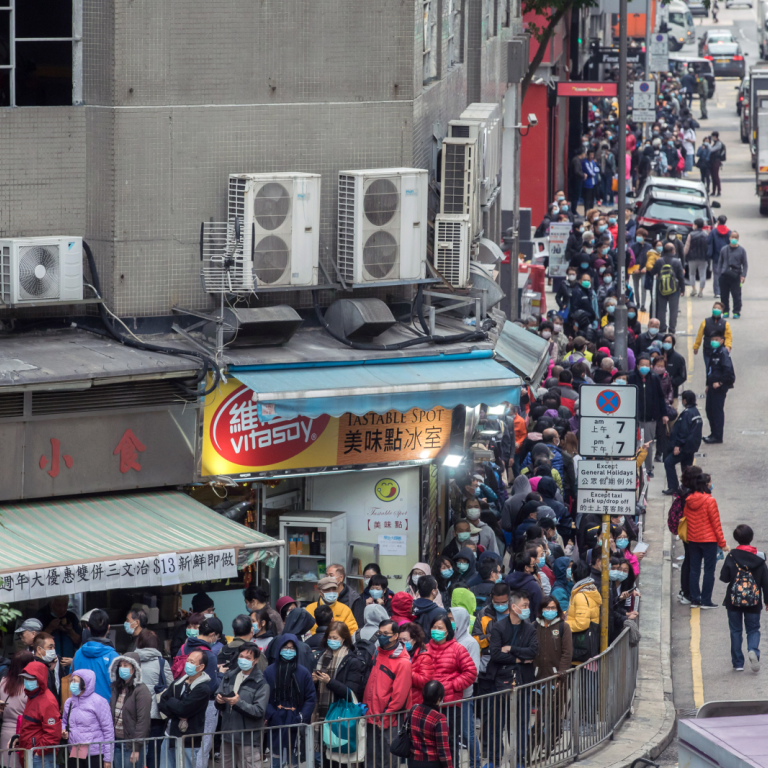 This 30,000-person online chat tells you where to buy masks during the coronavirus outbreak
Hong Kongers flock to 2-week-old Telegram channel and homespun website for crowdsourced coronavirus information
This article originally appeared on
ABACUS
When Tang sensed that the stock of face masks in Hong Kong was starting to dwindle two weeks ago, he saw that something else was also in short supply: Information about where to buy them and how much they cost. The deadly coronavirus outbreak has set off a scramble for the much sought-after commodity, creating
lines of thousands outside shops
and
overwhelming shopping agents
who help customers ship back overseas purchases.
Tang, a college sophomore who asked to be identified by his surname, had an idea: What if someone pulled together that information and shared it online in an organized way? He polled people about the plan on LIHKG, an anonymous forum similar to Reddit, where his post quickly got more than 100 upvotes. "I thought LIHKG is probably the easiest way to solicit public opinion," he said. The next day, he created a Telegram channel called "Masks and Hygiene Products Supplies Information."
The channel gives participants one simple task: Whenever you pass by a pharmacy, go in and see if there are any masks for sale. If the answer is positive, submit the information to the channel via a Telegram bot. It also encourages people to report
scams
.
The idea took off within days, especially after it was highlighted in other popular Telegram channels that share coronavirus-related information, such as HKGETV. Today, Tang's channel has more than 35,000 subscribers receiving dozens of updates on their phones each day.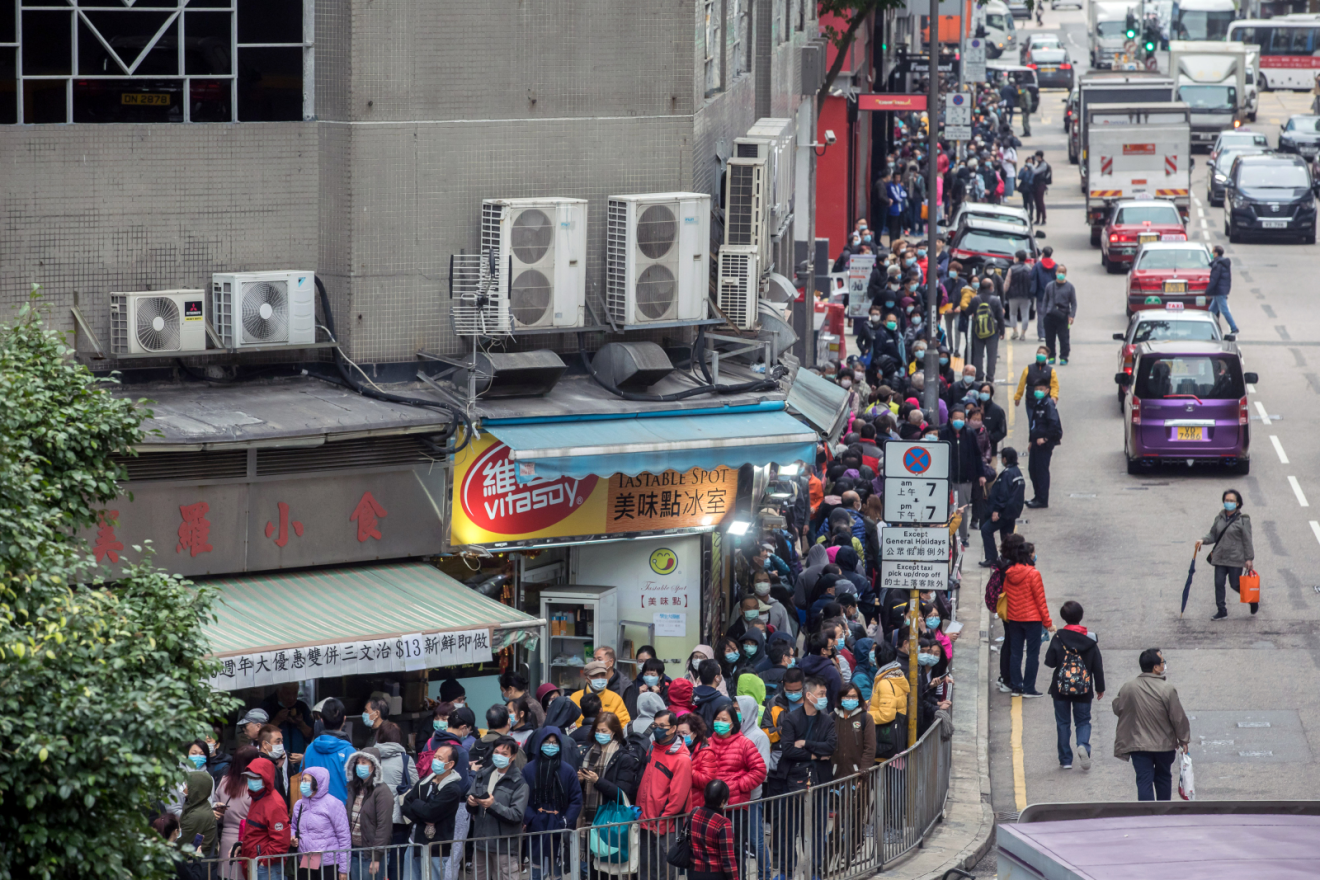 Other grassroots information sharing efforts have also sprung up online in Hong Kong. Since the city confirmed its first coronavirus infection in late January, more than three dozen additional cases have been reported, including one death. Computer engineer Nandi Wong and his friends saw that people were looking for a one-stop site to find all the information they wanted to know about the spreading disease.
The idea behind the website
wars.vote4.hk
emerged from a Telegram group, Wong told Abacus. It's made up of members who met through
g0vhk
, a platform of volunteers who aim to combine open source programming and crowdsourcing to make information more transparent to the public.
"It seemed to us that people out there really want information about masks, hospital emergency services and the coronavirus, but they didn't have a convenient way to get access to that," Wong said. "We discussed it in the group and thought something should be done."
The website is designed to be clean and simple. It initially showed the latest numbers of coronavirus cases with brief summaries of confirmed cases, as well as waiting times at various hospital emergency rooms. The figures are mostly pulled from
government-released data
, but volunteers also update manually in real time as they listen to news conferences held by officials.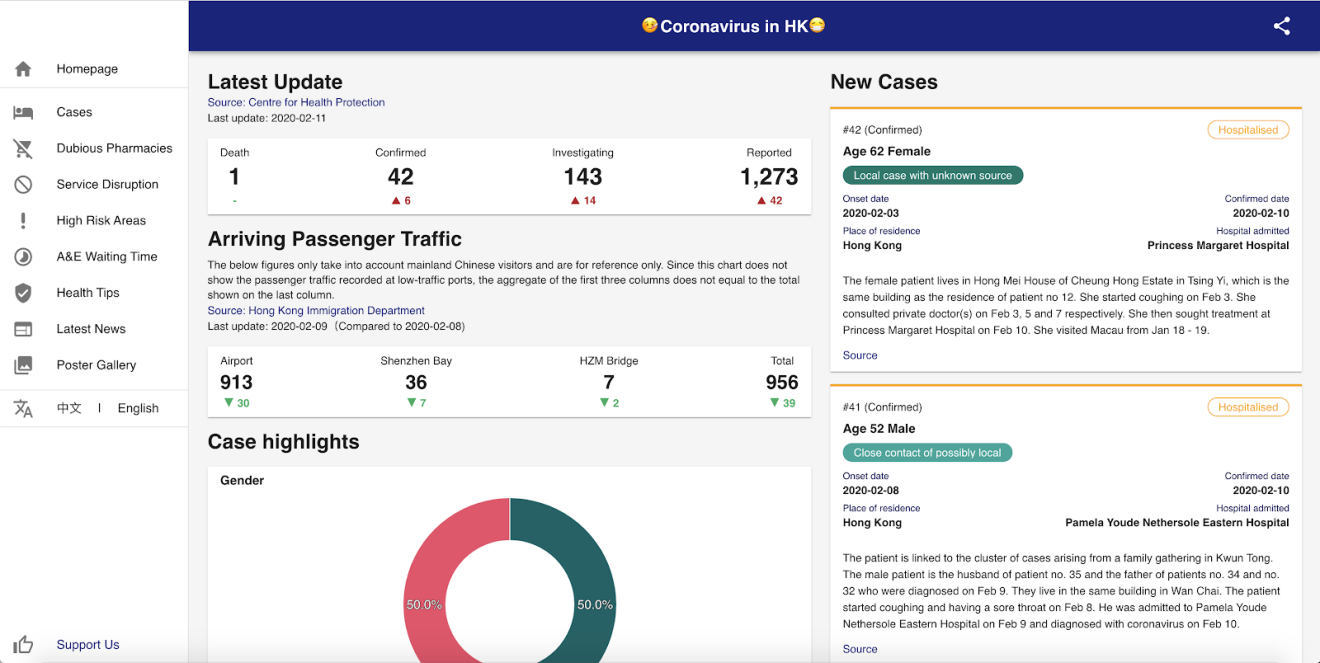 Wong's team of about 20 people is careful to state information sources, whether it's government data or local news outlets. But one section that lists pharmacies accused of selling defective or over-priced face masks draws primarily from anonymous contributions submitted through a Google form on the site. It also links to Tang's Telegram channel.
Tang admits that he can only rely on a handful of volunteer administrators and his thousands of subscribers to flag misinformation. Until a week ago, he was running the channel by himself, he said. As
false rumors whirl around online
, a pinned message in the channel reminds subscribers to "think independently" and welcomes anyone to help fact-check. The channel also regularly reminds people that the information they see is crowdsourced.
"I believe in showing all the facts and opinions and leaving people to judge by themselves," he said. "With so many subscribers, I trust that someone will point out mistakes."
Tang said he's pleasantly surprised by his channel's popularity, but he also feels conflicted.
"A friend told me, 'You did a great thing, I really appreciate you,' but all I think is that I'm finally doing a little something that's actually helpful to this society," he said. "And having more people on the channel isn't better because it means more and more people are having trouble buying masks."
Tang says despite the tips that he gets daily through his Telegram channel, he doesn't have enough masks himself.
"When the chain stores are handing out tickets to customers in line, my team and I are either at work or have other things to do," he said. "My mom is telling me to prepare to use only one new mask every week."
Purchase the China AI Report 2020
brought to you by SCMP Research and enjoy a 20% discount (original price US$400). This 60-page all new intelligence report gives you first-hand insights and analysis into the latest industry developments and intelligence about China AI. Get exclusive access to our webinars for continuous learning, and interact with China AI executives in live Q&A. Offer valid until 31 March 2020.