We tested Zao, the viral Chinese deepfake app
Viral face-swapping app blocks the use of Leonardo DiCaprio, Elon Musk and Carrie Lam's faces -- but not Bill Hader
Upload one selfie, and see yourself starring in famous movies like Titanic -- that's the premise of Zao, a face-swapping app that's going viral in China. 
Within days of its release, Zao, created by a subsidiary of Chinese live-streaming and dating app Momo, exploded in popularity in China. Then it quickly landed in hot water because of the questionable terms of its user agreement. 
The agreement states that the app maker has global rights to all user-generated photos, triggering an outcry on social media. After facing mounting public pressure, the app changed its terms and apologized.
Deepfakes started to gain wide attention in 2017, when the technology became widely accessible and made it easy for people to insert a different face or voice into a video without it being obvious that it's fake.
After the tech became publicized, many people started to worry about the social threat it poses by making it easy to create authentic-looking clips of news or public officials. But creating deepfakes, while relatively easy, still required a computer and plenty of photos.
Now all you need is a selfie and a smartphone.
So what exactly can you do with Zao? We went through the app to see how it works.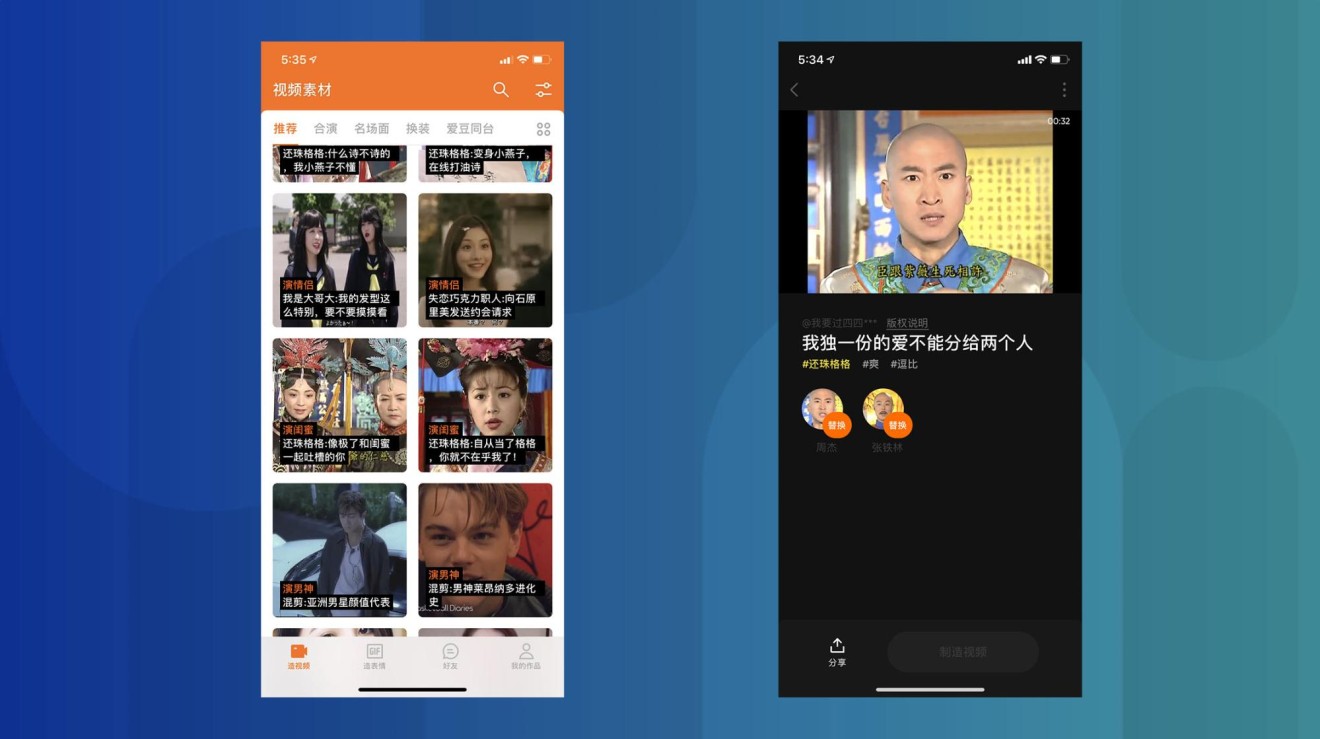 When you first open the app, you're immediately presented with a page of video clips from popular movies and TV shows that you can "star" in. Although Zao said some of the clips explicitly come from partners, it appears most are user-uploaded clips, which Zao said it doesn't have copyrights for.
I didn't find any clips from partners, and my request to upload videos was denied. The app said I need to apply to get access to that function, but it didn't say what exactly is needed to gain access.
After choosing one of the clips already in the app, you can choose which character you want to superimpose your face on. Then you either upload an existing photo or take a selfie by following the app's instructions.
The selfie is pretty self-explanatory. But we wanted to see what you could do with other photos… like, say, a photo of celebrity that I'd saved to my camera roll. And it turns out that Zao does have limits, including a system that recognizes public figures and blocks you from using them.
For instance, I originally wanted to stitch a modern picture of Leonardo DiCaprio on to the younger DiCaprio's face in Titanic. But the app didn't let me proceed, saying it recognized the face of a public figure in the picture and that it may be in violation of their rights.
I ran a bunch of other well-known faces through to try and see how extensive the database of faces is. The test wasn't conclusive, because it's also quite strict about what images you can use; plenty of times it refused to use an image because the picture didn't have a high enough resolution, despite picking (what I thought were) really high-res pictures.
Among the faces that Zao recognized as public figures? The list was pretty varied:
Leonardo DiCaprio
Lady Gaga
Keanu Reeves
Kevin Hart
John Bradley (Samwell Tarly from Game of Thrones)
Elon Musk
Tim Cook
Carrie Lam
Anderson Cooper
Gloria Vanderbilt
Roger Federer
Lionel Messi
Virgil Van Dijk
And here are the public faces that Zao allowed us to use:
I guess that means Bill Hader is about to star in a Daniel Wu film!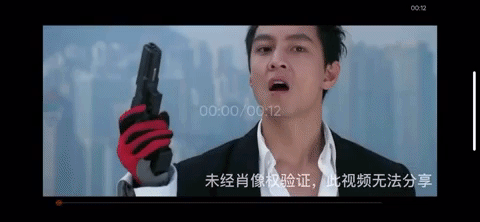 (It also didn't accept the cartoon version of Mulan from the 1998 Disney film, but for different reasons: It said her eyes were closed, even though they were open. Ah well, worth a shot.)
Now just because we were allowed to use Bill Hader's face doesn't mean we could do anything we wanted with it. While there are no restrictions on using selfies, pictures from the camera roll can only be used in ten clips -- and you can't share them.
You might be thinking: What if I just use the screen recording feature to get around this restriction? Well, the developers of Zao thought about that too, so there's a floating watermark bouncing around the screen saying (in Chinese) that this image didn't pass a portrait check.
Still, if the picture is accepted, the app works fast: The clip you've picked is ready within 8 seconds. At a cursory glance, the face-swapped movie clips can appear natural, even impressive at times. Take a second look, though, and certain movements will appear jerky. And the app also just gives up if the actor in the original clip is facing sideways. 
But what does Zao do with all this data it's collected on you once you've finally seen yourself as Jack in Titanic? Zao says it doesn't store any of the data, according to the apology it published. But it also differentiated between the original uploaded image and the "fabricated images" produced through post production when stitched into a film, which the company said isn't users' real information. We couldn't get in touch with the Zao team for comment.
Zao is just the latest piece of tech to raise awareness of deepfakes in China this year. While policy makers and researchers outside China have been dealing with the potential threats of the technology for a couple years now, it only became widely known in China this year.