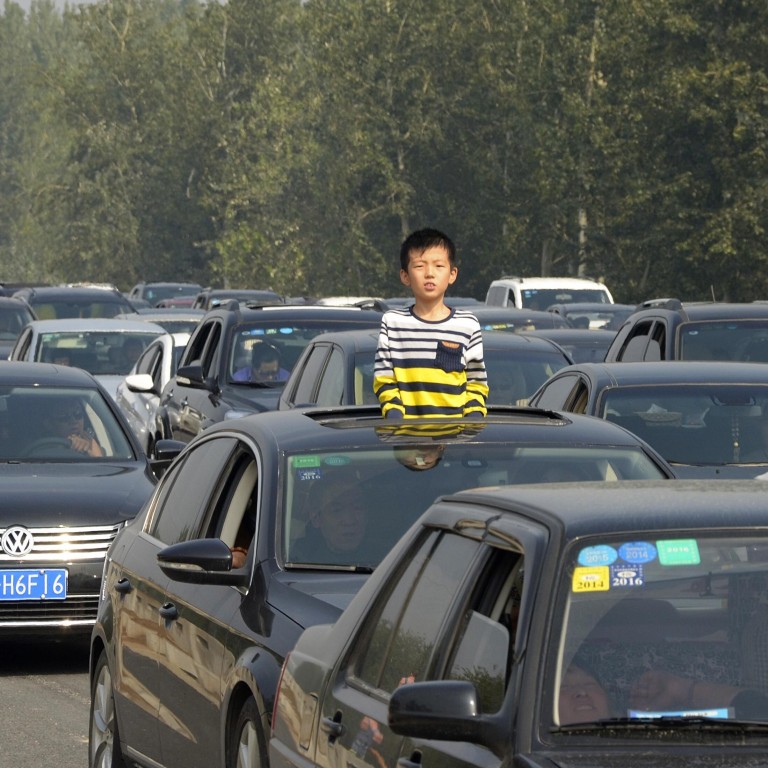 Didi Chuxing hopes ride-hailing subsidies will make it a little better to travel in China on the worst day to hail a taxi
The success rate of hailing a taxi the day before China's national holiday is less than 60 per cent, Didi says
Didi is giving drivers nearly US$15 million in subsidies to get them to pick up more tourists flocking to Chinese hotspots
September 30 is one of the worst days in China to try to hail a taxi. This is the day before the country's week-long national holiday begins. But ride-hailing giant Didi Chuxing says that it has a solution: 100 million yuan (US$14.7 million) in subsidies to motivate drivers to pick up more passengers.
The national holiday is the second biggest annual holiday in China after Lunar New Year, making it one of the country's busiest tourist seasons. Last year, people took 782 million domestic trips that week. That's why getting a cab can be troublesome. Didi said that the success rate of hailing a ride on September 30 is less than 60 per cent, local media The Paper reported.
The holiday kicks off on Thursday with National Day, which commemorates the October 1, 1949, founding of the People's Republic of China. Didi expects a travel rush on that day, too, in addition to October 7, the day before the holiday ends this year.
Didi hopes to have 3 million drivers ready for the flood of tourists that will hit China's travel hotspots. In addition to Didi's main platform, the number includes drivers for its new services Kuaidi New Taxi and Huaxiaozhu, a stand-alone ride-hailing service incubated by an independent unit.
In addition to subsidies, a Didi representative said the company is offering other incentives and prizes for drivers. These include lucky draws and awards for drivers that meet certain targets.
Didi Chuxing has been China's reining ride-hailing champion since merging with competitor Kuaidi Dache in 2015 and buying out Uber China in 2016. It now dominates the ride-hailing industry nationwide.
The battle for China's ride-hailing market was fought mainly through generous subsidies that gave customers steep discounts and paid drivers more than the revenue made on each ride. After bleeding cash in China for about year, Uber decided to exit the market.
Didi said last year
it had 550 million users and more than 31 million drivers around the world. While it primarily operates in China, the company has been expanding its footprint in Australia, Russia and across Latin America, where it operates in six countries. Didi also has a joint venture with SoftBank in Japan.
Didi's global strategy also relies on investing in local ride-hailing companies. The company has invested in Grab and Ola in Asia, Lyft in the US, 99 in Brazil, Taxify in Europe and Careem in Dubai.