Cinema
Get more with myNEWS
A personalised news feed of stories that matter to you
Learn more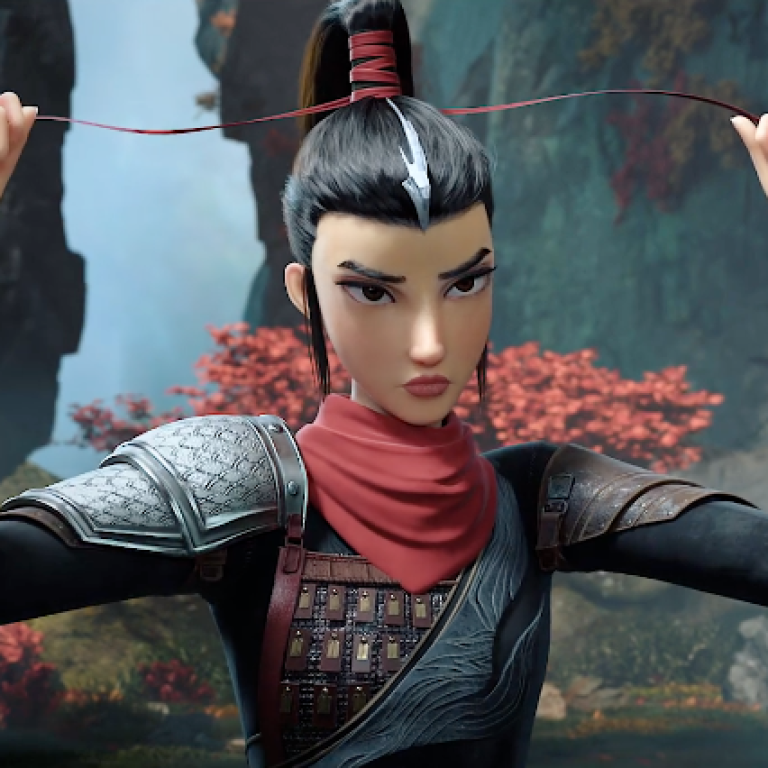 China's own Kung Fu Mulan takes on Disney and becomes another 2020 flop
Kung Fu Mulan was pulled from cinemas just three days after opening to terrible reviews and poor turnout
Gold Valley Films is known for productions that look like Disney knock-offs, highlighting the struggles of China's animation industry even after hits like Nezha
When Disney's new live-action
Mulan
was released in September, audiences in China were not kind. The film was swiftly slammed online, with people saying it misrepresented Chinese culture and some
comparing it to Western Chinese food
.
Now a new Chinese-made animated film about Mulan is trying to rectify that.
Kung Fu Mulan is being billed as featuring "real China, real Mulan", as a poster for the film reads. Unfortunately for the studio behind it, the film turned into an even bigger flop than the Disney epic.
The new 3D animated film comes from Chinese studio Gold Valley Films and hit cinemas on October 3 — a few days into
China's "golden week" holiday
celebrating National Day. Holidays in China are usually considered opportunities for domestic films, but it does not appear to have helped
Kung Fu Mulan
.
Immediately after its release, the film received a barrage of negative reviews online. Just three days later, the film was pulled from theatres.
"Someone else made a Mulan [film], [people] cry out that they smeared Chinese culture. Now Chinese people make a Mulan like this. I have nothing to say," one person posted on the Chinese review site Douban.
Kung Fu Mulan currently has a score of 3.1 out of 10 on Douban based on more than 3,500 user ratings. That is even worse than that 4.9 that Disney's new Mulan has based on more than 213,800 ratings.
In an email response to the Post, Gold Valley Films acknowledged the criticisms from audiences and said that there is room for improvement in both the storyline and production. It also said that Kung Fu Mulan was the first film that the studio made entirely on its own, unlike previous works which were outsourced. With a small team and a limited budget, the studio had difficulties affording talents and many employees had to work overtime, a company spokeswoman said. 
Gold Valley Films did not respond to our question on why the film was pulled. But the studio told Chinese media that it was because it did not have enough resources to get the kind of publicity needed to compete with other films released during the holiday.
Like the Disney film, Kung Fu Mulan is loosely based on the original Chinese folklore, which follows a woman who disguises herself as a man to join the army in her sickly father's stead. But the timing of the film's release and the relatively low production quality has some people saying Gold Valley Films was looking to piggyback on the publicity for Disney's Mulan, which the studio denies.
"[Disney Mulan's] reputation has already dropped like this. What do we have to piggyback on?" Kung Fu Mulan director Liao Guanghua told Chinese media outlet Southern Metropolis Daily in September.
"We are rather confident about our movie, and we believe that it will surpass Disney's new Mulan," he added. "Because what I made is a Mulan that completely fits Chinese audiences' tastes."
Kung Fu Mulan started production in 2015. Unlike the new Disney film, the Chinese film does not give its titular character superpowers based on the concept of "energy flow" in Chinese martial arts called chi, or qi in pinyin. But Mulan does exhibit exceptional talent in martial arts.
Kung Fu Mulan also adds a love story, making it more similar to Disney's 1998 animated Mulan. Disney cut a kiss from the live-action remake based on feedback from test audiences. In the Chinese film, Mulan falls in love with the prince she was supposed to assassinate and eventually marries him.
Viewers do not seem any more keen on a Mulan romance when it is coming from a Chinese studio. Viewers have blasted Kung Fu Mulan for its ridiculous storyline, romance included, and criticised its crude animation. Some people called the film "a disgrace to Chinese animation".
China's animation industry has
seen explosive growth
in recent years. While it still lags behind the US and Japan, Chinese animation was thought to have hit a turning point with the
release of last year's Nezha
. That film is now the second highest-grossing film ever in the country.
The recently released animated film Jiang Ziya, which like Nezha was produced by Beijing Enlight Media's animation studio Coloroom Pictures, has also been well-received. But some film-goers say Kung Fu Mulan is proof that Chinese animation still has a long way to go.
Gold Valley Films is a little-known animation studio based in Guangzhou that was started in 2013. Kung Fu Mulan is one of four projects the studio lists on its website. Two of the films feature a Cinderella character with enormous doe eyes and a button nose, not unlike Elsa in Disney's Frozen or Rapunzel in Tangled. The strategy looks similar to so-called mockbusters, low-budget films that trade on the popularity of recent blockbuster films but normally release direct-to-video.
But not all Gold Valley Films come out the same year as their Disney counterparts. Cinderella and the Secret Prince was released in 2018, three years after Disney's live-action remake of Cinderella. Gold Valley Films lists a sequel in the works called Cinderella and the Spellbinder.
The studio also worked on a 2015 film called The Mermaid Princess, according to IMDB. The film features a redheaded mermaid just like Ariel from Disney's The Little Mermaid, even though the original tale from Hans Christian Andersen did not actually specify a hair colour for the titular character. It drew mixed reviews on Amazon Prime Video, with comments ranging from "educational, great movie" to "awful, just don't bother".
Gold Valley Films told the Post that characters such as Cinderella and Snow White are in the public domain. A spokeswoman denied that the studio copied anyone's stories or designs, and said it has never violated any copyrights.
Unlike the typical mockbuster, Gold Valley Films is spending several million dollars on its productions, which could be more than what they make from their films. Cinderella and the Secret Prince cost an estimated US$20 million, according to IMDB. But the film only made US$11.9 million at the box office, according to Box Office Mojo.
Kung Fu Mulan had a lower budget at US$15 million, Variety reported. With just three days in theatres, it did not have time to make much of that money back. Chinese ticket platform Maoyan shows the film grossed just 7.8 million yuan (US$1.1 million).
The Disney remake also lost money by some estimates, but it cost a whopping US$200 million to produce.
This article appeared in the South China Morning Post print edition as: Chinese-made Mulan film a bigger flop than Disney version