Want to be a Chinese diplomat? Developers have a program that emulates China's 'Wolf Warrior' rhetoric
Unknown developers have made a program that emulates China's Foreign Ministry spokeswoman Hua Chunying – in full wolf warrior style
Chinese diplomats have been taking a more aggressive stance on Twitter amid a range of political and economic flashpoints this year
Amid rising economic tensions with the US and a variety of political flashpoints across the globe, Chinese diplomacy has taken an aggressive turn in the past year.
"Wolf Warrior" diplomats, named after a popular series of testosterone-fuelled patriotic action flicks, have waged a public war of words on social media such as Twitter, on topics ranging from
the Covid-19 pandemic
to alleged crimes by
Australian soldiers
in Afghanistan.
And those wanting to emulate this tough approach now have help to froth at the mouth – a text generator made by unknown software developers that automatically comes up with praise or condemnation of other countries' actions by mimicking the tone of past speeches by top officials at China's Ministry of Foreign Affairs.
The text generator,
uploaded
on open source code-hosting platform GitHub, reproduces the formulaic style of China's Foreign Ministry spokeswoman Hua Chunying, well-known for her Wolf Warrior statements. Users simply type in the object of the sentence and the action for which they are condemned or praised, and the text generator will reproduce an entire press release.
It may be just for fun – but this reporter gave it a go, tackling the hot topic of trade.
Reporter: "The Martians have launched a trade protectionism policy. What is China's response to this?"
Hua Chunying text generator: "The Martians launched a trade protectionism policy to intervene in China's internal affairs, which seriously violated international law and the basic norms of international relations – a naked act of hegemony."
Users can also choose the foreign ministry representative to commend the subject's action – in which case the person or country will no longer be called "treacherous" or scolded for not representing 1.4 billion Chinese people. Instead, the text generator will come forth with flowery praise.
"We are willing to make joint efforts with the Martians to push forward the relations between China and their country for new development and to build a closer community of common destiny in the new era."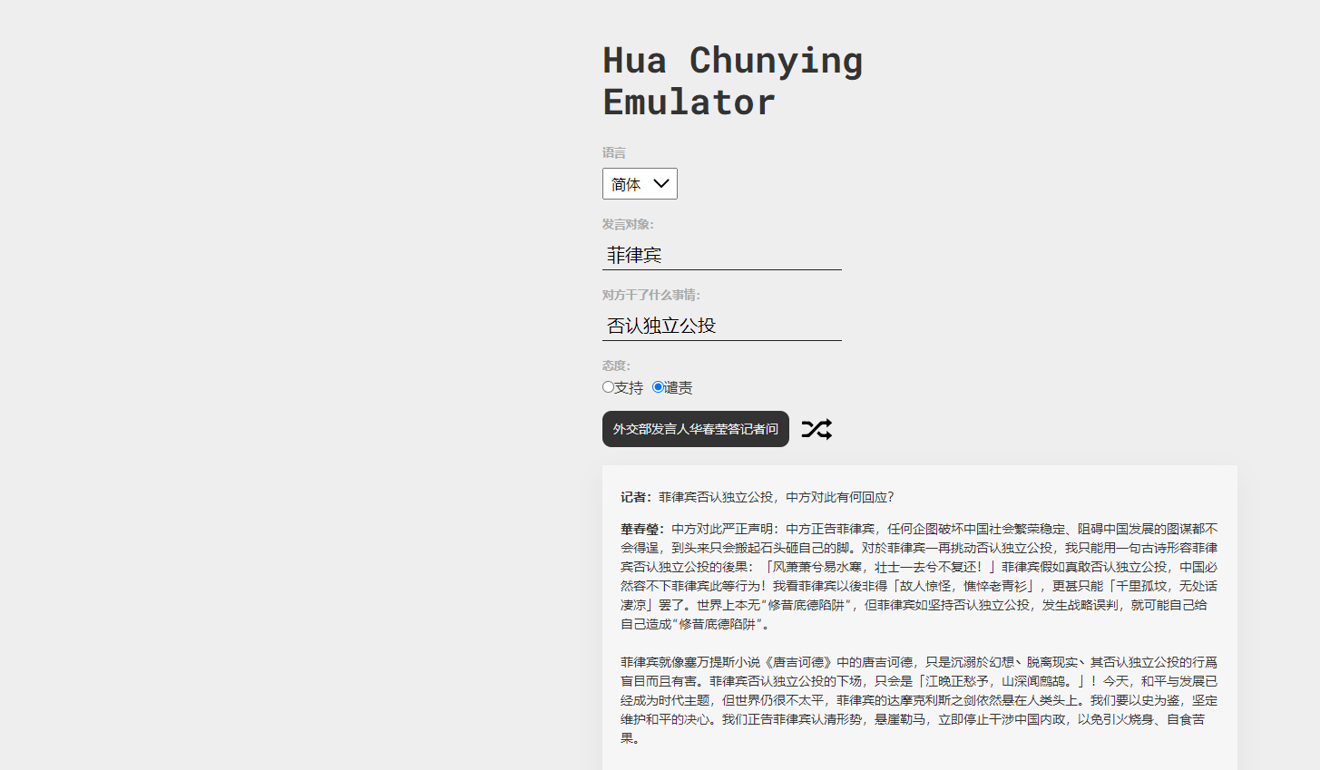 The text generator was first
introduced
on Chinese forum Pincong by a user named HKDOGE in January this year, but has recently started trending on social media.
Abacus was unable to reach the developer for more information.
The GitHub page of the developers has been wiped clean. The description of the program, however, says that the emulators were created for entertainment only.
Hua is not the only Chinese official to be simulated with a program from the same developers. Geng Shuang, another spokesman for the Foreign Ministry, received his own emulator in December last year, despite being slightly more reserved on Twitter.
Judging from the latest controversy over the activity of Chinese diplomats on Twitter, perhaps an emulator may be helpful.
This week, a tweet from Chinese foreign ministry spokesman Zhao Lijian, featuring an illustration of an Australian soldier appearing to murder a child, resulted in a
furious condemnation
by Canberra. Australian Prime Minister Scott Morrison demanded the removal of the tweet, describing it as "falsified" and "repugnant".
Zhao's tweet was in relation to the Brereton report, a war crimes inquiry dossier released earlier this month, which found that Australian troops had killed civilians in Afghanistan between 2009 and 2013.
Hua said she stood by her subordinate Zhao over the post. Zhao has previously been criticised for
spreading conspiracy theories
about the origin of Covid-19 on Twitter.