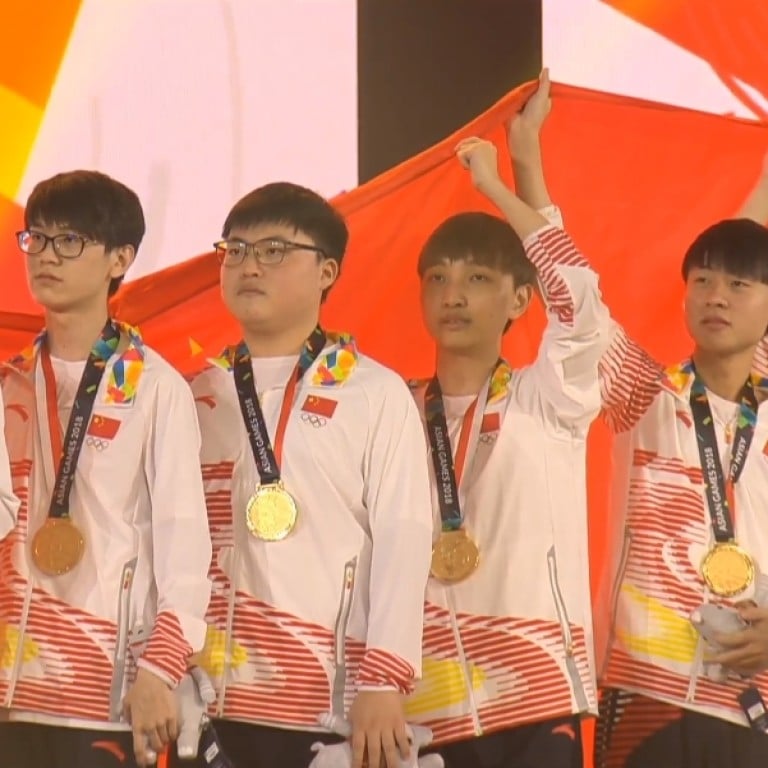 China's ten biggest esports moments of 2018
Everything from the three gold medals at the Asian Games to the Shanghai Dragons having an epic season (with zero wins)
This article originally appeared on
ABACUS
While the Chinese government has been heavily cracking down on games this year, 2018 was also a great year for esports in the country, with plenty of milestone moments.
Most are good, some are bad, and some are flat-out badass. Let's run through the top ten!
1) The Asian Games included esports as a demonstration sport
In August, a total of six titles were included as demonstration sports at the 2018 Asian Games in Jakarta.
Mainland China took gold in two games
(Arena of Valor, League of Legends) and Hong Kong one (Hearthstone). It's an unprecedented moment as it marked the first time an Olympic-rated event officially featured competitive gaming as a form of contest.
2) Invictus Gaming won the League of Legends Worlds Championship
In November, Chinese esports club Invictus Gaming defeated Fnatic from Europe to hoist the Summoner's Cup at the 2018 League of Legends Worlds Championship. This is the first time a mainland Chinese team managed the feat. State media said that
200 million people tuned in
for the finals, twice as many people as those who tuned in for the Super Bowl.
3) Shanghai Dragons finish the first Overwatch League season with an epic 0-40 record
Shanghai Dragons have done the impossible, the unthinkable -- China's first Overwatch League team finished the league's inaugural season
without a single win
. It's a record-shattering feat as no professional sports team has ever gone winless in a season as long as that of the Overwatch League. It set a new standard for what losing looks like. 
4) OMG won PUBG Global Invitational
Chinese PUBG team
OMG seized the gold frying pan trophy
of the first ever PlayerUnknown's Battlegrounds Global Invitation in Berlin. It was a huge moment, ending China's 13-year title drought in first person shooting games.
5) Royal Never Give Up won League of Legends Mid-Season Invitational
While Invictus Gaming won Worlds and cemented China's place in League of Legends, it was its domestic rival Royal Never Give Up which first toppled the South Korean dynasty earlier in the year. In May, Royal Never Give Up beat Kingzone Dragon to
win the Mid-Season Invitational
, the second most important tournament in League of Legends. Over 100 million Chinese fans tuned in for the matchup in May.
6) Chinese teams fell short at The International 8 
Unlike in League of Legends, where Chinese teams have long struggled to get over the top, China has been dominant for ages in Dota 2… until now. At this year's The International (TI) tournament for Dota 2, Chinese teams performed horribly, with just one team making it to the quarterfinals. That team (LGD) did fight its way into the finals, but
it fell short against Europe's OG
.
7) Chinese CS:GO team Tyloo made it to the London Major
While PUBG has been all the rage in China, the country has been weak at the more traditional FPS title CS:GO for many years. But Chinese team Tyloo made history this year for being
the first Chinese team to qualify
for the London Major.
8) China took silver at the Overwatch World Cup 
Unlike Shanghai Dragons which -- for the lack of better term -- embarrassed China in Overwatch, Team China
finished second behind South Korea
at the Overwatch World Cup, proving to the community that China has its own Overwatch esports talents. They just don't play for Shanghai Dragons.
9) Chinese StarCraft II player TIME cracks top 4 in the WCS Montreal
Li "TIME" Peinan is a rising star from China in StarCraft II. The 18 year old fought his way into
the semi-finals of the WCS Montreal
. He was the first Chinese player to crack the top 4.
10) "China's Richest Son" played on his super team 
What's the use of owning an esports team if you don't get to play in it? Well, Wang Sicong, the son of one of China's richest businessmen, owns Invictus Gaming -- yeah, the one that just won the League of Legends World Championship. During the Summer Split, his team was so far ahead of everybody else that Wang decided to sideline a star player on his team and
played a game himself
. To Wang's credit, he's actually good enough to qualify as a pro himself… not nearly as good as the player he replaced, but he's not a total scrub.