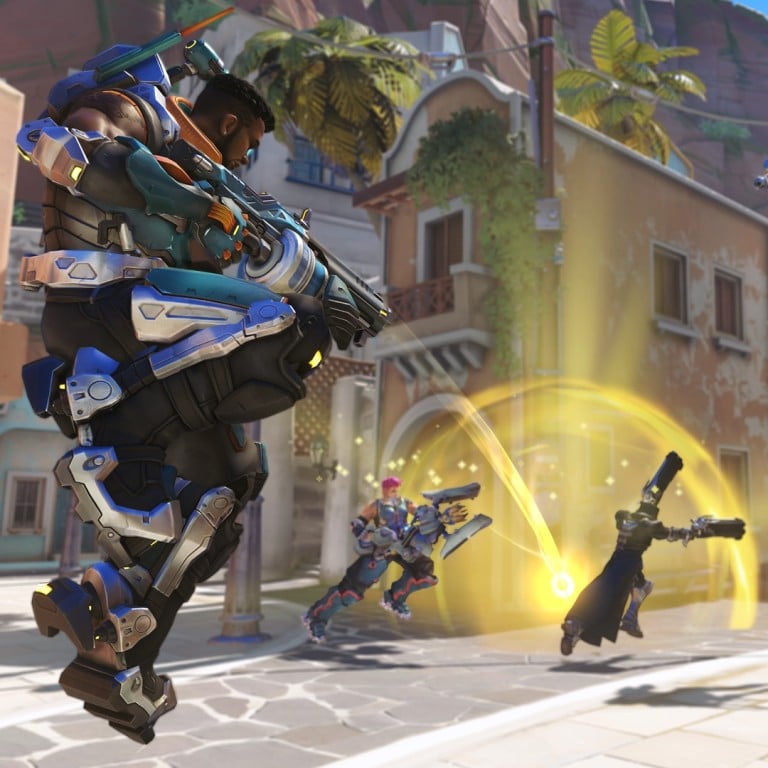 Game companions: I hired three women to play online games with me
For just US$4.50 an hour, someone will keep you company and watch your back in Overwatch, League of Legends and more
This article originally appeared on
ABACUS
"I can heal you as well as kill people. I have gotten about 1,000 points in this game. Do I sound cute, boss?"
In a voice reminiscent of an anime schoolgirl, Luohai advertised herself to me in an online chat room, offering to be my gaming companion in Overwatch for the next hour. 
I blushed at the sound of her voice, which sounded off-the-charts sweet, and I felt my heart racing. And that was just from her one-line audition.
A few more people were lining up to audition for me in the chat room hosted on a website called
Daofeng Esports Games
, through which I was trying to hire people to play games with me. All the while, my profile picture sat on a spot marked "the Boss Sofa".
I hesitated on Luohai's question. I wanted to hear from more people, but I felt like I was in a virtual brothel. Suddenly I heard a man chime in. "Hi boss, are you happy with our sister here?" the chat room host asked.
The host is an intermediary between the users and the companions for hire. After entering a chat room, you state your requirements for a companion player and the host will bring in companions who might meet them.
Flustered by the urging of the host, I hired Luohai. I found her personal page and scanned the QR code to pay her 30 yuan (about US$4.50), which immediately transferred from my WeChat account to hers. With payment out of the way, we exchanged gamer IDs and started playing Overwatch together.
To get a glimpse of into this industry and see what it's about, I hired three gaming companions. These are their stories.
Player 1: Luohai, a 20-year-old college dropout 
I never got to see
Luohai
's face, as we only talked over the mic. In discussing her life, though, the 20-year-old told me she left college for medical reasons, on which she didn't elaborate. 
"I just showed my parents a doctor's note and said bye to school," she said, "Plus, I'm now living in an apartment, which I rent on my own so [they can't be mad at me for dropping out]."
Luohai now works three jobs as a professional game companion, live-streamer and handicraft merchant. She doesn't feel comfortable in crowded areas, she said, preferring instead to be alone at home.
Nowadays, Luohai plays a lot of games, mostly first-person shooters. She's particularly well versed in Overwatch and the Call of Duty series. 
I saw immediately that it was no empty boast: She knows each map in Overwatch like the back of her hand. As we played, Luohai was constantly reading the field and alerting me to all the nooks and crannies that might conceal a potential threat.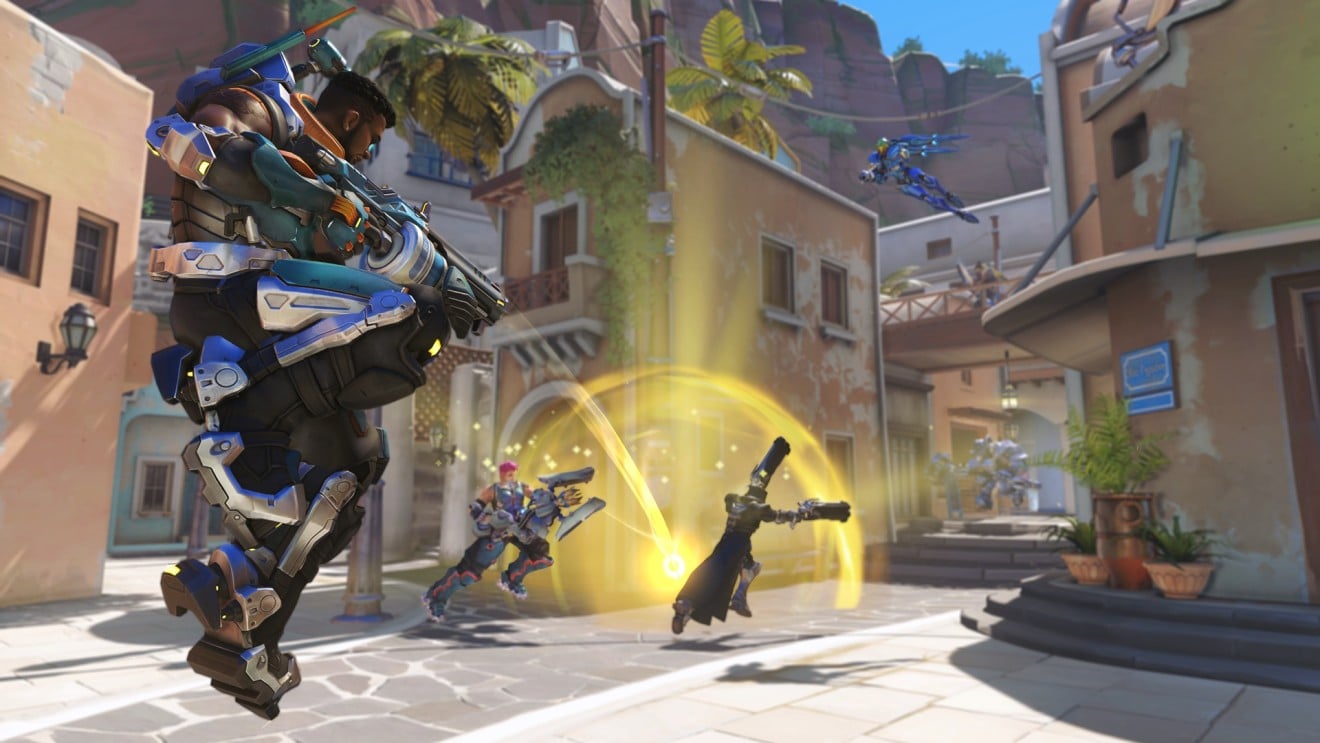 Though I play Overwatch on a regular basis, I felt like an absolute noob playing with her. At every turn, she asked to be my healer or tank. I was extremely embarrassed about how many times that I died, despite her best efforts to protect and heal me. 
Still, Luohai was determined to give me the best chance at winning. On one occasion, she alerted me that our team needed another tank, so I volunteered to switch to a tank. 
"Oh, no no no," she said. "You stay put. Let me try this." 
Then I heard the click-clack of a keyboard. Within 30 seconds, she had convinced another player on our team to switch to a tank in chat.
"Boss, you play whatever you want," she told me. 
Player 2: Lingfeng, a former grade school teacher
When I spoke to
Lingfeng
about being a gaming companion, the former grade school teacher told me a dirty little secret. At the end of the day, some gaming companions are really looking for future sugar daddies. 
"This gig is ultimately about keeping old customers," she said. "So, you know, it's only natural that you develop something with them over time. After a while, their incentives to hire you are no longer pure."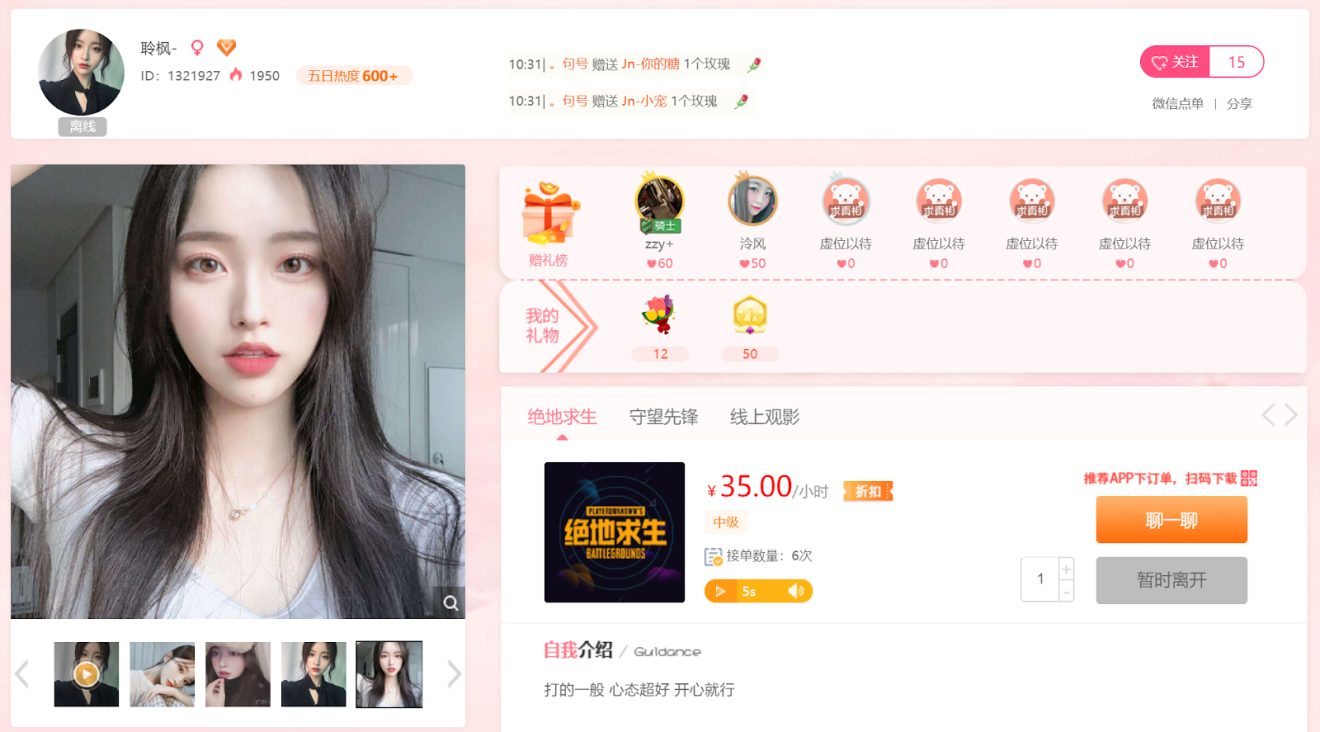 Lingfeng didn't say this was her motive, however. She said she tried not to stoop too low, preferring to avoid chat rooms in which girls and guys alike desperately audition for gigs. Instead, she only takes orders if customers request her directly through her personal page. 
"Chat rooms are essentially like brothels. You go in and state your request, feeling like the king of the world," she said, "All the girls will then fight over themselves, trying to get you to hire them." 
But the 22-year-old told me she works hard. She takes orders from gamers around the clock, sleeping only when she doesn't have clients.
As this illustrates, being a gaming companion can be a hard business. Our session cost me just US$4.50 per hour. After the platform takes its cut, Lingfeng is left with very little money. However, some gaming companions managed to make good money as they became more popular, she told me.
"The famous ones can make tens of thousands," Lingfeng said. "A girl I know makes more than 10,000 yuan (US$1,500) a month being a gaming companion." 
"But they get paid more because they are doing business with customers away from the platform," she added, "The platform has a cap at 60 yuan (US$9) an hour."
Just as Luohai did, Lingfeng insisted on being my personal healer in Overwatch. I struggled to keep up as she constantly spoke in the trendiest Chinese gaming slang. 
"This flying chicken is killing our sand-castle, wet-nurse teammate," she alerted me. "Do you have a milk stick? Cuz this enemy is some real meat." 
(Translation: Pharah is killing our dumb healer teammate… Do you have the healing biotic field? Cuz this enemy is really tanky.)
Player 3: Lu'a, a former internet addict 
As we played League of Legends together, Lu'a told me that becoming a gaming companion cured her internet addiction.
"I was the type that always skipped school to play in an internet cafe," she said, her voice seeming unreasonably sweet like those of Luohai and Lingfeng. "But to some extent, being a gaming companion cured my internet addiction… because now I game so much, I feel like this is work."
I didn't completely understand her logic, so I asked her what she would do if she wasn't working as a gaming companion. 
"Actually, I don't know what I'd do if I didn't game," she said. "Life is pretty boring."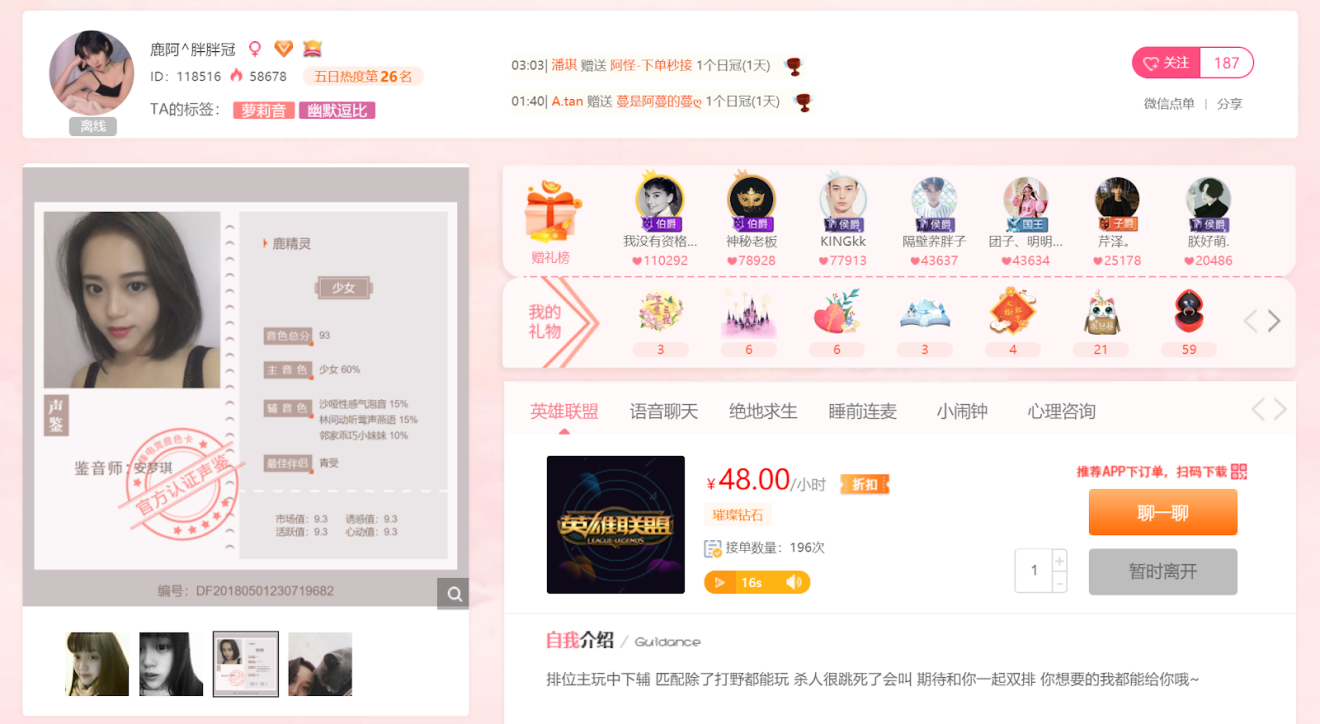 I felt a little sad after hearing her response, but she sounded cheerful. The 20-year-old seemed to be doing everything in her power to give me a good experience.
When I had trouble accessing a certain server with my LoL account, she was quick to find a solution. To ensure we could play together, she let me use her personal account while she rented a new one from the internet.
Among the three companions I played with, Lu'a was perhaps the most seductive. She was also the most expensive at a rate of 48 yuan (US$7.20) per hour. 
Lu'a does more than just play games. She also provides a service called "Chatting with you before bedtime."
It's a testament to her popularity… but also a sign of how her job is as much about making a human connection as being good at games.
In the description, she wrote, "To the world, you are just one person. To me, you are the whole world. Hello, my name is the Lu the elf. Nice to meet you. And the rest of my life is now you."
Player 4: Josh, suddenly having doubts
I'd be lying if I said I didn't enjoy this experience. I was showered with attention and compliments while doing something I love. And it didn't cost much, either. Why would I say no to that? 
But as I spent more time with the service, with the hosts, there was a slight unease creeping up in the back of my mind. The excessive flattery and attention I was getting made me more aware of the sense of deception here. 
I know they're being paid to play with me. But games are meant to be fun. Were my partners enjoying the game too? Was I fun to play with? Or was I just another customer to them, some random stiff they had to carry through games with the same level of joy I get from filling out paperwork in the office?
And it led me further down a mental rabbit hole of doubt and suspicion. Were the players really women at all? The male host sounded like he was using a voice modulator. Were the women using one too? Were they women at all? 
I wondered if they were, in fact, a vision of me in some alternate reality: A young Chinese man playing games with anyone who'd pay up, while filtering my voice and filling my microphone with falsely flattering comments.
The idea of paid gaming companions was alluring. The reality was unnerving.
The more I played with them, the more I thought about the times when I had great fun playing games with my friends. We'd smash buttons, belly laugh at silly moments and blame controllers for any defeats. 
Those are real gaming companions.
As for Luohai, Lingfeng and Lu'a? I was never sure.