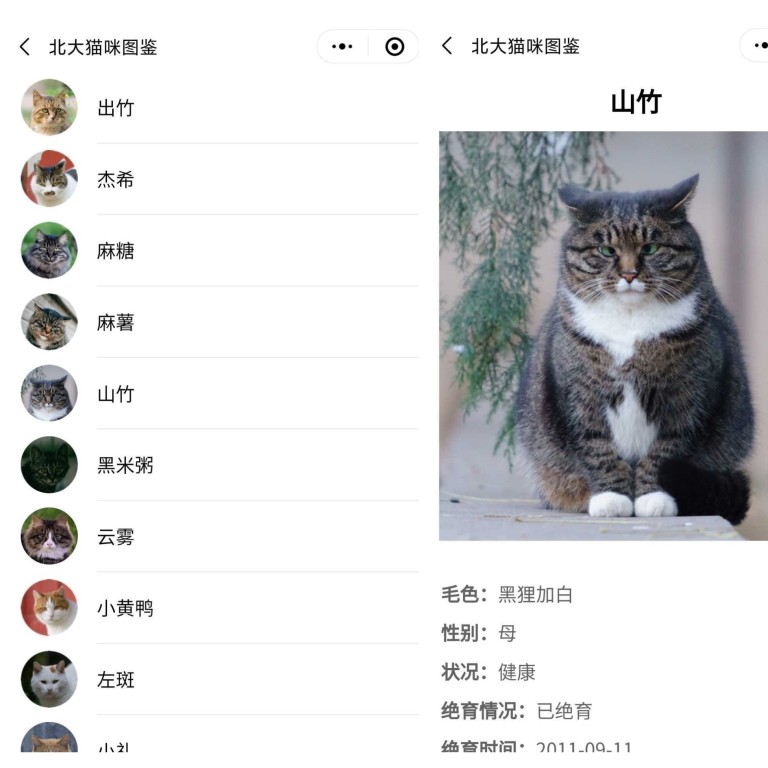 Chinese students set up a 'Facebook' for stray cats on campus
A new WeChat mini-program catalogs the felines prowling around Peking University
This article originally appeared on
ABACUS
Cats roaming the campus of one of China's top universities recently had their own profiles put up on the country's biggest social network, WeChat -- but only in a mini program. Students from Peking University created the mini program to catalog the stray cats prowling around the university.
Along with a name and photo, many of the kitties have descriptions of their personalities, likes and dislikes (Mr. Cheese apparently doesn't like stir-fried duck), real-time records of recent sightings and even friendships with other cats. The app, named Yan Yuan Mao, was created by the Peking University Cat Association, which helps the stray animals get sterilized and adopted. Once the cat finds a permanent home, it's marked as "graduated."
The "Facebook for cats" is just one of the many versatile ways people utilize WeChat's mini programs. The apps within an app allow for all kinds of functions, including renting bicycles, buying tickets, playing games and even
fortune telling
. And there's no need to download a separate app. It's also an important growth strategy for Tencent's social platform: Users spent
800 billion yuan
(US$113 billion) through mini programs in 2019.