DJI
Get more with myNEWS
A personalised news feed of stories that matter to you
Learn more
I flew DJI's new Mavic Air drone by waving my hand
DJI's newest drone fits between the Spark and Mavic Pro
This article originally appeared on
ABACUS
DJI's latest drone fills a hole on the company's product lineup. Bigger and more capable than the Spark, but smaller and less pricey than the Mavic Pro, we took the Mavic Air out for a test flight at an event hosted by the company.
My first impression: I knew the drone was small, but even then it surprised me just how tiny and light it is -- it probably weighs less than a half-litre bottle of water. It also folds to the size of a smartphone and fits right inside a pocket. While it takes two of my tiny hands to hold the bigger Mavic Pro properly, I felt comfortable grabbing the Mavic Air with just one hand.
We took the Mavic Air outdoors to fly it over a football pitch. Like the Spark, the Mavic Air can be controlled by hand gestures. That was the first thing I tried because, who doesn't want to fly a drone just by waving a hand? It's gimmicky for sure, but it's also a lot of fun.
Here's my only complaint: It was a windy day, and at times it felt like the drone was struggling to stay steady while following me. My colleague, who was also there and owns a Mavic Pro, said he felt like his drone would have held up better under the same conditions.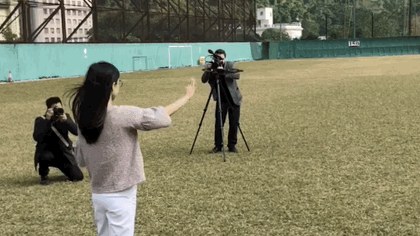 The Mavic Air comes with a remote control that can fold like the Mavic Pro's. What's different? It lacks a screen, and has detachable joysticks. That gives it a more streamlined shape, making it easier to store in a bag or in a pocket.
There were some features we weren't able to try out. The drone has a new panorama mode that stitches 25 photos together in just eight seconds to create a 360 degree view. And it also has what DJI is calling "Asteroid" and "Boomerang" modes for some really unique pictures and videos, but we didn't see it in action.
Another notable feature missing from our test is the new obstacle avoidance system. Unlike some other DJI drones, which stop and hover in front of an obstacle, DJI says the Mavic Air knows how to fly around anything in its path.
So who is this drone for? DJI says the US$799 Mavic Air fills a gap between the more capable but more expensive Mavic Pro at US$999 -- and the US$399 Spark that doesn't shoot 4K video.
"The Mavic Air could be for someone who would consider it, flying a drone for the first time, but who does require a good camera," said Kevin On, DJI's director of communications.
The introduction of DJI's new drone comes right after this year's CES in Las Vegas, where the company showed off a US$99 toy drone called the Tello, made in partnership with Ryze Technology, also based in Shenzhen.
DJI told me the Tello fits the company's flight technology within a cheaper package to create a drone catered towards teenagers. But if you are expecting a fully DJI-made drone at a much cheaper price than the Spark, the firm says it's not happening anytime soon.
"We're really focused on building good air frames, intelligent aircraft, and cameras that can really help people tell beautiful stories," said On.