DJI
Get more with myNEWS
A personalised news feed of stories that matter to you
Learn more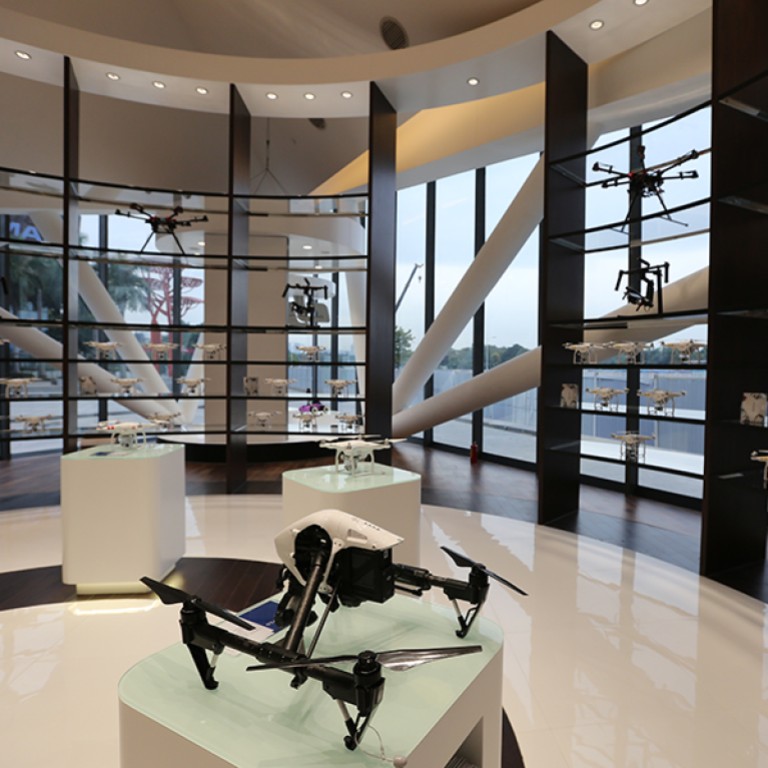 How DJI continues to stay ahead of its rivals
Drone pioneer continues to dominate the industry
This article originally appeared on
ABACUS
There's a new player in the drone race. California-based Skydio unveiled a
$2500 drone that can fly itself
-- weaving through a forest of trees while following a human subject. It's impressive technology, seemingly giving the four-year-old startup an edge against market leader DJI.
But we've been here before. Just two years ago, it looked like the Chinese company was facing its toughest test yet.
GoPro, the company that made small "action cameras" popular, was ready to launch the Karma drone. And American startup 3D Robotics had the Solo, which promised to be much smarter than the market leader at the time, DJI's Phantom.
But while DJI went from strength to strength, its rivals stumbled out of the market: Both GoPro and 3D Robotics have now stopped building drones. The story of how we got there is an illustration of how DJI's shrewd strategy has kept them far ahead of the competition.
BIRTH OF A GIANT
DJI was 
founded in 2006
 in the southern Chinese city of Shenzhen, right across the border from Hong Kong. CEO Frank Wang and two classmates rented a tiny office to try and build a remote-controlled quadcopter stable enough for photography.
Their first big break came seven years later with the original Phantom. It was cheap, but more than that, what set the Phantom apart was 
how easy it was to use
.
Unlike most personal drones on the market at that time, the Phantom didn't need to be assembled from various parts -- it was ready to fly almost as soon as you took it out of the box. All you needed to do was add a GoPro camera to take pictures.
The Phantom received plenty of critical praise, with CNET even naming it their "
favorite tech purchase of 2014
". More importantly, its distinctive white plastic body became an icon -- if you thought "drone", the picture that came to mind was probably DJI's Phantom.
HUNGER GAMES
With DJI's success, it was clear there was a growing demand for camera drones. Drones were DJI's speciality, but not cameras. At first this meant attaching a separate GoPro camera to the drone, which worked, but wasn't as user-friendly as having a camera built into the drone.
The initial plan was for DJI and GoPro to build a new product together combining their strengths: A quality drone with a spectacular camera. But the partnership never materialized due to a 
dispute over profit-sharing
.
DJI eventually started building their own cameras for drones, bypassing the need to buy a GoPro. So the American camera company's next move was obvious: They'd build a drone of their own.
GOPRO FALLS
But that was nothing compared to what happened next. Some units started suddenly falling from the sky after losing power in mid-air. Within weeks, it was clear that the Karma had a major defect. GoPro recalled hundreds of drones before relaunching the model three months later. But the damage was done, and it quit the drone business in January.
ANOTHER CASUALTY
3D Robotics suffered a similar fate. The company had 
millions of dollars of funding
 under their belt when they rolled out the Solo in mid-2015, touting it as a smarter drone. It was packed with innovative features, such as letting you plot a course on a map for the drone to automatically follow.
But they failed to master a fundamental feature that could make or break a camera drone: The gimbal. That's the device that holds a drone's camera stable while it's flying around. Without a decent gimbal, video from a drone would be shaky and blurry. 3D Robotics had a hard time meeting production deadlines and made the decision to roll out the Solo without a gimbal, depriving it of a basic feature.
MARKET DOMINANCE
But DJI's advantage isn't purely down to the stumbles of its rivals.
Its drones are widely acclaimed as the best in the market. And the company has continually pushed the boundaries, adding new technology like obstacle avoidance while making its drones smaller and smaller: After the Phantom came the foldable Mavic, and after that came the Spark, with a body about the size of a can of Coke.
Their latest drone takes cues from both
: The Mavic Air packs a lot of the Mavic Pro's features into a drone only slightly larger than the tiny Spark.
DJI owes its price advantage largely to being located in China. The company 
runs its own factories
, allowing it to reduce third-party cost while churning out prototypes and commercialized models at a rapid pace. The company boasted that it can design a new part in the morning and have the factory build it for testing that same afternoon.
That's not to say DJI is without competitors. Other Chinese startups like Yuneec are trying to take advantage of the same production advantages that DJI has. And outside China, France's Parrot specializes in cheaper toy drones. But all of those rivals combined make up 
less than a third of the market
.
CAUGHT IN THE MIDDLE
If there's a threat to DJI, it may not come from the competition -- but from authorities.
Being a Chinese company gives DJI a production advantage, but it's also caused plenty of other problems. Last year, the U.S. Army banned the use of DJI drones due to security concerns, while the Australian Defense Force bans its use in classified situations.
More broadly, the company is keeping its eye on tensions between the US and China and how that might affect its business. But the company's managing director for North America told the South China Morning Post there's only so much they can do.
"For us, we can only manage things that we can manage," 
says Michael Perry
. "DJI itself is not going to improve the relationship between China and the US, but what we can do is to continue communicating the reality of the situation in terms of what we do and what we don't."
This article appeared in the South China Morning Post print edition as: How DJI continues to stay ahead of its rivals