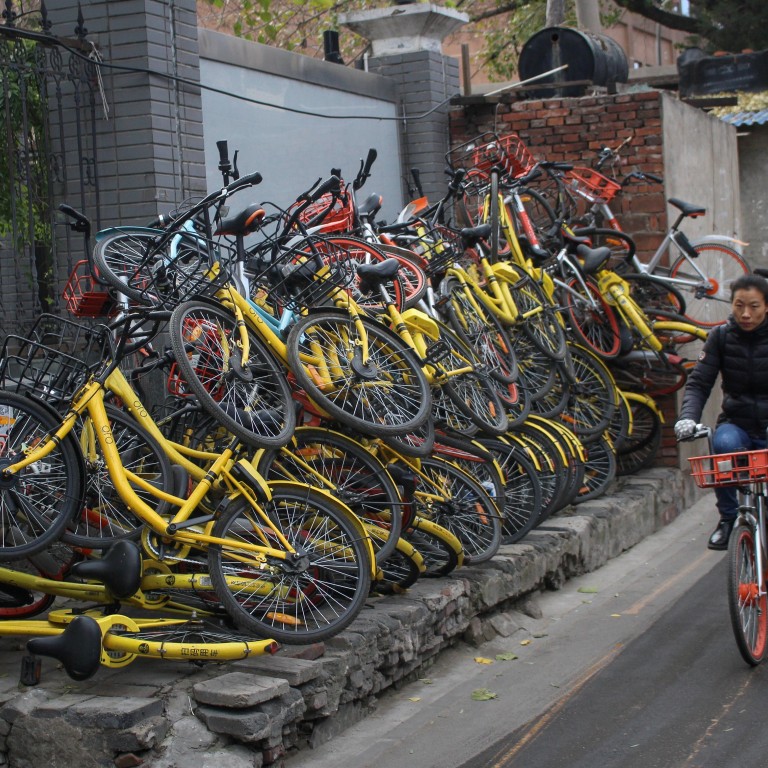 Spurned users decide to sell shared bikes to make up for their lost deposits
Collapse of bike sharing companies leaves streets littered with unused bicycles
This article originally appeared on
ABACUS
China's bike sharing bubble has burst, and some users have decided that they don't want to wait to get their deposits back.
Bike sharing in China is really more like bike rental -- users aren't sharing their own bicycles, they're borrowing bikes owned by a company. Each ride only costs a few cents, but users need to pay deposits that vary from about US$15 to US$50.
Over 40 bike-sharing startups
 appeared in the past year, but
only a handful still exist
.
According to Chinese media
, shared bikes were spotted for sale on Xianyu, an Alibaba-owned site that specialises in used products. (Abacus is a unit of the South China Morning Post, which is owned by Alibaba.)
Among the listings on Xianyu are bikes from
Kuqi
and
Bluegogo
, two of the bike sharing startups that went bankrupt in late 2017 and failed to return deposits to 
millions of users
. One of the sellers listed a Kuqi Bike for 60 yuan (US$9), saying in the description that "there is no hope in getting back my 298 yuan (US$46) deposit, and I'm selling the permanent right to use this bike."
The item was later deleted. When we contacted him to ask why, the seller said he wants to avoid any misunderstanding from people -- but didn't clarify what kind of misunderstanding.
One thing is clear: When asked if he took the bike from the street, he replied "yes."