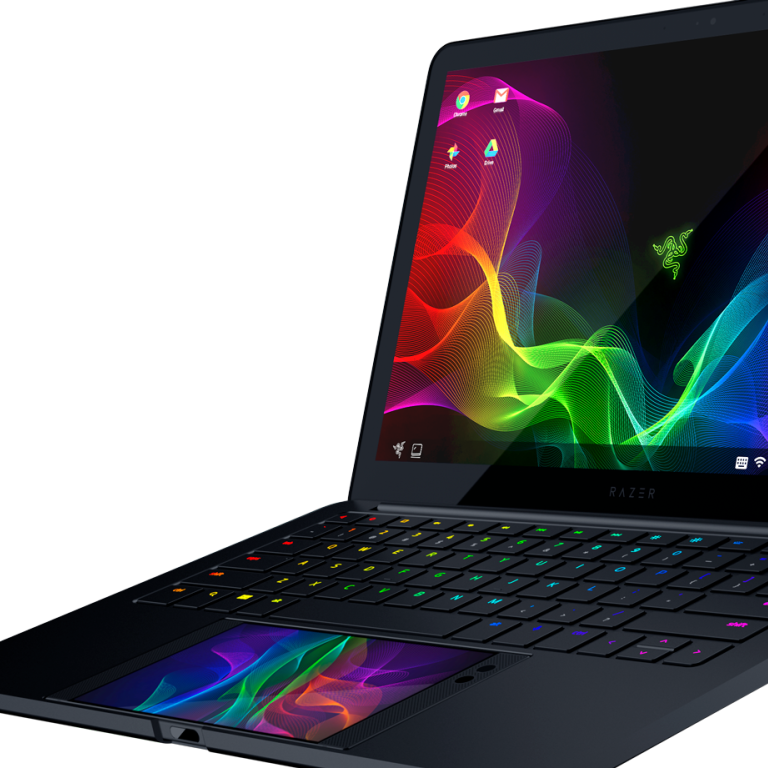 Testing Razer's smartphone-powered laptop
Five questions answered about Razer's Project Linda
This article originally appeared on
ABACUS
It's effectively a laptop "shell" for the Razer Phone: You insert the phone into the laptop, allowing the handset to take advantage of a keyboard and a big screen. It's not the first attempt to turn a smartphone into a desktop PC -- both Samsung and Microsoft have tried it -- but those were docks with ports to connect to a monitor and other devices. They were desktop experiences, while this is a self-contained device.
We got our hands on Project Linda in our offices last week to test it out -- and to see whether it lives up to the hype.
How does it work?
Connecting the Razer Phone to Project Linda is simple: The phone slides into a slot where you'd usually find the trackpad.
Push a special button on the keyboard and a USB-C connector slides into the smartphone, locking it in place.
The whole process happens quickly, with the app on the phone quickly appearing on the laptop's screen instead. Almost everything is driven by the phone itself.
All of the games and apps, the operating system -- the whole thing is running on the Razer Phone, but you're seeing it on Project Linda's 13" screen.
If everything is being powered by the phone, what's in the laptop?
While the phone is the brains of the hybrid device, the laptop is more than just a big screen. There's also the full-size keyboard, complete with Razer's Chroma lighting system.
Physically, it's identical to the Razer Blade, the company's existing line of laptops. If you've never seen one before, think black MacBook Pro: It's slim and light, with an aluminium unibody and a nice matte black finish.
Under the hood, there's an extra battery that Razer says will charge your phone three times over, as well as 200GB of extra storage. There's also one USB-A and one USB-C port for connecting peripherals like a mouse, as well as a 720p camera, microphone, and standard audio jack (something the Razer Phone itself lacks).
But what's just as interesting is something it doesn't have: Project Linda has no speakers, instead relying on the phone. While you may not expect great audio from a handset, the Razer Phone has stereo speakers with Dolby-certified audio. Testing them in the office, we were blown away by both their fidelity and volume: Quite simply, they are loud!
What's it like to use?
It was surprising how much using Project Linda feels similar to using a conventional laptop -- admittedly, closer to a Google Chromebook in capabilities than a MacBook Pro, but still remarkable. It has a standard-looking desktop for launching apps, which run in separate windows… just like Windows, and very much unlike Android.
We saw standard desktop apps running -- everything from Microsoft Word to the Calculator -- and they all looked and felt just like they would on a laptop.
One of the coolest features was that the Razer Phone doubles as the laptop's trackpad. When scrolling through a web page it was both fast and responsive -- something you'd expect from a phone, but still neat to see in action.
And eventually, it may be more than just a trackpad. In the prototype we saw, the Razer Phone's display merely mirrored the screen -- but Razer says the goal is to make the phone display something completely different to the laptop, allowing you to use the trackpad as a control panel, item menu or map for the game running on the big screen.
Razer were keen to show off Vainglory, a MOBA game like League of Legends that had been optimised for Project Linda. It was pretty satisfying to see it on a big screen -- a smartphone's display, even one as large as the Razer Phone, can't compare to a 13" laptop. Vainglory also had functions assigned to the keyboard, allowing it to feel more like a traditional PC MOBA than a smartphone game.
Any drawbacks?
The device's biggest selling point is also, right now, one of its drawbacks. The laptop's screen is massive, but it lacks some of the key features of the smartphone's screen. The Razer Phone has a 120Hz display, which means animation and scrolling are much smoother than any other smartphone -- but Project Linda lacks this feature.
The screen's resolution is also lower than the smartphone's; it's bigger, but it's not sharper.
Razer took pains to remind us that this is just a prototype, and therefore it's subject to change -- but it's still odd that some of the features that make the Razer Phone stand out aren't in Project Linda.
The other challenge is that Razer has only worked with a few developers to optimise apps for Project Linda. Some apps work, but your mileage may vary: Opening an app that hasn't been designed for the bigger screen may result in seeing something stretched awkwardly, like with some Android tablets.
When will I get my hands on one?
Well… you probably won't.
This is just a prototype, and if you look at Razer's history with prototype announcements at CES, it seems unlikely that it will ever actually go on sale.
Razer told us that the process of building these one-off prototypes does sometimes lead to breakthroughs that will improve the products that you can actually buy.
But Razer's Global Marketing Director Ian Tan admitted that part of Project Linda is simply to drum up interest: "Prototypes often create excitement and show people the possibilities, while we get back to work on the real products that we put on shelves."