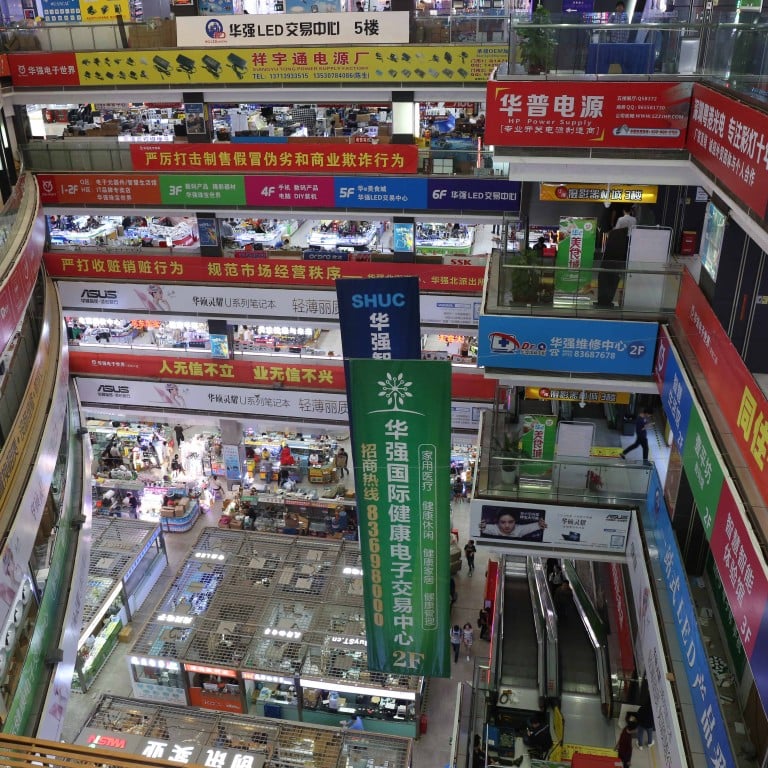 Shenzhen's gadget paradise Huaqiangbei struggles to evolve
Phones and tablets give way to drones and bitcoin mining gear
This article originally appeared on
ABACUS
Anyone who loves electronics owes themselves a trip to Shenzhen's Huaqiangbei.
Just across the border from Hong Kong, the district boasts a series of towering malls with floors full of stalls crammed together, all packed with electronics.
If you think of it, you can probably find it: From drones to selfie sticks, circuit boards to robots, Huaqiangbei is an electronics dreamland.
But as technology changes, Huaqiangbei is being forced to adapt to differing times.
Origins
In the late 1970s, a military factory from a village in northern Guangdong Province moved south to Shenzhen, hoping to take advantage of its location and loosening economic policy.
The factory, which produced military radio equipment, renamed itself "Huaqiang" -- meaning "China strong." As the area around it, the new district took on the name of the factory, with "bei" (north) added.
In its heydey, Huaqiangbei's markets had over 13,000 vendors, all able to source their stock from the thousands of factories across the region, producing every type of product and component imaginable.
Its ability to attract customers from all over the country (and the world) earned it a reputation as a "
barometer
" of China's electronics industry. Products aren't made at Huaqiangbei, but it's where trends are formed.
Successful products are quickly cloned by the area's factories, flooding nearby stores. The selfie stick, hoverboard and fidget spinner crazes can all trace their origins to Shenzhen -- and Huaqiangbei.
Markets in decline
We visited the markets on a Monday, but didn't see the hustle we expected. Instead, aisles were mostly clear and a lot of people running stores were playing with their phones.
According to those shop owners, this wasn't because it was a rare quiet day.
"You can see there's a lot of empty space around here," said Li Chunsheng, pointing at unoccupied shops around him. "Traditional electronics are not in a good shape."
In just one of the malls, Huaqiang Electronics World, there are more than 3000 stalls. But 
occupancy rate
 has been slipping from 96% in 2014 to 88% in the first half of 2017.
Other shop owners had a more familiar complaint. Like retailers everywhere, they said e-commerce was taking away their business. Locals told us they'd rather shop for things online instead of physically visiting the markets.
The fall of shanzhai
Another factor is China's growing wealth.
Huaqiangbei has long been notorious for "shanzhai" goods, counterfeit versions of existing products. Indeed, in our visit we spotted smart watches that looked very similar to the Apple Watch. But it's not just American products that are cloned: We also saw drones that strongly resemble the Spark, clones of a product made by Shenzhen's own DJI.
But as big brands have become more affordable for Chinese customers, shanzhai products are losing their appeal. And the government says it's trying to change Shenzhen's copycat image, carrying out 
raids on counterfeit goods
.
All of those factors combined are why Li was getting ready to move his stall. The shops around him were empty, and the market decided it was time to clean up.
"We talked to marketing that they might as well just replace them with seats so people shopping at the market said sit down," said Li. "Otherwise with all these empty stalls clustering, it looks uncomfortable and depressing."
New opportunities
But as sales slow, new opportunities emerge.
Shops often have to quickly react as trends change. Li's shop actually used to sell tablets, before their decline forced him to switch to drones.
"Drones are doing fairly well," said Li. "Right now at Huaqiangbei we're bullish on drones, projectors. And another thing, bitcoin mining graphic cards. Just these three."
The unpredictable cryptocurrency market may make bitcoin mining a risky business, but nothing is immune to the rapid change of technology, as Li has witnessed.
"Back in 2002, 2003 when people didn't have anything like cameras, SD cards, laptops or other electronic products, they flock to Huaqiangbei. But people have everything now."