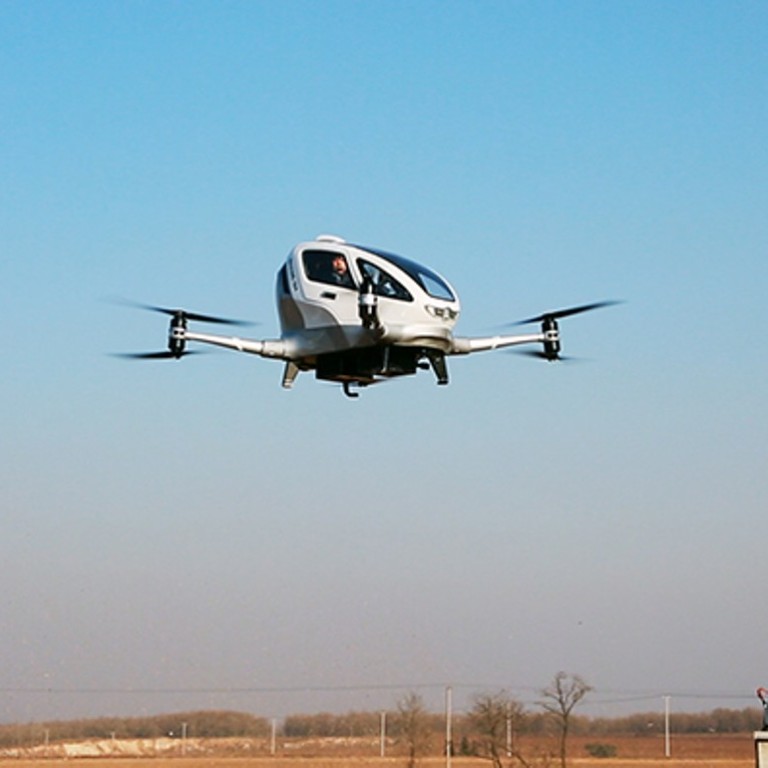 The race to put flying taxis in the sky
Who's making the most progress on this sci-fi dream?
This article originally appeared on
ABACUS
We're three years beyond the date of "the future" in Back to the Future II… but we still don't have flying cars.
People have tried for years to recreate this sci-fi dream, but pesky things like the laws of physics have prevented it from becoming a reality.
Challenges… and hopes
One of the biggest obstacles is simply learning to move around obstacles.
Flying cars will need to navigate complicated urban landscapes, with buildings, power lines and all sorts of objects to fly around. To move around safely, these vehicles will need to rely on a highly detailed map that shows real-time positions of all potential hazards -- including other flying cars.
Creating a map like this for ground vehicles
is challenging enough
, but adding multiple altitudes makes it even more complicated.
Another challenge: Power. It's enormously difficult to make batteries that are light but also strong enough to support flights longer than a few minutes. A hybrid of gasoline and electricity may be more practical, but that could create more pollution.
But there is hope -- and the answer may lie in consumer drones.
Over the last couple of years, major advancement has been
made by companies like DJI
. They're squeezing more battery capacity into smaller drones all the time. And they are also programmed to fly around obstacles, and go home automatically if they lose connection.
Scaling up these technologies for a flying car -- which is essentially a much bigger drone -- is the key to success.
But there is still the issue of safety. No matter how reliable flying cars become, they are still an additional hazard to people on the ground. And they can be a nuisance too:
Elon Musk explained that
a vehicle will need to generate a downward force strong enough to sustain itself in mid-air -- that would create a lot of noise and wind.
So let's take a look at some of the flying car projects that are making progress.
Kitty Hawk
This week, Kitty Hawk -- a startup backed by Google cofounder Larry Page -- released video of a self-flying electric aircraft named Cora. The company says the air taxi can take off and land vertically, so it doesn't need a runway. It's also said to be quieter than a helicopter. It's now being tested in New Zealand. 
Ehang
Just two years after it first unveiled a concept aircraft at the CES in Las Vegas, China's Ehang gave the world a glimpse of its passenger drone in action last month. In a video, local officials and company executives are seen aboard a drone that takes off with the tap of a button and flies over a field by itself.
Lilium
German startup Lilium, funded by Tencent,
tested an unmanned, two-seat jet last year
that can take off vertically and transition to wing-borne flight mid-air. The next goal: A five-seater electric aircraft that can travel between Manhattan and JFK airport in five minutes.
Airbus
Airbus recently released a video showing its electric Vahana aircraft
completing its first test flight
. It hovered around 16 feet above a test range in Oregon for just under a minute.
Joby Aviation
Joby Aviation, a California-based startup, demonstrated a drone-plane hybrid
to Bloomberg Businessweek
earlier this year. Unlike others, the aircraft isn't autonomous yet -- it was reportedly controlled by a pilot.
Volocopter
Germany's Volocopter flew an 18-rotor prototype across a stage at an Intel presentation at this year's CES. It has already run
an autonomous flight in Dubai
 and manned flights in Germany. 
Uber