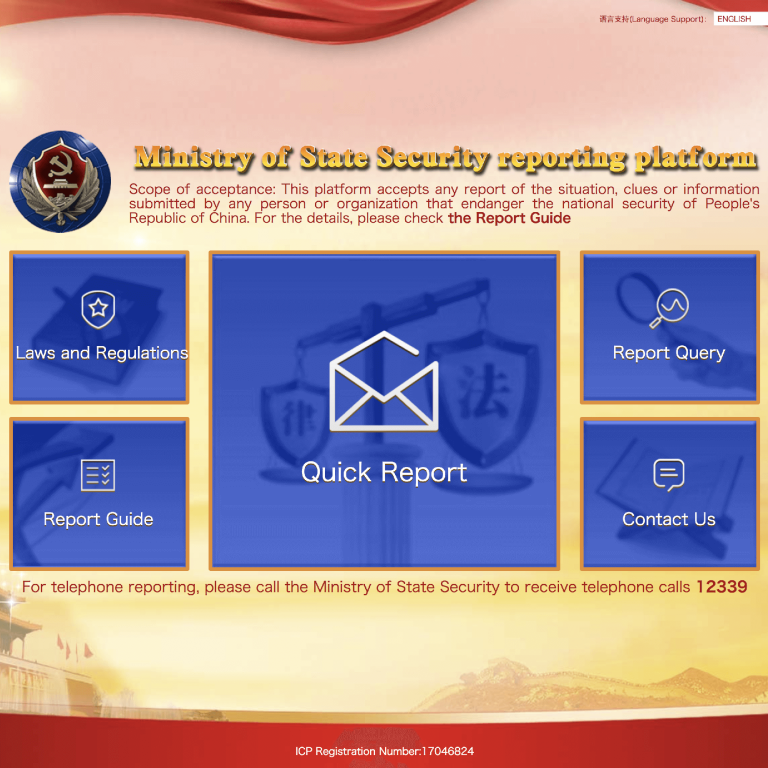 Spot a spy in China? There's a website for that
China crowdsources the search for foreign spies
This article originally appeared on
ABACUS
Normally, intelligence agencies search for foreign spies. But in China, the government has a new website to crowdsource tips from citizens to spot spies.
The Ministry of State Security launched the website on Monday, encouraging people to report individuals, organizations or events that "endanger state security." The site is available in both Chinese and English.
Behaviors include "colluding with foreign countries" and "organizing, plotting or committing activities to subvert the state power and overthrow the socialist system".
People can file reports either anonymously or with a real name. When filing, the categories available include "violence and terrorism", "espionage", "theft or leakage of secrets", "secession of state", and "subverting state power".
The website is new, but the government set up a hotline in 2015 to collect tips. A Beijing newspaper says the hotline received 5,000 tips in a year, with a reward of between 10,000 to 500,000 yuan (US$1,573 to US$78,660) for useful information.
The website was launched around the same time as China's annual "National Security Education Day", when the government runs campaigns promoting national security awareness. Last year, they
released a cartoon
aimed at telling children to beware of spies.