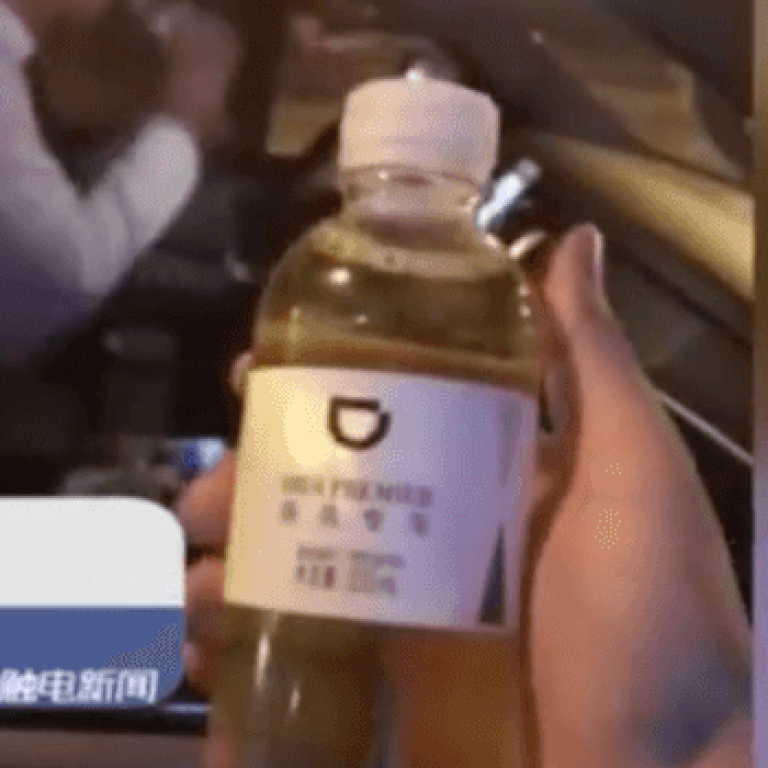 Think twice about the free water when using a ride-hailing app
Didi Chuxing admits driver peed in a bottle... and a passenger took a sip
This article originally appeared on
ABACUS
The lid on the bottle was a bit loose. But the drink was sitting there, and he was thirsty. So he drank it anyway.
It wasn't a drink. It was urine.
Didi Chuxing confirmed that one of its drivers peed in a bottle -- the same bottle the hapless passenger in Shanghai took a swig from.
The man, whose last name is Sun, told
Chinese media
he found the bottle in question in a cup holder between him and the driver. It's customary for Didi to offer free water in their Premier rides, but this particular bottle seemed to have been opened before.
When Sun asked about the loose lid, the driver pointed out that the bottle was filled to the brim, so it could be that the previous passenger opened it without drinking. Sun took a sip, and instantly spat it out.
"It didn't taste right," he said.
Didi confirmed to us that the driver peed in the bottle because he couldn't find a toilet -- and they are taking both Sun and the driver for physical checkups. The ride-hailing company added that there's a toilet locator built into Didi's driver app, used by more than 30,000 drivers everyday.
The driver has been suspended from service.
On social media, many are wondering why the passenger drank from the bottle in the first place.
"Couldn't he smell it?" another asked.
Still, if you ever accidentally gulp down a small amount of pee, don't panic.
Human urine consists mostly of water, with a small amount of metabolic waste. Dr. Andrew Yip, a Hong Kong-based urologist, told us that urine from healthy people are usually devoid of harmful microbes. In rare cases, urine from tuberculosis patients can contain bacteria. But all most likelihood, drinking pee shouldn't be a problem -- unless you plan to consume more than a liter.
And if you do, well... that's a whole other issue.