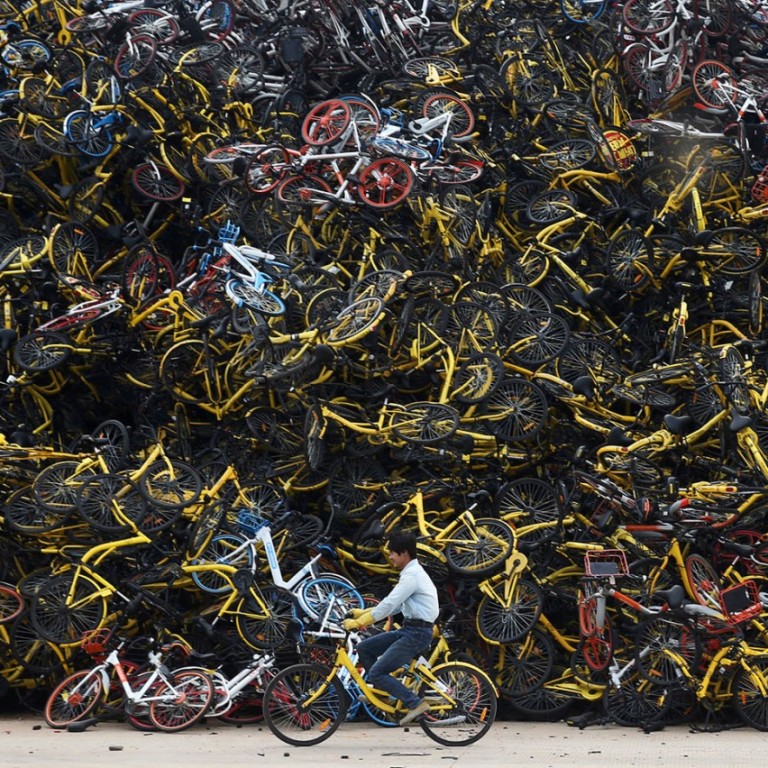 Remember China's bike sharing boom? Those bikes are now scrap metal
Bike graveyards have become the defining image of China's bike sharing boom (and bust)
This article originally appeared on
ABACUS
Staff of bike sharing platform Mobike had a little surprise this week. They wondered why a bunch of their bikes were clustered in an abandoned factory in the city of Foshan -- so they went to visit, only to find the distinctive orange bicycles turned into a grotesque pile of disjointed parts.
The bikes were being turned into scrap metal.
The factories housed hundreds of bikes from Mobike, Ofo and many other companies -- in many cases, still usable. One Shenzhen-based shared bike company
found
 that nearly 1,000 of its bicycles were "abnormally moved" into recycling factories. As in, they were stolen.
Stealing bikes for scrap metal is a serious problem for bike sharing companies, especially since it's really more like bike rental than bike sharing. Unlike other sharing economy services like Uber or Airbnb, the users aren't sharing their bikes; they all belong to the companies.
But some think the bike thieves may have actually been doing Chinese cities a favor. Their streets have been blocked, both by usable and by unused "zombie bikes" left behind as the industry expanded rapidly... and then shrank just as fast when the bubble burst.
Much of this "shared garbage" belongs to the 60 or so bike sharing companies that went bust. Xiaoming, the company that was first to formally declare bankruptcy, left 430,000 bikes across more than 10 cities (and around US$115 million in unreturned deposits).
Ofo even left bikes for other countries to recycle after bailing from international markets. The company donated bikes in Dallas to two nonprofits, with many of them ending up in the recycling dump.
It's not surprising that many of these bikes end up as scrap metal. According to Mobike's calculations, by 2020 more than 10 million shared bicycles will need to be recycled. Big companies have established their own recycling channels, with Mobike presenting its Mobike Life Cycle in July.
"In Shenzhen and Shanghai, we had already replaced about 40,000 and 10,000 bikes respectively with new models, and those older bikes have been recycled," said a Mobike spokesperson.