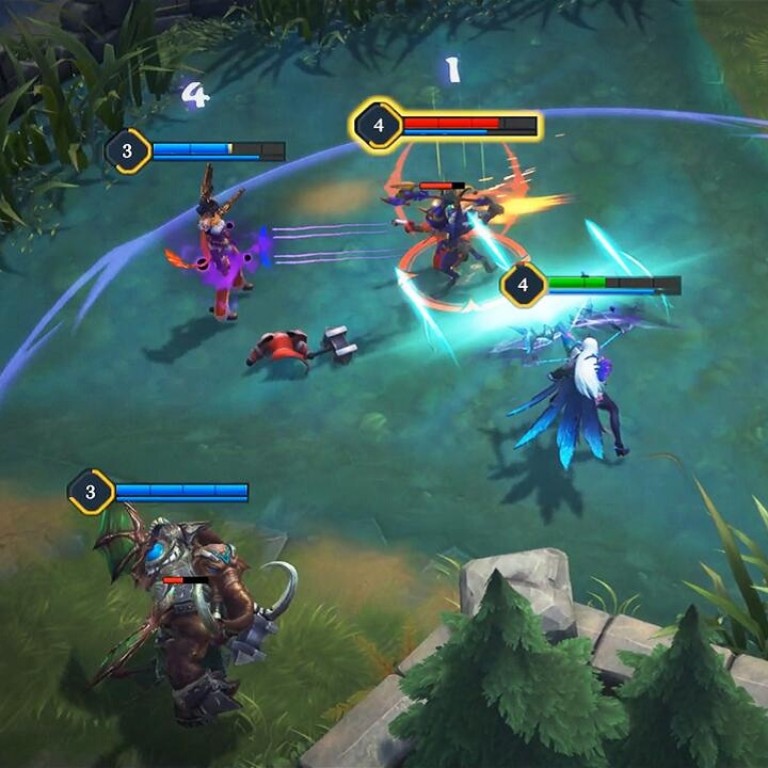 Arena of Valor is a decent game on Nintendo Switch but better on mobile
Tencent's mobile esports title is the first MOBA on Nintendo Switch
This article originally appeared on
ABACUS
You might have seen many console games being ported to mobile, but here's one that works the other way around.
I'm a big fan of Tencent's mobile MOBA Arena of Valor. I play it all the time on my iPhone. Now 
I played
the Nintendo Switch version of the game, which was released just two months ago, in hopes of comparing the two.
My verdict? This iteration, with much improved graphics, is a decent game but -- and I know this will sound weird -- the original mobile version is superior.
Let's talk about the graphics first. The appeal of having a console version of the game is apparent. With its initial jagged graphics, AoV is often seen as a cheap, dumbed-down knock-off of League of Legends on mobile.
And it was. But with 200 million people playing the game in China, it's clearly found an audience who like it just the way it is.
So what's the Nintendo Switch version like? The game looks surprisingly good on Switch. I'd argue that it looks even better than Dota 2.
However, at the end of the day gameplay is what matters. But before we talk specifically about this game, let's talk more generally about mobile games and console games.
Every time I play a mobile game littered with virtual buttons, I always find myself asking: Can well-designed touchscreen controls replace physical controllers? That's why I was extra hyped to play
the Nintendo Switch version of AoV
, a game I play with all the time using virtual touchscreen buttons.
But disappointingly, as an AoV fan who started on mobile first, playing it on a console controller didn't feel any more liberating -- quite contrary to my feeling about playing Fortnite on mobile versus a console.
Here is an example. In the mobile version, icons which trigger the three abilities of your hero are laid out in a fan shape around your normal attack button. When the cool-down is over, you can tap those icons really easily.
Not only that, these icons then become mini joysticks which you can drag to control the direction in which you want to release these abilities. Releasing spells in AoV on mobile happens in one fluid motion -- hold down an icon, drag in the direction you want, and release!
However, on a controller it becomes a three-part process. To cast a spell, you first have to remember which button is mapped to that ability, then hold down that button and, lastly, aim with the right joystick.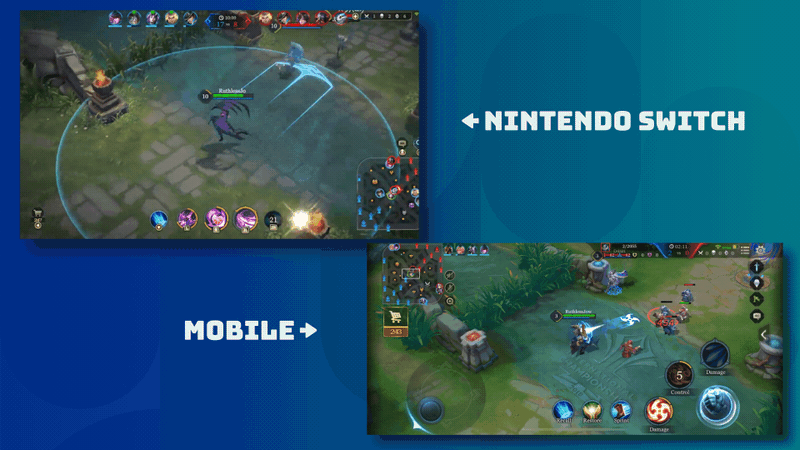 There's a similar struggle when I try to upgrade abilities or buy weapons. On mobile, when an ability is ready for upgrade you can simply tap the plus icon next to it. But on Switch, you'll have to hold down the X or Y buttons and tap the button that is mapped to that ability or weapon.
That being said, I understand that juggling between several buttons on consoles often becomes instinctive after I've developed the proper muscle memory. But still, it shows how virtual buttons, in this scenario, are a lot more intuitive and beginner-friendly.
All those things considered, the biggest feeling I had while playing it on the Switch was -- I want to play it on my phone! (Yeah, I figure my two thumbs can do a lot more than those trigger buttons.)
I've also spoken to others about this.
My coworker Andrew
said while he enjoyed playing it on the Switch, the mobile version allows for better and faster aiming, and is therefore much better suited for competitive gaming.
But I've also heard different opinions.
Julianna
said she actually prefers playing it on the Switch because she sweats a lot and the touchscreen becomes slippery for after a short play session. She also added that she enjoys this game on the Switch because its UI is
a lot less cluttered
.
Anyway, it is experience that leads me to believe that touchscreen control, with proper design, and depending on the game, can be just as good as a traditional controller.
Look, I'm not a console hater. I bought a Switch just so I can play Fortnite on the go because I'm utterly fed up with Fortnite on mobile.
But who knows? As much as I've been wishing Epic Games would roll out some official phone accessories to help me
play Fortnite on the phone
, maybe the way to go is to come up with a better-designed touchscreen control.
If you want to check out more about Arena of Valor on the Nintendo Switch, check out our
entire stream
here!