WeChat
Get more with myNEWS
A personalised news feed of stories that matter to you
Learn more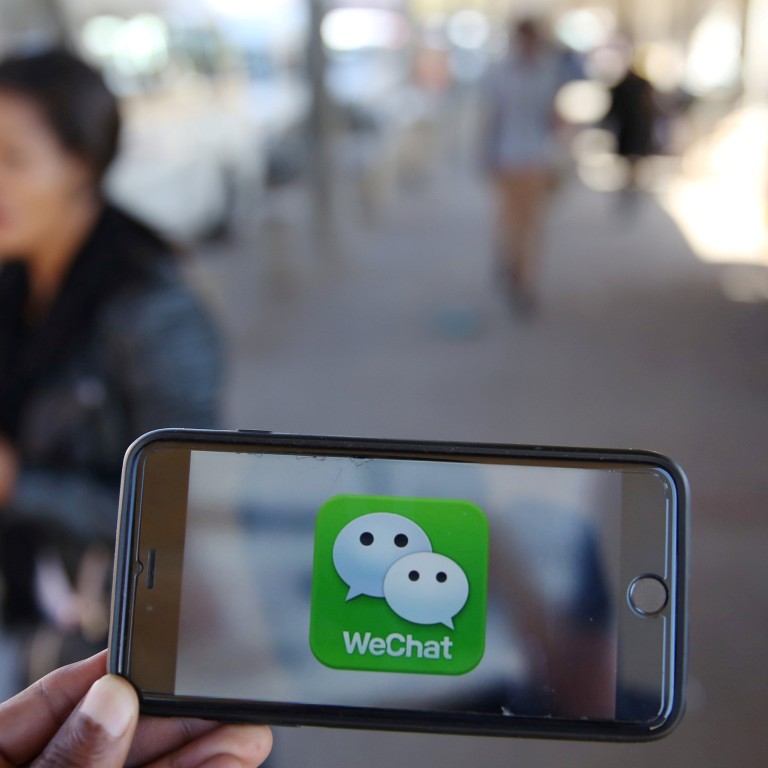 China's social app to rule them all wants to judge you for your purchases
Tencent has a new social credit system tied to WeChat Pay
This article originally appeared on
ABACUS
China's one app to rule them all, WeChat, has quietly launched its own social credit system -- meaning it plans to give a score to users of its platform based on their financial performance.
If you're familiar with China's Social Credit Score, this may sound creepy. But before you tweet this with the word "Orwellian" written in caps lock, hold off a bit, because this isn't quite as frightening as that: This is reportedly more about earning perks for being good, instead of punishment for being bad.
The new system, called WeChat Pay Score, is similar to rival Alipay's Sesame Credit: It scores users based on WeChat Pay data, personal consumption, compliance, and other behavior (like fulfilling obligations on time).
(Abacus is a unit of the South China Morning Post, which is owned by Alibaba.)
Sesame Credit is much the same. It tracks your consumption data and habits and gives a score based on which you can get certain perks. This may be a deposit waiver or even the option to apply for a visa without giving bank statements.
However, there is one notable difference with WeChat's new system. The social media platform
told
reporters on Wednesday at the WeChat Open Class PRO event that based on the social relationships in WeChat, the payment scores of WeChat between friends will influence each other.
We asked WeChat for clarification; they cast doubt on the reports, but declined to explain further.
If the reports are accurate, it could mean that your score would be affected by your friends' scores. Luckily, the program is opt-in, which is good if your friends aren't good with money – and let's face it, most aren't. (Well, mine aren't.)
WeChat is famously China's app that can do everything -- like hailing a cab, ordering food or booking a hotel -- and you can pay for it all directly with WeChat Pay. That's a lot of data, so maybe it's not surprising that WeChat wants to do more with the spending behavior of its customers.
However, it's not clear if this data will feed into China's state-sponsored Social Credit System – which judging by the
analysis available
, has the potential to be the scary in an Orwellian sense. The system, which is scheduled to be rolled out by 2020, has "red lists" that give rewards for good citizens… but also blacklists to punish people for bad behavior.
I tried to check my own WeChat score, but the function is still limited to only seven cities. It's been in testing since November of 2018.
This isn't the first time that Tencent, WeChat's parent company, has attempted to pull together a scoring system. Tencent and Alibaba are two of eight companies selected to develop pilot programs for consumer credit scores in 2015.
But China's central bank
pulled the plug
on the project in February 2018, citing concern that the companies will use it to push their own financial products. Tencent Credit was shut down the same month.
Meanwhile, scoring behavior has become all the rage on China's tech platforms. Knowledge sharing platform Zhihu, China's version of Quora,
rolled out its internal user credit rating system
in October 2018 to keep trolls away and to punish those posting ads.
Bike sharing company
Mobike
also has its own rating system, which can charge much more for users that break traffic rules or vandalize bikes.
Other companies are actually working with the government credit scoring system. China's biggest ride-hailing company DiDi
signed a deal
with the National Development and Reform Commission (NDRC) to share credit information.
Users with good scores should get perks like priority in car-hailing, discounts, and exemptions from security deposits for services through Didi software. Users with bad scores are supposed to get penalized – although it's not quite clear what the punishment may be.