WeChat
Get more with myNEWS
A personalised news feed of stories that matter to you
Learn more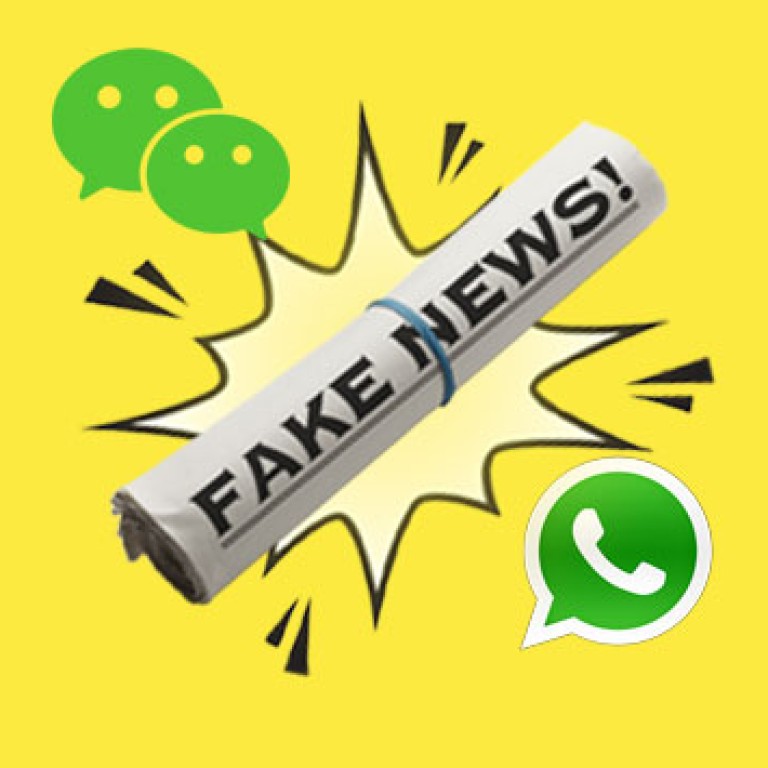 How two of the world's biggest chat apps tackle fake news
WhatsApp limits message forwarding, while WeChat bans some content entirely
This article originally appeared on
ABACUS
Eating breakfast frequently is dangerous. Orange peel can unlock smartphones. Australia announced the end of cancer.
These were all actual story headlines circulated on China's biggest chat app last year. None of them sound particularly convincing, but they became some of the most widely spread hoaxes on WeChat in 2018.
Around the world, social media firms are grappling with ways to tackle the spread of misinformation. If you're a WhatsApp user for instance, you may notice that starting from this week onwards, you can only forward a message up to five times -- a new measure adopted by app owner Facebook to curb fake news, which plagued users in India and Brazil (among many other places).
Placing limits on message sharing isn't new. But the way it's done differs from platform to platform. On WhatsApp, where messages are encrypted end-to-end, it's difficult for moderators to read what's actually being shared and deal with them directly.
WeChat operates differently -- it may not surprise you to learn that it takes
a more direct approach
. Every month, it posts a list of the top ten rumors on its official account. It also runs a mini program that flags any fake news articles you may have read. Tencent says the mini program has been used by some 38 million people.
The measure isn't limited to fighting fake news. It also targets a long list of other content deemed inappropriate by WeChat, including obscene materials and solicitation for religious donations.
There's even one category called "content that induces sharing". If you're not sure what that means, remember those hilariously ominous chain emails that say you will die unless you forward the message to five people? Yup, that's banned. 
WeChat says it wants to provide users with a better social experience. But sometimes, its actions also lead to plenty of questions.
Most recently,
WeChat banned links to three new rival social apps
-- including one from TikTok creator ByteDance -- prompting speculation that it was done to crack down on potential competitors. WeChat owner Tencent denied the accusation, saying the apps were blocked due to unsafe content and user complaints.
Whatever the means, both WeChat and Western social platforms are fighting a problem with plenty of similarities.
A US study published last week
finds that Facebook users over age 65 are way more likely to share fake news than their younger counterparts. In China,
WeChat also reported
that middle-aged and elderly users, especially those living in rural areas, are more likely to spread false information.
Both reports offer possible reasons on why that's the case. US researchers suggest older people may lack digital media literacy. Others could be going through memory decline.
Meanwhile authors of the WeChat report think older people in China tend to be less educated and have a more negative state of mind, possibly leading them to fall for scaremongering hoaxes.
Case in point: One fake story widely circulated by older people on WeChat had the title "Another dead! Friends who love durians beware. Instantly lethal. Too scary!!!"
(Fact: Durians aren't lethal. But
they are stinky
and therefore scary to some people.)
To effectively target this age group, Tencent suggests that government departments -- who are viewed as more authoritative -- should publish debunking articles, written in simple language that appeal to older readers.
This could potentially work for the types of rumors that
WeChat's fact-checking team
is intended to debunk: False information about health, food safety, science, and society news.
When it comes to politically divisive stories on Facebook though, i
t's been shown that
tagging an article "disputed" may do little to stop its spread. Fake stores often go viral before they're fact-checked. In some cases, labeling a story false may even attract more people to read it.
That's leading others to come up with more creative ways to tackle misinformation. One group of scientists, for example, is experimenting with
using games to teach players
about fake news.
One game asks
players to create an article by pretending to be a fake news producer.