Alibaba
Get more with myNEWS
A personalised news feed of stories that matter to you
Learn more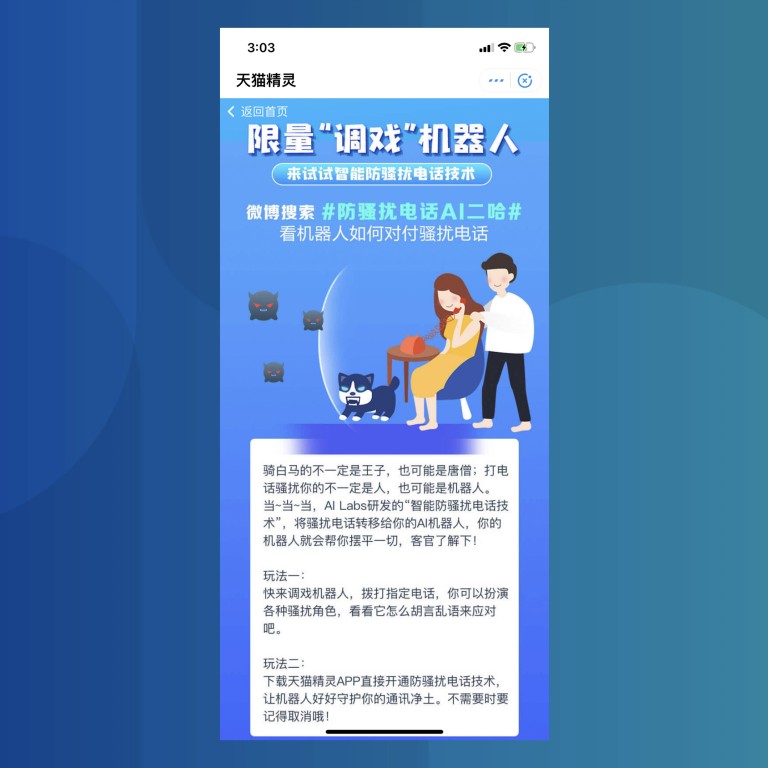 Alibaba's chatbot will answer spam calls for you… but does it work?
Husky is a chatbot that aims to waste a telemarketer's time
This article originally appeared on
ABACUS
"Do you need a loan?" When you pick up the phone and hear someone say that, you usually hang up. 
But Alibaba thinks it has a better idea: A bot that will chat with cold callers so you don't have to deal with them, and waste their time by prolonging conversations.
(Abacus is a unit of the South China Morning Post, which is owned by Alibaba.)
It comes right after China's 2019 consumer day TV show, which named and shamed companies for bad practices. This year,
one of the most discussed cases
is about companies using bots to make spam calls. One popular machine costs just 3,000 yuan (US$446.91) and can make 5,000 calls a day. Another company claimed that they made more than 4 billion calls a year, according to state-run broadcaster CCTV. 
In a voice recording circulating online, a female telemarketer tried to sell the Alibaba bot a bank loan program. (In fairness, the telemarketer might have been a bot too!) The Alibaba bot, named Husky, asked what bank she's representing and what the interest rate is, and kept the conversation going for over 1 minute by saying that he's interested.
One Weibo user
said
, "I hope the two bots fall in love soon."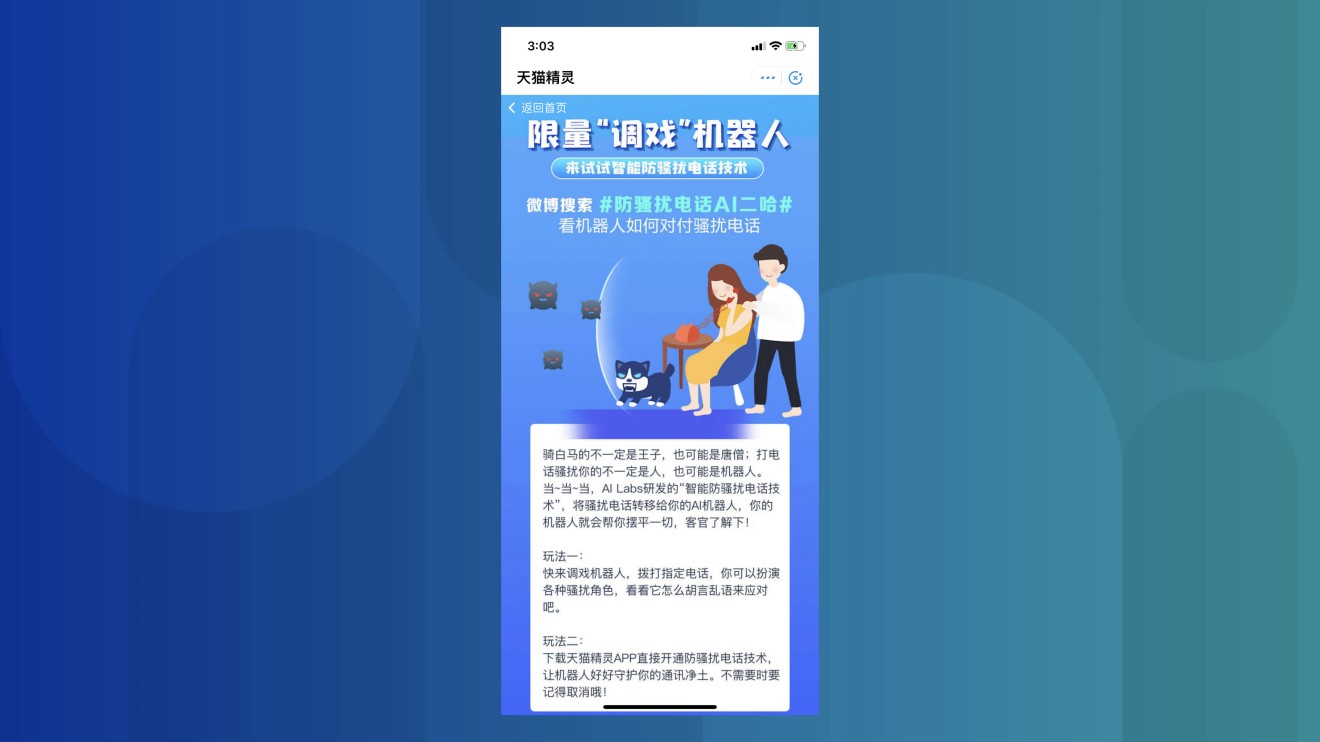 It's not a totally new idea:
Similar bots
were already seen in the US a couple of years ago. One bot named Jolly Roger, for example, is dedicated to pranking callers. In one example, the Jolly Roger bot kept interrupting the caller and asking him to start over -- saying that he's trying to deal with a bee that's just landed on his arm. It's an attempt to prolong the conversation as long as possible, wasting the telemarketer's time.
But we can actually test Alibaba's bot, because they encouraged users to try calling. So I did! But I found that the Alibaba bot doesn't seem to be capable of engaging in anything vaguely off-topic, and it's not nearly as fun as the Jolly Roger bot.
I asked Alibaba's bot if it needs a loan, and he (the bot sounds male) reacted by saying "How do you know I need a loan?"
I also asked the bot if he's Mr. Wang and if he wants to buy a house, he said to both "Sorry, my boss is in a meeting."
On Zhihu, users don't seem sold on the idea. 
"The normal way to deal with spam calls is to hang up or to not answer at all," one user
says
, "Why develop an AI to chat with them? This is obviously more about showing off than being practical."
My call demonstrated that it's probably not ready to boast about. Alibaba says it's just the first step, claiming that in the future the bot can be an AI secretary, handling personalized requests.
But we're a long way away from that. I may be a bad telemarketer, but the bot isn't very convincing either. I asked "Did you eat?" and it said "Sorry, I can't answer that just yet."
Then I went for the kill. I asked, "Are you a bot?" The bot answered, "I'll make sure to deliver your message. Thanks for calling."
Then the bot hung up on me.