Apps
Get more with myNEWS
A personalised news feed of stories that matter to you
Learn more
Google's new Mini-apps concept is old news in China
Search giant's new feature appears similar to Tencent's successful WeChat mini programs
This article originally appeared on
ABACUS
Have you ever scrolled past an app on your phone and wondered when you last opened it? You're not alone.
The average American has more than 90 apps installed on their smartphone but only uses an average of 40 per month, according to
a 2017 study by App Annie
. Similarly, the average Chinese user downloads more than 100 apps but uses fewer than half of them.
Google is now experimenting with a solution that offers some of the best functions of an app without taking up all the phone storage. The concept called
Mini-apps
will be a new feature of Google Search and Google Assistant,
according to VentureBeat
.
This is how it works: Imagine you're looking for an online class about machine learning. You type "Coursera machine learning" into Google search as you normally would.
But now, instead of showing you a list of links to the Coursera website, Google will display a carousel of cards at the top, letting you swipe through some of the most popular courses. Once you tap on the one you want, the card will reveal more details about the course and even allow you to sign up directly. This is all done without ever visiting the Coursera website.
In essence, Mini-apps aim to distill the best of the regular app experience while getting rid of the worst -- namely the hassle of visiting app stores and waiting for apps to download.
This isn't the first time Google has experimented with the idea. Back in 2016, the search giant introduced an Android feature called Instant Apps, which are like small, single-purpose apps that don't need to be downloaded from the Play Store.
Perhaps where the concept has shown it's true power, though, is in WeChat. China's largest social media app hosts
more than a million
so-called mini programs. If Google's Mini-apps are "apps within a search engine," WeChat's mini programs are essentially "apps within an app."
WeChat creator Allen Zhang explained why he insisted on developing mini programs.
"Because I believe this is an inevitable trend for the future,"
he said
during a 4-hour speech in Tencent's annual developer conference in January. "Because mobile apps need to all be downloaded and installed, and websites' user experience is terrible."
Mini programs are far from a finished product. One goal,
according to Zhang
, is to make WeChat a search engine for all types of information found in individual mini programs. For instance, when you type in a flight number in WeChat's search bar, you will find the real-time status of that flight. That information is extracted from a mini program built by a third-party.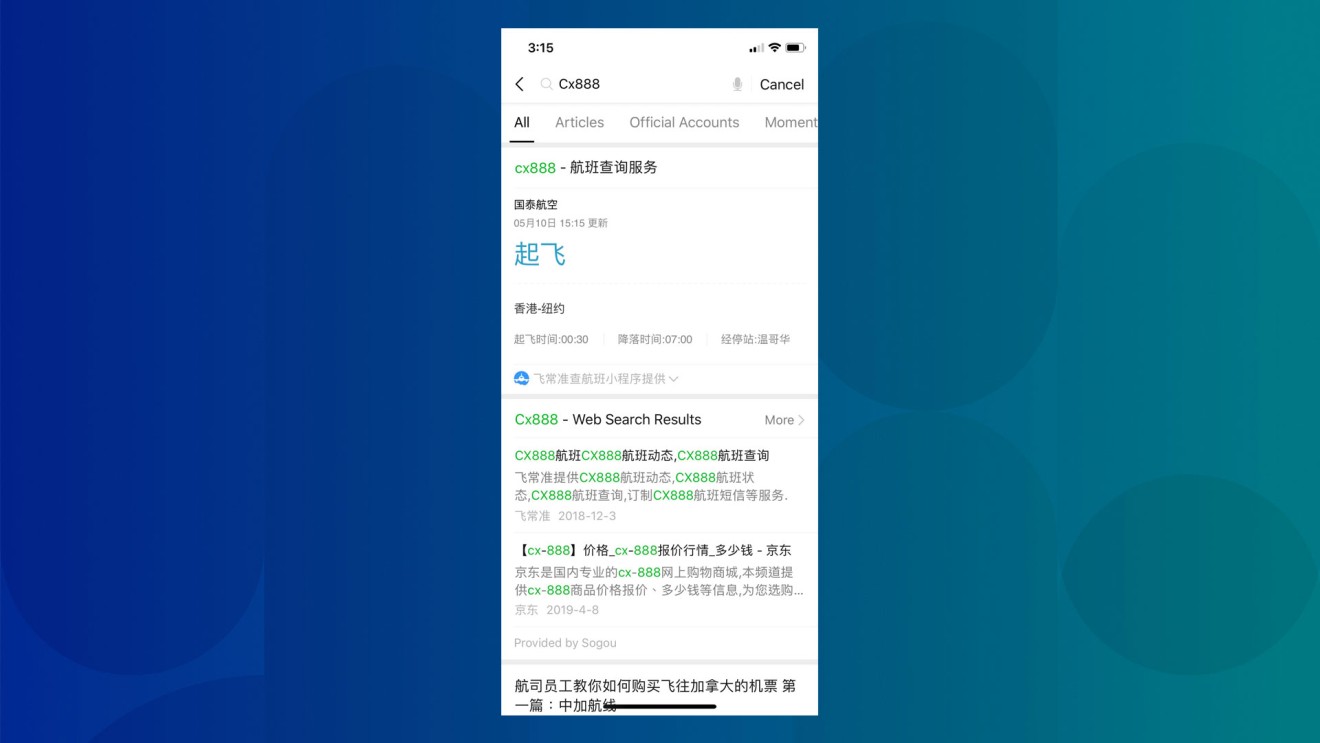 WeChat's mini programs or Google's Mini-apps might be a quicker way for users to get what they need, but are they going to render good ol' regular apps obsolete? Not necessarily.
The experience of using mini programs in WeChat often feels like using stripped-down versions of the full apps. Didi Chuxing's mini program, for example, only offers two types of ride-hailing services, as opposed to four in the full Didi app.
Part of the reason is that mini programs are limited in size. They are not allowed to be bigger than 10MB to ensure they load quickly and smoothly within WeChat.
Mini programs and Mini-apps may be best for replacing the apps we only use occasionally for their most essential functions. If you've never in your life called a Premier ride or a regular taxi on Didi, you can likely survive using only Didi's mini program. On the other hand, if you actually want to attend that machine learning course on Coursera, you'll probably have to eventually download the full app or at least visit the website.