Facebook
Get more with myNEWS
A personalised news feed of stories that matter to you
Learn more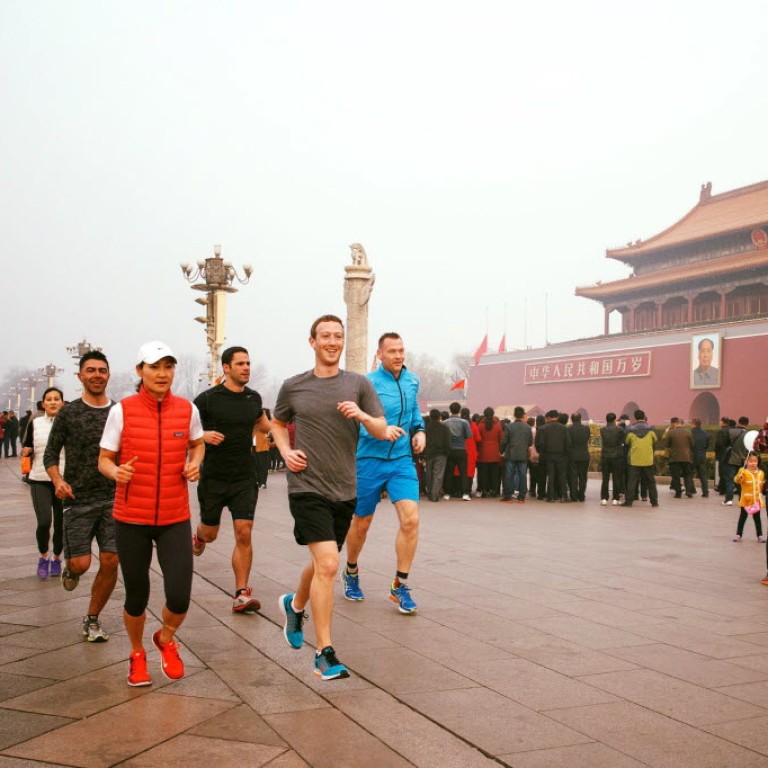 Four ways Facebook showed how much it wanted China
Mark Zuckerberg gave a speech decrying Chinese censorship, but it wasn't long ago that he was courting China
This article originally appeared on
ABACUS
It seems like Facebook is finally moving on from China.
In a 35-minute
speech
advocating free expression and addressing concerns about how the social network handles misinformation, CEO Mark Zuckerberg openly
fired shots at
Chinese censorship. The country's internet is "focused on very different values," he said, and is exporting its vision to other countries. He also called out
TikTok
, the short video app from Beijing-based Bytedance, for censoring protest content around the world, including in the US. (TikTok has
denied that China censors
its content.)
"Is that the internet we want?" Zuckerberg asked, using China as an example of "pulling back from free expression."
But Zuckerberg didn't always take such a tough stance on China. Like other tech companies, there were signs Facebook was looking to break into the country, even if it was never likely that the company's eponymous website would be unblocked. Among those signs? Zuckerberg himself. Here are four times the Facebook CEO tried courting Chinese authorities.
Hosting China's top internet regulator
In 2014, Mark Zuckerberg
gave a tour
 to a prominent Chinese government official at Facebook's headquarters. Lu Wei was then the minister of the Cyberspace Administration of China (CAC), and he was dubbed by some as "
the face of online censorship
."
The tour was part of Lu's visit to Silicon Valley when he attended an internet conference in US, where he advocated for the idea that countries
have the right to control their own internet
. In the same trip, Lu reportedly also visited the Apple and Amazon campuses. A Chinese state-run news outlet reported that Zuckerberg conducted the tour in Mandarin and that at one point, Lu asked to sit at Zuckerberg's desk.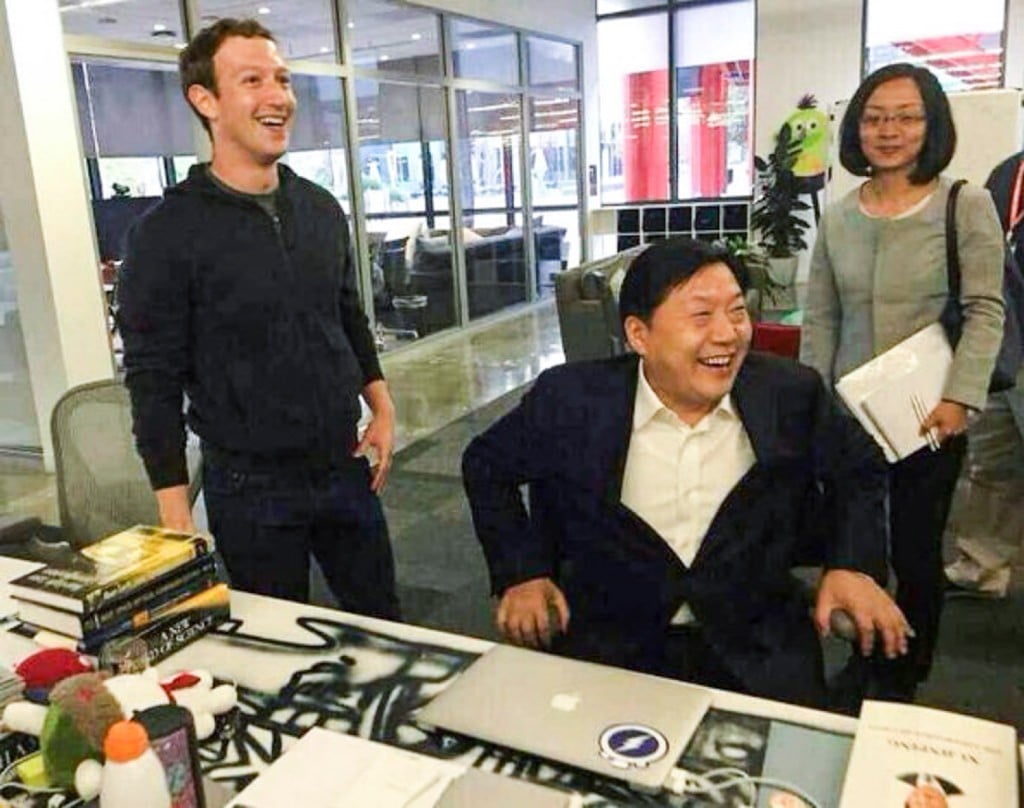 Buying Xi Jinping's book
One detail about Lu's tour that got picked up and circulated the most was something sitting on Zuckerberg's desk: 
Xi Jinping: The Governance of China
. The book is a compilation of Xi's speeches and directives -- a bestseller in China that even got a sequel -- and was
aimed at
"contributing to interpreting the concepts and principles of the Communist Party of China leadership."
"I also bought this book for my colleagues," Zuckerberg said, according to Chinese state media, after Lu noticed the book sitting on the CEO's desk. "I wanted them to understand
socialism with Chinese characteristics
."
The comment triggered angry responses from activists, one of whom
accused
Zuckerberg of being "either ignorant of China's politics or shameless."
Another item on Zuckerberg's desk that caught China's attention? Xiaomi's bunny mascot.
Jogging in Beijing smog
In 2016, Zuckerberg kicked off a visit to Beijing with a
morning run through Tiananmen Square
. The picture the CEO posted to Facebook was widely mocked online, not least because that day's severe air pollution was clearly visible in the photo.
"It's great to be back in Beijing!" Zuckerberg said in the post.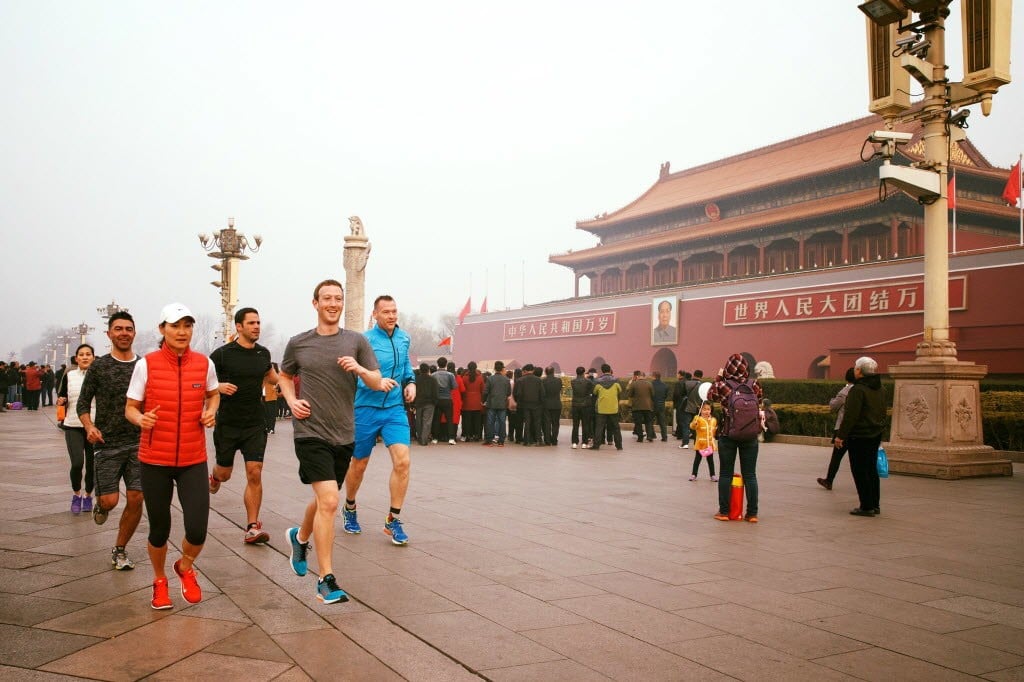 The gesture to China set off a storm of comments on Chinese social media, too, where netizens mocked the toxic air and the Facebook CEO's apparent eagerness to please China. Many also joked about the fact that he must have used a VPN to post the photo from China, where Facebook is blocked by the country's
Great Firewall
.
Showing off his Mandarin
Zuckerberg has also showed off his Mandarin skills on multiple occasions over the years. At China's Tsinghua University in Beijing -- often called China's MIT and one of the top two universities in the country -- the CEO
answered students' questions
and delivered a
20-minute speech
in Mandarin.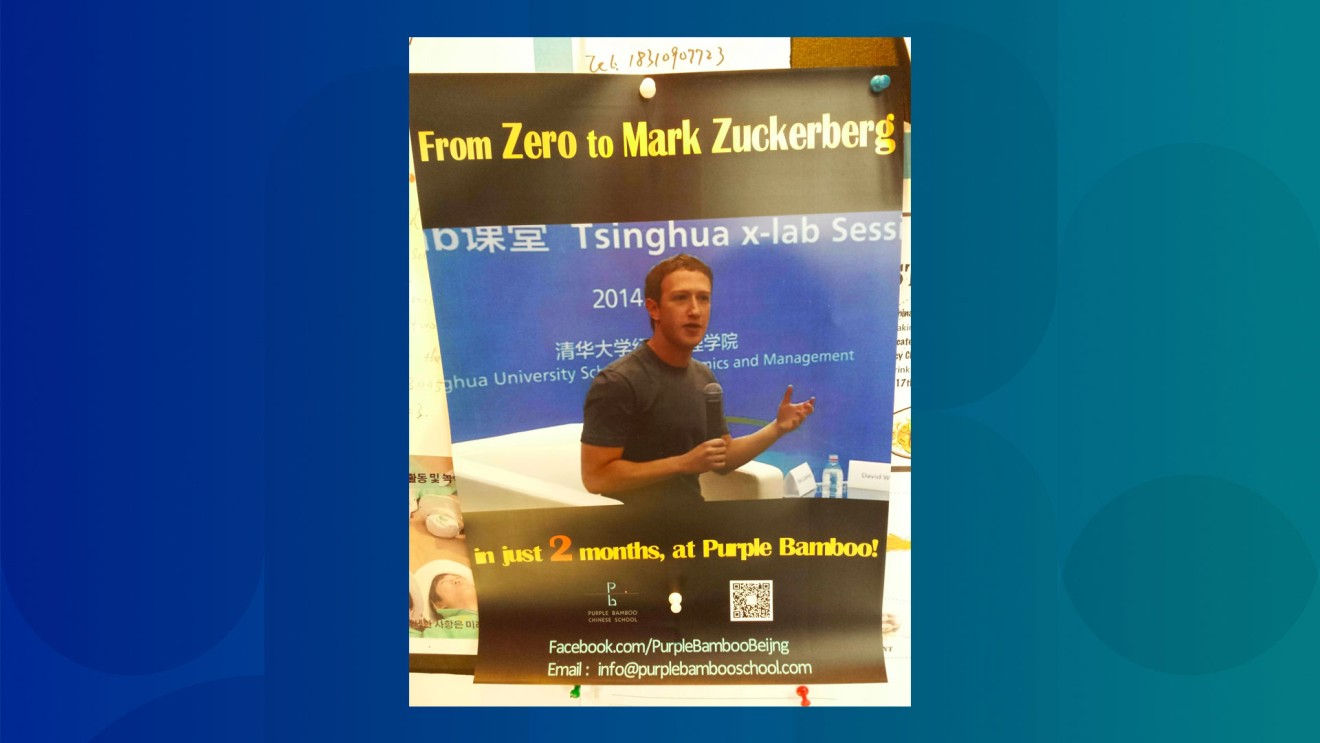 What did they discuss? If you believe the reports, he asked Xi to give his (then) unborn child an honorary Chinese name. The New York Post's Page Six gossip column
claimed
that the Chinese president politely turned down the request by saying that it's "too much responsibility." A spokesperson for Zuckerberg later
said the report was inaccurate
, but that didn't stop the story from getting picked up by other news organizations.