Xiaomi
Get more with myNEWS
A personalised news feed of stories that matter to you
Learn more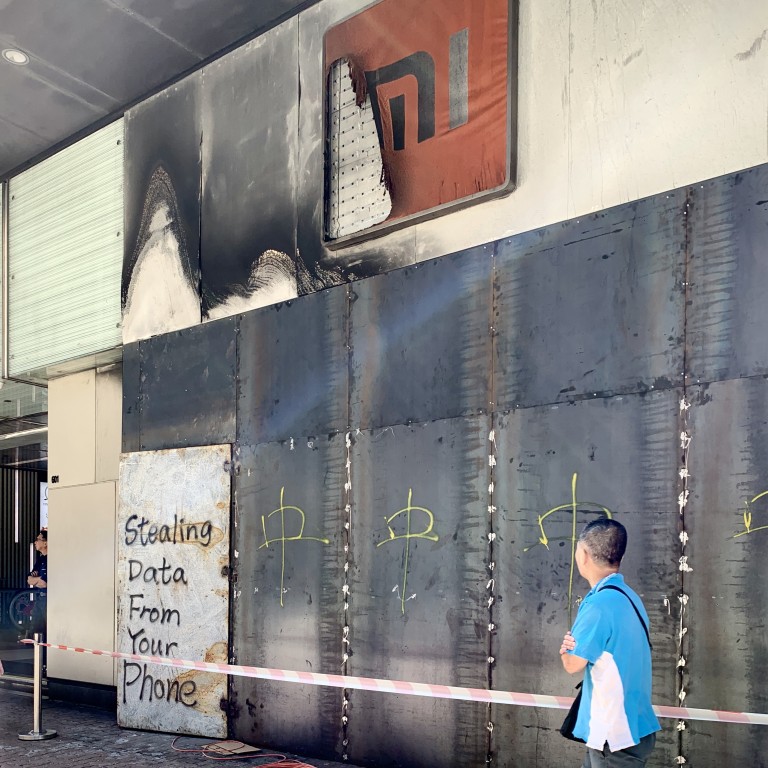 Xiaomi, Huawei and Lenovo stores trashed amid ongoing Hong Kong protests
Protesters are targeting Chinese tech after previously going after brands associated with mainland China or seen as favoring the mainland market
This article originally appeared on
ABACUS
If you visit one of
Xiaomi
's biggest stores in Hong Kong right now, you won't be able to see the long wooden tables and bright banners on the walls that famously resemble the Apple Store aesthetic. Instead, it's sealed off by iron walls. The Mi logos are damaged and the outside walls are covered in graffiti.
Some of the graffiti takes aim at Xiaomi. One message accuses the smartphone company of "stealing data from your phone." Another is just the symbol from V for Vendetta, the popular Alan Moore comic about an anarchist hero and its 2006 film adaptation.
The damage is the result of an ongoing anti-government movement in Hong Kong that has grown increasingly violent. Xiaomi is just one of many Chinese businesses that have been targeted by protesters. Companies with links to mainland China, Chinese banks and retail
shops
whose owners have spoken out against protests have seen locations vandalized and set ablaze.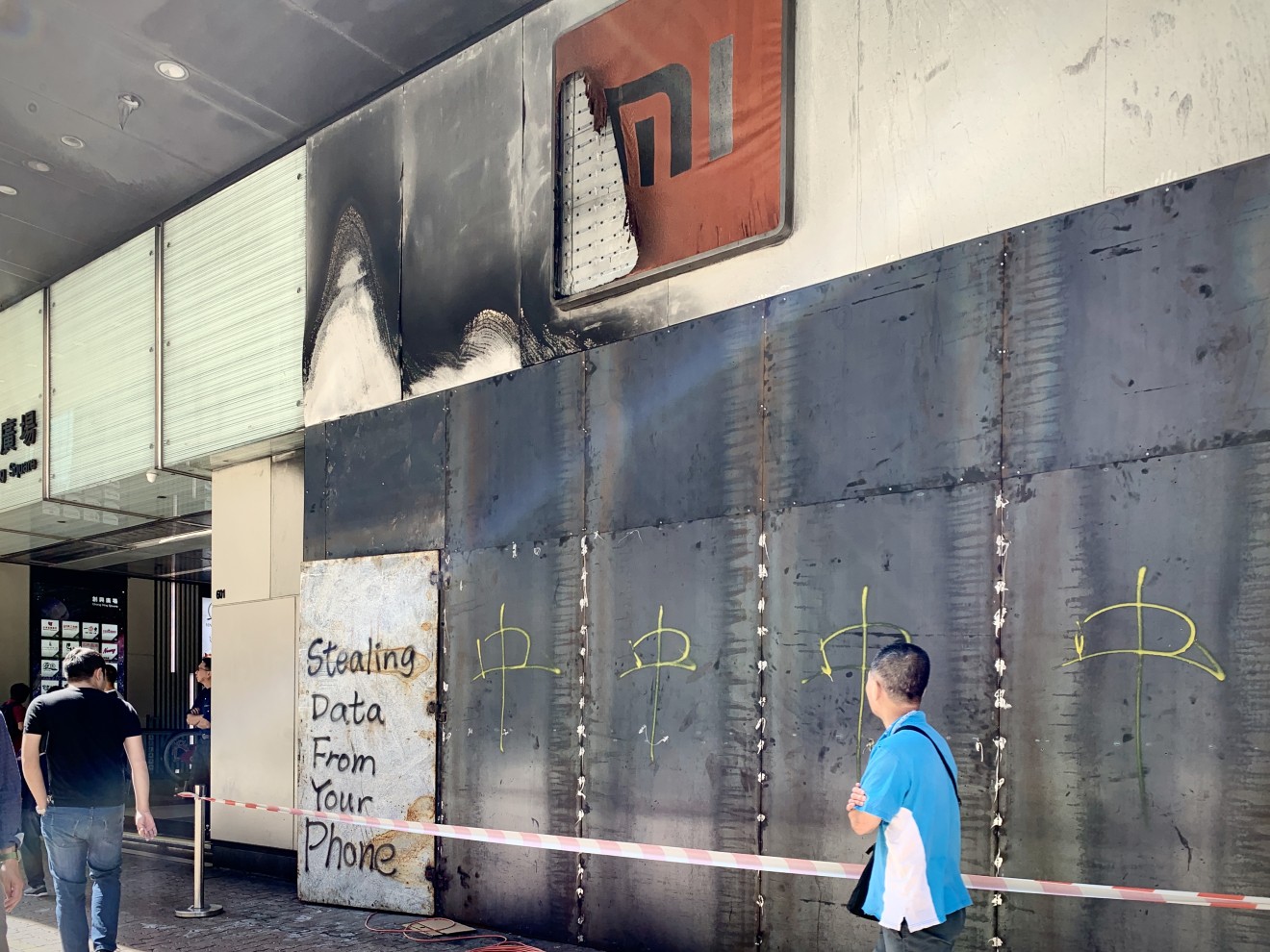 As it stands, Chinese smartphone brands don't do well in the city. In 2018,
more than three quarters
of the city's 7.5 million residents were smartphone users, and
nearly half
of them were using iPhones as of September 2019. Samsung came in second with 25 per cent market share. Huawei and Xiaomi were at 11 per cent and 7 per cent respectively. That's in stark contrast to the
42 per cent market share
Huawei now has in mainland China.
As much of Hong Kong shuns Chinese products, some protesters are taking a more blunt approach to showing their disapproval of Chinese tech companies. Huawei and Lenovo have both had locations damaged in the protests. But the extent of the damage to the Xiaomi shop made headlines.
On October 20, protesters trashed Xiaomi's Mi Home Store in Mong Kok. They also set a fire outside and threw a petrol bomb into the store.
Three men
reportedly
looted the shop amid the chaos. One person was later arrested in relation to the theft, charged with stealing three smartphones and sentenced to three months in jail.
Xiaomi has three Mi Home stores in Hong Kong, where the company's power banks, smartphones and a range of smart home products are laid out clearly across long tables. The other two Mi Home shops in Causeway Bay and Yuen Long are operating as normal, according to the company.
But the Mong Kok location is the only Xiaomi store on the outside of a mall, facing the street. That makes it an easier target, and it makes the damage all the more conspicuous to passersby.
On the Reddit-like forum LIHKG that's popular with protesters,
some users cheered
the burning of the Xiaomi store, but others spoke out against using fire. Some people also discussed how to deal with a Huawei store,
saying
that it's a bad idea to set it ablaze because it's in a shopping mall.
The Huawei shop at the New Town Plaza in Sha Tin wasn't set on fire, but it was
reportedly damaged
by a group of hammer-wielding protesters.
Xiaomi and Huawei both declined to comment.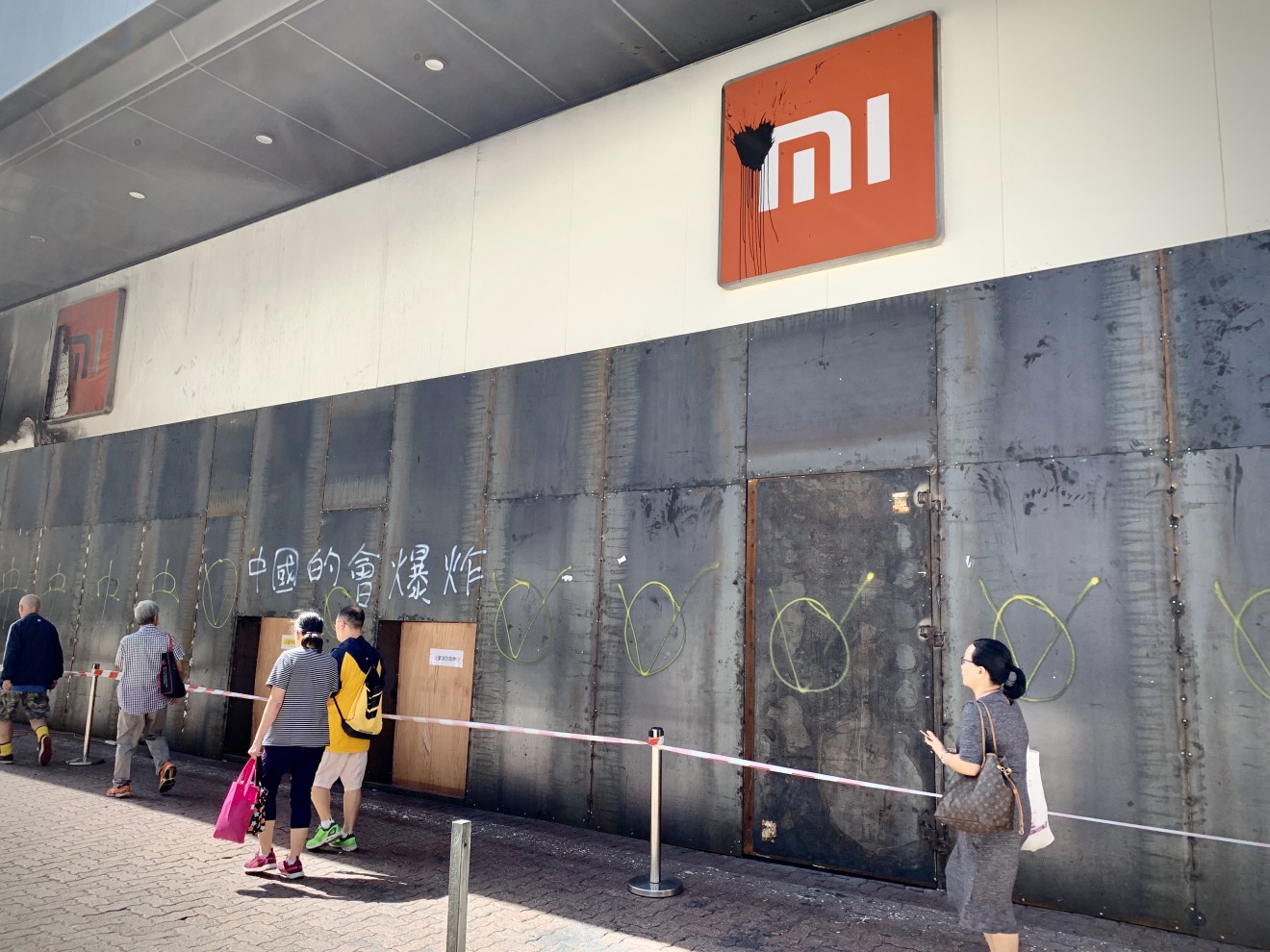 A Lenovo shop at the same mall was also damaged. One store employee told us that glass windows were shattered one weekend, but they were promptly repaired. The shop doesn't plan to put up any extra protection, the employee said, but will instead close during protests and fix any glass that's broken in the future.
Lenovo declined to comment.