Music
Get more with myNEWS
A personalised news feed of stories that matter to you
Learn more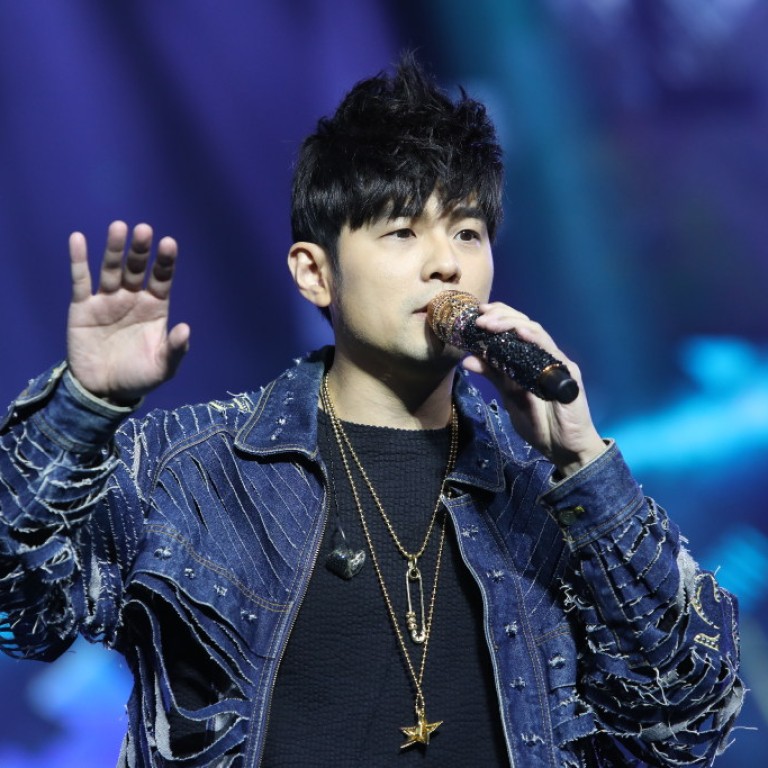 A lawsuit over pop star Jay Chou speaks volumes about China's streaming war
Tencent bought up exclusive rights to some of the biggest names in music, forcing competitors like NetEase to sublicense
This article originally appeared on
ABACUS
When people are looking to stream the latest surprise album from Beyoncé, they don't have to choose between Spotify or Apple Music. But in China, listening to some of the world's most popular musicians requires using one of Tencent's three dominant music streaming apps.
One of those artists is Jay Chou, a Taiwanese singer who's been immensely popular in mainland China for nearly two decades. The pop idol hailed as the "
King of Asian Pop
" has been the subject of a lawsuit between Tencent and NetEase over the past year. But just this past week, a
Shenzhen court
ruled that NetEase had to pay Tencent 850,000 yuan (US$121,500) for allowing users download the
Mandopop
star's songs.
(Abacus is a unit of the South China Morning Post, which is owned by Alibaba, which
purchased a stake
in NetEase Cloud Music in September.)
NetEase is Tencent's biggest competitor in China's music streaming industry. But its lone streaming app still doesn't come close to the massive number of people streaming on one of three Tencent Music apps.
China's music streaming industry has
607 million
users, and most of them use Kugou, QQ Music, Kuwo or some mixture of the three. NetEase Cloud Music comes in fourth place behind these three Tencent-owned apps, according to
multiple
research reports
.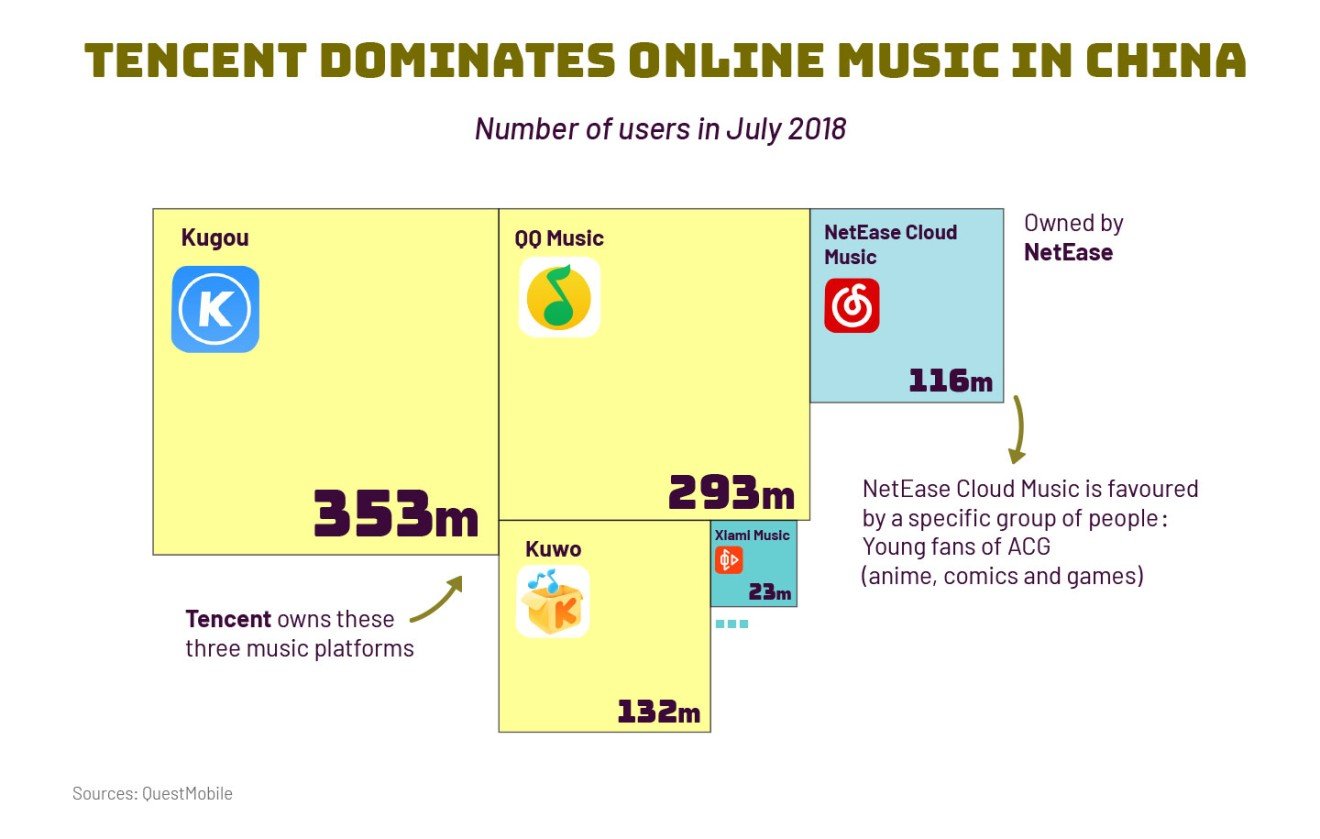 So far, NetEase has been the only one that's been able to hold its own against the Tencent Music behemoth. Its music service has been growing faster than any of Tencent's,
according to QuestMobile
. But Tencent has gained an edge through the use of exclusive deals.
In the US, the popularity of music streaming exclusives — once a common strategy for Apple Music —
has been waning
for a few years. But that's not the case in China.
In its 2018 IPO prospectus, Tencent Music said it owned the largest music library with more than 20 million tracks licensed from more than 200 domestic and international music labels, including Sony Music Entertainment, Universal Music Group and Warner Music Group. While these companies generally try to spread their catalogues across as many platforms as possible to get the most listeners in the US, this strategy has been jettisoned for exclusive contracts in China.
Tencent Music now has the exclusive rights to so much music that other companies often have to sublicense the music from the tech giant to compete with it. That's how NetEase got access to Jay Chou's catalogue.
According to court documents
, NetEase paid Tencent 8.7 million yuan (US$1.2 million) in 2015 to license 808 Jay Chou songs for a year. In 2017, Tencent charged NetEase more than 18 million yuan (US$2.5 million) for another year of the same songs.
NetEase founder and CEO Ding Lei complained
at that year's national copyright conference that industry giants were "jacking up exclusive copyright fees," calling it bad for musicians and users.
When NetEase's sublicensing period ended in April last year, Tencent sued its competitor for continuing to offer Chou's songs and notifying users to download the songs as soon as possible. NetEase later
apologized
, saying that the company "made a serious mistake."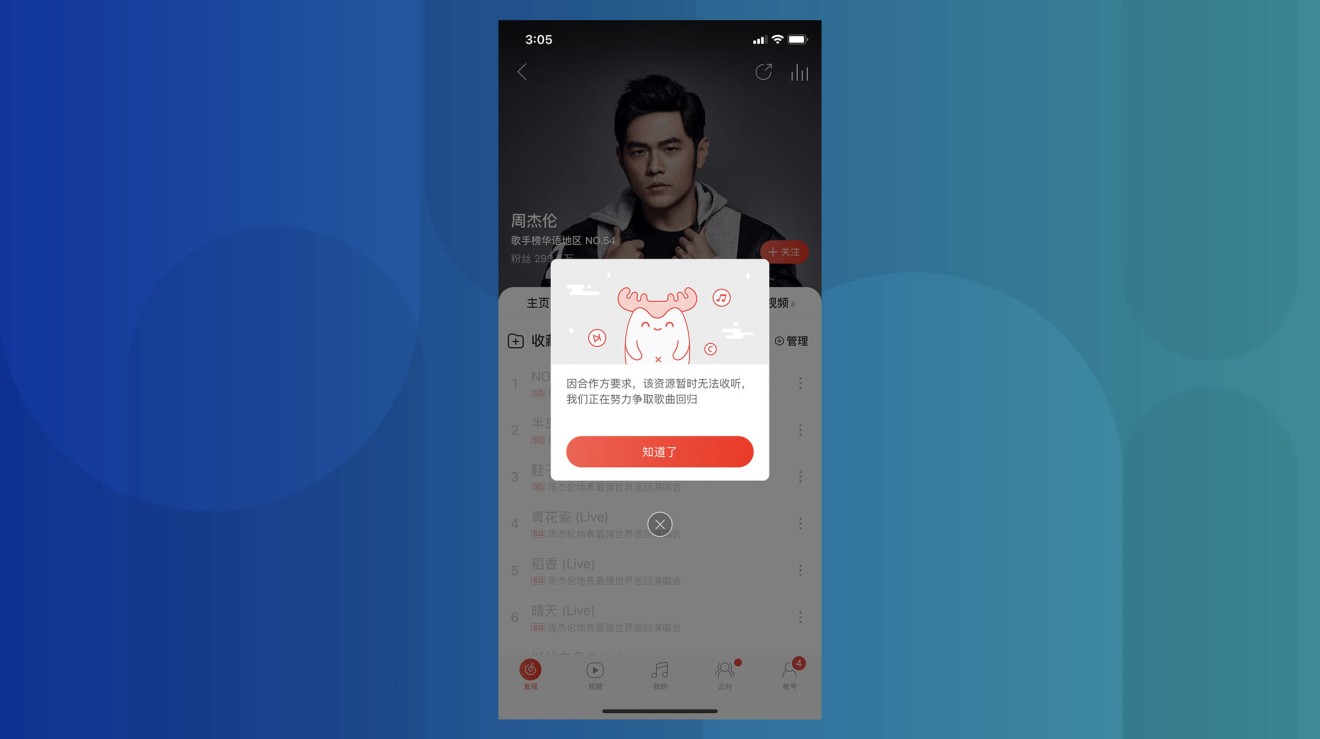 In September 2017, China's National Copyright Administration
asked
music streaming companies to "avoid exclusive licensing." Then in February 2018, it also
asked
Tencent and NetEase to share up to 99% of their music libraries. But the companies continue to wrestle over the most popular 1%. Each time popular artists from Hong Kong and Taiwan
are removed
from NetEase Cloud Music, it triggers complaints from users.
But without licenses from the original labels, NetEase has little legal recourse.
"If Tencent has paid for the copyright of Jay Chou's music, exclusive or not, while NetEase didn't purchase the copyright, then it was intellectual property infringement," said Forrester senior analyst Xiaofeng Wang. "Whoever owns the IP or paid for the IP has the preserved rights."
But copyright lawyers in China have long debated whether the sublicensing model is healthy for China's music streaming industry.
Some argue
that exclusive licensing helps keep down operational costs for copyright owners, creating efficiencies that allow companies to invest more in other endeavors. But others
argue
that the model inconveniences users, requiring them to switch between multiple platforms.
Tencent Music declined to comment on the matter. NetEase did not respond to our request for comment.
Whatever the merits or pitfalls of sublicensing, Wang notes that spending on copyrighted content is ballooning around the world.
"Global music streaming and video sites spend a lot on copyrights each year, and it's getting more expensive," Wang said. Now companies are turning toward investing in original content to reduce the cost of licensing other companies' intellectual property, she added.