Gadgets
Get more with myNEWS
A personalised news feed of stories that matter to you
Learn more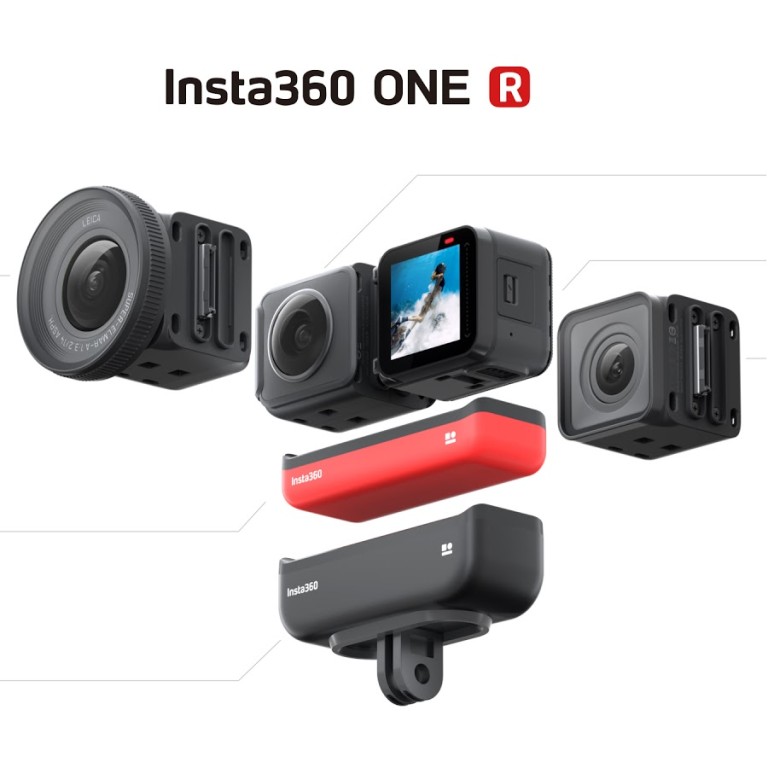 Insta360's modular One R can transform into a GoPro competitor or a 360 camera
One of the camera modules co-engineered with Leica has a 1-inch sensor for better low-light photos
This article originally appeared on
ABACUS
If you're still on the fence about getting a 360-degree camera because you find possible uses limited,
Insta360
might have a solution for you. The Shenzhen-based company's new Insta360 One R has interchangeable lenses, allowing it to function as both a traditional action camera and a 360-degree camera.
The latest Insta360 camera achieves this by using swappable camera modules that connect to the core of the device and a battery base. If you want it to take 360-degree photos or videos, you mount the dual-lens 360 mod that has lenses on the front and the back. As you film, the device stitches together the images from the two lenses for a full 360-degree image. 
But if you don't want to be bothered with 360-degree footage, you can switch out that mod with the 4K wide-angle mod. This allows the camera to take crisp wide-angle photos and videos in 4K resolution. And if you don't trust the lenses Insta360 engineered on its own, you can connect the more premium 1-inch wide-angle mod that was co-engineered with Leica.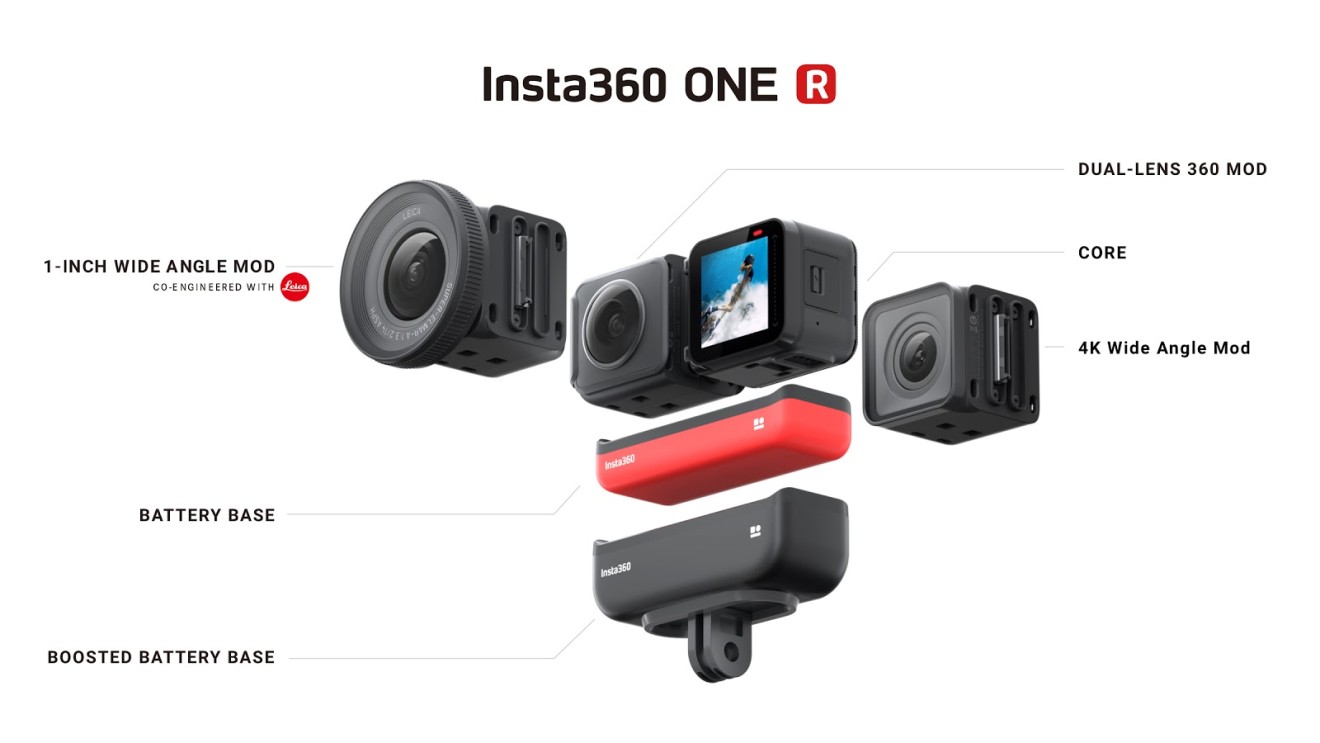 The One R was launched at this year's Consumer Electronics Show in Las Vegas, and it's now available to order online and at select retailers like Best Buy. At US$479.99, the Insta360 One R Twin Edition – which includes the dual-lens and the 4K wide-angle mods – undercuts the GoPro Max by US$20. But the Insta360 One R 1-Inch Edition that includes the lens from Leica will set you back US$549.99. (We have a full review coming soon, so stay tuned!)
As Insta360's name suggests, the five-year-old startup made a name for itself by producing 360-degree cameras. The company's first camera without 360-degree video was the Insta360 Go, which the company called the smallest stabilised camera. The flagship Insta360 One and the subsequent One X have been praised by YouTubers like
iJustine
and
Peter McKinnon
for giving 360-degree videos mass appeal thanks to their ease of use and impressive image stabilisation.
But the challenge for Insta360 is that many people still consider 360-degree cameras to be a gimmick. Without many use cases, many users prefer hardcore action cameras like the GoPro Hero series or
DJI's Osmo Action
.
This might be because 360-degree video is commonly associated with VR, allowing people to don a headset and look around an environment in a video. To get people more onboard with recording in 360 degrees, though, Insta360 encourages users to capture an image from all angles and edit it with an app later. The selling point is to make filming easier.
Insta360 also promotes its cameras as being able to capture "drone shots" when paired with a long selfie stick. This hack is really just the Insta360 One X
using software that hides the selfie stick
to create a video that looks like a low aerial shot.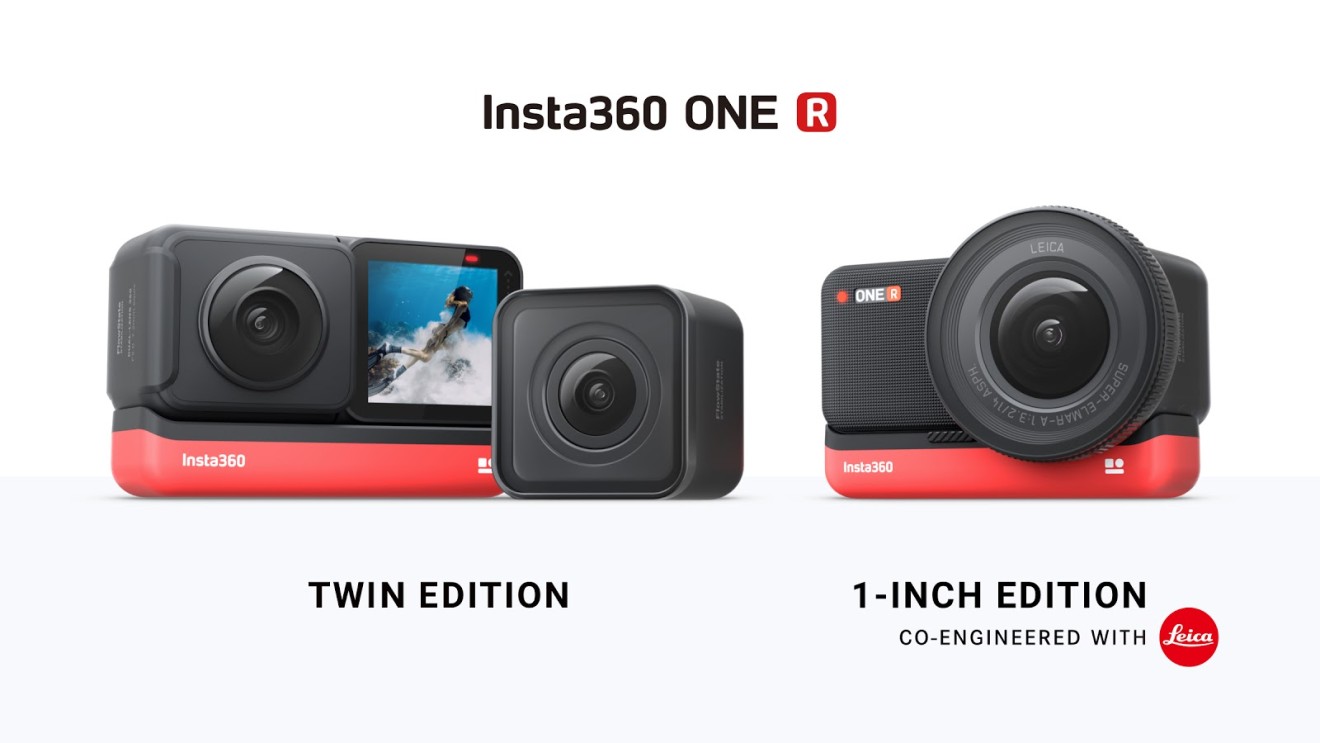 With the modular One R, Insta360 is hoping to accommodate various creative needs in a single product. Insta360 also says its newest camera is waterproof and has better audio capture than its predecessor.
New software features for the One R include some new tricks, too. It has an AI-powered tracking system that can stay locked on a subject and a stop motion feature. A selfie stick that twirls around the user also allows One R footage to appear like a drone rotating around a subject.
Another advantage of the One R is better low-light performance, especially when equipped with Leica's 1-inch sensor. This sensor also allows for 5.3K video and 19MP photos.
With the dual-lens 360 mod, the One R can capture 5.7K footage with both lenses combined. The 4K wide-angle mod can capture video at 60fps and supports up to 8x slow motion.
If these mods aren't enough versatility for you, Insta360 says "a huge range of efficient add-ons and upgrades" will be available, but most haven't been announced yet. 
The company did announce a couple of additional modules, though. One is a larger battery base with double the capacity of the one that's included. The company also announced the launch of an aerial mod that can be mounted on supported drones and edit the drone out of the 360-degree footage.
But the markets for action cameras and 360-degree cameras have become much more crowded in recent years. The recently released GoPro Max is similar to the Insta360 One X. While some reviewers are
still divided
on whether the GoPro is worth the extra money,
others say
it's the better camera.
Purchase the China AI Report 2020
brought to you by SCMP Research and enjoy a 20% discount (original price US$400). This 60-page all new intelligence report gives you first-hand insights and analysis into the latest industry developments and intelligence about China AI. Get exclusive access to our webinars for continuous learning, and interact with China AI executives in live Q&A. Offer valid until 31 March 2020.