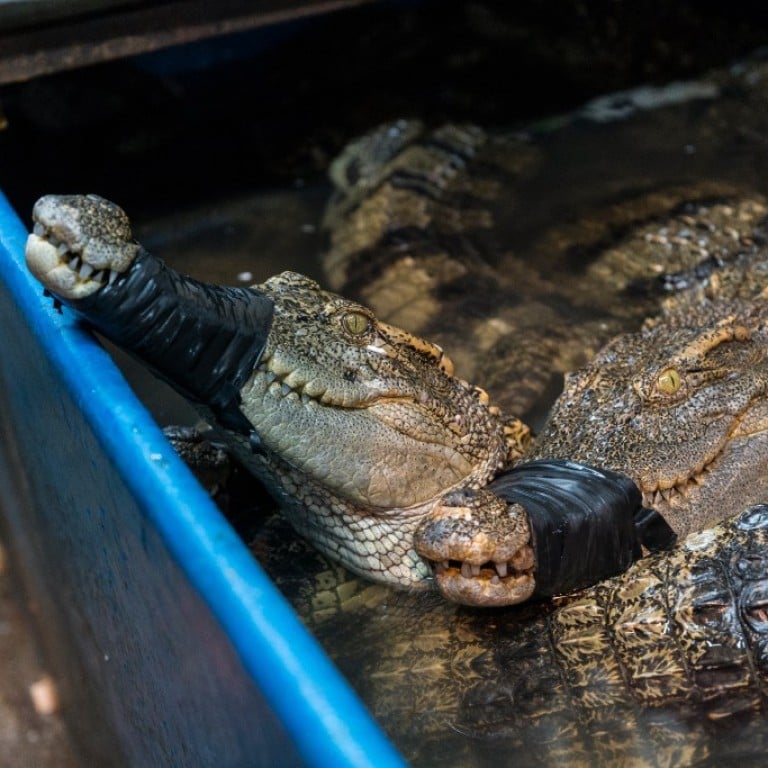 Crocodile meat disappears from restaurant apps in China amid Wuhan coronavirus outbreak
Alibaba, JD.com and Pinduoduo remove wild animals like masked palm civet and badgers from search results after a market selling the meat was identified as a potential source of the outbreak
This article originally appeared on
ABACUS
With top experts in China saying
wild animals were the source
of the new deadly coronavirus coming out of Wuhan, searches for certain animals are disappearing on Chinese ecommerce and restaurant platforms.
Although the sale of wild animal meat without a license has long been illegal, many merchants still fly under the radar, selling popular wild game online. But now anyone looking for some obscure meat could have a hard time with their search.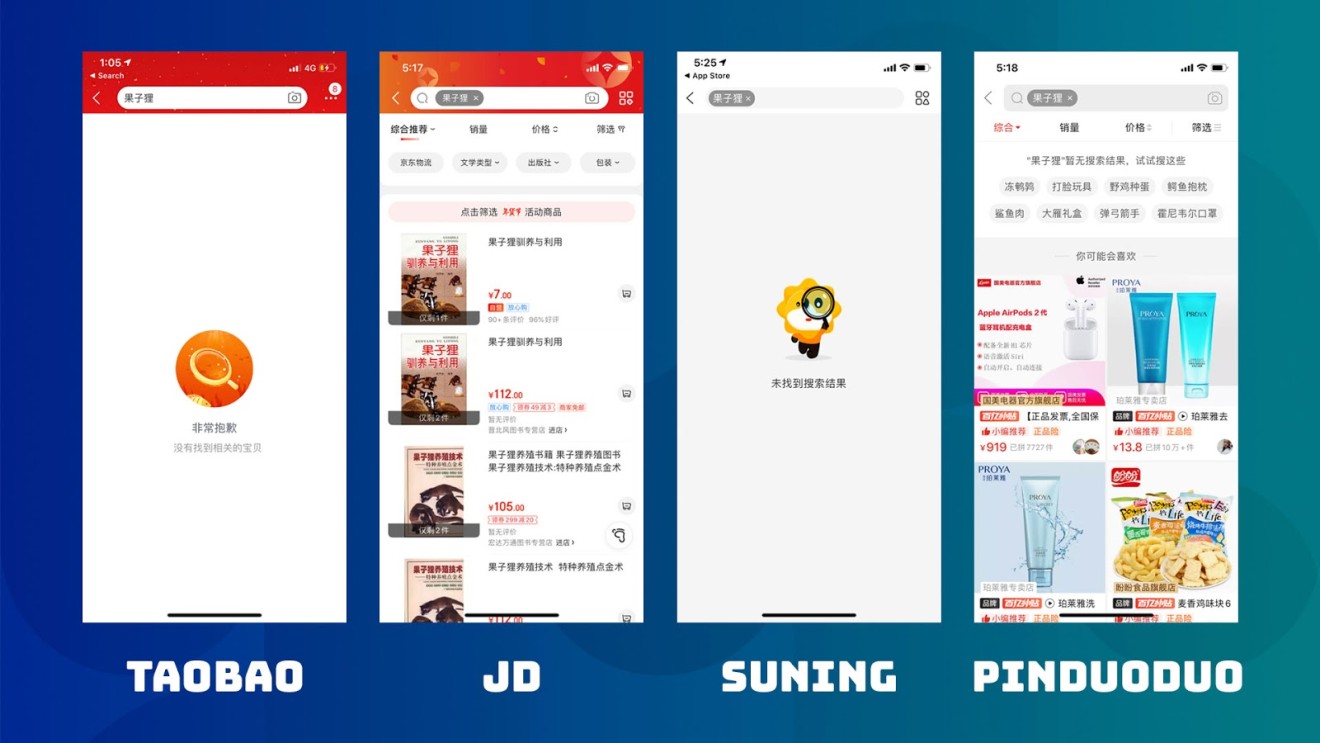 Ecommerce sites like Taobao, Pinduoduo and Suning no longer show any results for searches related to many animals, including badgers, musk deer and masked palm civet. The World Health Organization believes
civets could have been an intermediate
for the coronavirus between bats and humans. Restaurant and delivery apps such as Ele.me and Meituan Dianping have also seemingly started cracking down on these searches.
(Abacus is a unit of the South China Morning Post, which is owned by Ele.me owner Alibaba.)
Typically,
only merchants with specific qualifications
are allowed to sell the raw meat of "wild animals," which actually refers to certain types of farm-bred animals in China. According to
Taobao's policy
, for example, qualified merchants can sell raw meat or other meat products from species that include sika deer, ostriches and Nile crocodiles. But the meat has to come from animals bred on a farm. Selling live species is forbidden.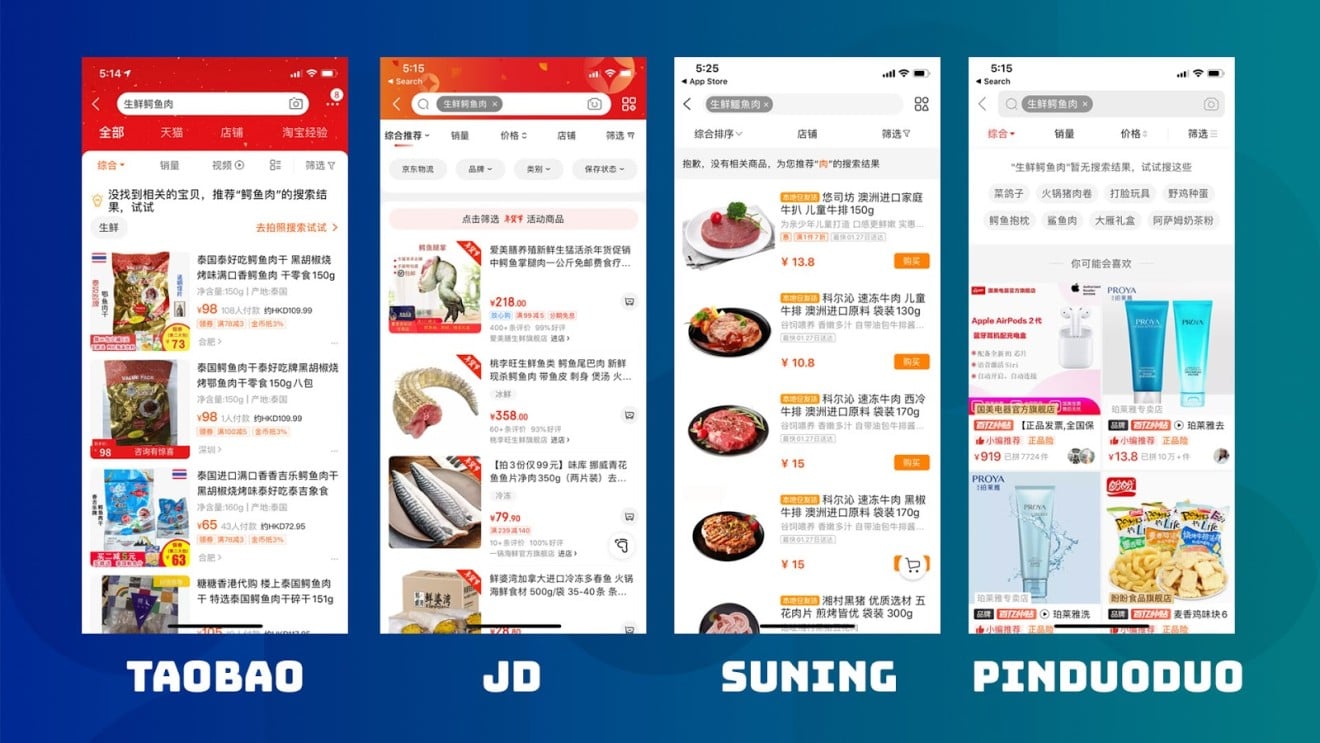 Prior to the outbreak, mainstream Chinese ecommerce platforms all had similar guidelines regarding the sale of animals. But those guidelines were primarily focused on nationally protected species, not other wild animals, according to
state-owned media outlet The Paper
.
But then the coronavirus was linked to a market selling wild animals. George Gao Fu, head of the Chinese Center for Disease Control and Prevention, said that the center
found ample evidence
that the virus first appeared at shops selling illicit wild game in Wuhan. Epidemiologist Zhong Nanshan also said the
new virus likely originated
in wild animals in Wuhan.
We reached out to Alibaba, Taobao, Pinduoduo, Suning and Meituan about their response to the news, but none immediately responded. But responses to The Paper suggest the platforms were quick to react, as tech companies were with
other things related to the coronavirus outbreak
.
Suning told The Paper that it immediately examined and removed all products considered wild game. Alibaba said it banned up to 30,000 protected or illicit species from its platforms. Both Meituan and Ele.me also said that they cracked down on all products that could be considered wild game. 
China has since issued a
number of emergency measures
aimed at controlling the sale of wild animals. Authorities are quarantining farms that breed animals like badgers and Chinese bamboo rats.
Purchase the China AI Report 2020
brought to you by SCMP Research and enjoy a 20% discount (original price US$400). This 60-page all new intelligence report gives you first-hand insights and analysis into the latest industry developments and intelligence about China AI. Get exclusive access to our webinars for continuous learning, and interact with China AI executives in live Q&A. Offer valid until 31 March 2020.