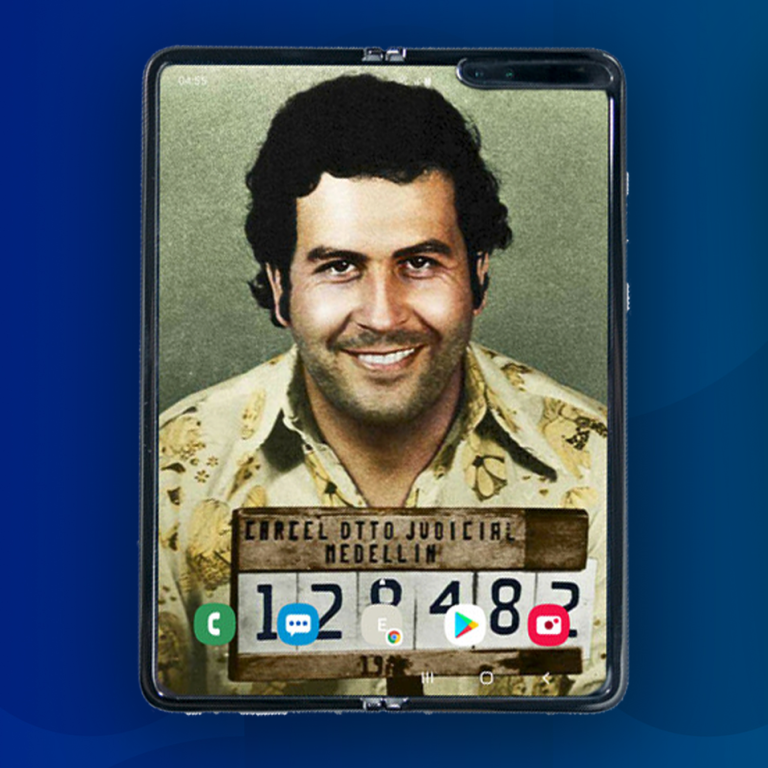 The curious case of cheap foldable phones from Pablo Escobar's brother
Company founded by sibling of late Colombian drug lord says it's sourcing cheap from China and selling cheap worldwide, but some customers are getting skeptical
This article originally appeared on
ABACUS
When you hear the name Escobar, you probably think of narcotics, not smartphones. Now a brand bearing that name wants to appear alongside the likes of Huawei and Samsung.
The company's first device? A US$350 foldable phone called the Escobar Fold 1.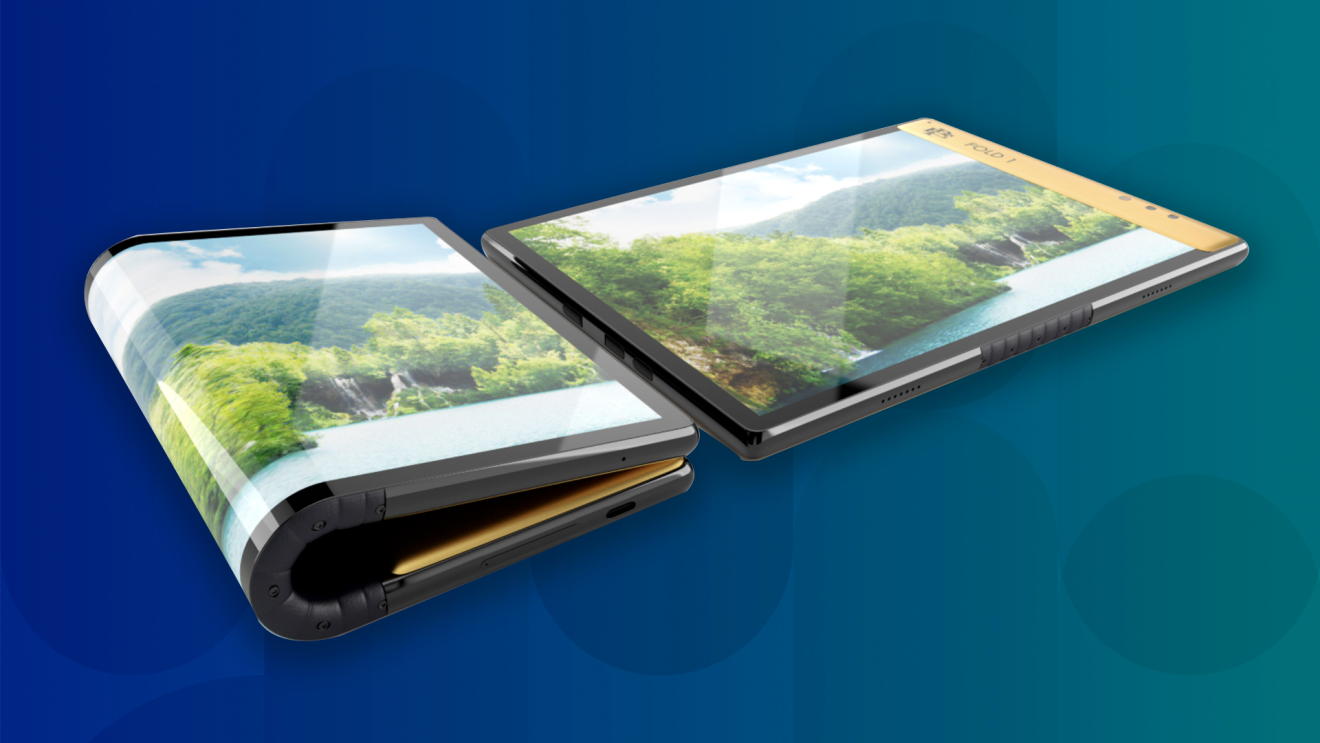 For those who aren't familiar, handsets with bendy screens are a relative novelty -- and an expensive one at that. Samsung, despite having teased the idea some seven years ago, just released their first foldable smartphone in September -- and only after an embarrassing delay due to faulty review units. Huawei's foldable Mate X, first unveiled in February 2019,
went on sale
in China less than three months ago.
This cutting-edge technology doesn't come cheap. Both models are selling for over US$1,900.
Escobar Inc., in contrast, has no proven track record in the field of technology (though it
once accused
Tesla CEO Elon Musk of stealing the idea of
a toy flamethrower
from Roberto Escobar). But when word got out about Escobar's cheap phone, the price -- along with Escobar's fame -- was enough to pique interest and entice some people to shell out the cash.
One of them was Reddit user ImNotNicknolte, who declined to use his real name for fear of retribution from Roberto Escobar and his associates. He said he never believed the phone was actually legitimate, but he was confident that his payment would be protected by his credit card company's policy in case of a dispute.
"The device was never going to be in use, it would have been a display item hanging on a wall," he said. "I intended to use it as [an] art and conversation piece."
He placed an order for a Fold 1 on the official website soon after it was announced in early December. According to email correspondence seen by Abacus, he asked Escobar Inc. for an estimated shipping date a few days later and was told that delivery from Hong Kong takes about two weeks while processing takes another two.
Shortly before Christmas, ImNotNicknolte received an update, assuring him that he would receive his purchase by January. When no phone showed up by 14th, he emailed again and was told that the assembly of the phone was in full force after a holiday hiatus and that he would receive a phone with "updated specs."
Unwilling to wait further, he insisted on a refund, but he was told to "come to Colombia if you want" and "wait a little longer."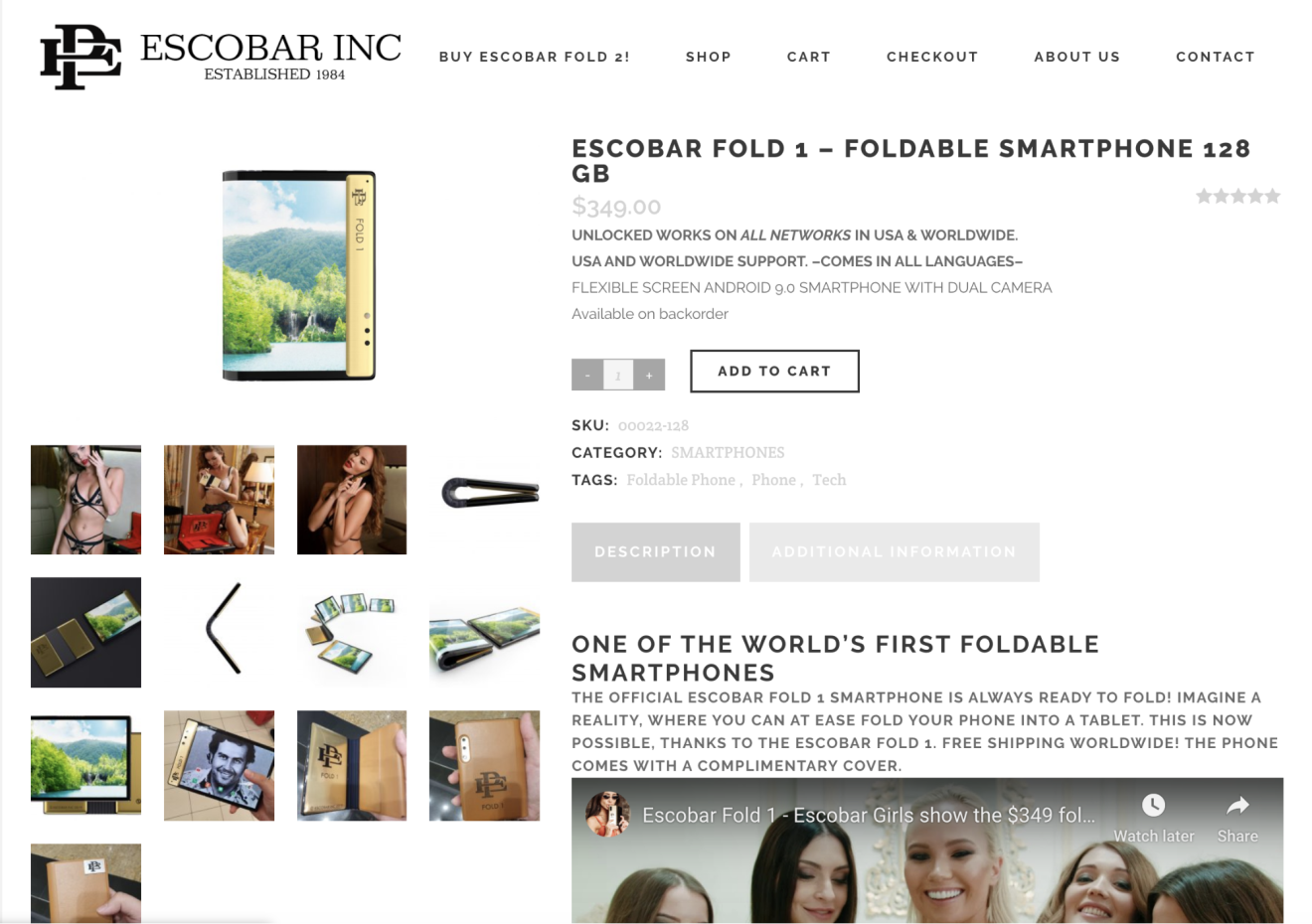 Just as the late Pablo Escobar relished
his Robin Hood image
in parts of his home country, Escobar Inc. has positioned itself as a proponent of affordable devices for the masses. According to Escobar's CEO, a
26-year-old
Swede named Olof Gustafsson, the company is able to sell "the cheapest foldable phone in the world" simply because it's taking in less profit than the bigger tech companies.
"The cameras which we sourced cost us less than $10 for a 20 megapixel camera," Gustafsson told us in December. "That tells you how much Samsung and Apple have spent in advertising -- billions of dollars to make customers believe that they are buying something new and special. We give these savings to the customer."
But industry experts question whether any phone maker could sell a foldable device at such a bargain price and still make money. Flexible displays are at an early stage of development, according to Mo Jia, an analyst with research firm Canalys. Few vendors possess this technology and "it's extremely hard for a vendor to launch a product at a lower price without compromise on the margin," he said.
"It's likely the price for foldable displays will decrease in the future," said Jia. "However, at this moment, below US$500 just seems impossible, unless the company doesn't aim to profit from the hardware itself."
Annabelle Hsu, an analyst with research firm IDC, agrees that a foldable phone "generally costs more" than US$500 to build.
Yet, by January,
a handful
of people
 said online they had actually received the Fold 1, posting YouTube videos showing their phones. But at the same time, more people said they were still waiting for theirs, including UK-based
YouTuber LJP Tech
.
Like ImNotNicknolte, LJP Tech was promised another phone that's better than the one they originally ordered, according to email exchanges he showed us. On top of that, he said he also received an unexpected package: A 178-page autobiography of Roberto Escobar and a flyer congratulating the recipient for having been upgraded to the "Escobar Fold 2." The leaflet shows a woman in underwear with a phone placed between her thighs. A few other YouTube users told us they received the same book and flyer.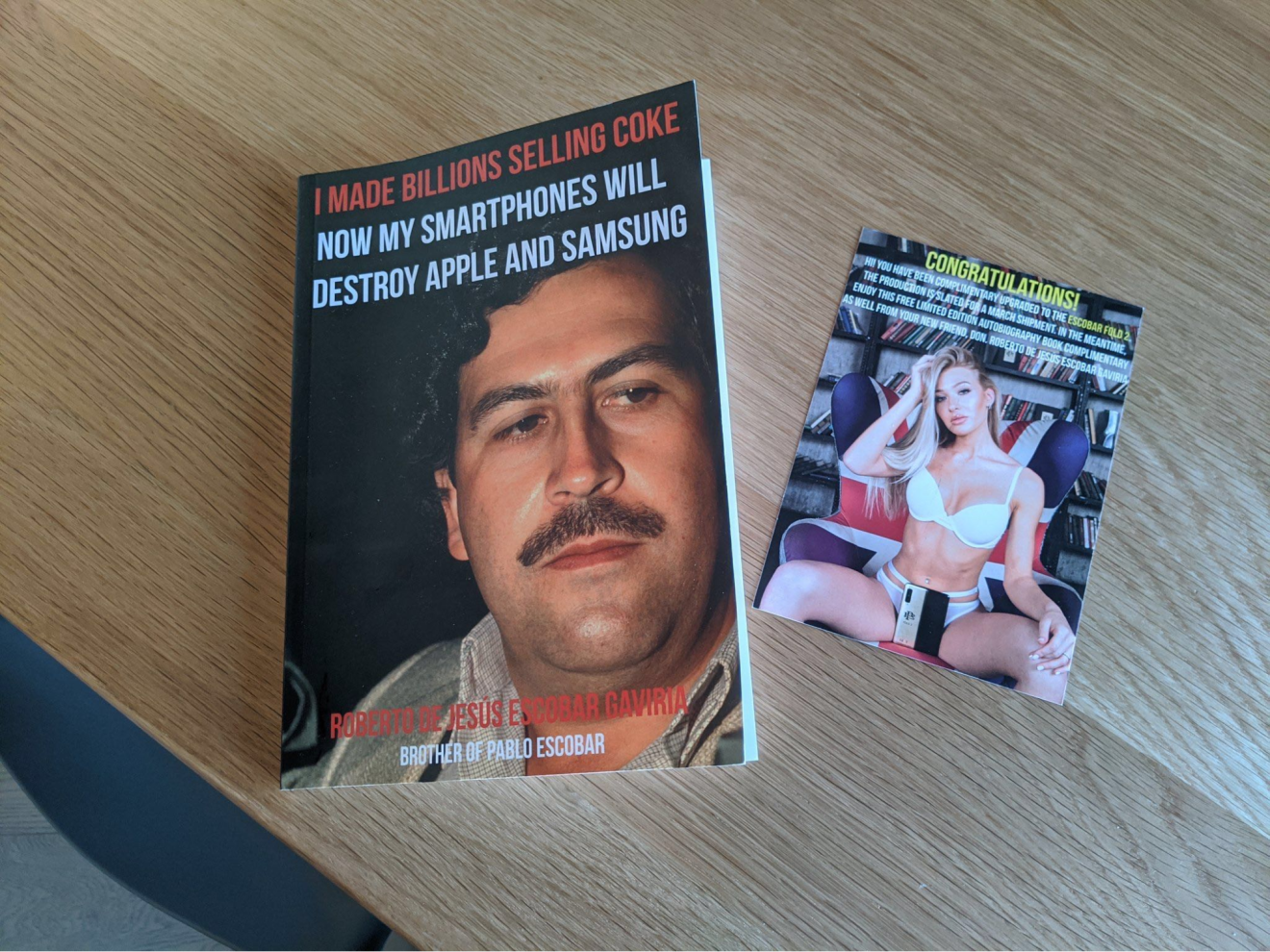 On February 3, just two months after the Fold 1 was announced, Escobar Inc.
publicly introduced the US$399 Fold 2
, a bendable phone that's said to be made in Hong Kong with parts sourced from the Chinese tech hub of Shenzhen. Dubbed "the real Samsung killer," it looked almost identical to the Samsung Galaxy Fold, from the folding mechanism down to the specifications.
In fact, Escobar Inc. now admits that the Fold 2 is simply a reskinned Galaxy Fold.
LJP Tech
and
a few others
, who said they received the Fold 2, showed a letter that came with the package. It says, "The Escobar Fold 2 is an overstock purchase of the Samsung Galaxy Fold. We have bought many of them from retailers and wholesalers who have been unable to sell them to their clients."
It's not the first time people have noted similarities between Escobar's phones with existing products. Some people pointed out that the Fold 1 closely resembles the "
world's first foldable smartphone
" -- the
FlexPai from Royole
, a Shenzhen-based manufacturer with offices in Hong Kong and Fremont, California.
Samsung and Royole didn't respond to a request for comment.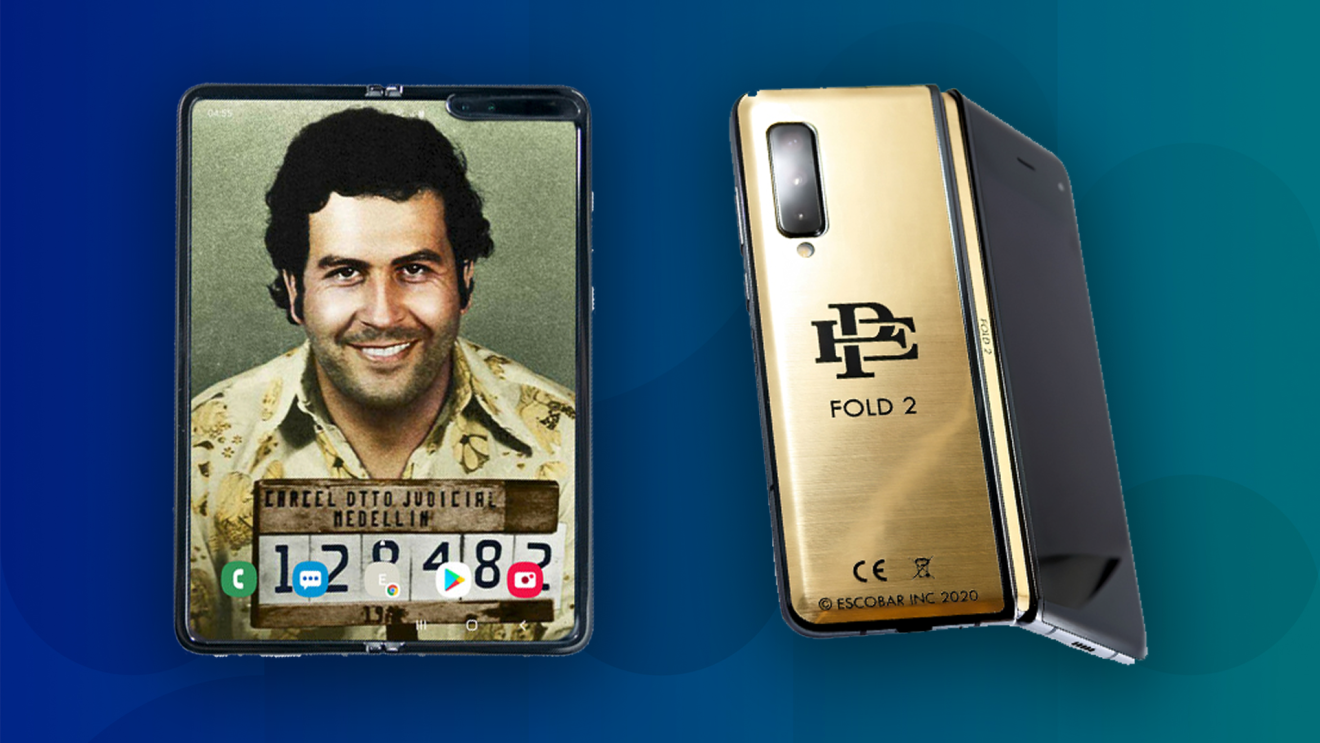 Gustafsson said the company decided to replace 20,000 Fold 1 orders with the Fold 2, after the assembly factory they employed in Hong Kong reported delivery issues. He said that out of 50,000 customers who ordered the Fold 1, 1,000 will receive the Fold 2 this week.
When asked how the company is able sell the phones at a much cheaper price than rivals, Gustafsson said they are buying technology from the same factories in China used by bigger companies.
"Anyone can go and approach these manufacturers and buy a Samsung Galaxy Fold clone for less than $300," he wrote in an email. "We are not selling to retailers and therefore do not need crazy profit margins like Samsung… This is capitalism in its purest form, we are buying cheap from China and selling cheap worldwide with our powerful Pablo Escobar brand."
Gustafsson refused to share names of his company's manufacturers, saying it's proprietary information. A search on Alibaba.com, a website connecting global importers with Chinese exporters, shows one company
offering what looks like a Royole FlexPai
at US$500 a unit -- more expensive than the Escobar phones. Other listings cost at least twice as much.
(Abacus is a unit of the South China Morning Post, which is owned by Alibaba.)
Redditor ImNotNicknolte, who said he previously worked in technology assessment in southern China and Taiwan, remains skeptical about the Escobar Fold. To date, he has received neither a phone nor refund.
"[The company] is making claims about logistics and supply as if they are casual processes requiring no specific planning or agreements between vendor and client," he said. "If this back stock is so easily obtained, where are those units?"
Purchase the China AI Report 2020
brought to you by SCMP Research and enjoy a 20% discount (original price US$400). This 60-page all new intelligence report gives you first-hand insights and analysis into the latest industry developments and intelligence about China AI. Get exclusive access to our webinars for continuous learning, and interact with China AI executives in live Q&A. Offer valid until 31 March 2020.