Telegram
Get more with myNEWS
A personalised news feed of stories that matter to you
Learn more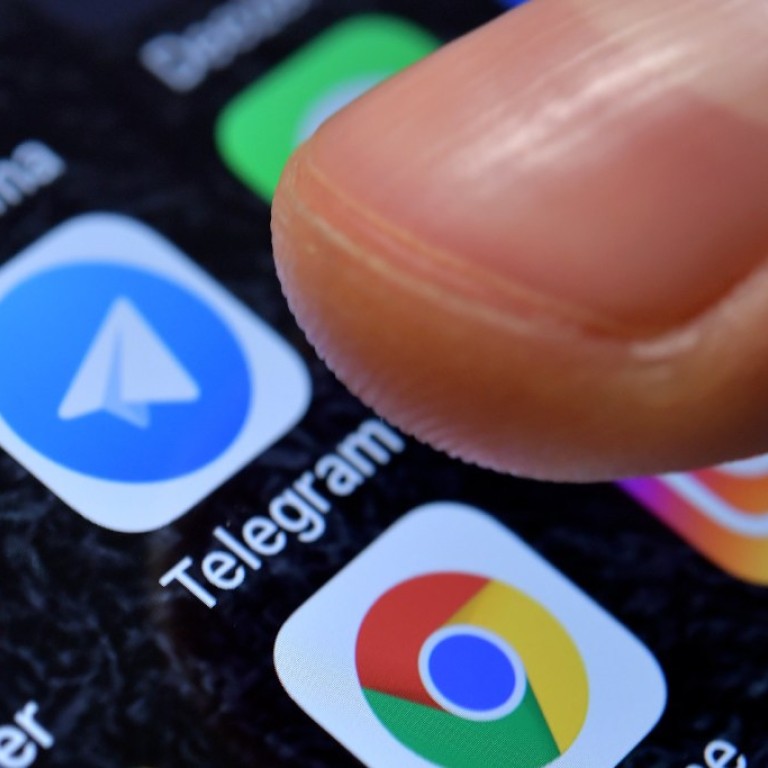 How Telegram became a refuge for WeChat users during the coronavirus outbreak
Telegram features like channel broadcasts and optional chat encryption have helped some people stay up to date amid heavy censorship on Tencent's WeChat
This article originally appeared on
ABACUS
Until recently, Xiang Bao never had any reason to try out Telegram. The app, known for its secure messaging features, is blocked in China. But Xiang decided to give Telegram a try while looking for information on a new coronavirus spreading through the country ahead of the Lunar New Year holiday in January.
During the early days of the Covid-19 crisis, Xiang became one of an increasing number of internet users in China using a VPN to climb the Great Firewall to get information about the deadly, rapidly spreading coronavirus on Telegram.
"To some degree, it eased my anxiety about acquiring information," said Xiang, a digital media professional based in Hangzhou, who asked to be identified by a pseudonym. "I obsessively checked coronavirus news during that time. It's more intuitive and convenient to have a centralized broadcast platform."
Although Telegram is known for offering end-to-end encryption when turned on, Xiang wasn't getting her information through encrypted chat. She was instead relying on
channels
, another popular feature in the app used to broadcast public messages to an unlimited number of users. Channels also offer other benefits, like offering administrators and subscribers the ability to keep track of messages, hashtags and pages to find shared links and files.
Xiang discovered and joined one channel called "2019-nCoV outbreak real-time broadcast," which was also created in January. And she's been checking the channel regularly since then, saying it gives updated information faster than other sources.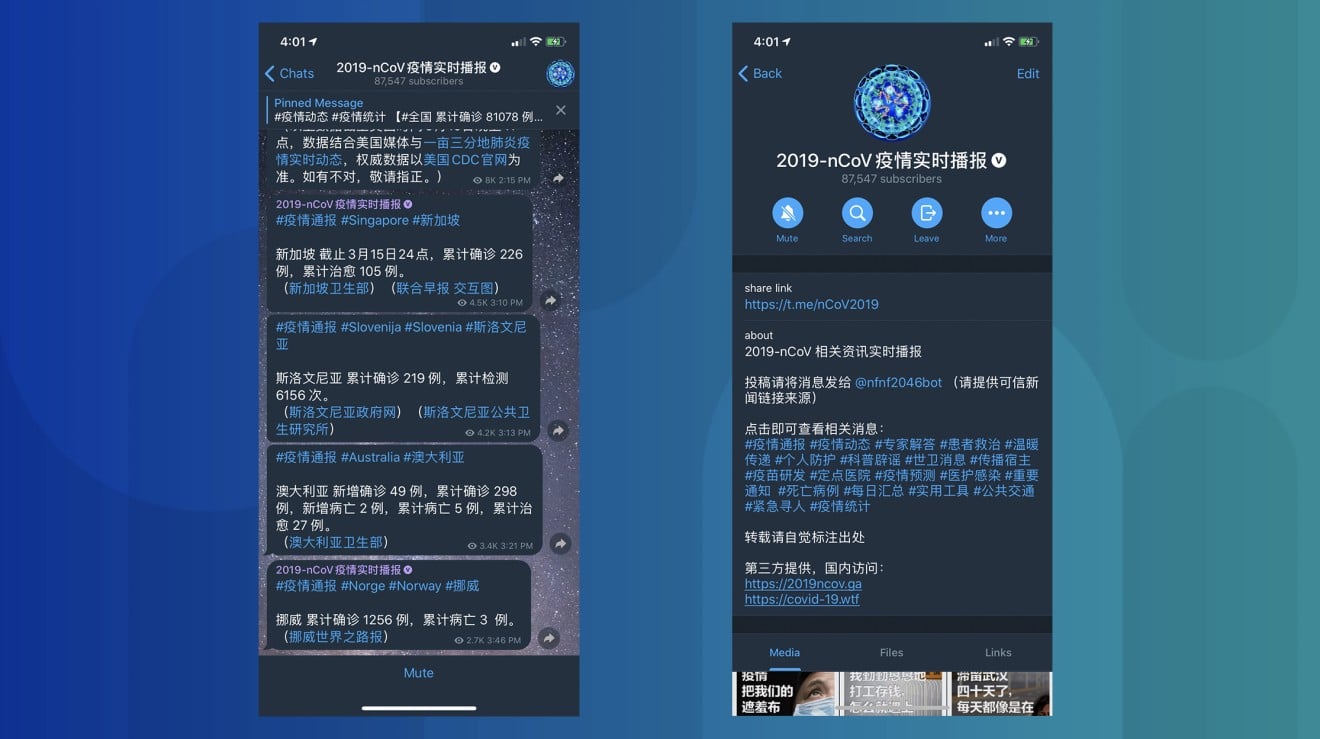 The channel aims to keep subscribers updated on the latest information about the Covid-19 pandemic. It sends out dozens of messages every day about new confirmed cases in provinces across China along with other important news stories, and each message has links to official sources or trusted media outlets. A message with all the latest numbers also stays pinned at the top of the channel. The channel's administrator declined our request for an interview.
The channel now has more than 87,000 subscribers, with recent messages getting between 15,000 and 20,000 views, according to
Telegram channel's view counter
. It's also been broadcasting new cases in other countries, where the spread of the coronavirus is speeding up as it slows in China. When the situation was more severe in China in February, messages could draw more than 30,000 views.
"I check the channel two or three times every day," said a video producer based in Beijing who declined to be named. "It provides one-stop and fast information and data, without any nonsense."
Telegram's newfound popularity among some Chinese netizens shows how the app became a refuge for people seeking information outside official channels at the height of its spread in China. But as with WeChat and other popular messaging apps like WhatsApp, people have also used Telegram to spread rumors and misinformation.
In India, for instance, Telegram channels have been
used to spread false information
that fuels religious and political disputes. Telegram is also
a favorite for terrorist groups
because of its lack of content moderation and privacy features. The app has also
reportedly
been attractive to far-right extremists in the US after other popular social media platforms cracked down on hate speech.
But at least some Chinese users turning to Telegram to stay informed appear to be exercising caution about putting too much faith in the app. Charlie Sheng, co-founder of a Hong Kong-based fintech startup, said that she doesn't solely rely on information from Telegram channels. But she said she trusts information posted by "2019-nCoV outbreak real-time broadcast" because the channel acts more like a news aggregator. Every message links to original news stories, and she doesn't think the channel is responsible for the quality of those stories.
"I feel like we're living in a world of fake news, and we can't 100% believe in any source," Sheng said. "We can only read more, at least read both censored and uncensored (information). That reassures me a little."
The Beijing-based video producer holds a similar view. He said that he subscribes to the channel with the mindset of using it to collect more information from multiple angles and sources. He said he also gets news from state media, international media and WeChat groups.  
Since the app is blocked, though, it's difficult to discern how many people in China are actually using the app. While it's still accessible on the iOS App Store and different Android app stores, it doesn't actually work without installing a VPN, an
increasingly
difficult
task
in China.
China has many apps offering the latest information on Covid-19 that don't require such measures. Some of them offer maps showing the spread of the virus and updates on new cases, like the Telegram channel. Some are run by tech companies and media outlets. One of the more popular ones is
Dingxiangyuan
, a medical media outlet. But Xiang said the Telegram channel updates information faster than even that app.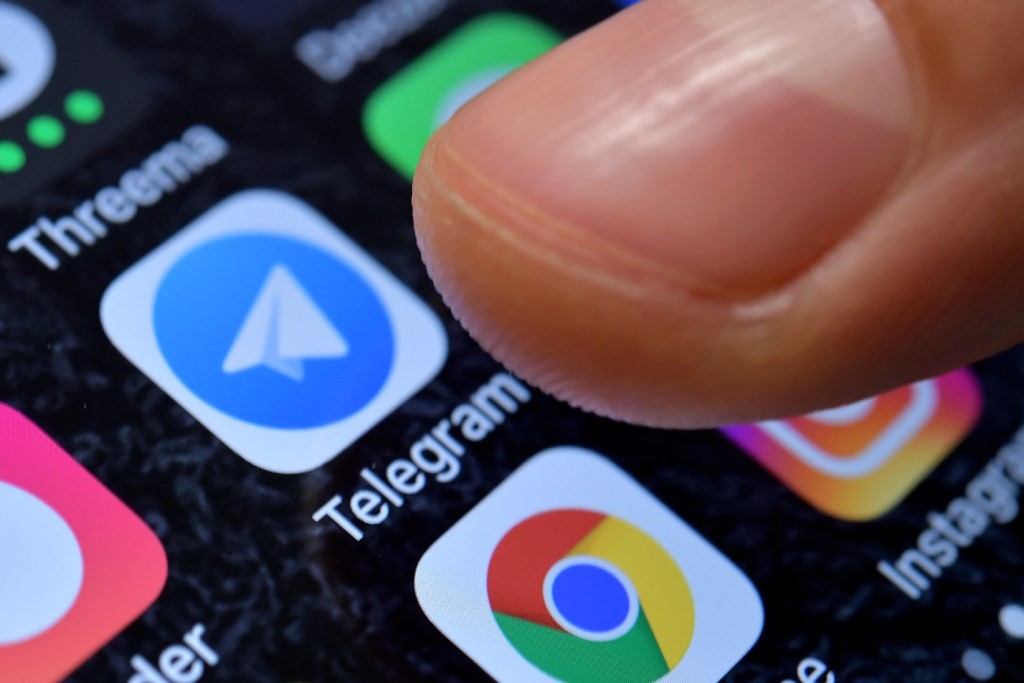 Telegram first gained popularity by promoting itself as a secure messaging app. It was created in 2013 by Russian entrepreneur Pavel Durov. Durov said in March 2018 that Telegram reached
200 million monthly active users worldwide
, which was
about 13%
of WhatsApp's numbers at the time. 
Telegram's "secret chat" feature allows for end-to-end encryption when it's turned on in the settings. This might be why Telegram previously became popular among some Chinese cryptocurrency enthusiasts who fled WeChat during a crackdown by authorities on Bitcoin.
But the app has also been criticized by cybersecurity experts and
Edward Snowden
, because end-to-end encryption isn't on by default as it is on competing messaging platforms WhatsApp and Signal. So some users might not realize their messages aren't encrypted or might rely on unencrypted functions,
the argument goes
, making them vulnerable to surveillance and hacking.
Durov has defended the decision to make encryption optional. He
says
messages aren't encrypted by default partly because it allows the app to offer advanced functions like large group chats and channels. He also pushed back against criticism of the app's custom encryption protocol -- which is different from what WhatsApp and Signal use -- saying the source code is open for evaluation.
For some Chinese internet users who sought to avoid heavy-handed censorship on Chinese social media during the coronavirus outbreak, Telegram still proved a better option than WeChat. Tencent's messaging app, which is China's largest social platform, is famously subject to
heavy censorship
.
After briefly allowing
relatively frank discussions
on social media about Covid-19 in the early days of the outbreak,
China later ramped up censorship
on coronavirus-related topics, taking down news stories and social media posts in droves. Many WeChat users said that their accounts were suspended or permanently shut down for "spreading malicious rumors." 
The death of Dr. Li Wenliang, a Wuhan doctor who caught the disease, led to an unusual outpouring of anger on social media in China. He shared information about the virus on WeChat before it was publicly acknowledged by the government and wound up being reprimanded by police.
The Beijing-based video producer who said he checks Telegram multiple times a day said he had the app even before the coronavirus outbreak. It wasn't until the spread of Covid-19 that he and his coworkers started using Telegram more frequently to share sensitive news or to vent their anger. 
"On WeChat, we always follow the Party," he joked.
Internet users trying to circumvent censorship can also turn to a different Telegram channel called "2019 pneumonia outbreak news cyber graveyard." That channel has more than 14,000 subscribers. According to the channel description, it aims to "organize and record content about Covid-19 that has been tampered with or has disappeared from the [mainland China] internet."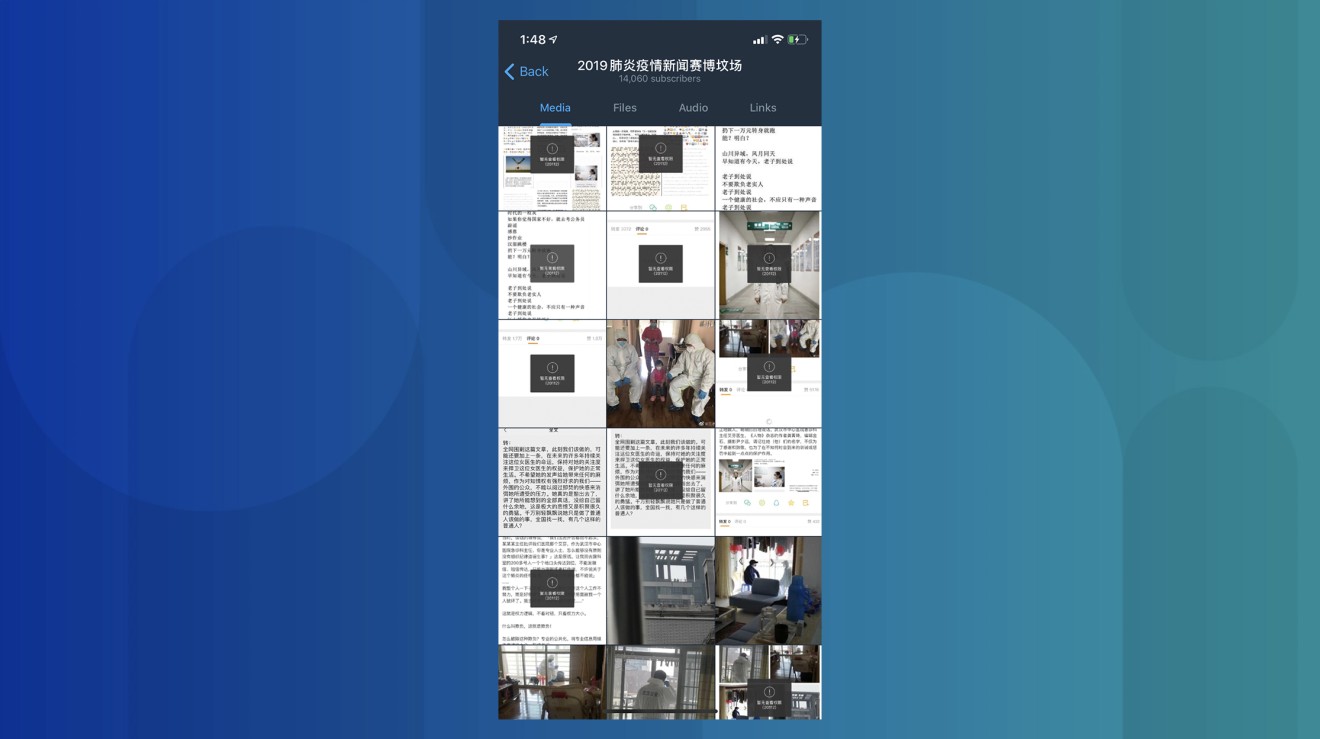 "The graveyard channel is more emotional," the video producer said. "It serves as a place to preserve things that have been [blocked]. It's important."
This channel also gets daily updates, and it shares screenshots of news stories and social media posts that are later censored. But content could have been censored for any number of reasons. That alone doesn't guarantee it's accurate.
One of the channel's creators told us she's a former journalist based in Beijing, but she declined to reveal her name. She runs it with a student who is also in Beijing, she said.
According to her, many posts in the channel are about incidents that have already gained a lot of attention on social media, so there's no need for people to fabricate anything. Different submissions might also be about the same incident, she said, allowing for different sources to corroborate each other.
The former journalist said she and the student started the channel on January 28 after they heard that Shanghai
media outlets received instructions
from authorities to refrain from reporting on the outbreak. Rumors started swirling at that time about impending large-scale censorship on social media posts.
"So we wanted to create this channel in the hope of salvaging and preserving information," she said.
The channel receives more than 10 messages about censored social media posts each day, she said. Screenshots and links are submitted by subscribers. The two moderators then check for themselves, she says. A censored article might still be found cached on Chinese search engine Baidu, only displaying a "404" error when clicked.
The channel creator also told us she and the student refrained from opening a group chat to protect themselves and subscribers, fearing authorities could snoop on the chat. Unlike group chat members, channel subscribers and administrator accounts aren't public.
Sheng, the fintech entrepreneur, said she subscribes to both channels. While she has been using Telegram for more than four years, she said it was only after the outbreak that she asked several of her friends on WeChat to sign up. That way her friends could also subscribe to the two channels, and they could move their coronavirus-related discussions off WeChat.
"Non-sensitive stuff remains on WeChat, but if it doesn't feel right even after some self-censoring, we move to Telegram," Sheng said.
After all, it's still a hassle for the average user to connect to the app, so it's likely just a small portion of China's 850 million internet users who are willing to go through the trouble. We reached out to Telegram with questions about its Chinese user base but didn't receive a response.
"It's still only a few people who can get past the Great Firewall," Sheng said. "That's why I 'lost contact' with some friends in a way during the outbreak. I can't discuss things with them since they're only on WeChat."
Purchase the China AI Report 2020 brought to you by SCMP Research and enjoy a 20% discount (original price US$400). This 60-page all new intelligence report gives you first-hand insights and analysis into the latest industry developments and intelligence about China AI. Get exclusive access to our webinars for continuous learning, and interact with China AI executives in live Q&A. Offer valid until 31 March 2020.