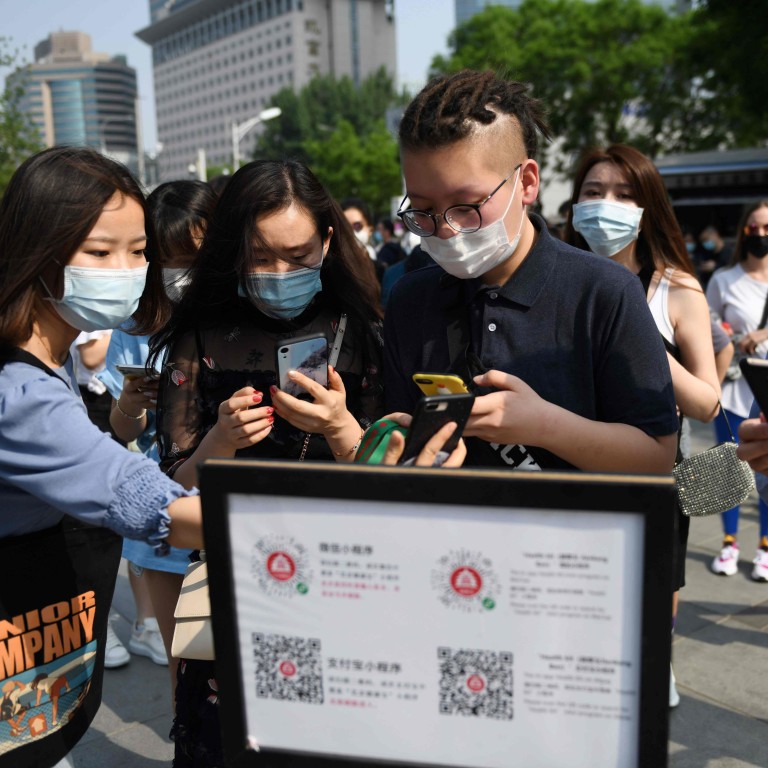 Shanghai adds personal ID to its Covid-19 health codes, joining new functions that include mobile payments and borrowing library books
With Covid-19 largely under control in China, Shanghai is expanding the use of its Suishen Code to outlast the pandemic
The coloured QR codes can now be used as ID and a library card or to pay for public transport and hospital visits
In June, a Shanghai official
floated the idea
of using the city's health codes for much more than just tracking Covid-19 cases. Now the city is taking more concrete steps to realise that vision.
The Shanghai Municipal Health Commission said on Thursday that the city is now using its coloured health codes "as proof of personal identification". The government said the code acts as "real" and "effective" proof of a user's digital identity, which is backed by a sea of public data. It added that the codes will have "personalised" and "integrated" capabilities for different scenarios.
Health codes were first introduced in Hangzhou back in February as a way of indicating a person's risk of being infected by the coronavirus. A green code meant a person was free to move about the city. A yellow or red code meant that the person had to quarantine for seven or 14 days respectively.
Other cities soon rolled out their own health codes that could be accessed through mini-programs either on Alipay or Tencent's WeChat. Alipay is owned by Ant Financial, an affiliate of South China Morning Post owner Alibaba.
More than 34 million people have already used Shanghai's version, known as Suishen Code, the government said in a press conference on Thursday. The city's population is just 24 million, but visitors also have to use the codes.
While using the codes for identification is new, Shanghai has been slowly expanding their application for months. Starting in May, the codes could be used to visit public swimming pools. The following month, visitors could use the codes to get into the Shanghai Grand Theatre.
Then in July, the Suishen Code got a big upgrade: paying for public transport. QR codes in Alipay and WeChat Pay are already the main form of mobile payments in China, having largely replaced other payment methods for day-to-day expenditures. Combining this functionality with health codes simplifies things further since people often have to show these codes in public, too.
Adding mobile payments also streamlined other functions. The government said that by the end of August, people could use their Suishen Code to make an appointment at any public hospital in the city and pay for it. The code can also be linked to people's health insurance.
That's not the only upgrade the codes got in August. They can now be used for checking out library books, something that might be considered a sensitive privacy issue in some countries.
People in China have been
expressing concerns
about data collection related to the coronavirus for months. In June, there was a backlash in Hangzhou over a proposal to use health codes for
scoring users' general health.
The project would have involved tracking things like sleep and smoking habits. The government website dedicated to the proposal is no longer available.
But at least one person in Shanghai told us at the time that she wasn't bothered by the extensive use of health codes. She trusts the government, she said, a sentiment apparently shared by many in the country first hit by the coronavirus.
While the effectiveness of the codes is debatable, cities have recently started to loosen their use of health codes as the spread of Covid-19 has come under control in most of the country. But that doesn't mean health codes are going away.
Shanghai's government said it will further "tap into" the Suishen Code's long-term value by expanding its use in new areas of people's lives and business activities.