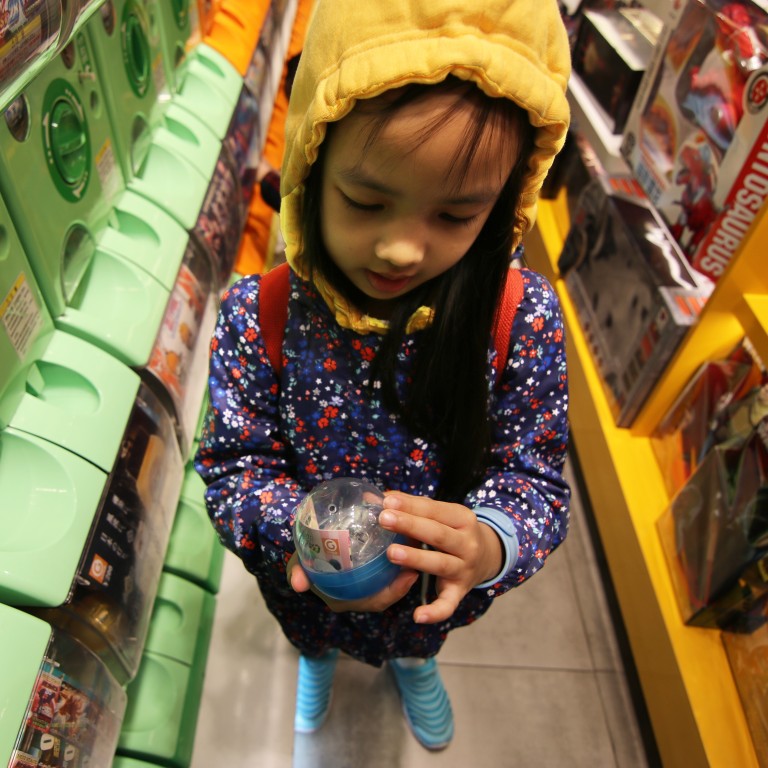 China's digital currency can soon be used in China to buy toys from Japanese vending machines
Gashapon vending machines that dispense capsules with toys based on popular anime series like One Piece and Detective Conan will help trial the digital yuan
China's central bank digital currency has already been used in transactions worth about US$162 million
Toy vending machines are a popular fixture in China's myriad shopping centres and entertainment venues, as they help attract young consumers. China's central bank now sees these vending machines as a means to further expand the use of the country's digital currency.
Shanghai-based company Delfino, a unit of Japanese housing builder Okura, has been tapped to supply these so-called gashapon machines that will be installed in various areas on the mainland where the People's Bank of China (PBOC) is conducting tests for the country's digital yuan, according to a report by Nikkei Asian Review on Saturday. Gashapon machines distribute collectible toys. In this case, the toys include those based on popular manga and anime series like One Piece and Case Closed, also known as Detective Conan.
The 5G-connected machines support mobile payments that use either QR codes or near-field communications (NFC). The machines were updated to support NFC at the central bank's request, according to the Nikkei report.
Each toy capsule costs between 10 and 50 yuan (US$1.50 and US$7.40). The relatively small payments help keep people returning to try their luck in collecting all the toys available or until they get the ones they want. In this way, gashapon machines are similar to popular "blind box" toy brands like
Pop Mart
.
The frequent use of small payments make gashapon machines ideal for testing China's new digital currency, according to Delfino.
The digital yuan, known officially as Digital Currency Electronic Payment (DCEP), is part of China's plan to move towards a cashless society. Using digital tokens can help digital currency supplant cash, but central bank digital currencies are different from mined cryptocurrencies like bitcoin, which operate on a decentralised peer-to-peer network. The amount of digital yuan in circulation, just like China's physical legal tender, is controlled by the PBOC.
The shift to e-wallets should be a smooth transition for the country's
940 million netizens
. Many people are already using e-wallets to pay for everything from groceries to public transport through platforms like Tencent Holdings' WeChat Pay and Alipay, which is under Alibaba Group Holding affiliate Ant Group. Alibaba is the parent company of the
South China Morning Post
.
Testing of the digital yuan has already started in some major Chinese cities and venues for the 2022 Winter Olympic Games in Beijing. Local companies such as Tencent and Ant Group, as well as US brands
Starbucks, McDonald's and Subway
, are taking part in various pilot programmes, according to the PBOC.
Fan Yifei, deputy governor of the PBOC, said in conference held on Monday that the digital currency has already been used for more than
1.1 billion yuan
worth of transactions.
At the end of August, the central bank said it was testing 6,700 use cases for the digital yuan. These include paying bills, public transport, government services and handing out bonuses in the form of digital red packets.
For China, which has tight capital controls, one of the benefits of having a completely digitised currency controlled by a central authority is the ability to track economic activity.
While China started to speed up its digital currency efforts last year, other countries have also been exploring their own digital currency programmes. Last week, the European Central Bank (ECB) presented a
report
on the risks and benefits of a digital euro. One of the key risks highlighted in the report is privacy.