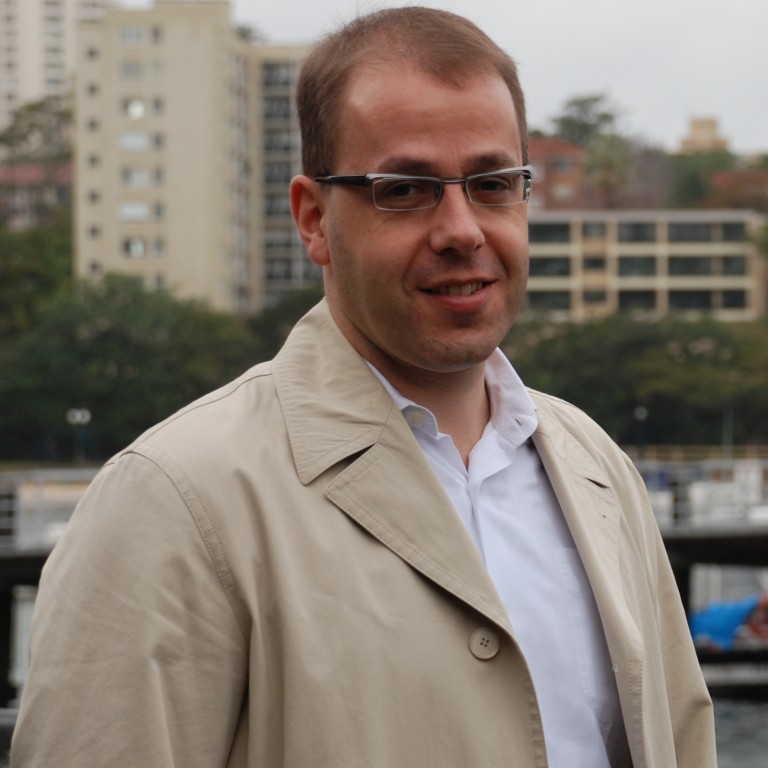 How obese Hongkonger shed 40kg by going cold turkey on his unhealthy ways and hitting gym and trail
Being half the man you used to be tends not to be a good thing, unless you're Andre Blumberg. Over the past two years, the 42-year-old Hong Kong-based German has shed so much weight that he literally looks half the obese, 100-plus kilogram guy he was.
The impending 40s presented Blumberg with a mid-life crisis. 'I didn't want to buy a sports car or have a fling with the personal assistant, so I considered exercise,' says the information technology director of a power company. 'I knew I wanted to take up running, but I was just too heavy and would have ruined my knees. So first of all I changed my diet.'
A few months before his 40th birthday, Blumberg turned his lifestyle on its head - overnight. He went cold turkey on alcohol for 18 months and cut out heavy late-night meals.
He made a couple of trips to a detox spa in Thailand, where for up two weeks each time he'd eat only herbs and teas. 'I dropped a lot of weight and it stayed off since I changed my nutrition as well. Then, I started exercising.'
In January 2010 Blumberg started riding the stationary bike in the gym, for 10 minutes at first, building up slowly to two hours. Within six months he had lost 32 kilograms. Then he hit the treadmill, starting out slowly for 20 minutes, then 45, then 90.
'Eventually, I got tired of the gym and started to run outside and on Hong Kong's fantastic country trails,' he says. 'I was hooked on them. How could I have lived in Hong Kong for eight years without discovering the trails?'
In April 2010, he ran his first ultra, the annual 65 kilometre Round The Island race. Six months later he did his first 100 kilometre race, the North Face 100 in Singapore, finishing third overall. 'I knew I was on to something; it was rewarding,' he says.
But if there's one thing that has remained constant through Blumberg's transformation, it's his penchant for indulgence.
In the past, this meant clubbing, fine dining and champagne brunches, the result being a suit size of 54 and a bad cholesterol level of about 200, double that of the ideal.
These days his indulgence is ultra-running. Last year he ran the Hong Kong 100 kilometre; completed the North Face 100 'Slam', running all five 100 kilometre races in the global series; and finished a five-day 300 kilometre trail race in Germany, among others.
Over four days during this Lunar New Year, Blumberg ran all of Hong Kong's four long-distance trails - the Hong Kong Trail (50 kilometres), Wilson Trail (78 kilometres), Lantau Trail (70 kilometres) and Maclehose Trail (100 kilometres) - one on each day, 'just because the trails were there'. (He plans to turn this into an annual event called the Four Trails Ultra Challenge, starting next year.)
The result: he's down to suit size 48, his cholesterol level is remarkably low at sub-80 and he says, 'I feel better than in my 20s'.
Why ultra-running?
Endurance sports suit my nature. I like the mental challenges in addition to the physical. Running a 160 kilometre ultra-trail race for 30 hours or longer requires not just fitness but also a strong mind and the ability to manage any problems that may come along: physical pain, issues with digestion, the weather, getting lost on the course and so forth. There are a lot of similarities between running an ultra and life in general, and I enjoy the challenges.
What doesn't work for you?
The treadmill. I really love being out in nature, so running on trails is my preference. Sometimes for practical reasons training on roads or even a treadmill is unavoidable, but it's far less enjoyable.
How do you make time for exercise?
It's all about priorities. We all have 24 hours a day, what matters is how we use the time. I find it is better to exercise in the morning before work; this way I get my runs out of the way and it sets me up for the day. Sure, it's not easy getting up at 4.30am on a rainy, dark morning and running for two to three hours, but once you establish a regular schedule it's doable. Sleep is important though to aid recovery; I try to get seven hours a night, more on weekends.
How has your diet changed?
I used to eat pretty much everything, lots of red meat, dairy, cheese, sweets and plenty of beer and wine. Now my nutrition is primarily plant-based. While not strictly vegan, I have mostly removed meat and dairy products from my nutrition. Instead I thrive on whole foods such as vegetables, salads, fruits, nuts, seeds and legumes. Green vegetable smoothies mixed with superfoods such as chia seeds, goji berries, acai or spirulina are a major staple for me; I can go on those all day. I still have fresh salmon and enjoy good Japanese sashimi once in a while.
People are always hesitant to have a lifestyle overhaul. How did you do it?
If there's the will, then there's a way. Be inspired by someone whose achievements or lifestyle you admire. Listen to everyone, but follow no one. Find out what works for you personally. The rewards of feeling fit, healthy and full of energy motive me to continue.
What remains an indulgence?
The occasional cappuccino. I've tried soy and nut milk instead of dairy, but the taste is just not quite the same. Also, a glass or two of a good red wine is something I enjoy.