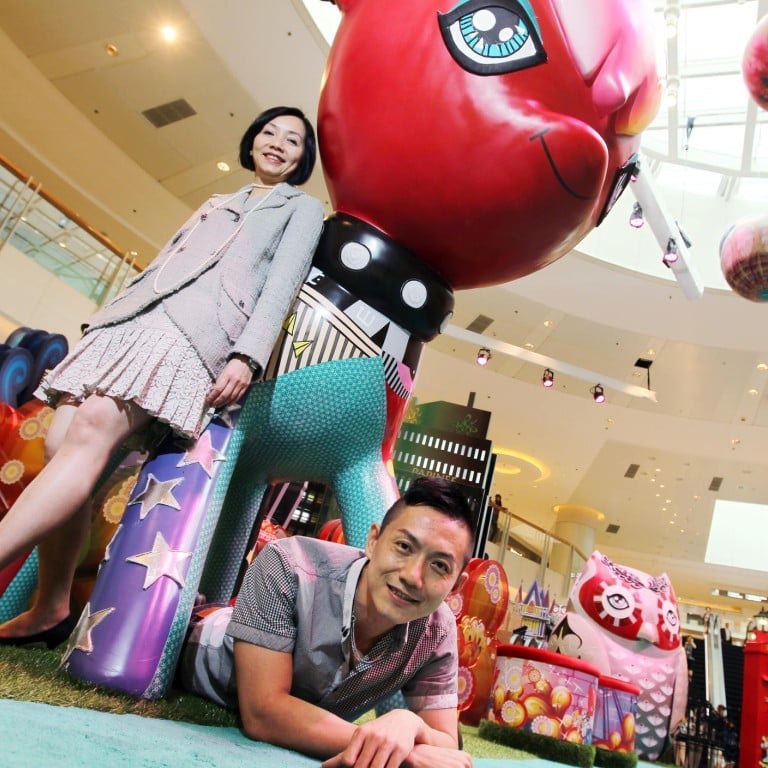 Malls like Elements and IFC offer cultural promotions for shoppers
Exhibitions in the city's shopping complexes are becoming more extravagant and educational, writes Charley Lanyon
Summer is a boom time for shopping malls. Children are on holiday, and overheated shoppers crowd into the vast indoor spaces to cool off in the air conditioning and browse. As soon as the Christmas decorations come down, planning starts for big summer promotions and new ways to get consumers into the properties.
This year, West Kowloon mega mall Elements wanted to do something on an unprecedented scale. Betty Leong Sin-ling, head of investment property for the MTR Corporation, picked up the gauntlet. She set out to create a space where children and adults could learn, play, interact and, of course, shop.
"Summer is a major time for malls. It is a time for families, a time for kids as well as parents," Leong says. "A mall is a third space. It is a community centre."
Leong's ambition for Elements reflects a change in thinking at Hong Kong's malls. The display, a massive fantasy land inspired by luxury brand Papinee's Animalia line, comprises three interactive areas representing different parts of the world. Children (and fun-loving adults) receive a passport full of activities, and are encouraged to visit each station.
The children collect passport stamps from the oversized animal statues they encounter. At each stop, the child learns facts about the animal and the place it represents. When their passport is full, they can redeem it for Papinee prizes.
The approach underscores the roles malls now play beyond their purely commercial function. They are increasingly striving to put on exhibitions that are interactive, and educational or culturally significant, rather than just glorified window displays. The phenomenon is global, but it is of special significance in Hong Kong, where malls play such a large part in public life.
Some malls have hosted exhibitions worthy of a museum. The IFC mall in Central held a Picasso exhibition that attracted close to four million people, and Elements had an Andy Warhol exhibition last year.
In April, a preserved baby mammoth called Lyuba went on display at the IFC, on loan from the Russian government. Visitors crowded the mall and the exhibit garnered much media attention.
The popularity of Lyuba underscores what Karim Azar, the general manager of IFC, says is a widespread misconception about the city.
"A lot of people say Hong Kong people are not interested in art and culture. We feel it is the opposite. Hong Kong people are starved of culture; there are no museums here, there is no art here," Azar says.
Since the success of Lyuba, other malls have offered similar museum-quality exhibitions. Taikoo Place, for example, hosted a Japanese robotics demonstration that drew crowds and received a lot of press coverage.
The educational aspect of mall displays sometimes goes hand in hand with social responsibility. Times Square in Causeway Bay recently hosted a geodesic dome in which people could experience what climate change would feel like and learn about global warming.
Even the Christmas decorations at IFC helped to educate young Hongkongers. Children were told that the polar bears in the exhibition were there because global warming had forced them to find a new habitat as far south as Hong Kong.
But malls and their exhibitions ultimately remain commercial endeavours. Many displays involve demonstrations tied in with a specific brand. Artisans show how to handcraft Italian bags, for example. Elements' Papinee exhibition borrowed heavily from brand aesthetics and rewarded shoppers' spending with free gifts. Fashion shows are another way to show off brands and pack in the crowds.
Rumour has it the Papinee display exceeded Elements' internal targets by more than 50 per cent.
Some exhibitions do not have such obvious commercial benefits. Surprisingly, one that cost much more than it reaped was the baby mammoth. "The elephant was not an easy project. It had to come here on a special plane, kept at certain temperatures," Azar says.
"It was a very difficult process, as well as an expensive one. The Russian government wanted a very large loan fee, so whole project cost several million dollars. There was no way I got five million dollars in revenue or rent that month because of it," Azar adds.
Even the Papinee exhibition took an enormous amount of money and effort to get off the ground. The planning stage stretched through six months of meetings, "some lovely, some difficult", according to Papinee founder Dev Suj.
Leong adds: "The team has to do a lot of translation: translation of thoughts, translation of ideas, translation of the design vision."
Although Leong still refers to those days as "a bit painful" and "quite laborious", all agree that the ends have more than justified the sometimes trying means.
Even on a Tuesday, Elements is alive with the sound of children at play. Kids bang the drums in the area representing Africa, ignore the warning signs and try to climb on the animals.
Despite the challenges, malls are unlikely to start scaling back their public displays. Azar says that although the cost of the mammoth means there's no money for further displays at IFC this year, "next year we're definitely doing another thing like that elephant".
Leong agrees. "I don't want to over commit, but our next mandate is to do something even more head-turning."
This article appeared in the South China Morning Post print edition as: A mall world after all